Sox started 2004 Series with sense of inevitability
Boston unfazed by late Manny errors as Bellhorn hits go-ahead homer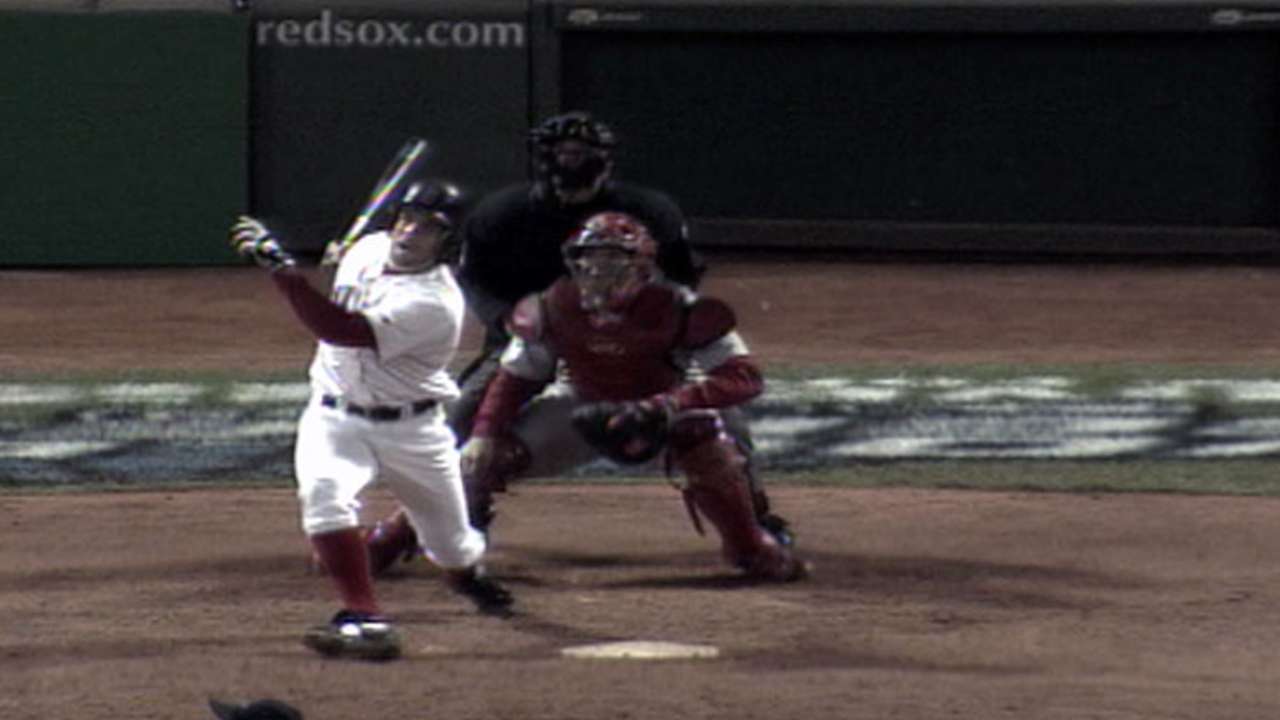 Ten years ago, the Red Sox and their fans were in the midst of an 86-year wait for a World Series championship. And after falling in the deepest of holes -- 3-0 against the Yankees in the American League Championship Series -- everything changed.
Boston would become the first - and still only -- team in history to win a postseason series after trailing 3-0. And manager Terry Francona's team went on to win the final eight games of that postseason. MLB.com is doing retrospective pieces on the anniversary date of all eight of those wins with remembrances from key voices, continuing today with the 11-9 victory in Game 1 of the World Series.
Looking back on it a decade later, it's almost amazing how little fear the Red Sox had of the Cardinals, the team they would dispatch in the World Series. Sure, Boston had made that historic comeback against the Yankees in the ALCS. But that didn't provide any guarantees, particularly when you consider St. Louis had been the best team in baseball during the 2004 regular season, winning 104 games. And the Cards had also pulled out a fairly epic win in the NLCS, beating the Astros in a seven-game thriller.
The Cardinals had Jim Edmonds, Larry Walker, Reggie Sanders and an emerging superstar named Albert Pujols. They were loaded.
Yet by the time the Red Sox got to Fenway Park for Game 1 of the first Fall Classic in Boston in 18 years, it was as if they knew already they would be crowned champions in a matter of days.
General manager Theo Epstein walked and talked with an unusual swagger after the team's advance scouting meetings revealed to him several strengths his team had in the matchup with St. Louis. And that trickled down to manager Terry Francona and the players.
"We knew," said Curt Schilling. "I went to the advance meetings with the coaches and the advance scouts and then with the players and the pitching staff. It was pretty clear in the advance meeting, we weren't wondering whether they could win. We were wondering whether they could win a game. We knew that they didn't have a pitcher on that staff, except for Dan Haren, that had swing-and-miss stuff. If you couldn't make this lineup swing and miss, you couldn't beat this team."
On the offensive side of the ball, Schilling's belief in his team was dead on in Game 1. Shortly after Steven Tyler -- Boston's own -- brought down the house with a stirring national anthem, the Red Sox started scoring runs. David Ortiz, fresh off winning MVP of the ALCS, raked a three-run homer in the bottom of the first against Woody Williams. It was quite a way for Big Papi to celebrate the first World Series at-bat of his career.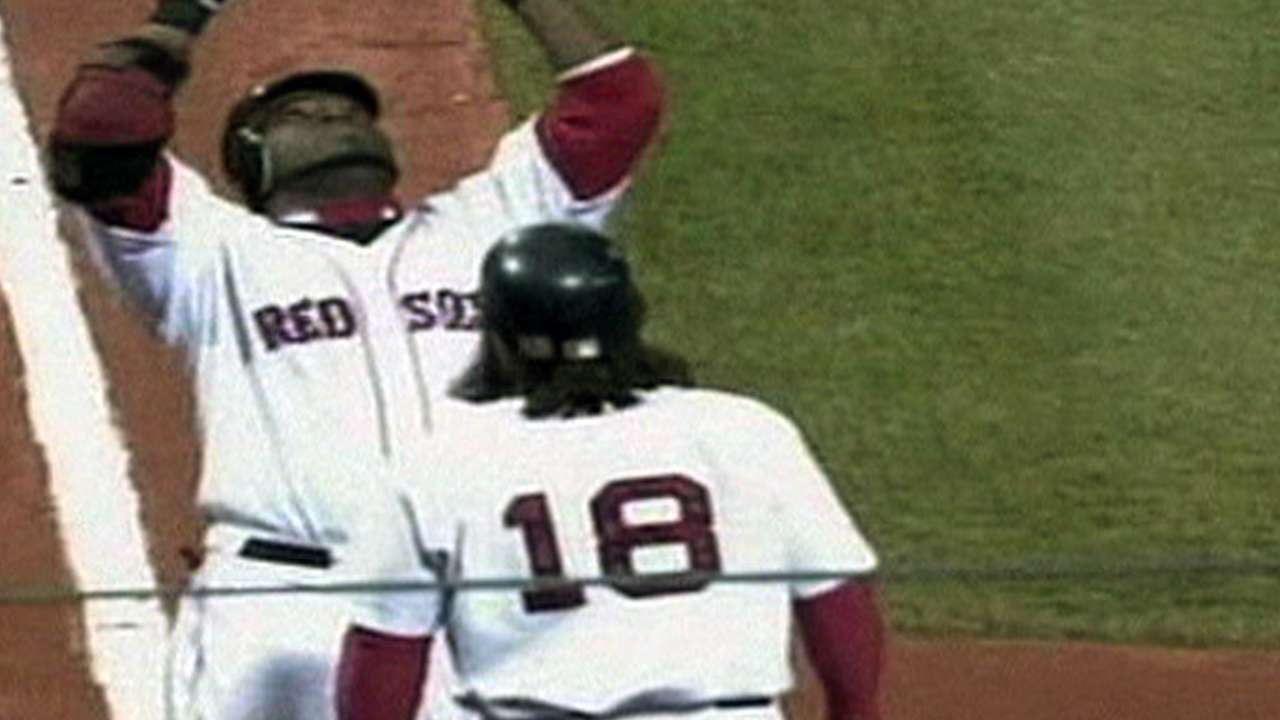 Video: Papi gives Red Sox early lead
Johnny Damon, suddenly brimming with confidence after his one-man mauling of the Yankees in Game 7 of the ALCS, helped set up Papi by wearing down Williams with a 10-pitch at-bat to open the Boston first, which culminated in a double.
At least in Game 1, however, the Cardinals were ready to go toe-to-toe with the Red Sox. Knuckleballer Tim Wakefield did not have his best stuff, and neither did a defense behind him which would make four errors on the night.
Down 7-2 early, the Cardinals would come roaring back. And by the time Manny Ramirez made back-to-back gaffes on defense in the top of the eighth, it was a 9-9 game.
Yet that second Ramirez misplay, when he unnecessarily dove for a flyball by Walker and got his spike caught into the ground, created unusual in-game levity for the self-proclaimed "idiots." Usually a championship-caliber team doesn't start laughing at itself in the middle of a tie game in the World Series. But the 2004 Red Sox were a different bunch.
"All I remember is Manny diving for a ball on his knee and taking up like 10,000 pounds of grass," said Trot Nixon. "Here we are in the World Series. He got into a popup slide, but his knee hit the ground first, dug this hideous trench, and I think he dropped the ball or something but we were dying laughing. I covered up my face. You're in the World Series, that's not [supposed to be] funny. But we were laughing. I remember Johnny; Johnny was laughing. That didn't faze us. You could score two runs off of that, that didn't matter.
"We'd just come back from 3-0 against the New York Yankees, you think that worries us? I think [Mark] Bellhorn, who never made any facial reaction, turned around to me and I'm just sitting there laughing. My glove is over my face. It was hilarious. Manny didn't know what he did. He just came in, and we were like, 'Dude, how's your feet? Seriously, man, you dug up old bodies from way back with that one.'
"It didn't stop us. The train kept going. It was kind of an ugly game a little bit, but I don't think there were any jitters. I just think it was an ugly game, but we kept swinging the bat, we kept hitting it, we kept pounding the ball."
Bellhorn came up with the difference-making hit, a two-run shot that clanged off the right-field foul pole (Pesky's Pole) against Julian Tavarez to break the tie in the bottom of the eighth.
To see the shy Bellhorn come up with the game-winner was a thrill to his teammates.
"He was quiet," said Nixon. "We used to tell him all the time to shut up. We'd be on the bus jawing back and forth and somebody would go, 'Yeah, Bellsy, shut up." He would kind of turn around and kind of smirk."
By the end of Game 1, the entire city of Boston was smirking, just three wins away from that elusive World Series championship.
Ian Browne is a reporter for MLB.com. Read his blog, Brownie Points, and follow him on Twitter @IanMBrowne. This story was not subject to the approval of Major League Baseball or its clubs.