Good catch: Cubs keeping Schwarber behind dish
With offensive prowess not in question, backstop polishing skills at position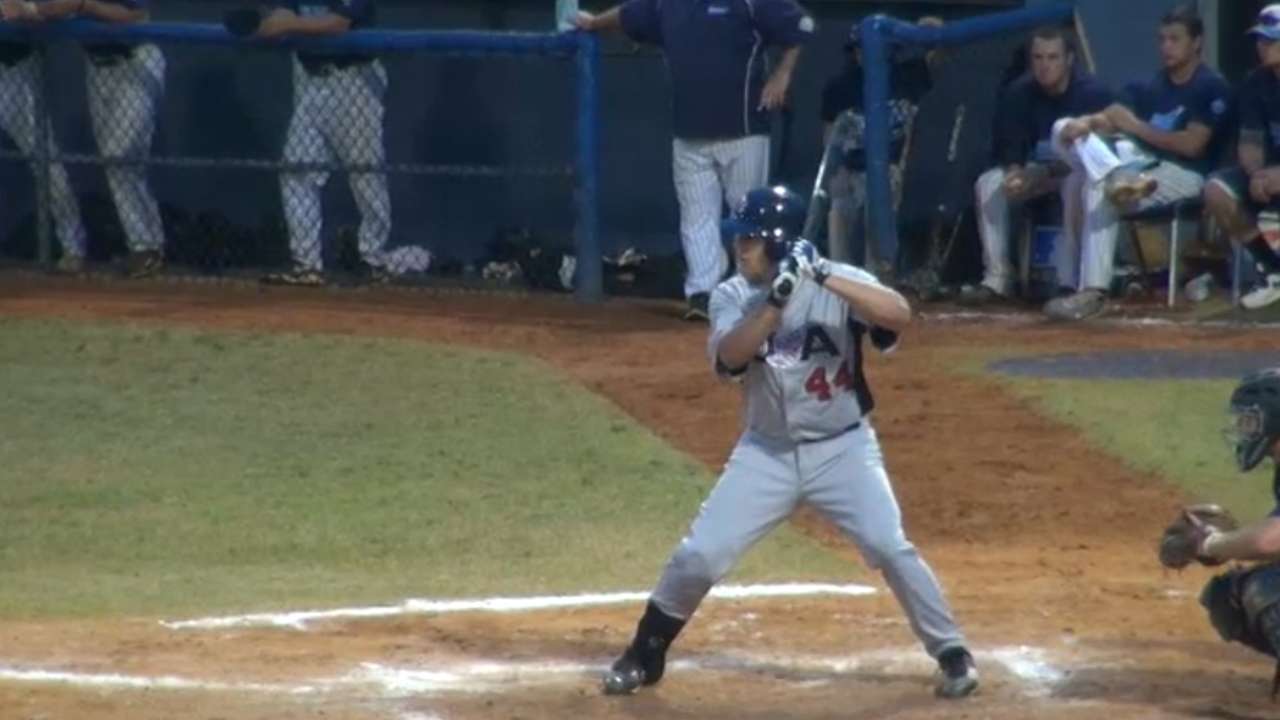 MESA, Ariz. -- There's no doubt that Kyle Schwarber can hit, but there were questions as to where he should play. Not anymore. After some intense lessons this summer, the Cubs want Schwarber to keep his focus on catching, and that's good news for their first-round pick.
"I did have some second thoughts deep inside me if I could [catch], but now I don't," Schwarber said during a break in instructional league earlier this month. "I know I can keep working at it, and hopefully make it work one day."
"Let's cross our fingers that he can do it," Cubs president of baseball operations Theo Epstein said. "To have that left-handed bat and that thunder and those on-base skills behind the plate, that's a game-changer for us."
The fourth player taken overall in the First-Year Player Draft in June, Schwarber, 21, received accelerated catching instruction when he was promoted to Class A Kane County this summer. Cougars manager Mark Johnson, a former big league catcher, and Minor League coordinator Tim Cossins were the instructors, and they overhauled Schwarber's set-up. The three resumed the lessons in instructional league.
"I can't wait for people to see him [in Spring Training]," Cossins said. "We were talking about wanting to keep him in a box and then break him out this spring."
Schwarber, ranked sixth on MLB.com's list of top 20 Cubs prospects, isn't afraid of hard work.
"He would not leave the complex until he got his extra work in," Cossins said. "We made extra work mandatory most of the days, but on the optional days, he came in and found us every day. He would not leave."
After one instructional league game, Schwarber told Cossins he was upset by his play, so they broke it down on video. It turns out the catcher did very well.
"He's possessed [to be good]," Cossins said of Schwarber.
The Middletown, Ohio, native was a standout athlete at Indiana, batting .358 his junior year. Schwarber signed shortly after the Draft, and got to work, first at Class A Boise, and moved up to Class A Advanced Daytona. In 72 Minor League games, he batted .344 with 18 home runs, 18 doubles, two triples and 53 RBIs.
How good an athlete is Schwarber? Ohio State was interested in Schwarber as a linebacker, and invited him to attend a spring football game. But Schwarber had a previous commitment -- a baseball game, in fact -- and had to decline the invite.
"That was pretty much the last I heard from them," he said, laughing. "I was getting looks by a lot of football teams. I had three offers in college for baseball. Baseball was what I wanted to do. It's been a true love forever."
Schwarber just needed some polishing. The main focus has been on his set-up behind the plate. In college, Schwarber would drop to one knee to catch. Not any more. He also possesses a skill not many have.
"His secret weapon is his ability to see the baseball is shockingly good," Cossins said. "He sees the ball much earlier than most people."
Maybe that's why Schwarber is such a good hitter. He pays attention to a pitcher's tendencies both at the plate and when he's behind the plate.
"[As a catcher] you have to think, 'Where is the ball going to be at?'" Schwarber said. "If you're late and drag [the pitch] out of the strike zone, and it's not called a strike, pitchers don't like that from a catcher."
If Schwarber can see the ball earlier than others, and can process it quicker, it gives him an advantage.
"This guy's a three-hole hitter in the big leagues with power and patience," Epstein said. "His bat is going to develop just fine. The real question about him, and the way he changes the face of our lineup, is for him to remain behind the plate."
The Cubs have emphasized more functional things that make it easier for Schwarber to receive the ball.
"It's little things, things that I wouldn't have paid attention to," he said. "Just the way I throw the ball back to the pitcher makes a huge difference and is something [Cossins] gets real excited about. That's a throw you make over 100 times a game, that's muscle memory. Once you do that, it translates to the throw to second."
There is a school of thought that Schwarber would be better suited to the outfield so the Cubs could have his bat in the middle of the lineup for 150-plus games, not 120 something. Jonathan Lucroy led the National League in games played by a catcher this year, with 136. Chicago's Welington Castillo's career high is 107 starts in 2013.
Can Schwarber catch in the Majors?
"Absolutely," Cossins said. "That's the goal. That's his goal. He wants to catch. That's our goal."
Carrie Muskat is a reporter for MLB.com. She writes a blog, Muskat Ramblings, and you can follow her on Twitter @CarrieMuskat. This story was not subject to the approval of Major League Baseball or its clubs.