MLB.com Columnist
Richard Justice
Royals reintroduce themselves to rabid crowd
Playoff-hungry fans delighted by KC winning brand of baseball, rebounding from quiet Game 1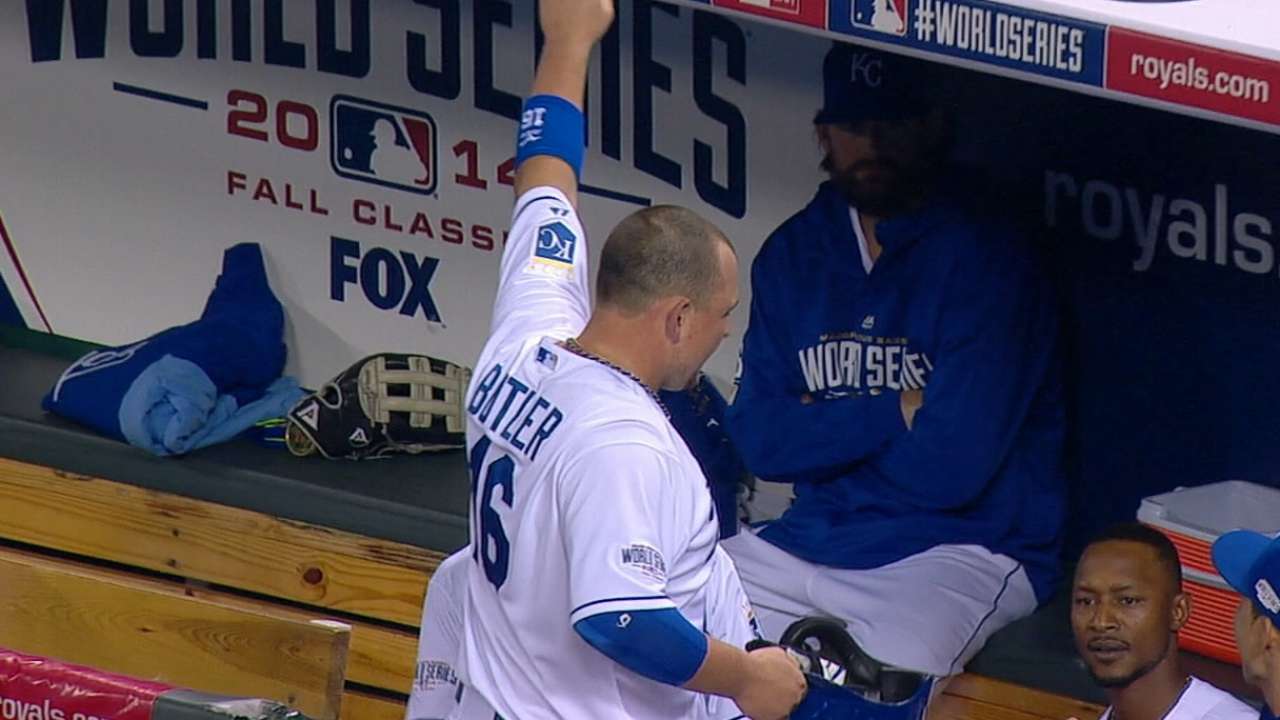 KANSAS CITY -- At the end, they roared with every single pitch. They stood, too, screaming and pleading and cheering. You could feel how badly they wanted it. Some of these fans had waited 29 years for a moment like this one. So they held nothing back as the Royals won Game 2 of the 2014 World Series, beating the Giants, 7-2, on Wednesday night at Kauffman Stadium.
There aren't that many times when a city is completely invested in a professional sports team. When it happens, players and fans alike remember it forever, how they counted down the hours to game time, how for a brief time the games themselves seemed to be the most important thing on Earth. That's what's happening around Kansas City these days. In the coffee shops and bars and restaurants, they're talking Royals. They're nervous and they're excited, and they're having the time of their lives.
"It's crazy out there, man," Royals manager Ned Yost said. "Our fans were just rabid. They were into the game from the first pitch. You look up there, and I think there's half the crowd that doesn't sit down for the entire game. I don't know how they keep their energy going, but they sure do. It's a fun atmosphere."
The Giants took control of Game 1 on Tuesday night so quickly that the fans who'd wanted something like this so badly never really had a chance to get fully into it. So for the Royals, this World Series felt like it really began on Wednesday.
"It's a fresh start for us now," first baseman Eric Hosmer said. "It's a new series. "
OK, it may not exactly be a new World Series, but it's at least tied at a game apiece as it heads to San Francisco for the next three games. Game 3 is Friday (6:30 p.m. CT airtime on FOX, 7:07 first pitch.)
This was the game in which the real Royals introduced themselves to the Giants. They rolled out four pitchers all throwing at least 95 mph. They played a solid defensive game. And they broke the whole thing open in the sixth inning by scoring five runs. Afterward, the Royals stuck to a couple of themes. They hadn't been panicked after losing Game 1. They've won enough this season to be past self-doubt. And they fed off the noise and energy of 40,446.
"There was a time later on in the game when I kind of looked around and saw everybody standing," Royals third baseman Mike Moustakas said. "It was just amazing."
When the Royals are at their best, they play the best defense in all of baseball. And they have three overpowering relievers -- Kelvin Herrera, Wade Davis and Greg Holland -- who force the opponents to do things they wouldn't normally do. They do this because the Royals believe that when they have a lead after six innings, those relievers will take care of the rest.
"After the sixth inning, my thinking is done," Yost said. "It's a huge luxury for me."
Game 2 was tied at 2 entering the sixth inning, and when Giants starter Jake Peavy allowed a couple of baserunners, his manager, Bruce Bochy, played it like he needed a shutdown inning. Yost felt that way, too.
"I felt really strongly that whoever scored that third run was probably going to win the game," Yost said.
Billy Butler's RBI single made it a 3-2 game, and with Yost having already given way to Herrera to get the final two outs of the top of the sixth inning, the Royals had the rest of the game mapped out. They went on to score five runs in the sixth, and the Giants got just one more runner into scoring position the rest of the way.
"We showed them that we have fight in us," Butler said, "and I think they knew that already. But we stepped up big there as a team, and that gave us some confidence in that clubhouse. You never know how guys are going to respond to that, losing in the World Series."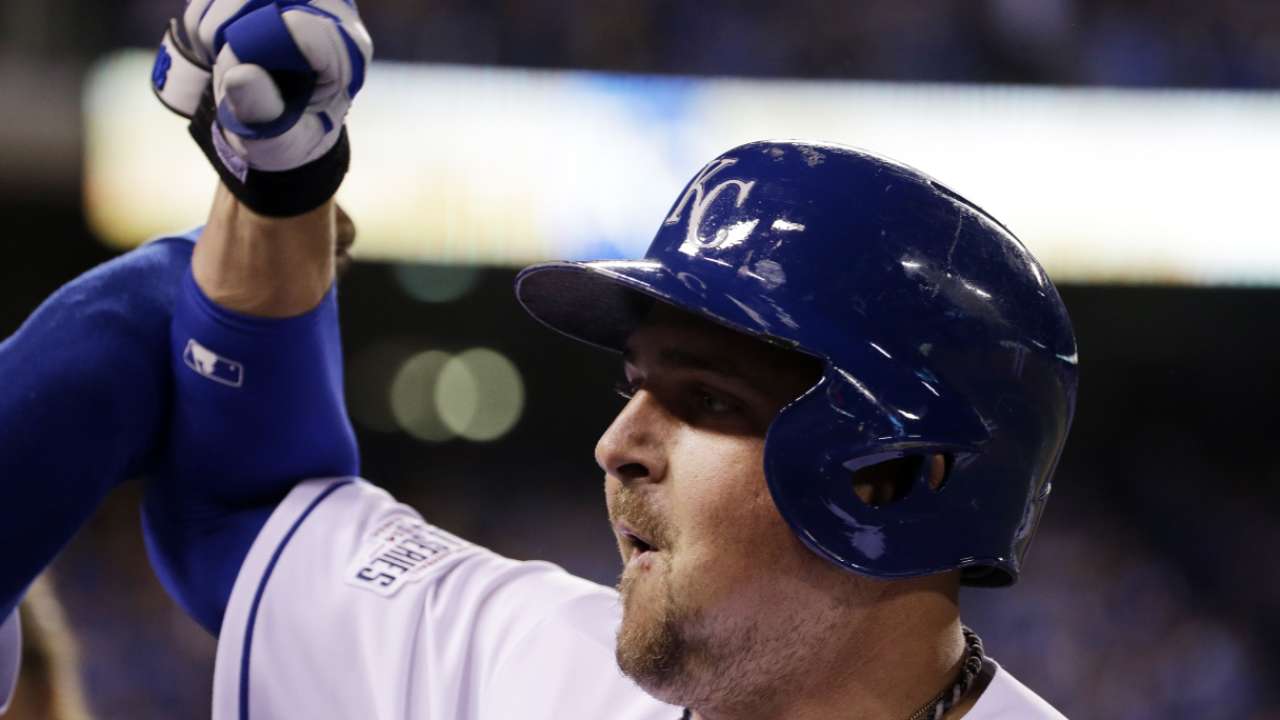 The Royals have done a really good imitation of being baseball's best team for a couple of weeks now, and perhaps that's the larger story of Game 2. The Royals looked like themselves.
"I don't think we put too much stock in it being a must-win [game] or anything like that," Holland said. "That's the reason we're here. We don't get too high or too low. We lost one game. We just knew we had to come out and play a good solid baseball game. It's just the mindset of this ball team. You're never out of it until the last out's made. You forget about it."
Richard Justice is a columnist for MLB.com. Read his blog, Justice4U. This story was not subject to the approval of Major League Baseball or its clubs.