Herrera nails down KC's first Series win since '85
Electric reliever gets five key outs in Game 2 as Royals even Fall Classic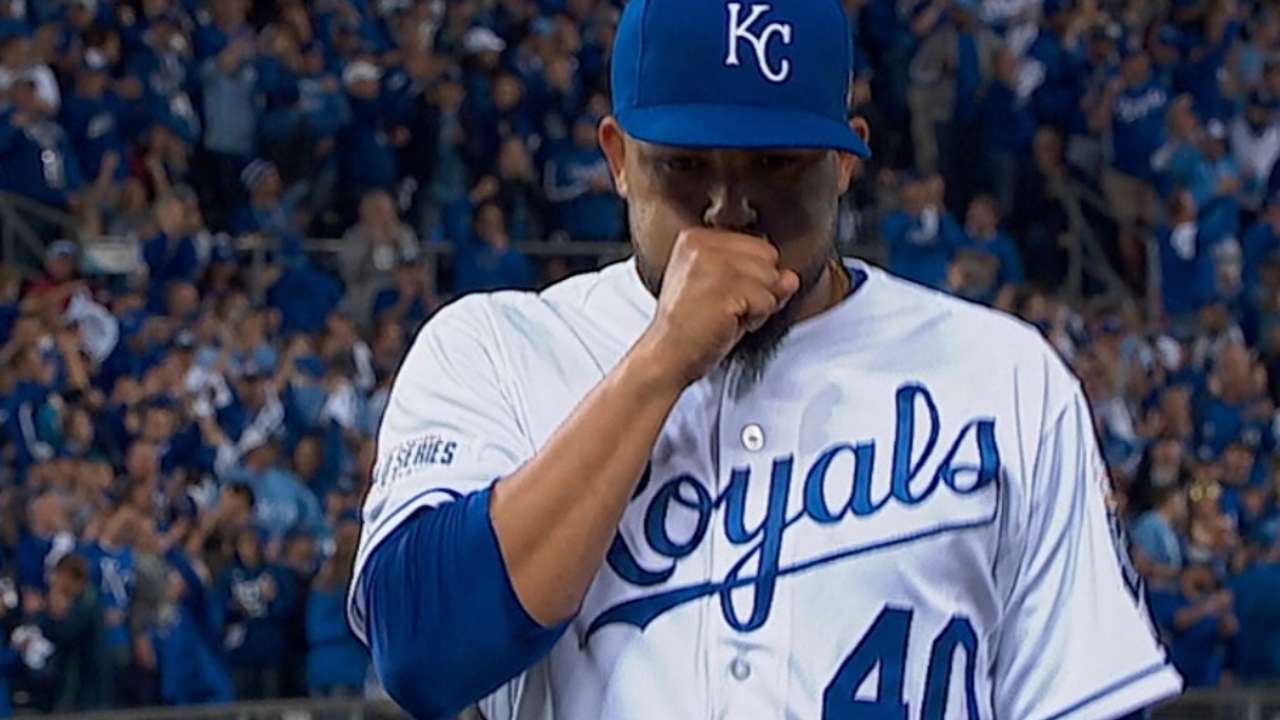 KANSAS CITY -- Royals reliever Kelvin Herrera pours through video of his appearances after every game, looking for any flaws in his mechanics, trying to pick out tendencies from his opponents and hardly ever glancing at the radar gun. He did it again late Wednesday night, after the 7-2 win that evened this World Series at a game apiece, only this time he couldn't help but notice that radar gun was flashing triple-digits even more frequently than usual.
Afterward, he was told that 14 of his 32 pitches hit 100 mph, a single-game career-high for the electric right-hander, and Herrera couldn't believe it.
"Fourteen times?!" he exclaimed in Spanish. "Today?! I didn't count them. Oh, wow. Now I feel even stronger."
Maybe it was the six-day layoff between appearances. Maybe it was the magnitude of the situation he entered, with two on and one out in the sixth inning of a tied game. Whatever the reason, Herrera was in prime form, getting out of the sixth unscathed, recording five outs and becoming the pitcher of record in the Royals' first World Series victory in 29 years.
"He's been one of the best in the game, especially coming in with runners on in those situations," said Wade Davis, one of Herrera's mentors in the bullpen. "He always seems to step up to the occasion."
Royals manager Ned Yost went to the first member of his vaunted bullpen trio early on Wednesday, because neither Herrera, Davis nor closer Greg Holland were used in Tuesday's Game 1 and an off-day will follow on Thursday. That meant Herrera would come in with one out in the sixth, after Yordano Ventura put runners on first and second, to try to get out of the jam and keep Game 2 knotted at 2.
Herrera got Brandon Belt to fly out to left field and forced Michael Morse into a fielder's choice. In the bottom half of the inning, the Royals plated five runs -- on a Billy Butler RBI single, a Salvador Perez two-run double and an Omar Infante two-run homer -- and perhaps none of it occurs if not for Herrera's escape act.
"That was big," Royals shortstop Alcides Escobar said. "He's been doing that kind of thing all year. We get in a little trouble, and he gets us out of it."
Herrera said he "came in to get a double play or a shallow fly ball, something like that, because I don't want that run to score and for us to lose."
It looked like he was trying to strike everybody out.
Three of his five pitches to Belt were 101 mph, a fourth was 100 and the changeup -- identified by pitch F/X as a fastball, and can you blame it? -- came in at 92 mph. Then all four of his pitches to Morse were clocked in the triple digits.
"It's not easy to hit his pitches," Escobar said. "He has great control. We were in a bit of trouble and he solved it."
Herrera sat around for a while in the bottom of the sixth, as the Royals scored five runs, the Giants went through five pitchers and an on-field skirmish nearly ensued. It showed in the seventh, when the 24-year-old issued back-to-back one-out walks on 10 pitches. Yost felt Herrera "lost his [arm] slot" after facing the first batter.
"But he battled and got it back," Yost said, "and he got us through that inning."
Herrera retired the next two batters, on a blooper and a groundout, and handed a five-run lead safely to Davis and Holland. After posting a 1.41 ERA and a 1.14 WHIP in the regular season, Herrera has pitched 10 innings of one-run ball in the playoffs, striking out 11 and walking four.
He saved his most impressive outing for the World Series.
"I was just trying to throw strikes," Herrera said. "I had a lot of days off, and perhaps that's why I was throwing a little harder."
Alden Gonzalez is a reporter for MLB.com. Read his blog, Gonzo and "The Show", and follow him on Twitter @Alden_Gonzalez. This story was not subject to the approval of Major League Baseball or its clubs.