Blanco survives battle with Ventura, hits leadoff HR
Giants center fielder 10th player to go deep to open World Series game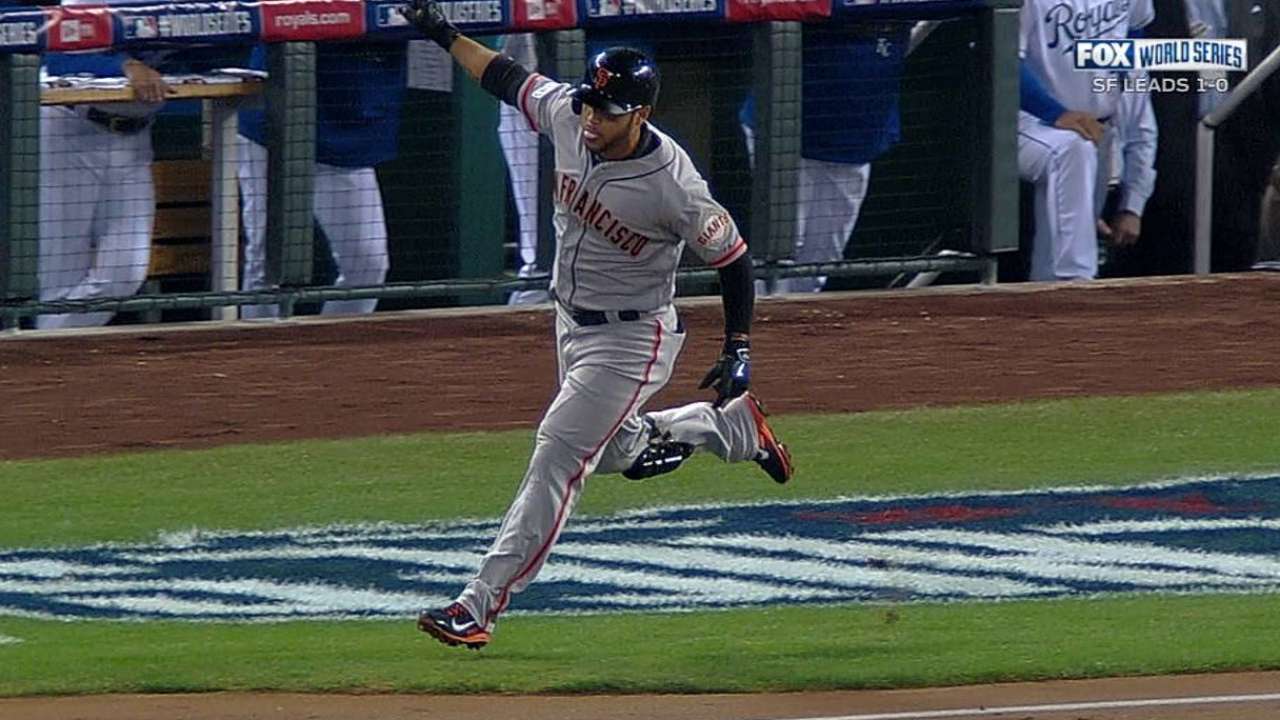 KANSAS CITY -- Gregor Blanco was not thinking home run when he led off Wednesday night's Game 2 of the World Series against Yordano Ventura, especially as the at-bat wore on.
"You're just trying to survive," Blanco said after the Giants' 7-2 loss to the Royals evened the Fall Classic.
Through the first seven pitches of the at-bat, Ventura pumped fastball after fastball, with the radar gun resembling a summer heat wave: 96, 96, 97, 95, 97, 97 and 97.
Ventura dialed it up a notch to 98 mph on the eighth pitch, and Blanco started his bat just a hair quicker, sending the ball over the right-field wall and into the outstretched cap of Giants reliever Sergio Romo in the bullpen.
"I think it was awesome to be able to do it in the World Series and especially against that pitcher, who was throwing gas," Blanco said. "To be able to have that first at-bat and to make him throw seven or eight pitches and then hit a homer, that's huge for us."
Fresh off a 7-1 victory in Game 1, the Giants' bench roared while the sellout crowd at Kauffman Stadium fell silent, no doubt worrying that San Francisco was going to pick up right where it had left off less than 24 hours before.
"Anytime you can score right away and the leadoff hitter puts you on the board, it's a good feeling," Giants outfielder/designated hitter Michael Morse said.
"That was a really great at-bat, and we were all really excited," said Hunter Pence, who had gotten the Giants started in Game 1 with a first-inning homer of his own.
Blanco's blast marked just the 10th time that a player has led off a World Series game with a home run, joining Davy Jones (1909), Gene Woodling ('53), Al Smith ('54), Lou Brock ('68), Pete Rose ('72), Lenny Dykstra ('86), Rickey Henderson ('89), Derek Jeter (2000) and Johnny Damon ('04).
"I think that's pretty cool," Blanco said. "To be able to be one of the 10, it's not an easy thing, but I think it's awesome. It's a good feeling."
First things first
World Series leadoff home runs
| Batter | Team | Pitcher | Opp. | Year |
| --- | --- | --- | --- | --- |
| Blanco | S.F. | Ventura | K.C. | 2014 |
| Damon | Bos. | Marquis | Stl. | 2004 |
| Jeter | NYY | Jones | NYM | 2000 |
| Henderson | Oak. | Robinson | S.F. | 1989 |
| Dykstra | NYM | Boyd | Bos. | 1986 |
| Rose | Cin. | Hunter | Oak. | 1972 |
| Brock | Stl. | McLain | Det. | 1968 |
| Smith | Cle. | Antonelli | NYG | 1954 |
| Woodling | NYY | Podres | Bro. | 1953 |
| Jones | Det. | Adams | Pit. | 1909 |
It certainly looked to be a good omen for the Giants, who were 5-0 coming into the game when scoring first this postseason, and it was the eighth straight World Series game in which they had scored first, with the first seven resulting in wins.
But in the Royals' dugout, manager Ned Yost was not thinking about those numbers.
"I think Blanco fouled off a couple of really good pitches and then centered one up," Yost said. "That was one of those things where as a manager, that doesn't really bother you. Just hold the fort from that point on, get your rhythm going, get yourself established."
The Giants have gotten plenty of credit -- and rightfully so -- for their tenacity and grit in being able to battle in the postseason, but it was the Royals and Ventura who showed their toughness Wednesday as the young right-hander was able to settle down after the homer.
"He handled himself very well," Royals catcher Salvador Perez said of Ventura. "He stayed aggressive, even though Gregor Blanco hit a home run against him early in the game. He's a great kid, great competitor, and he bounced back."
Blanco has hit safely in four straight games this postseason to go along with a .286 batting average. The leadoff homer was the third in postseason history for the Giants, with Angel Pagan having hit one in the 2012 National League Division Series and the NL Championship Series that same year.
The ball will no doubt be a keepsake for Blanco. After the game, it sat on the shelf of his locker, ready for the return trip to San Francisco.
"Romo caught it and he just gave it to me, and I said, 'Man thank you, that's awesome,'" Blanco said.
Steve Gilbert is a reporter for MLB.com. Read his blog, Inside the D-backs, and follow him on Twitter @SteveGilbertMLB. This story was not subject to the approval of Major League Baseball or its clubs.