Five things we learned from pivotal sixth inning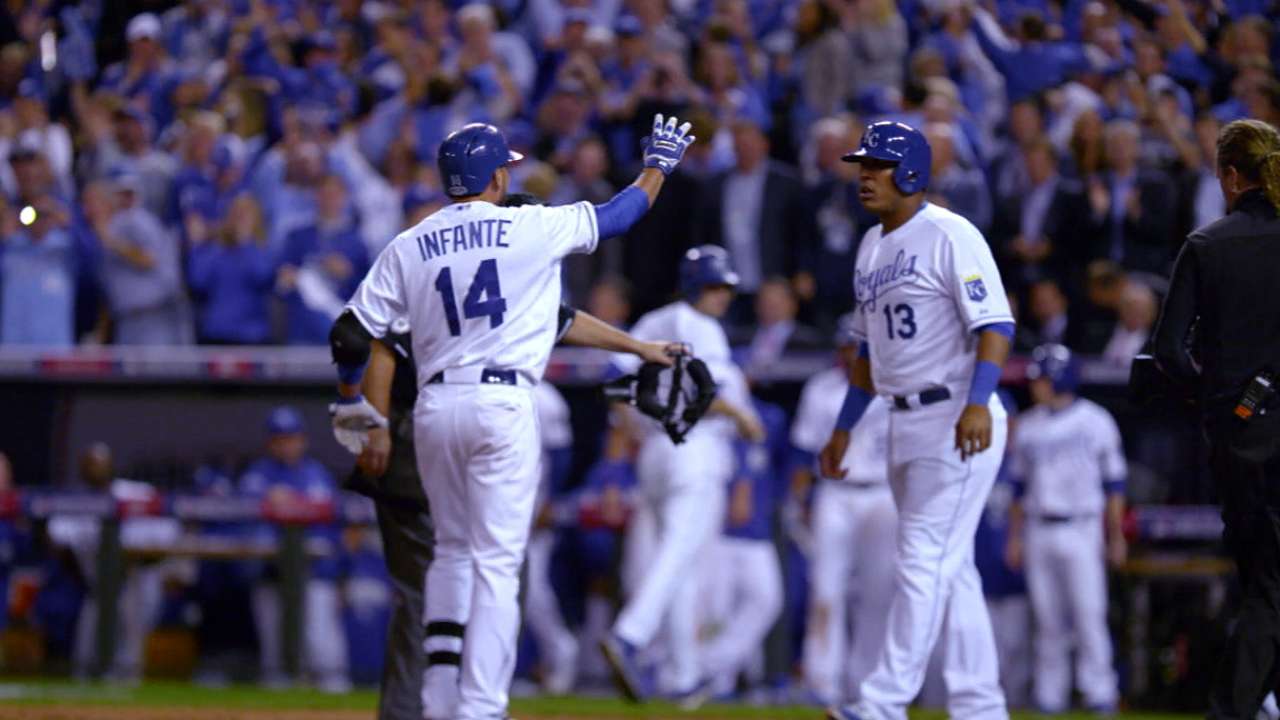 KANSAS CITY -- By the time the sixth inning was over, Kelvin Herrera had thrown a 101-mph sinker, Billy Butler had given a curtain call after a single, the benches had cleared, Omar Infante had gone deep and four Giants relievers had been summoned, all pretty much in vain.
So yeah, the sixth inning was a bit wild Wednesday night. And oh yeah, it was the inning that decided Game 2 of this World Series in favor of the Royals, who went on to a 7-2 win in front of a raucous Kauffman Stadium crowd to salvage a home split.
Here are the five key takeaways from the sixth:
1. Ned Yost's sense of urgency
Three weeks ago, even though his Royals had won the American League Wild Card Game against the A's, Yost was getting crushed on radio and television and in print for putting starter Yordano Ventura in as a reliever in a key sixth-inning spot, and then explaining his reluctance to go to Herrera in that situation because Herrera was his "seventh-inning guy."
Clearly, Yost's thinking on this matter has evolved over the course of the postseason, because at a time when this game was tied at 2, and Ventura was showing signs of fatigue, Yost didn't hesitate to bring Herrera in with one out in the sixth.
"My concern innings, if you will, before the game, are the fifth and the sixth innings," Yost said, "if I've got to mix and match that."
The upcoming off-day in this series made using Herrera in that spot a worthwhile gamble, and to say it paid off would be an understatement. To say Herrera's stuff was electric would be an even bigger understatement. He retired the first batter he faced -- Brandon Belt -- on that aforementioned 101-mph two-seamer, a pitch that ought to be outlawed. Herrera then got Michael Morse to ground into an inning-ending fielder's choice.
Herrera was efficient enough with those two outs that he was able to finish the seventh, pitching around walks to Brandon Crawford and Gregor Blanco. And by then, he was protecting a big lead, because of what transpired in a crazy bottom of the sixth.
2. Bruce Bochy sticks with his starter
On the surface, Jake Peavy had settled in by the time the sixth inning started. Yes, he had given up a run in the first and another in the second, with hard-hit balls and traffic galore. But he had retired 10 in a row entering the sixth, and his pitch count was at just 57.
"You're going to take me out when I've retired 10 straight? I don't know," Peavy would say later. "I would have been upset if he didn't let me in a tie game."
The flip side of the discussion is that Peavy still wasn't missing many bats, and this contact-oriented Royals squad can pounce in that sort of situation. Opposing lineups had a .933 OPS against Peavy the third time through the order this season. Still, Bochy not only trusted Peavy to start the sixth, but he hung with him after Lorenzo Cain opened the inning with a bloop single to bring up the left-handed-hitting Eric Hosmer. Bochy had two lefties in his 'pen -- Javier Lopez and Jeremy Affeldt -- but he hung with Peavy, with no second thoughts after the fact.
"Jake settled in," Bochy said. "The first two innings, he was a little erratic, but he was right on. I mean, he really was throwing the ball well. So, no, I can't say I was going to make a change there because he gave up a bloop hit. I was going to let him face [Hosmer]."
Hosmer, though, drew a walk after working the count full, which turned out to be a major development in the inning. With two on, Bochy turned to his bullpen, making the somewhat questionable decision to turn to Jean Machi, who had a 7.71 ERA in four previous appearances this postseason.
3. The #BillyBuntler movement dies a quick death
You want a window into how crazy the postseason can be? There was a moment in the sixth inning when a perfectly sane human being might think it would be a good idea to have Butler bunt.
Butler, for the record, has exactly zero sac bunts in his career. But when he came to the plate there with two on and none out, it was actually fair to wonder whether the Royals, who have put down seven sacrifices in their postseason run, might pull some sacrifice shenanigans. The hashtag #BillyBuntler occurred in many a Twitter feed.
In reality, while Yost was convinced that the next run would be the winning run, the thought of having Butler bunt against Machi to put the Royals in better position for that run did not even register.
"Never," the manager said. "Never, never, never. The thought that came to my mind was maybe a hit-and-run, but with no outs, I wasn't going to do that."
So Butler was, understandably, free to swing away. And he swung the Royals into the lead to culminate a great at-bat. He got ahead 2-0, then sought and found an elevated fastball that he smacked into left field, driving in the go-ahead run.
"I knew when I got 2-0, that first and second, nobody out, the last thing he wants to do is put another guy on there to load the bases up with nobody out," Butler said. "So I knew he was going to attack me with a fastball. I was just looking for it up in the zone, and [I] got a good pitch to hit."
Cain streaked home from second in what was a great send on the part of third-base coach Mike Jirschele, who knew that Travis Ishikawa had the baseball but not the arm to make a play at the plate happen. It was 3-2, Royals. And when Butler was lifted for pinch-runner Terrance Gore * and retreated to the dugout, the raging crowd chanted Butler's name and urged him to come back for one final tip of the cap before this Series shifts to San Francisco and he becomes a pinch-hitter extraordinaire.
"It was one of those things where your teammates tell you to do it, you're going to get out there," Butler said. "And the fans received me well. It was an exciting time."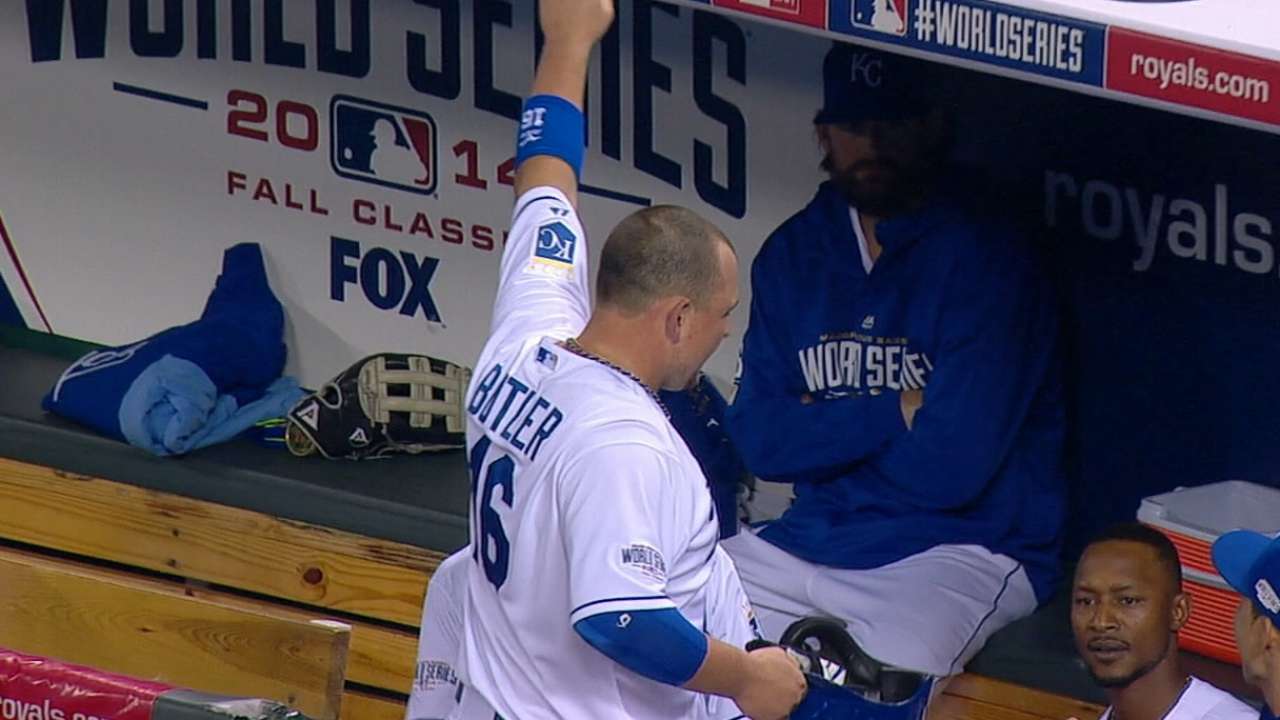 (* An underrated element of this inning was Yost's decision to remove Butler's bat in that moment in favor of the speedy Gore, even with a runner ahead of Gore at second. It was a risky move, but it wound up working.)
4. Bochy's matchups were mismatches
The inning quickly became Tony La Russa-like from there. Despite a hesitance to burn Lopez against Hosmer, Bochy pulled the trigger on that move with Alex Gordon coming to the plate. And that worked. Gordon flied out.
But the same can't be said for Bochy's next decision. Throughout October, he has shown a lot of faith in hard-throwing right-hander Hunter Strickland, and little of it has proven justified. Strickland had already given up four postseason home runs before he was summoned in the sixth, but the Giants were encouraged by what they saw from him -- in terms of command and secondary stuff -- when he closed out Game 1 with a perfect ninth.
Of course, pitching with a 7-1 lead is a lot different than pitching with a 3-2 deficit and two aboard. Strickland was not ready for prime time. First, he threw a wild pitch to Salvador Perez, and that allowed Gore and Hosmer to advance to second and third, respectively.
And then the dagger. Perez punched a 97-mph four-seamer to center to bring both runners home (Gore is so darn fast, he probably could have scored from first on the play) and make it 5-2.
Now truly rattled, Strickland let the inning get completely get away from him. He threw a first-pitch ball to Infante, then hung another four-seamer that Infante lined over the left-field wall. It was now 7-2. And against this Royals bullpen, that's a ginormous lead.
"I think the one mistake was probably to Infante there," Giants catcher Buster Posey said. "The ball just ran back, middle in."
5. Tempers flare
The game was essentially over, but the drama was just beginning. Whatever happened, exactly, between Perez and Strickland remains a bit murky, and maybe it all came down to miscommunication. But Strickland seemed to take issue with Perez's casual stroll home, and Perez seemed to take issue with Strickland's general disposition.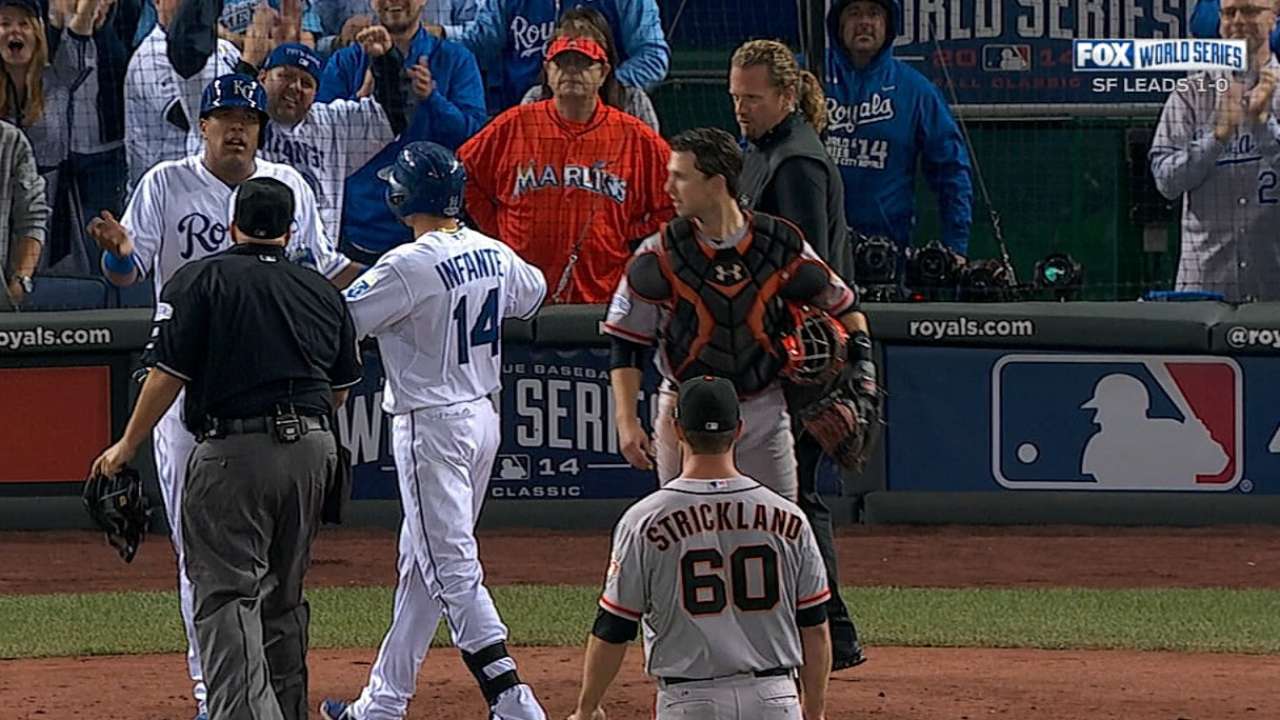 "After I hit the double, he started looking at me on second base," Perez said. "So I just wanted to, you know, forget about that. ... So after Omar hit the bomb, and I get close to home plate, he started to look at me, so I asked him like, 'Hey, why you look at me?' So he was telling me, 'Get out of here, whatever.' So I don't know. You don't have to treat me like that. Look at Omar. Omar hit a bomb."
Both benches cleared, and suddenly this Series was spiked with animosity. But Strickland downplayed it all after the fact.
"I was more frustrated at not executing my pitches," Strickland said. "It was miscommunication. My emotions just got the best of me. I'm not too proud of that, but it is what it is. I can't take it back."
Nor can he take back his fifth postseason homer allowed. And by the time Bochy made his fourth and final call to the 'pen in the decisive sixth, it was too late to salvage Game 2.
Anthony Castrovince is a reporter for MLB.com. Read his columns and follow him on Twitter at @Castrovince. This story was not subject to the approval of Major League Baseball or its clubs.