Salvy providing spark for hard-charging Royals
All-Star catcher delivers clutch two-run double in Game 2 after homer in Game 1 loss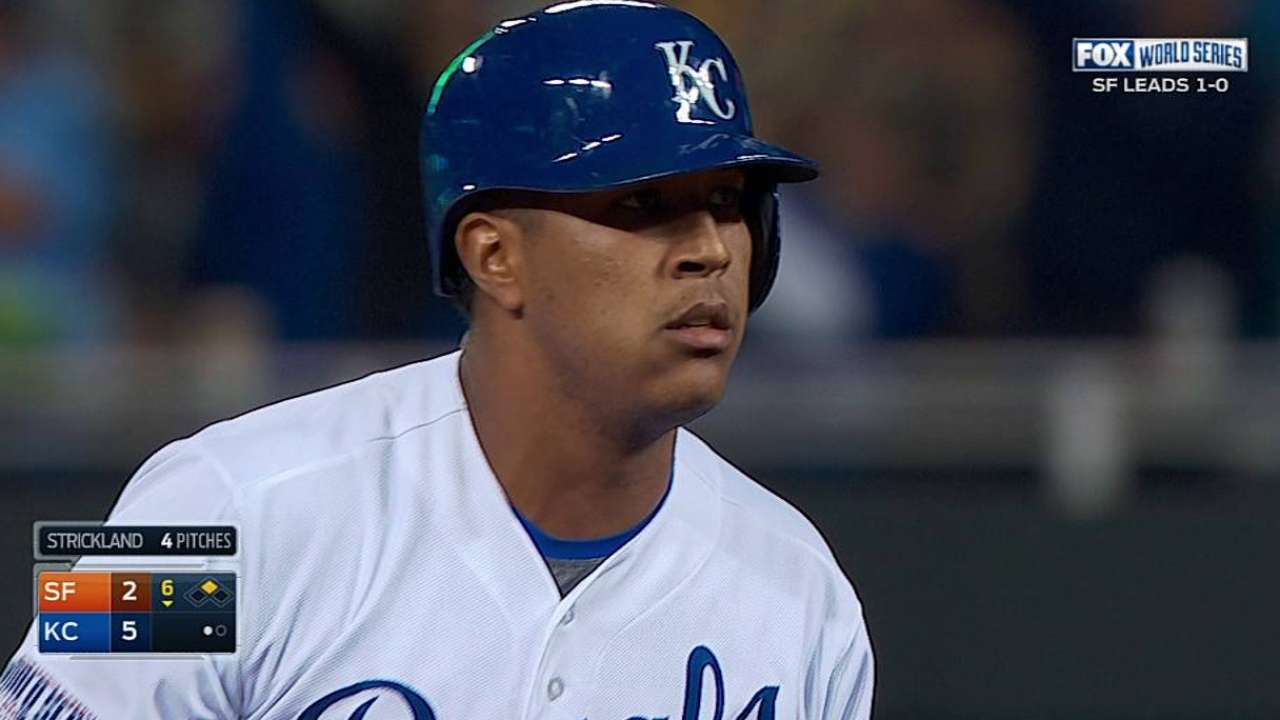 KANSAS CITY -- Yilda Diaz flew into Kansas City on Monday to see her son, catcher Salvador Perez, play in his first World Series game on Tuesday. Although the Royals would lose Game 1 to the Giants, it was Perez who gave the crowd at Kauffman Stadium one of team's few highlights in a 7-1 loss, homering off Madison Bumgarner.
Before Game 1 ended, Perez gathered a few of his teammates in the dugout, exhorting them to relax, shake off a rough start to the Fall Classic and look ahead to Wednesday night's Game 2.
To Yilda, that is no surprise. She's seen her son take on that type of leadership role since his days as an early teen catching on youth baseball teams at Club Firestone in Valencia, Venezuela.
"Since he was little and began catching, he's always been like that," said Diaz, seated in the family section at Kauffman Stadium. "He always made sure he talked to pitchers and players, positioning them on defense. He was always on top of those things at that young age."
Perez followed up his Game 1 home run with a key two-run double in Game 2 to help the Royals earn a 7-2 victory to tie the series at 1-1. After his double off reliever Hunter Strickland, Perez drew the ire of the right-hander while heading toward home plate on Omar Infante's subsequent two-run home run.
"So after Omar hit the bomb, and I get close to home plate," Perez recalled, "he started to look at me, so I asked him like, 'Hey, why you look at me?' He was telling me, 'Get out of here, whatever.' ... You don't have to treat me like that. Look at Omar. Omar hit a bomb. I didn't hit a bomb. I hit a double.
"We don't want to fight on the field. I'm not that kind of person, that kind of player. I just like to play hard, enjoy the game and try to get a 'W' for my team."
In the first two games of the World Series, Perez has done just that, going 2-for-7 with the two aforementioned extra-base hits and three RBIs, while shepherding the pitching staff.
Although Perez, 24, acknowledged that he was pleased with his individual performance and that it was "special" to hit a home run in his first World Series game with his family in attendance, the fourth-year catcher is singularly focused on his team's goal of bringing a championship to Kansas City.
"I can go 0-for-4, but if we win the Series, that's the important thing for the team, the fans and the city," Perez said after Game 2.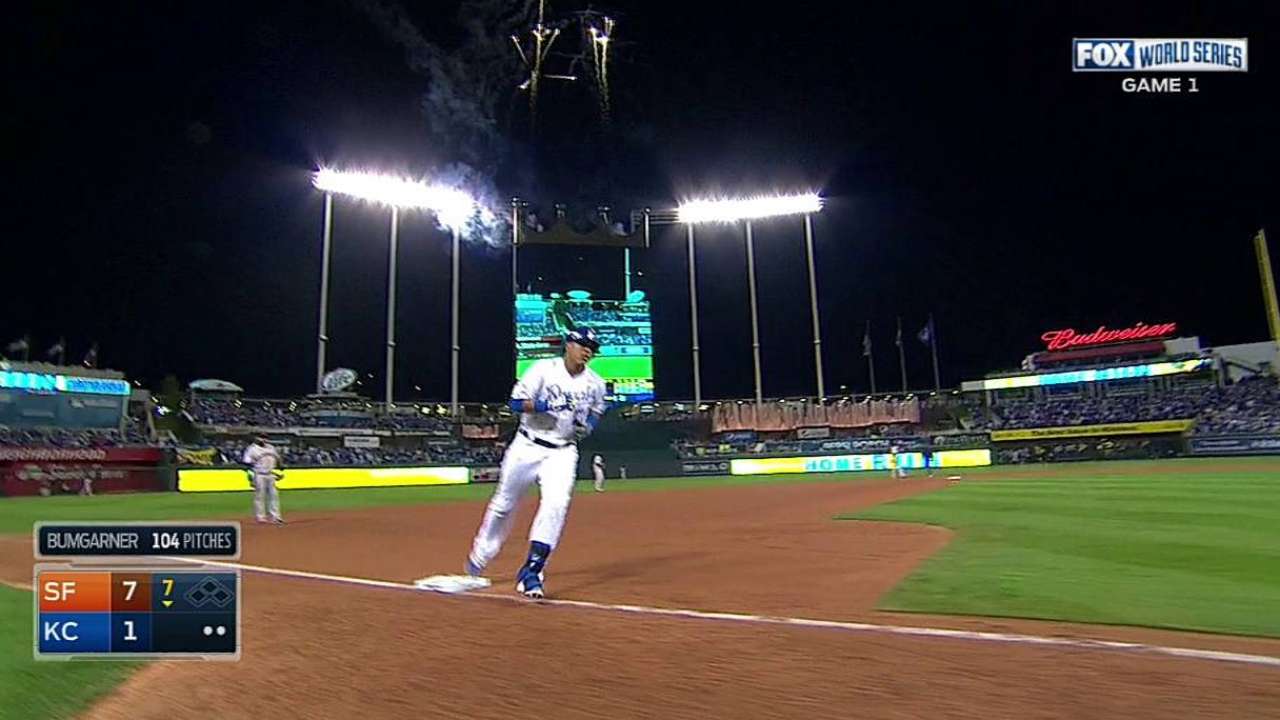 Perez, a two-time All-Star and starting catcher for the American League this season, is arguably the brightest of the Royals' young stars that have come of age this year, particularly with their October success. Not only was he the most durable receiver in the AL with a league-leading and Royals record 146 games behind the plate, but he also contributed 17 home runs and 70 RBIs.
After Wednesday's contest, Perez has now caught 156 games in 2014.
"For me, he's the best catcher in the Majors," said Royals shortstop and fellow Venezuelan Alcides Escobar. "He plays every day no matter the situation. He plays day games, night games and, as everyone knows, he's a young guy with good defense and good offense. He does both."
But Perez's contributions for the AL champions go beyond what does on the field. He's known as a clubhouse leader who keeps everyone loose, be it with lighthearted Instagram posts, impersonating a reporter on World Series Media Day interviewing Lorenzo Cain, or simply contributing positive chatter in the dugout and the clubhouse.
"I've never seen Salvy walk through that clubhouse door with anything but a big smile on his face," manager Ned Yost said. "He loves playing baseball. He loves being around his teammates. He loves rallying the guys, he loves keeping the guys loose and he just loves playing baseball."
Reliever Kelvin Herrera came up with Perez through the Royals' Minor League system.
"He's always been a great leader," Herrera said. "He's always keeping our spirits up and keeps us in a cheerful mood. He's always had a great personality, a lot of fun. I've never seen him with his head down."
Perez says there are three keys to handling a pitching staff: "hard work, getting to know the pitchers and [getting] players to be on the same page."
His leadership skills, his mom says, have always come naturally.
"Salvador Perez has been like that his whole life," she said. "Always a jokester, very charismatic and just a good person with everyone."
And of course for Yilda, the chance to see her son shine on baseball's biggest stage is a dream come true.
"I'm so excited," she said. "I never expected something like this when I started him in youth baseball, but thank God the opportunity arose and we're here, enjoying every bit of it."
David Venn is lead editor of MLB.com's Spanish site, LasMayores.com. This story was not subject to the approval of Major League Baseball or its clubs.