Young reliever Burgos seeing advanced hitters in AFL
D-backs farmhand has been with organization since 2008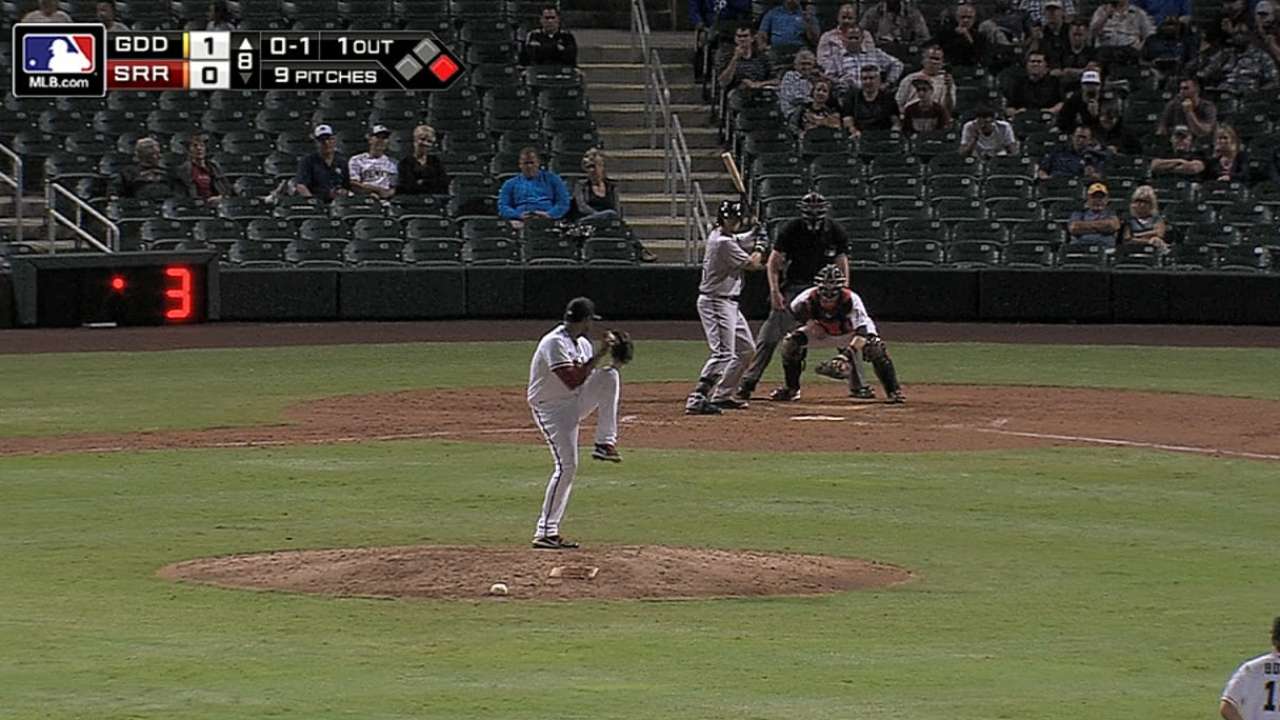 SCOTTSDALE, Ariz. -- The D-backs recently added right-hander Enrique Burgos to their 40-man roster to protect him in the upcoming Rule 5 draft. Now it's up to him to prove the team made a wise move.
Burgos is pitching for the Arizona Fall League's Salt River Rafters, and has pitched effectively early on.
He missed a few games when he had to return to his native Panama to attend his grandmother's funeral, but has returned to regular duty, pitching every few days.
Burgos, 23, has pitched in five games, earning a victory and picking up two saves.
He already has been a member of the Arizona organization for six years, signing as a free agent at age 17 and on the club's radar for longer than that, he said, since 15 or 16.
Burgos grew up playing soccer and then switched to baseball. He became a starting pitcher and wanted to follow in the footsteps of countryman Mariano Rivera, who began his career as a starter and then switched to a closer's role, becoming Major League Baseball's career saves leader.
The 6-foot-4, 200-pound Burgos isn't about to say he is in Rivera's category, but he wants to have a long, steady career in the big leagues.
For the first three years as a pro, Burgos was a starter. Then he switched to reliever and has loved it ever since.
In Panama, Burgos had plenty of success, striking out hitters left and right, but when he came to America, he encountered something he rarely had experienced back home -- struggles.
"I had always thrown hard and was striking out everybody. Failure was hard on me, and I was a long way from home. I got homesick a lot,'' Burgos said.
But he persevered.
With the help of his coaches, he learned more pitches other than just the fastball and his ERA shrunk from 15 or so to a more respectable level.
After posting a combined 13-10 record over his first four seasons, Burgos was sent to the bullpen.
"At that point, I was willing to try anything,'' Burgos said. "As a reliever, you have a chance to pitch just about every day. You have to be ready. I saw an opportunity.
"I would say I gained more confidence. You throw only one or two innings and you can be aggressive right away. As a starter, sometimes you 'save your bullets.' But my stuff [as a starter] wasn't that good. The last three years, I've worked the eighth and ninth innings. When you are the closer or even a setup man, all eyes are on you.''
He was 7-8 over the last three seasons as a reliever with Yakima (Wash.), South Bend (Ind.) and Class A Advanced Visalia (Calif.) and in the last two stops combined for 46 saves, including 29 at Visalia.
In 2014, he said his control improved a lot, that his walks were down and his strikeouts were up. Burgos also held opponents to a .188 batting average.
"Being down in walks is important because the higher you go, the more patient the hitters are,'' Burgos said. I think if you saw me when I started out and compared it to now, I think you would see a pitcher who has grown a lot.
"I feel like I have been doing pretty well out here in the Fall League. They have Double-A and Triple-A hitters here and I have been working hard. I just need to continue to do that and see where that takes me.''
Don Ketchum is a contributor to MLB.com. This story was not subject to the approval of Major League Baseball or its clubs.