MLB.com Columnist
Mike Bauman
Homers continue to be Strickland's nemesis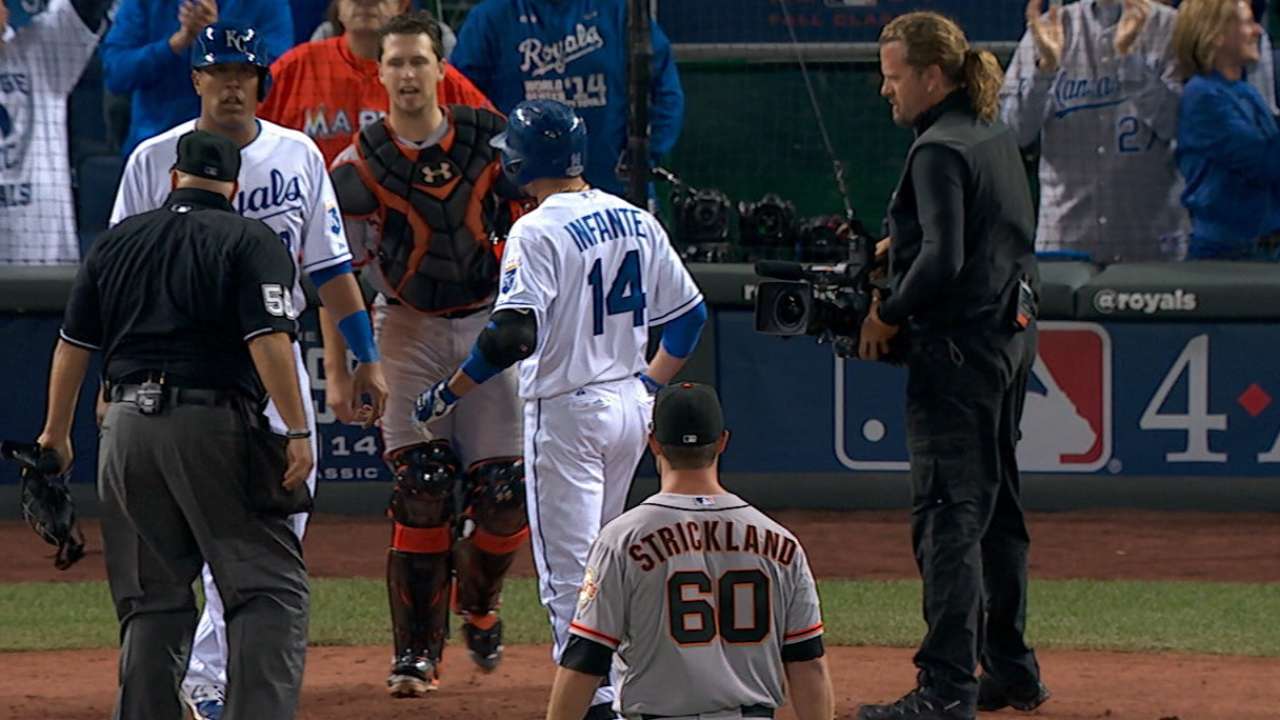 KANSAS CITY -- Based on the available evidence, the Giants have been slightly oversold on the 2014 version of Hunter Strickland.
The young reliever gave up his fifth home run of the postseason on Wednesday night, a two-run homer to Royals second baseman Omar Infante that put the game out of reach in a 7-2 loss in Game 2 of the World Series.
Strickland, 26, may have three-digit velocity. He may have terrific potential. But his time is not the 2014 postseason, particularly the 2014 World Series. You can tell, because he keeps giving up home runs -- five of them in 5 1/3 innings over seven postseason appearances.
There was another problem on Wednesday night, as he gave the death stare to the guy who just had a big hit off him. In this case it was catcher Salvador Perez, who had hit a two-run double before Infante's homer. Strickland put the stare on Perez after the double and moved toward the third-base line to stare at him again after Infante went deep.
The Giants don't need this. They are the current kings of the postseason. Their Game 2 loss at Kauffman Stadium could be seen as something of an aberration, as it snapped a seven-game World Series winning streak dating back to 2010. Prior to this loss, the Giants had won 16 of their last 18 postseason games, and eight of their last nine on the road.
The Giants have won eight straight postseason series, the longest streak in history by a National League team. So they have placed themselves in exclusive postseason company. They didn't do this by making persistent mistakes with their pitchers.
Strickland had a similar incident in the NL Division Series, after Washington's Bryce Harper hit a bomb off him. Strickland was let off the hook in that case, because the media focused on Harper screaming at him from the dugout after the homer. Harper was almost automatically blamed by some members of the media, as he has become a convenient -- albeit often inappropriate -- target.
On Wednesday, Strickland entered in the sixth, with the Giants trailing, 3-2. He threw a wild pitch, then gave up the two-run double to Perez and two-run homer to Infante, making the score 7-2.
Infante, whose homer was his first in 145 postseason at-bats, did not engage in any sort of obvious inappropriate behavior after hitting the home run.
Instead a verbal confrontation ensued between Strickland and Perez.
"It was a miscommunication," Strickland said.
That was likely because as Perez and Strickland yelled at each other, Perez did so in Spanish, Strickland in English.
What did Perez say?
"I have no idea," Strickland said. "I don't speak Spanish."
Order was quickly restored without major incident.
Strickland, to his credit, stood at his locker postgame and stood up to several waves of reporters, who were inquiring about the home run, but mostly about the confrontation.
"I hadn't performed up to my ability," Strickland said. "I was frustrated with not executing my pitches.
"I was mad at myself. I got caught up and didn't control my emotions like I should have. My emotions got the best of me, and I'm not too proud of that."
Perez said that Strickland stared at him after he hit the double and again as he scored on Infante's homer.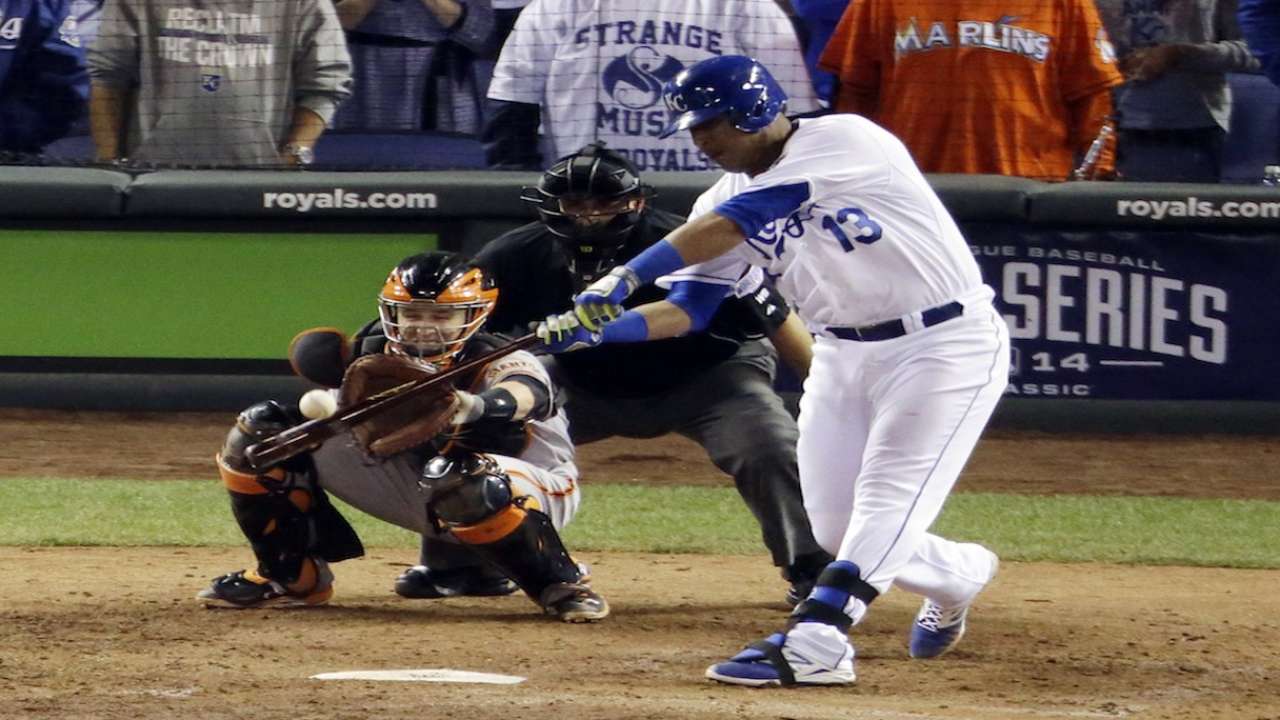 "I don't know what happened," Perez said. "But the last thing, we don't want to fight on the field. I'm not that kind of person, that kind of player."
Giants manager Bruce Bochy offered a relatively sympathetic view of Strickland's conduct.
"He's an intense kid, and it probably got away from him a little bit," Bochy said. "But I'll talk to him. He gave up a double and then a home run. He's a competitor, and it just got away from him, I think."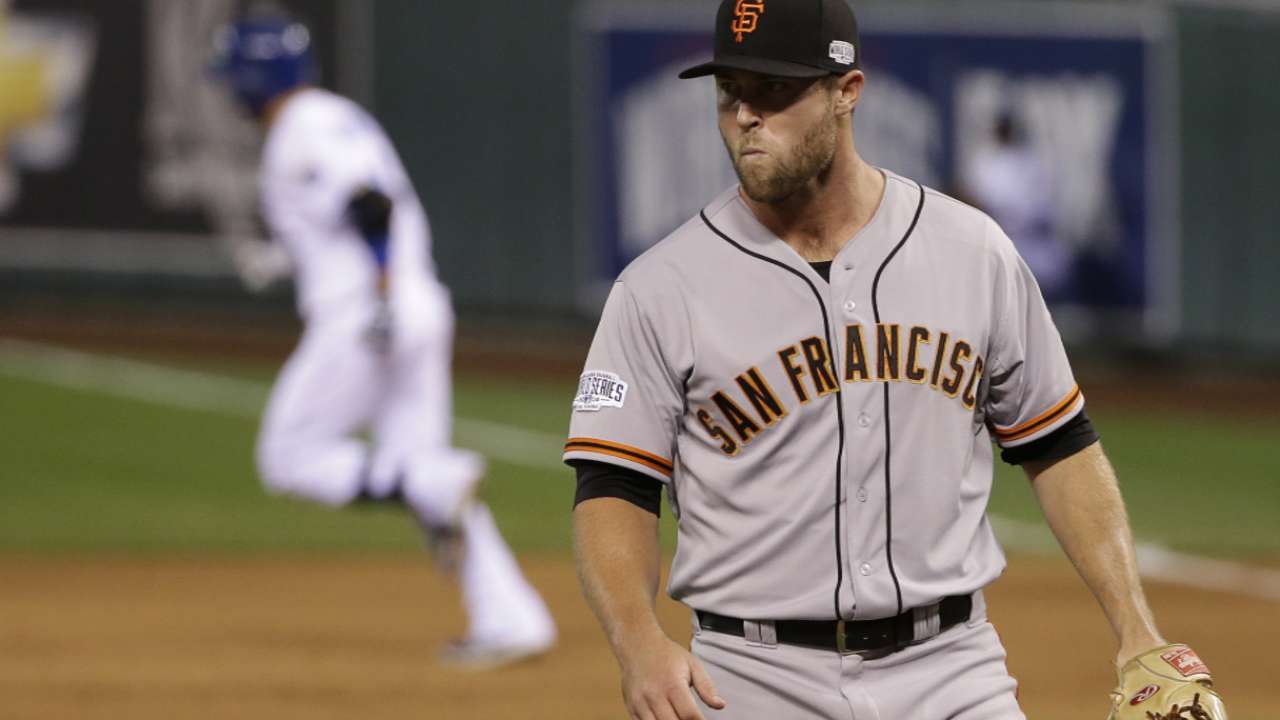 • Video: Bochy addresses Strickland's temperament
You could easily see how Strickland could become an effective reliever for the Giants, over time. But you can't easily see how that is going to happen within the next week when he is giving up home runs at a one-per-inning pace.
Strickland has had moments of effectiveness, such as when he got the Giants out of an inning with a strikeout in the NL Division Series, but those moments have been separated by the home runs.
The World Series is no time for a project. And as far as the stares go, a look in the mirror might be more in order.
Mike Bauman is a national columnist for MLB.com. This story was not subject to the approval of Major League Baseball or its clubs.