Peavy settles in until finding trouble in sixth
KANSAS CITY -- Every number and every statistic hissed at Jake Peavy. They flashed across television screens and computer monitors late Wednesday evening, entering the sixth inning of Game 2 of the World Series.
Peavy had never completed six innings in a playoff game -- that was a popular stat. This summer, opposing hitters had crushed him for a .933 OPS their third time through the order -- that was another. And so on and so forth, to the point that anything other than a Peavy meltdown seemed unreasonable.
With all those numbers at his disposal, manager Bruce Bochy never gave his starter a chance to melt away completely. But Peavy still allowed the first two batters of the sixth to reach base, sparking the Royals' key rally in a 7-2 Giants loss.
"You're going to take me out when I've retired 10 straight?" Peavy replied when asked about his danger zone entering the sixth. "I don't know. I would have been upset if he didn't let me [pitch] in a tie game."
Peavy wound up leaving Kauffman Stadium upset anyway. Minutes after the game ended, he sat hunched over a clubhouse laptop, dissecting each pitch to his final batter of the night.
Despite facing the middle of Kansas City's order in a tie game, Peavy explained later, he did not sweat the outside slider that Lorenzo Cain blooped into center to lead off the sixth. But he did sweat what happened next.
Peavy's first pitch to Eric Hosmer was an 89-mph fastball an inch or two off the plate, a pitch Peavy wishes he had located just a shade closer. His next two offerings were not close, but he came back with a pair of fastballs skimming opposite edges of the strike zone to run the count full.
Peavy then dumped what he hoped would be a tempting curveball just south of the strike zone -- "I should have thrown it more for a strike," he said -- and Hosmer watched it go by for ball four.
"That was a pretty good take," catcher Buster Posey said.
That pitch ended Peavy's night, forcing him to watch from the bench as Billy Butler ripped a go-ahead hit off Jean Machi before Salvador Perez and Omar Infante put the game out of reach with a double and a homer against Hunter Strickland.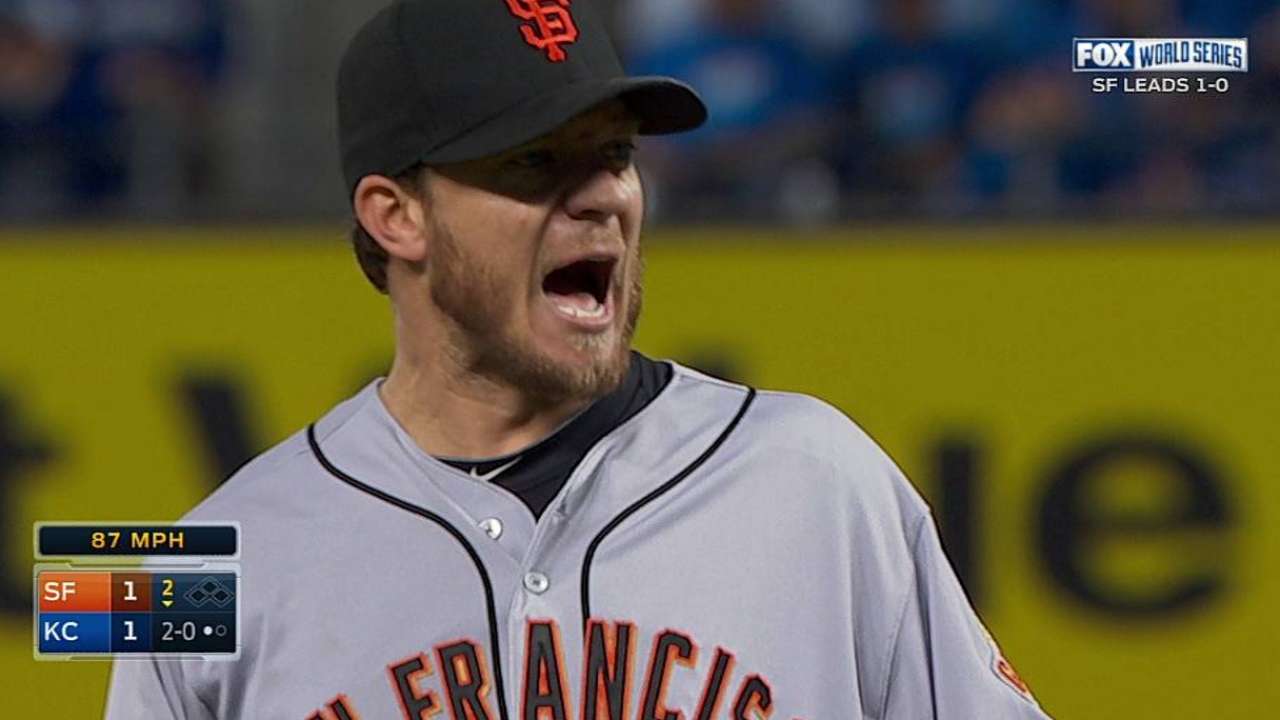 "It wasn't fun," Peavy said. "It's not ever easy coming out of the game with your runners on and having to watch. That's probably the toughest thing to have to do as a pitcher. You feel bad putting your guys in that situation. You want to be out there trying to pull your teammates through and get out of it there. Unfortunately, it didn't go that way."
What made Peavy's struggle in that sixth inning so unique is that he had thrown only 57 pitches up to that point, settling down on the score sheet despite some hard-hit balls. He felt "confident" heading into the sixth, and Cain's bloop single did nothing to change that.
But by the time Peavy finished with Hosmer, Bochy had seen enough. It was only five innings earlier that Peavy had given up an RBI single to Butler, allowing his second run on Alcides Escobar's double.
"Jake was throwing the ball well," Bochy said. "Once he lost Hosmer, I just wanted to give Butler a little different look."
"I know what he's featuring," said Butler, who had gone 14-for-23 off Peavy going into the night. "I know he's got good offspeed breaking stuff, and he's got a good sinker."
None of this is new for Peavy, whose struggles with San Diego labeled him a postseason goat early in his career. Those reputations can be hard to shake, and Peavy maintained his even after pitching adequately for the Red Sox at points last October, then again for the Giants earlier this month.
Now even the goodwill from those outings has vanished. With four runs in five-plus innings on Wednesday, Peavy's lifetime postseason ERA rose to 7.05. For the fifth time in eight playoff starts, he walked at least as many batters as he struck out.
Those numbers will surely hiss at him again if and when he takes the mound for a potential Game 6.
"My name will hang on this loss, and I feel bad for that, but we win together and we lose together," Peavy said. "We'll be back Friday night."
Anthony DiComo is a reporter for MLB.com. Follow him on Twitter @AnthonyDicomo. This story was not subject to the approval of Major League Baseball or its clubs.