Oct. 22 Billy Butler postgame interview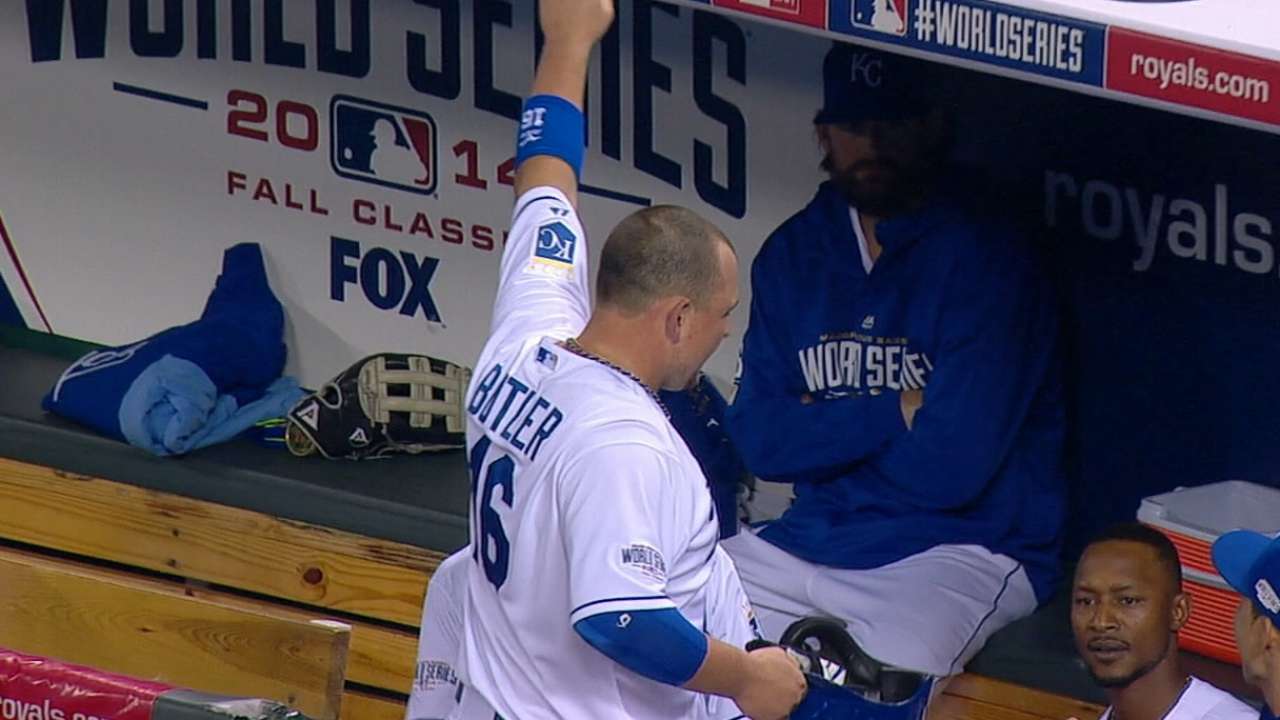 Q. There was a lot said about you and Peavy sort of had a history; I think of, you hit him well. I think you had maybe some emotional confrontations with him, I guess. Coming up in that situation in such a big spot early in the game, what is sort of going through your head there? And how much did your previous experience with him maybe help you out there a little bit?
BILLY BUTLER: You know, this is the postseason, so the other experiences really don't come into play. I know what he's featuring. I know he's got good off‑speed breaking stuff and he's got a good sinker. I know in that situation right there that in the past that I've hit his fastball well at times, that he's going to try to stay down and away from me and try to make me hit his pitch.
He started me off well. He threw a good cutter, and I swung over the top of the first one, and then once I see it, I feel good after that, after seeing it. He threw me the same pitch again, and it stayed up a little bit more, and I drove it through the middle.
Granted, I've done that same play where I've hit it at somebody. It's one of those things where I found a hole and I was in the right spot. My teammates did a great job tonight, and Hoz worked some good at‑bats in front of me, and got me up in a good situation.
Q. In the sixth inning, you know that guy's in there because he wants you to hit the ball on the ground, were you waiting for a pitch up to elevate? Was that your plan?
BILLY BUTLER: I knew Machi has a good sinker, he's got a good split. I knew when I got 2‑0 that first and second, nobody out, last thing he wants to do is put another guy on there to load the bases up with nobody out. So I knew he was going to attack me with a fastball. I was just looking for it up in the zone, and got a good pitch to hit. I knew he was trying to ‑‑ he had to come right after me.
So sometimes it works out that way. I could hit it at somebody as well in that one, but it worked out and hit it hard.
Q. I wanted to ask you, obviously mathematically this was not a must‑win; we all know that. The way the series was set up, did you guys approach this game after losing Game 1 that it was a game you really felt you had to win?
BILLY BUTLER: Especially at home. I felt like definitely it was a must‑win for us. Granted, going down 0‑2 we see what happened with us in the Baltimore series. The home team carries a lot of momentum back to their home ballpark with their fans. Their fans are going to be excited even though it's 1‑1.
We felt like with our big sixth inning there, we took a little momentum out of how they were playing. They were playing really well, and they continue to play well. But we showed them that we have fight in us, and I think they knew that already. But we stepped up big there as a team, and that gave us some confidence in that clubhouse. You never know how guys are going to respond to that, losing in the World Series, but we feel confident going in there 1‑1.
Q. Looking at this whole World Series for you and the big picture, having been here so long, were there any moments along the way that you wondered if it really would happen if you could get to this moment? And now that you're here, how does it compare to what you must have imagined it to be like?
BILLY BUTLER: Absolutely. There's always times when ‑‑ the organization, we're losing 90 games at a time, and it always feels like we're developing players. But you just continue to grind and continue to do your job.
Imagine being your first playoff berth and being in the World Series, and winning 8 in a row, the first team to do that to start the playoffs. If you're going to say you envisioned doing that, I don't think that's possible. But it shows you what type of group we have in there and what type of group the organization up top assembled.
Q. One more about the 6th inning: The curtain call, you heard fans cheering or it looked like there were a couple guys, players, coaches, somebody egging you on. What was it?
BILLY BUTLER: They were egging me on, but I definitely heard the crowd was yelling my name. They told me to get out there and do it. It was one of those things where your teammates tell you to do it, you're going to get out there. And the fans received me well. It was an exciting time. We were excited. We took the lead and we knew our bullpen was coming in and what type of bullpen that we have. We know where our record is after that.
Q. I know your focus has to be very short in a situation like this. But do you let yourself think that your situation with the Royals is uncertain after the year? That it's a contract option, and when this is over, maybe that's the end of this time you've really enjoyed?
BILLY BUTLER: I think things will work out. They work out however they do after the season. I'm focused on the World Series at this time. This team is counting on me as well to do my job, and that's in the middle of the lineup and being an impact bat. Things like that will work out after the World Series. That's the way they do. This is all I've ever known.
So I'm proud to be here and I'm proud to be a Royal. I always have been.