Oct. 22 Bochy postgame interview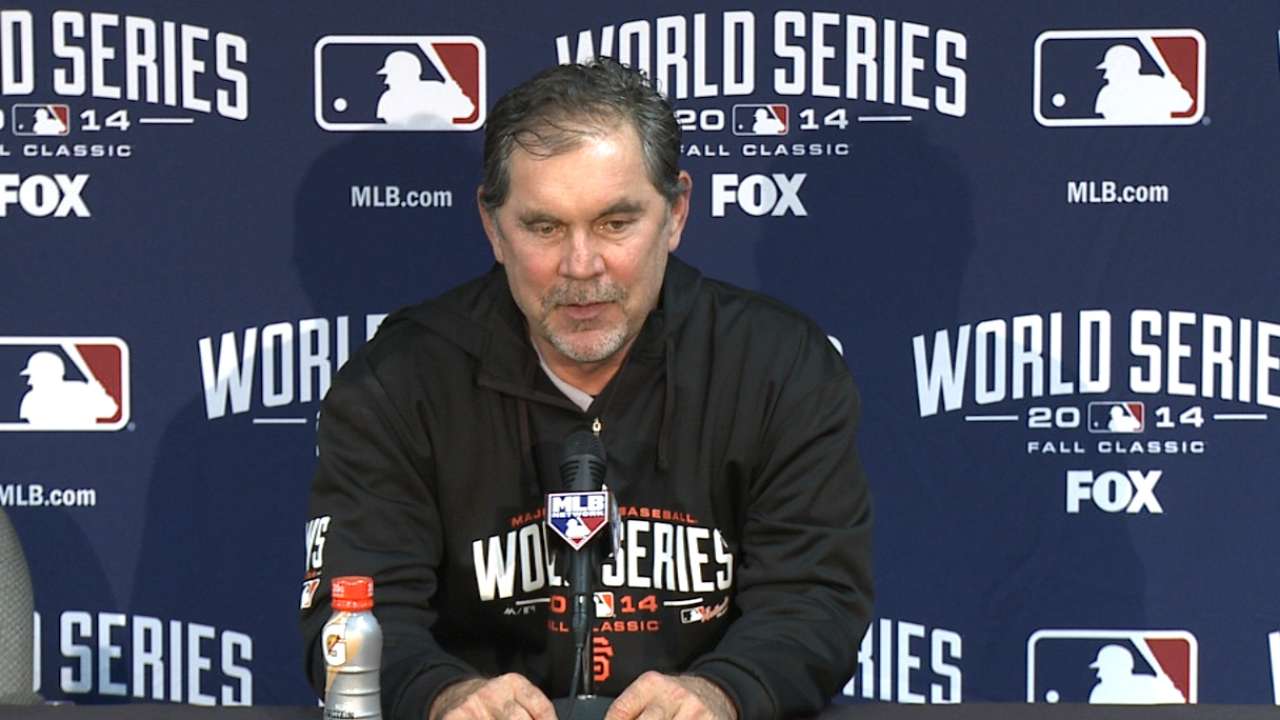 Q. What happened with Timmy there?
BRUCE BOCHY: His lower back tightened up on him. It tightened up pretty good on him, so he had to come out of the game. We think he'll be fine. I'll know more tomorrow, but he just had to come out. I think it's his left side, and he felt it the pitch before. He tried to stay in there, and then the next pitch he just couldn't go anymore.
Q. It was just a sudden thing?
BRUCE BOCHY: What's that?
Q. Sudden? It was a sudden thing?
BRUCE BOCHY: Yeah. He was fine going into the last inning, and then, like I said, the pitch before he felt it grab on him, and the second pitch it really tightened up. So that's why he came out.
Q. What was it that caused Strickland to get angry there in that situation?
BRUCE BOCHY: I haven't had a chance to talk to the kid. I think it was just frustration on his part. I mean, it's intense out there. He's an intense kid, and it probably got away from him a little bit. But I'll talk to him once we're done here.
He gave up a double and then a home run. He's a competitor, and it just got away from him, I think.
Q. Just walk us through your decision in the sixth inning. Obviously, a lot of moves made there, specifically letting Peavy go to Hosmer. And then did you have any hesitation about Strickland, given he has had a some struggles this postseason?
BRUCE BOCHY: Well, I brought in Machi ‑‑ well, first of all, Jake was throwing the ball well. Gave up a bloop single there, and he was throwing the ball well. Once he lost Hosmer, I just wanted to give Butler a little different look.
And Machi got behind, and that pitch got away from him. Now it's a one‑run game, and the kid threw very well last night. I like my matchups. My matchup there, and you get two strikes, a slider, and it got away from him. It went for a wild pitch. That put him in a tough situation, and then he maybe made a mistake on the next pitch.
But those are the match‑ups that we were trying to get. It just didn't work out. It was a tough inning for us. The bullpen had a hard time getting it out there.
Q. Does Strickland's reaction in the heat of the moment or his problems with the home runs that he's had give you any hesitation about how you plan to use him in the future?
BRUCE BOCHY: No. You know, he's a really intense kid. I mean, that's probably an area he's going to have to keep his poise. I mean, this kid came up from Double‑A, but he's a tough kid. He shows his emotions, but it's an area he probably has to work on because you're going to give up a home run occasionally. These are things we'll talk to him about.
Q. If Lincecum is healthy, did he show you enough tonight to sort of get back in the mix a little bit more?
BRUCE BOCHY: Oh, yeah. He threw the ball well. He did. I mean, we're going to need help in the 6th, 7th inning. I like the way he threw the ball today. It's been a while since he pitched. But I thought overall he looked good for the long layoff. So he can be in the mix.
Now I'll have to see how he's doing tomorrow and where we're at, but I was happy for him. He should feel good about how he threw the ball. He's going to be a guy that if he's healthy, we'll probably use in that area.
Q. You talked about how Ishikawa, you've felt good about how comfortable he's looked in left field in terms of tracking fly balls. Had you seen him challenged at all? And what did you see tonight in that regard?
BRUCE BOCHY: On the base hit that they scored?
Q. Yeah.
BRUCE BOCHY: Yeah, that's his lack of experience as far as charging the ball and getting rid of it. That takes time. That's an area we know it's not going to be our strength because this kid hasn't been out there very much.
But with that said, he's done a pretty good job out there, and he gives us a bat. You deal with that part of it, and hopefully it doesn't come up very often. But they're probably going to test him, because he's not a guy that's played left field all his life.
Q. Back to that 6th inning. Was there any temptation on your part to go to Lopez for Hosmer or was that too early and does that start a reaction?
BRUCE BOCHY: Like I said, Jake settled in. First two innings he was a little erratic, but he was right on. I mean, he really was throwing the ball well. So, no, I can't say I was going to make a change there because they gave up a bloop hit. I was going to let him face him. The walk hurt us, obviously, but I got a lot of experience out there. Like I said, for four innings he was right on. He was hitting spots and found himself.
He worked a full count. He just missed on that last pitch.
Q. Could Tim's long layoff be a cause for the injury? How much has he really been throwing? Because he really hasn't been involved in any simulated pitching.
BRUCE BOCHY: I mean, that's hard to answer. I don't know. But I will say he took an extended pen a couple days ago and really threw a lot of pitches to get himself ready. So it might have. I don't know. But I will say his first inning he threw the ball great. He was throwing the ball great up until that point, so it might have.
Q. Yesterday was a statement game by the Giants, a big win, and then you almost had the reverse today with the Royals coming on strong. How do you feel about the 1‑1 split out here? And what do you see with the series going forward back in San Francisco?
BRUCE BOCHY: Yeah, it's great to get a win here. I mean, this is a great club. We had a tough time here in August, and for us to leave here with a split, you'd like to get greedy, but we know it's going to be a tough series. It was a tight game up until the 6th there. But that's the way it's going to be, I think. With their pitching and our pitching and the way both teams play, we are going to have a fight, I think, every game.
It just got away from us there in the 6th. We couldn't get some outs, but you go home, and I think you take a split. We faced two very good pitchers here. Their kid threw very well early. Their pen did a great job. So we'll regroup and get ready to go when we get home.
Q. You did put a few people on against their bullpen, but did you feel like you had anything going in the last few innings that was a serious threat?
BRUCE BOCHY: Well, we were mounting a threat there in the 7th, and he got out of it. But it's a great pen. They're a big reason why they're in the World Series. But the guys were fighting. A base hit in that 7th inning, and we're getting back in the game.
But you got your work cut out when you get five runs down. That's an uphill climb against this pen.
Q. After the Strickland thing and the benches kind of came out a little bit, did that calm down as the game went along? Get that under control?
BRUCE BOCHY: Yeah, it did. It did. I don't see any issues from this point on. I just had to calm Strickland down. It's a big stage. A lot of emotions are going to be shown in these games, and the kid was frustrated. He'll be back out there.