Giants relievers unable to execute Bochy's plan
Strickland at center of sixth-inning meltdown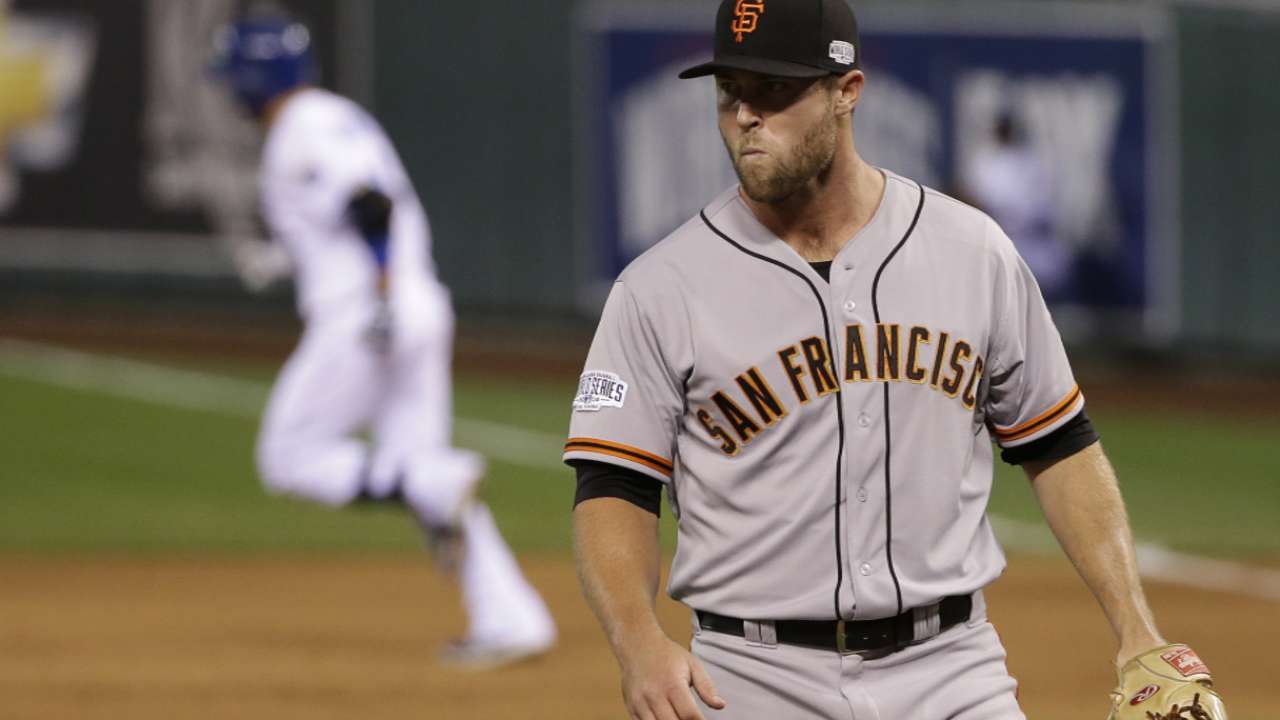 KANSAS CITY -- Six pitches.
That was the sum total of Giants reliever Hunter Strickland's role in Game 2 of the World Series on Wednesday night at Kauffman Stadium. And that's all it took to turn around the game, and the tenor of the Fall Classic.
Five Giants pitchers made an appearance in the bottom of the sixth inning. They combined to give up five runs on five hits, allowing the Royals to coast to a 7-2 win that evened the best-of-seven Series at a game apiece. It was Strickland, who allowed a double to catcher Salvador Perez and a homer to second baseman Omar Infante -- after also throwing a wild pitch -- who was right in the middle of it all.
After the home run, he appeared to exchange words with Perez, although he insisted he was simply upset at himself.
"I didn't perform. I didn't do my job. So I was frustrated with myself. My emotions got the best of me," said Strickland, who has an 18.00 postseason ERA and has allowed five home runs in 5 1/3 innings. "I haven't performed to the best of my ability this postseason. It's frustrating personally because I feel like I've let the team down. I didn't make my pitches. But it's the World Series and you've got to have a short memory."
Giants starter Jake Peavy had retired 10 straight before Lorenzo Cain opened the bottom of the sixth with a soft single to center. First baseman Eric Hosmer then worked a walk on a 3-2 count.
With the score tied at 2, with a game in hand after winning the opener and perhaps most importantly, with a chance to push the Royals into a deep ditch and the next three games on their home turf at AT&T Park, Giants manager Bruce Bochy went for the jugular. He went to his bullpen.
It didn't go as planned. But veteran Jeremy Affeldt, the final Giants pitcher of the inning, still believes Bochy pushed all the right buttons.
"It's not that he didn't put the right guys in the right spots. We still have to execute our pitches. And if we don't do that, it's not always going to work out. I think he had the right guys in the right spots. We just happened to leave balls where they could be hit. He made the proper moves. We just didn't throw the pitches," he said.
Right-hander Jean Machi was summoned to face right-handed-hitting designated hitter Billy Butler , who had singled in Kansas City's first run in the bottom of the first. Butler delivered again, bringing Cain home with a base hit to left that rolled just past the reach of Giants shortstop Brandon Crawford. Hosmer stopped at second.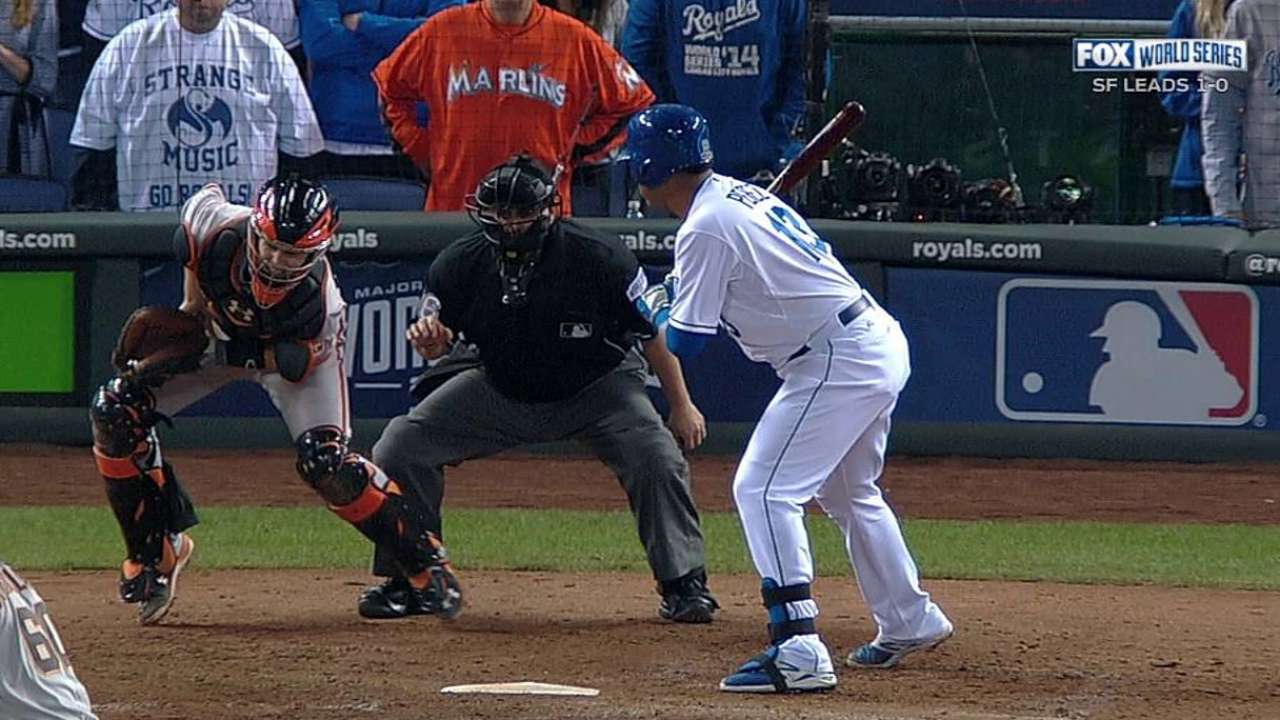 "Billy Butler hit that ball and you go back and look and it's about an inch from Craw's glove," Peavy said. "It takes some breaks sometimes, too, and we didn't catch many. We didn't play our best baseball on any front. That's what happens. You get beat. We had a tough inning, but other than that, we played pretty well. We had an inning that got away from us and it cost us the ballgame."
That brought the manager out of the dugout again, this time for left-hander Javier Lopez to face lefty-swinging Alex Gordon, who flied out. One down.
Said Bochy: "First of all, Jake was throwing the ball well. [But] once he lost Hosmer, I just wanted to give Butler a little different look. Machi got behind and that pitch got away from him. Now it's a one-run game and the kid [Strickland] threw very well [Tuesday] night. I liked my matchups. Those are the matchups we were trying to get. It just didn't work out. It was a tough inning for us."
Continuing to mix and match, with right-handed catcher Salvador Perez at the plate, his next move was to bring in the hard-throwing Strickland.
The wild pitch advanced both runners. Perez doubled to center, scoring Hosmer and Terrance Gore, who had come in to run for Butler. Omar Infante followed with a home run, the fifth that Strickland has allowed this postseason. And that turned out to be pretty much the ballgame.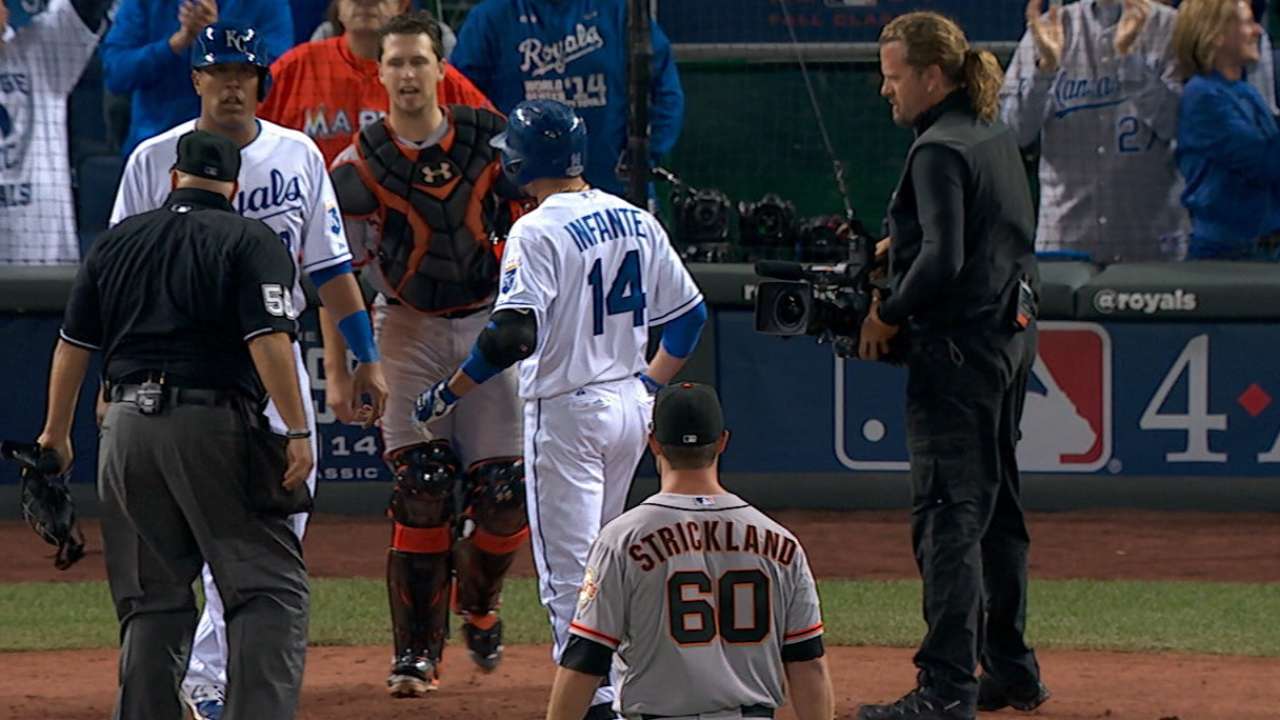 "[The double] was probably the big hit. That put them up three," analyzed Giants catcher Buster Posey. "Butler came up with a big hit, too, to get them on top. The inning started with Cain getting an off-the-end-of-the-bat single. Then Hosmer had a nice at-bat to draw the walk. Butler got in a hitter's count and put a good swing on the ball. And then Perez went out there and got that one. It wasn't too bad of a pitch.
"I think the one mistake was probably to Infante there. The ball just ran back middle in."
Affeldt had a simple explanation for what went wrong.
"I think it's baseball. It can happen. That's a good team over there," he said. "And one thing about our pitching staff is we throw a lot of strikes, and they swing at pitches over the plate. So, for me, it happens. It doesn't happen that often and hopefully we can make the adjustments," he said.
"If you go back and look, they probably weren't quality pitches. We all have to make better pitches. The bullpen, we all have to go back and be focused on where we're locating those pitches when we're out there. It's a correction. It's a small correction by all of us. And we'll make it."
Strickland insisted both he and the rest of the Giants bullpen will be fine.
"For sure," he said. "It's part of the game. Nobody likes to get beat, but that doesn't shoot down our confidence. We know who were are and we know what we've got to do."
Paul Hagen is a reporter for MLB.com. This story was not subject to the approval of Major League Baseball or its clubs.