MLB.com Columnist
Phil Rogers
Butler hopes to wear crown, stay in Kansas City
Longtime Royal trying to delay thoughts of potential free agency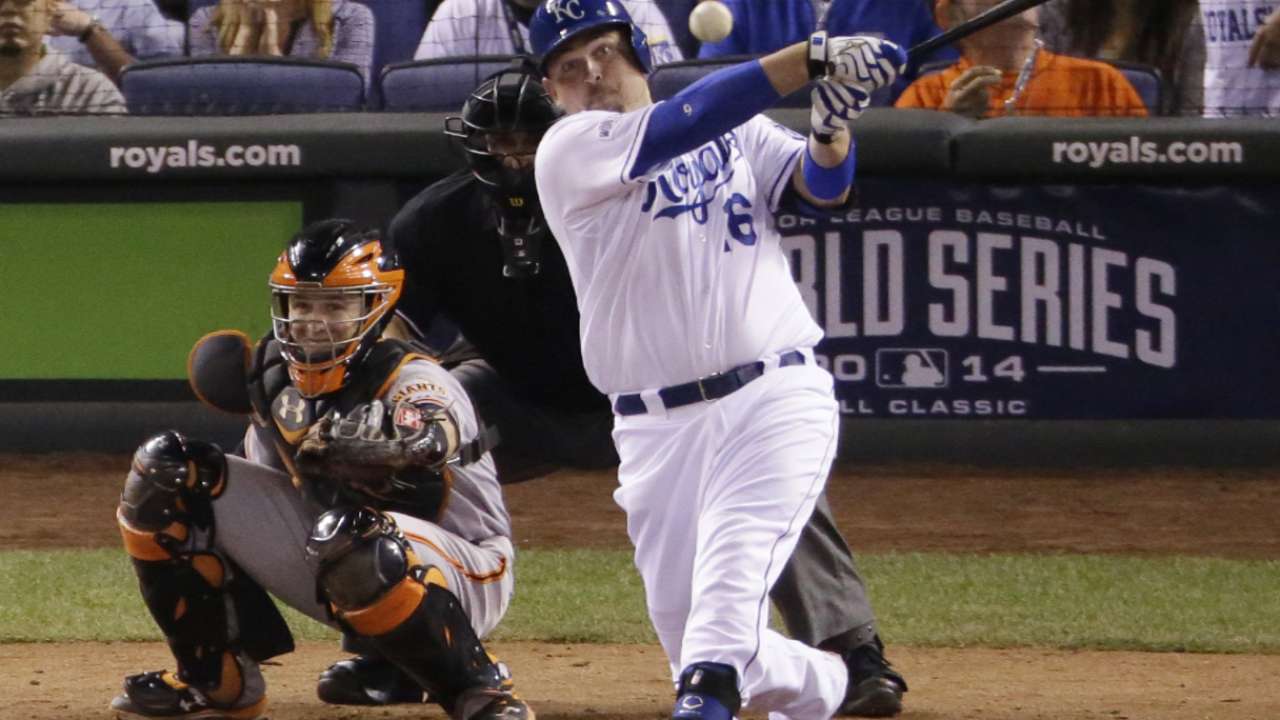 KANSAS CITY -- Billy Butler doesn't want to go anywhere. He loves being a Royal and would be one forever if it were up to him.
Unfortunately, it's not up to him.
So the guy they call Country Breakfast, the barbecue sauce baron from the outskirts of Jacksonville, Fla., the guy that Robinson Cano wouldn't pick for the All-Star Game's Home Run Derby at Kauffman Stadium in 2012, is doing everything he can to bring joy to Royals fans for as long as possible.
Omar Infante's two-run homer might have been the signature moment of Kansas City's 7-2 victory in Game 2 of the World Series on Wednesday night, but it wasn't any bigger than two singles by Butler.
Butler's two-out shot to left-center in the first inning tied the score at 1; his single pulled to left off reliever Jean Machi in the sixth inning gave the Royals a 3-2 lead, just ahead of the Salvador Perez double and Infante homer that made it an easy night for Ned Yost's bullpen.
When Butler retreated to the home dugout with pinch-runner Terrance Gore taking his place, the 40,446 fans sang his name into the clear, still Midwestern night. Mike Moustakas and some other teammates coerced the Royals' designated hitter into taking a curtain call.
For a guy who has played all 1,166 career games with this franchise -- a streak only nine active players can top -- it was a moment to file away for permanence in his mental time capsule.
"The fans received me well," Butler said. "It was an exciting time. We were excited. We took the lead and we knew our bullpen was coming in, and what type of bullpen we have."
This was a game that the Royals had to win after Madison Bumgarner shut them down in Tuesday's opener. A loss would have left them needing to take two out of three at AT&T Park to bring the series back to Kauffman Stadium, where Kansas City is 5-1 this postseason.
With the Royals holding an option on Butler's contract at $12.5 million for 2015, there's no guarantee that he'll put on one of those sweet blue-on-white home jerseys again after the World Series. It's a hard reality that Butler can't afford to dwell on, not in the biggest games of his life.
"I think things will work out," Butler said. "They work out however they do after this season. I'm focused on the World Series at this time. This team is counting on me to do my job, and that's in the middle of the lineup, being an impact bat."
Kansas City scored 38 runs in its first six postseason games, as it advanced past the A's, Angels and Orioles. But the last two wins over Baltimore were 2-1 games and Bumgarner gave up only one run on Tuesday. The Royals were hitless in their last 17 at-bats with runners in scoring position when Butler came to the plate against Jake Peavy in the first inning.
Butlerdrilled an 0-1 cutter past shortstop Brandon Crawford and into left field, scoring Lorenzo Cain. It also kept San Francisco from getting too excited about Buster Posey stopping Alcides Escobar on a steal attempt earlier in the inning.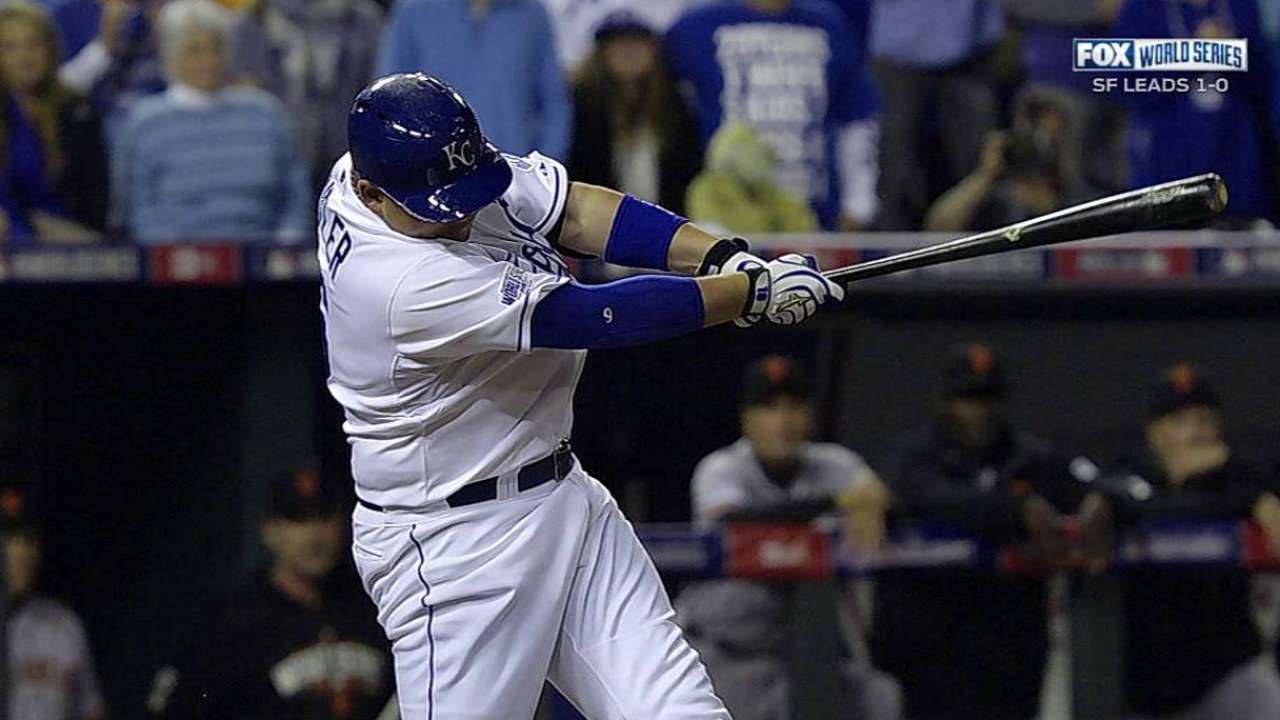 In the sixth inning, Butler lined Machi's third pitch -- a 2-0 fastball -- into left field to again score Cain, this time to break a 2-2 tie and send the crowd into ecstasy.
"He is such a force in our lineup and has been for years," Yost said. "He's a guy that is tremendously intelligent when it comes to hitting. He knows the opposing pitchers as well as anybody, and he's got a great eye at the plate. Any time Billy gets up in those situations, I feel great. I feel like he's going to get the job done, and again, he did it. He came up big for us twice tonight."
Butler entered Wednesday's game hitting .233 in the postseason, with no home runs in his 30 at-bats. But he has been a lot more productive than that, thanks to being 6-for-14 with two sacrifice flies with runners in scoring position. Butler has driven in seven runs, joining Eric Hosmer (.371-2-8), Alex Gordon (.176-1-9) and Moustakas as a key for this balanced lineup, which will largely have to do without him in San Francisco.
Yost and the Royals' front office value run prevention too much to start Butler over Hosmer at first base in games using National League rules.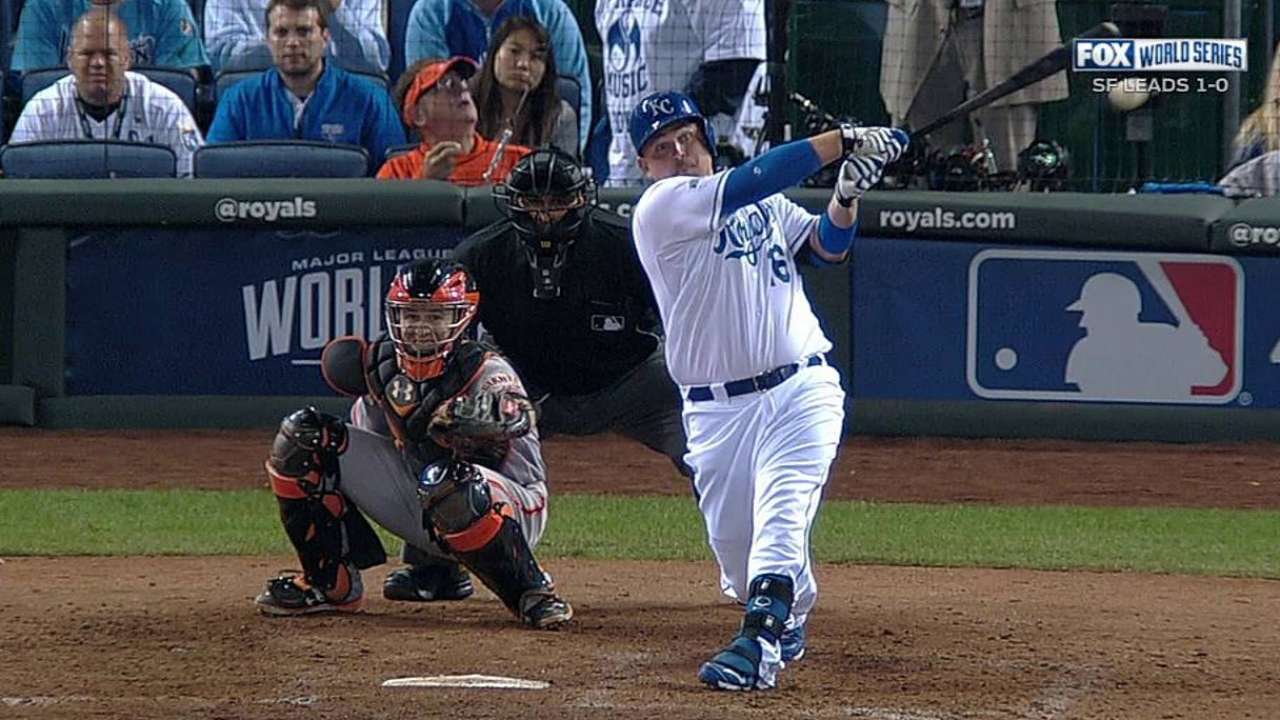 "Having a bat like Billy's on the bench is extremely valuable late in the game," Yost said. "You don't have to start the game to win the game. Billy provides that threat off the bench late in the ballgame that we could use to help us win a game."
When Butler signed his four-year, $30 million contract before the 2011 season, the expectation was that he would develop into a homer-hitting force, even when based at spacious Kauffman Stadium. But he hasn't been able to follow up on a 29-home run season in 2012, hitting only nine this season, while batting .271 with 66 RBIs.
Butler is extremely popular with Kansas City fans. But baseball is a bottom-line business and hanging onto Butler requires some difficult math for a front office that built this team with a $92 million Opening Day payroll.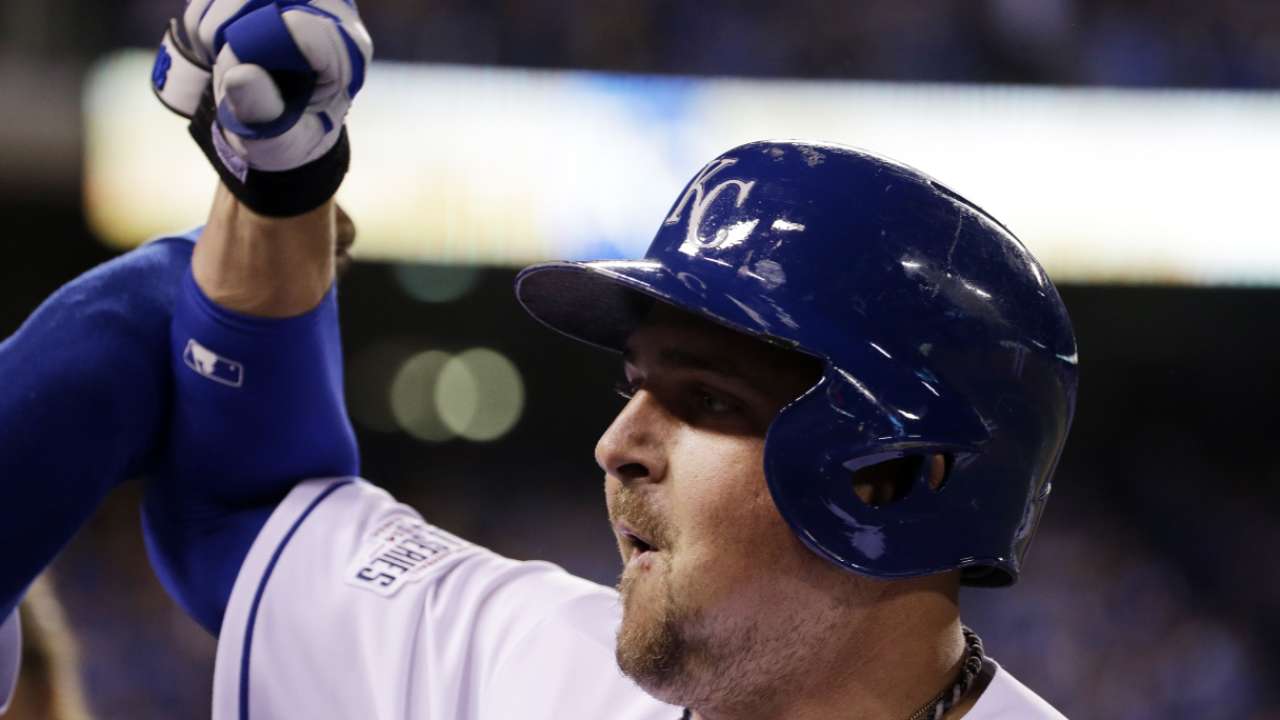 Butler has made it clear since last winter that there's a deal to be made, if the franchise wants to make one. But the situation has been kept at arm's length, awaiting resolution after the season.
The longer Butler keeps hitting, the longer he keeps wearing his No. 16 jersey. And if he is taking it off for good when the World Series ends, maybe he can replace it with a nice ring and a few more memories to last a lifetime.
"This is all I've ever known," Butler said. "I'm proud to be here, and I'm proud to be a Royal. I always have been."
Phil Rogers is a columnist for MLB.com. This story was not subject to the approval of Major League Baseball or its clubs.