Ventura sturdy bridge to Royals' lethal bullpen
Rookie right-hander delivers solid start to help thwart Giants in Game 2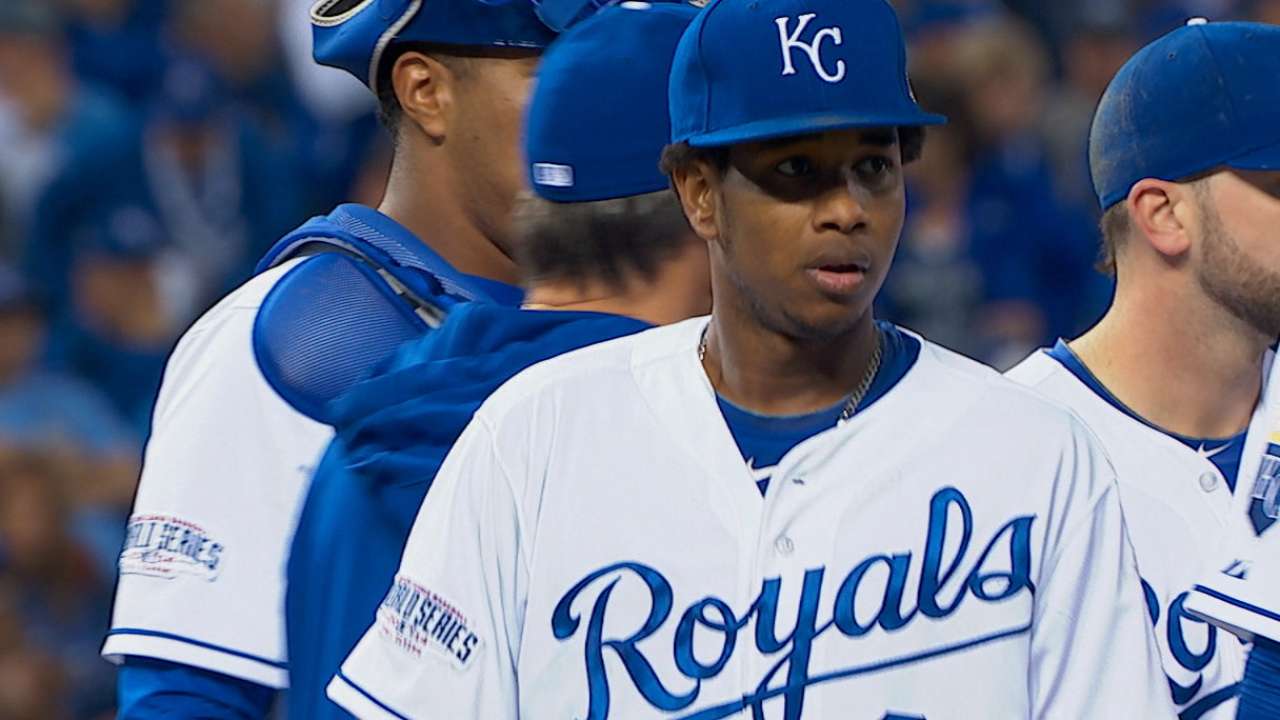 KANSAS CITY -- The Royals do not need their starting pitchers to dominate, they just have to keep them in the game long enough for the offense to eke out a lead and let their dominant bullpen take over. Such was the case on Wednesday night, where the Royals' 7-2 victory in Game 2 evened the World Series at one game apiece.
James Shields' performance in Game 1 -- surrendering three quick runs in the first and five overall in three-plus innings -- gave the Royals little chance at victory. But rookie Yordano Ventura did his part on Wednesday, delivering 5 1/3 innings while limiting the Giants to two runs on eight hits.
"For me, in this type of series, if you can get us into the sixth inning tied or with the lead, you've done your job," Royals manager Ned Yost said.
Ventura got off to an inauspicious start. The first batter of the game, Gregor Blanco, worked an eight-pitch at-bat, all fastballs, the last of which Blanco deposited 394 feet into the Giants' bullpen in right field to give the Giants a 1-0 lead and prompted a nervous hush over Kauffman Stadium.
It was just the 10th leadoff homer in World Series history, but Ventura, the 23-year old rookie from the Dominican Republic, did not allow it to faze him.
"Focus on the next pitch," Ventura said through an interpreter. "Lots of game left after the home run. Not concerned about it. Obviously, I didn't want to give up the home run, but just go pitch to pitch and continue to work and execute."
The next batter, Joe Panik, flied out harmlessly to right field. Buster Posey became the first of Ventura's two strikeouts on the day. Then, Ventura threw Pablo Sandoval out at first base on a comebacker back to the mound to end the inning.
"He handled himself very well," Royals catcher Salvador Perez said. "He stayed aggressive, even though Gregor Blanco hit a home run against him early in the game. He's a great kid, great competitor, and he bounced back."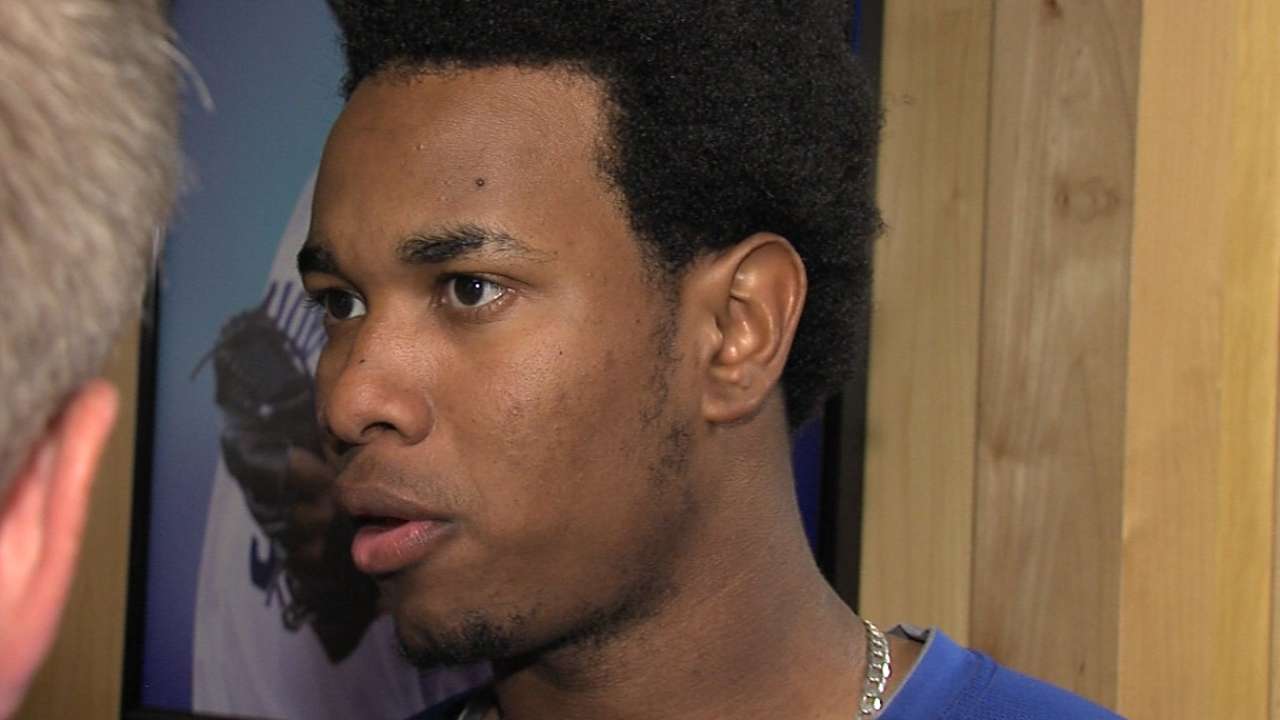 • Video: Ventura on his outing in Royals' 7-2 win
Ventura became the first Royals rookie to start a World Series game at any position and gave a solid, if unspectacular start. That is all the Royals ask of their young pitcher, at least for now.
Ventura seems poised to become the Royals' next ace, especially if they are unable to sign Shields during the offseason. Ventura still relies on his fastball heavily, and once he develops his secondary pitches, he could take the next step after an impressive rookie campaign.
Ventura's fastball, however, is dynamic. Ventura led the Majors this season with an average fastball velocity of 96.8 mph and he often hovers around the triple-digit mark. But he did not miss many bats on Wednesday. Credit the Giants, the best fastball-hitting team in the Majors, with a .276 average off fastballs 95 mph and higher.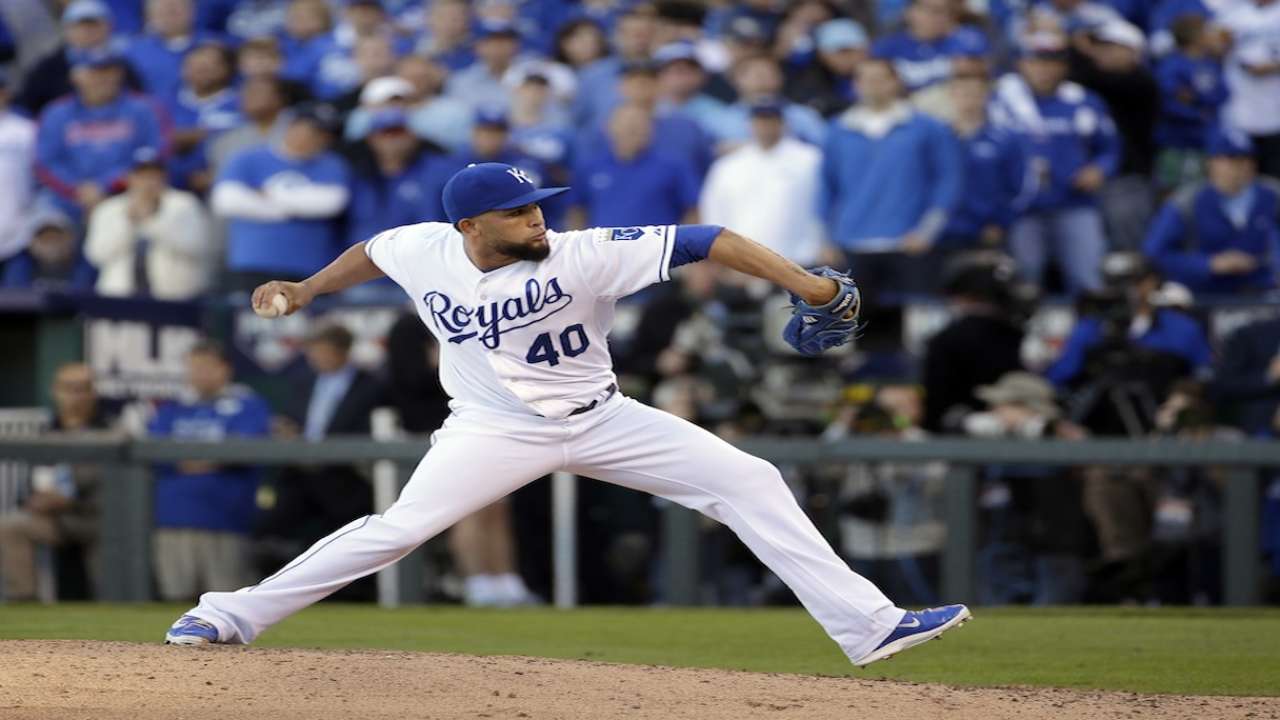 • Video: Yost discusses the luxury of his bullpen
Even with the Giants' high contact rate and Blanco's home run off a fastball in the first inning, Ventura did not detour from his game plan of heaters: 60 of the 87 pitches were fastballs.
"I'm going to use my best pitch, which is my fastball," Ventura said.
And in Game 2, it was good enough.
Jamal Collier is an associate reporter for MLB.com. This story was not subject to the approval of Major League Baseball or its clubs.