Royals' Davis, Holland put tight seal on Game 2
Dominant relievers make quick work of Giants with five-run lead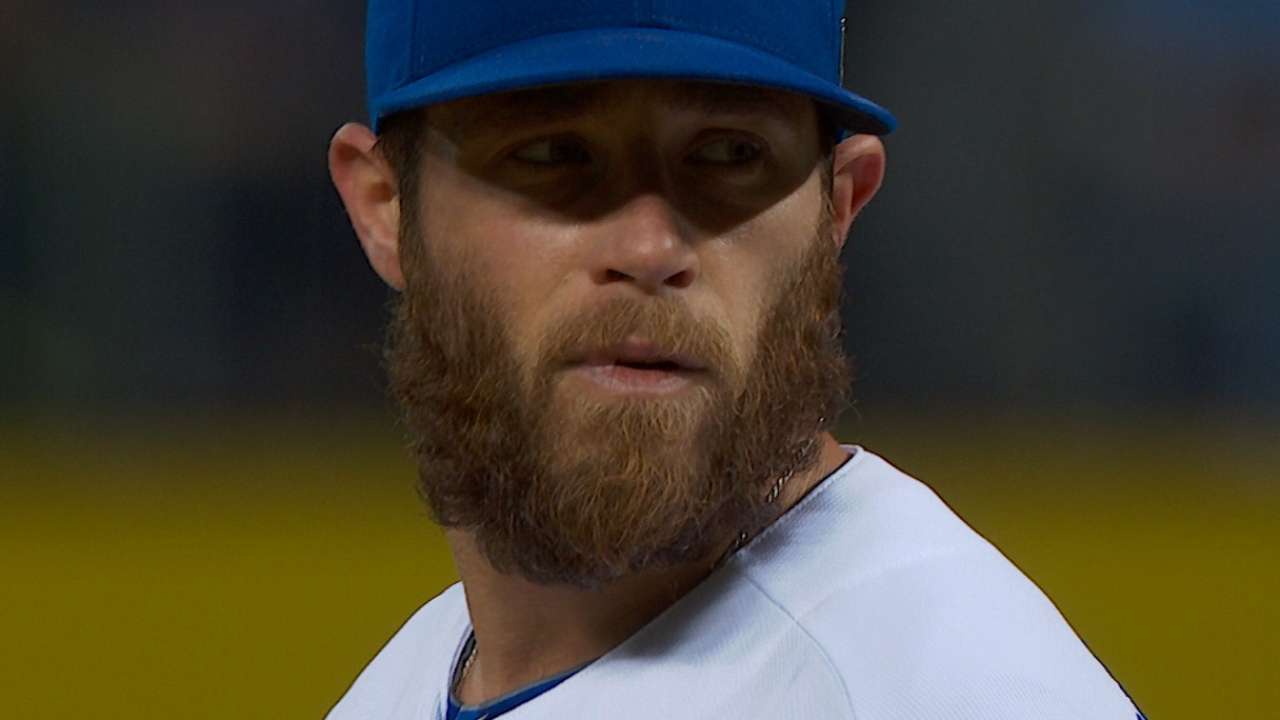 KANSAS CITY -- The service Royals manager Ned Yost required of Wade Davis and Greg Holland in Game 2 of the World Series differed a bit from what he usually asks of baseball's best eighth-ninth inning combination.
Instead of inserting the duo into a tight ballgame, like usual, Yost called upon his fearsome setup man and closer with Kansas City holding a five-run lead. Holland and Davis closed the game out in predictable fashion, making a mockery of the final two frames and easing Kansas City to a comfortable, 7-2 victory over the Giants at Kauffman Stadium.
"When you get in that situation, and you've got an off-day tomorrow, you're not giving [San Francisco] any opportunity to get back in that game," Yost said. "At least I'm not."
Holland and Davis twirled scoreless frames, combining for five strikeouts. The Giants never came close to threatening the indomitable relievers.
"When we're confident with one [run], and you give those guys five, it's an uphill battle for anybody trying to come back against them," said third baseman Mike Moustakas.
Center fielder Jarrod Dyson concurred on the almost unfair advantage his team has when Davis and Holland work with a sizable lead.
"That's game time, man," Dyson said.
Lorenzo Cain made that cushion possible by starting a five-run sixth inning with a leadoff single. The Royals went from being tied to leading, 7-2, after the sixth.
"We definitely would rather put them in that situation with a five-run lead or a four-run lead instead of a one-run lead," Cain said. "But we feel like they can get the job done in either situation."
And they have, both in the regular season and postseason.
Davis and Holland combined for a 1.21 ERA and 199 strikeouts in 134 1/3 innings during the regular season. Kansas City finished 72-1 when ahead entering the eighth inning, and 79-1 when ahead entering the ninth.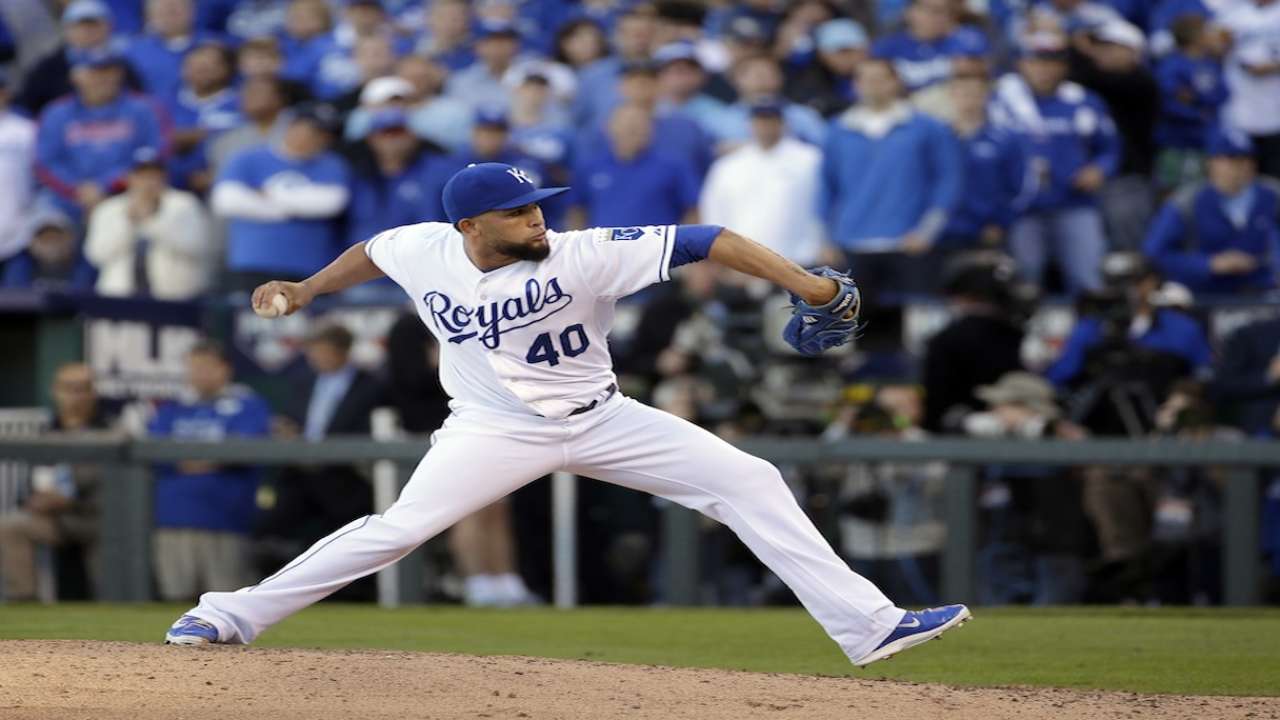 • Video: Yost on the luxury of his bullpen
Along with some help from their fellow relievers, the bullpen has been even better in the postseason.
After blank frames from Davis and Holland and a clean 1 2/3 innings by Kelvin Herrera, the Royals' bullpen decreased its ERA to 1.81 this postseason. Between Herrera, Davis and Holland, it sinks to 0.92.
Holland, who was named the Mariano Rivera Reliever of the Year prior to the game, credited Herrera and Davis for simplifying his closer responsibilities.
"They make my job easier, because if we've got a two-run lead in the sixth, we're going to have a two-run lead in the ninth usually," Holland said. "They've gotten big out after big out after big out. Situation doesn't seem to faze them. It seems like it makes them better."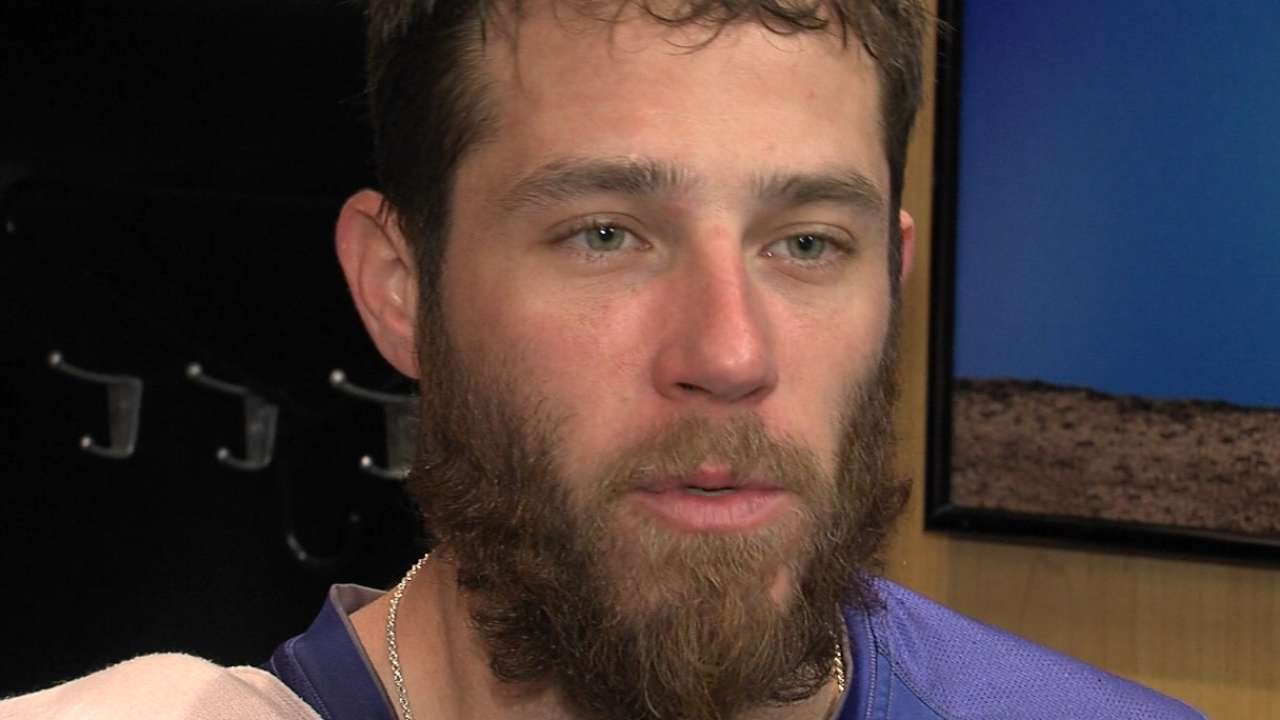 • Video: Holland talks about Game 2 win
Compared to Wednesday, most of the bullpen's previous postseason appearances came in high-leverage situations, as evidenced by the unit's seven victories (of nine total team wins), thus far. The Royals' relief unit is tied with the 2003 Marlins for the most bullpen victories by one team in a single postseason.
The sublime group benefits from a day off Thursday, setting up a gauntlet of relievers primed to contribute to Game 3 in San Francisco on Friday.
"These guys stayed sharp all year for us," Dyson said. "I'm sure they're going to continue it through this postseason."
Jackson Alexander is an associate reporter for MLB.com. This story was not subject to the approval of Major League Baseball or its clubs.