Giants-Royals, World Series Game 2: Did you know?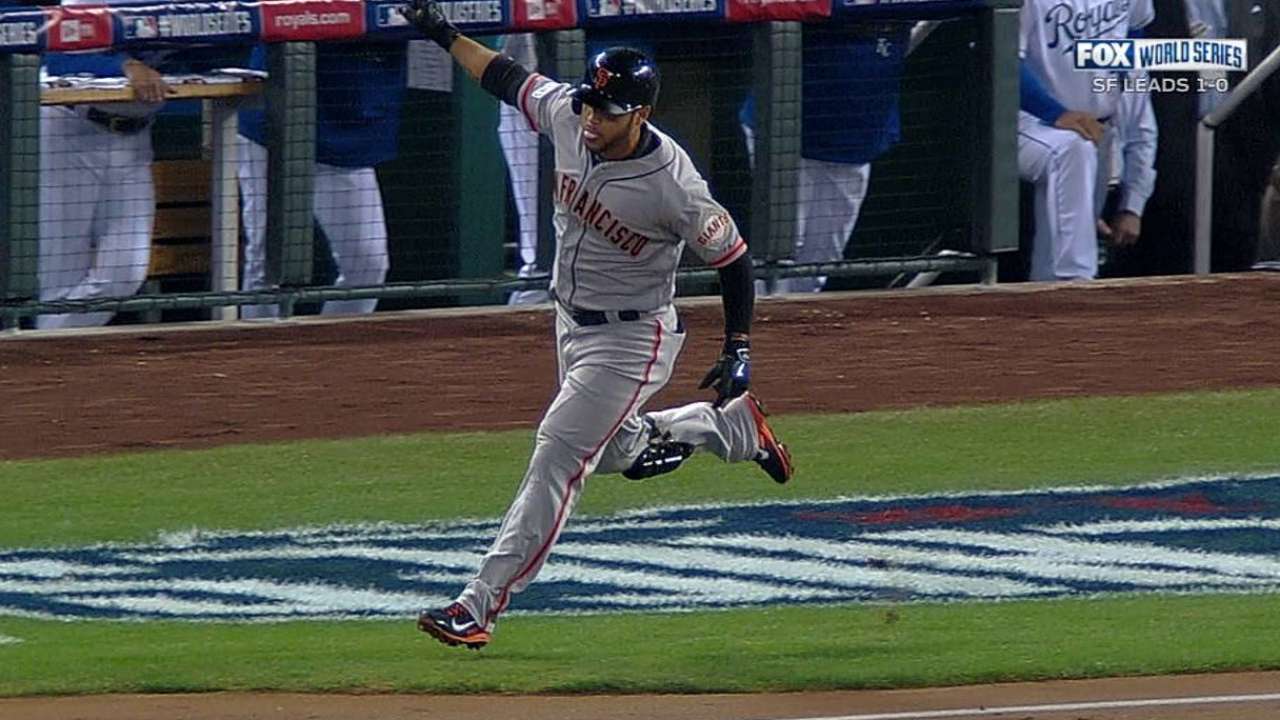 The Royals bounced back from their Game 1 loss to even the World Series at one game apiece with a 7-2 victory Wednesday night in Game 2 at Kauffman Stadium.
In a postseason filled with one-run games and extra-inning contests, each of the first two games in the World Series has been decided by at least five runs. That hadn't happened in nearly 80 years.
Here's a look at some of the other interesting facts and figures to come out of Game 2.
• Gregor Blanco's leadoff homer was the first in a World Series game since Johnny Damon in Game 4 of the 2004 Fall Classic. Of the previous nine teams that had a player lead off a World Series game with a home run, seven had gone on to win the game. The Giants join the 1954 Indians (against the Giants) and the 1909 Pirates (against the Tigers) as the only teams to lose a World Series game after beginning the night with a leadoff homer.
• The Royals racked up four doubles in Game 2, the most since the Giants hit six two-baggers in Game 1 of the 2010 Fall Classic. Kansas City's five extra-base hits overall were also the most in a World Series game since 2012 when the Giants had five in Game 1 against the Tigers.
• Veteran second baseman Omar Infante was responsible for two of those extra-base hits, notching a double and a two-run homer that broke the game open in the sixth inning. The homer came in Infante's 145th career postseason at-bat, snapping the second-longest active drought in the Majors. The Cardinals' Jon Jay (189 postseason at-bats without a homer) has the longest such streak.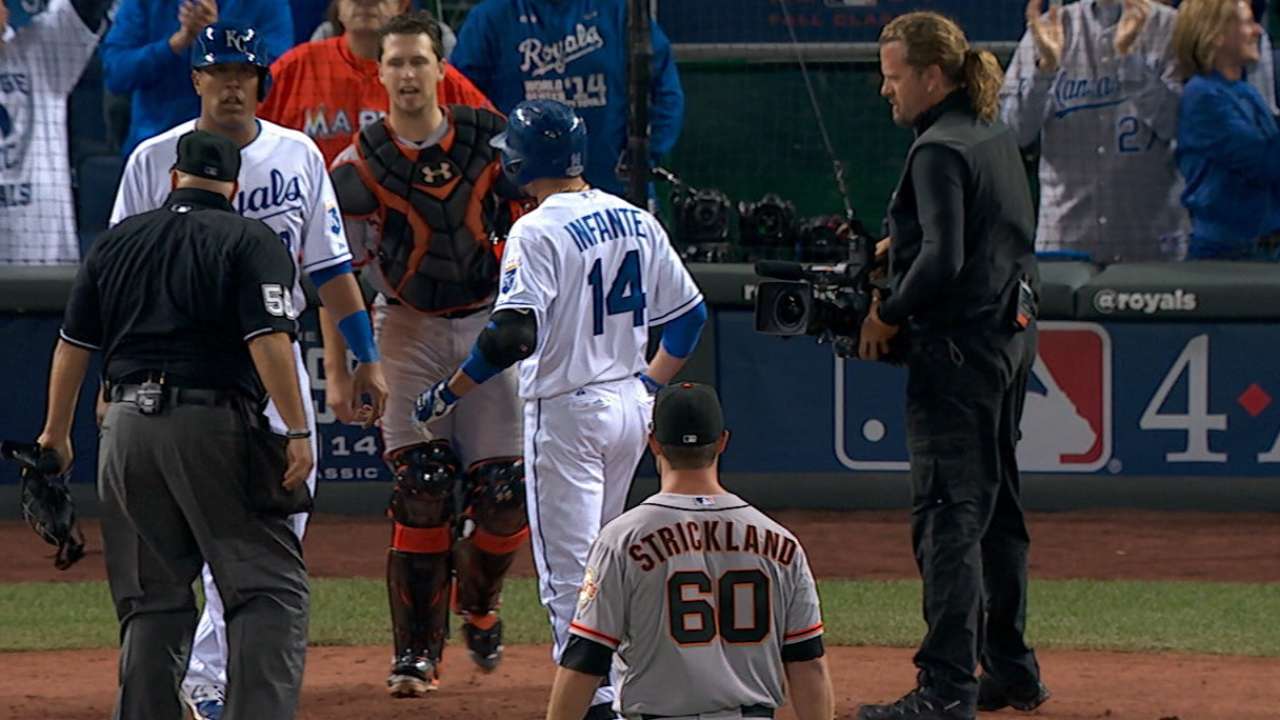 • This World Series is the first in which each of the first two games were decided by five or more runs since 1937, when the Yankees defeated the Giants by identical 8-1 scores in Games 1 and 2. It's also only the second time the teams have traded victories of five or more runs in Games 1 and 2. The other such series came in the 1936 Fall Classic when the Giants won Game 1, 6-1, and the Yankees bounced back with an 18-4 victory in Game 2.
• The Giants' Pablo Sandoval's leadoff double in the fourth inning extended his postseason streak of reaching base safely to 25 straight games, tying him with former Oriole Boog Powell for the third-longest such streak of all-time. Only the Tigers' Miguel Cabrera (31 straight games) and the Phillies' Chase Utley (27) have reached base safely in more consecutive postseason games, though Sandoval's is the longest active streak.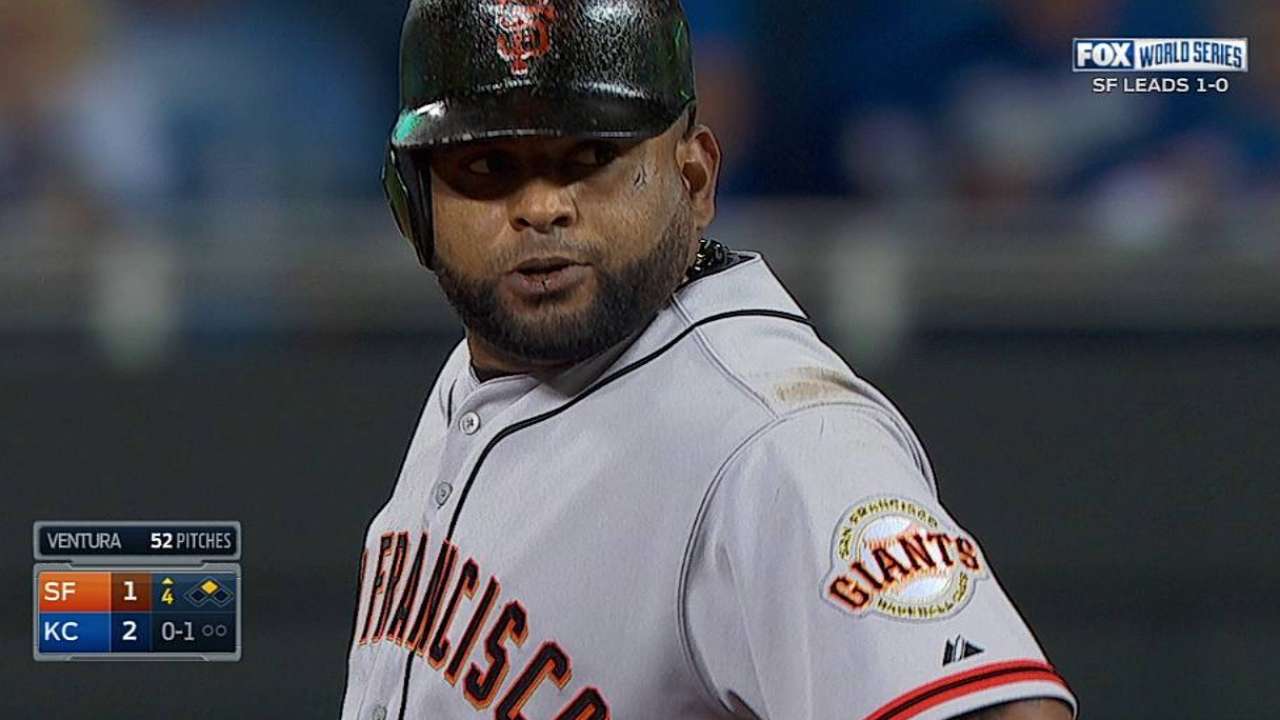 • The Giants' Jake Peavy has pitched fewer than six innings in eight straight starts to begin his postseason career, the longest postseason streak by a starter at any point during a career. In fact, Wednesday night marked just the fourth time in those eight starts that Peavy has even completed five full innings.
• Though he's had trouble pitching deep into postseason games, Peavy has actually pitched considerably better over his last four postseason outings than his first four. After going 0-3 with a 10.31 ERA over his first four postseason starts, Peavy is 1-1 with a 3.86 ERA in his four starts since.
• Yordano Ventura's five-inning outing in Game 2 marked the ninth time in 10 games this postseason that a Royals starter has not completed seven innings. Ventura is actually the only Royals starter to do so, pitching seven full in Game 2 of the American League Division Series against the Angels. During the Wild Card era, no team has won the World Series without at least three seven-inning starts during that postseason.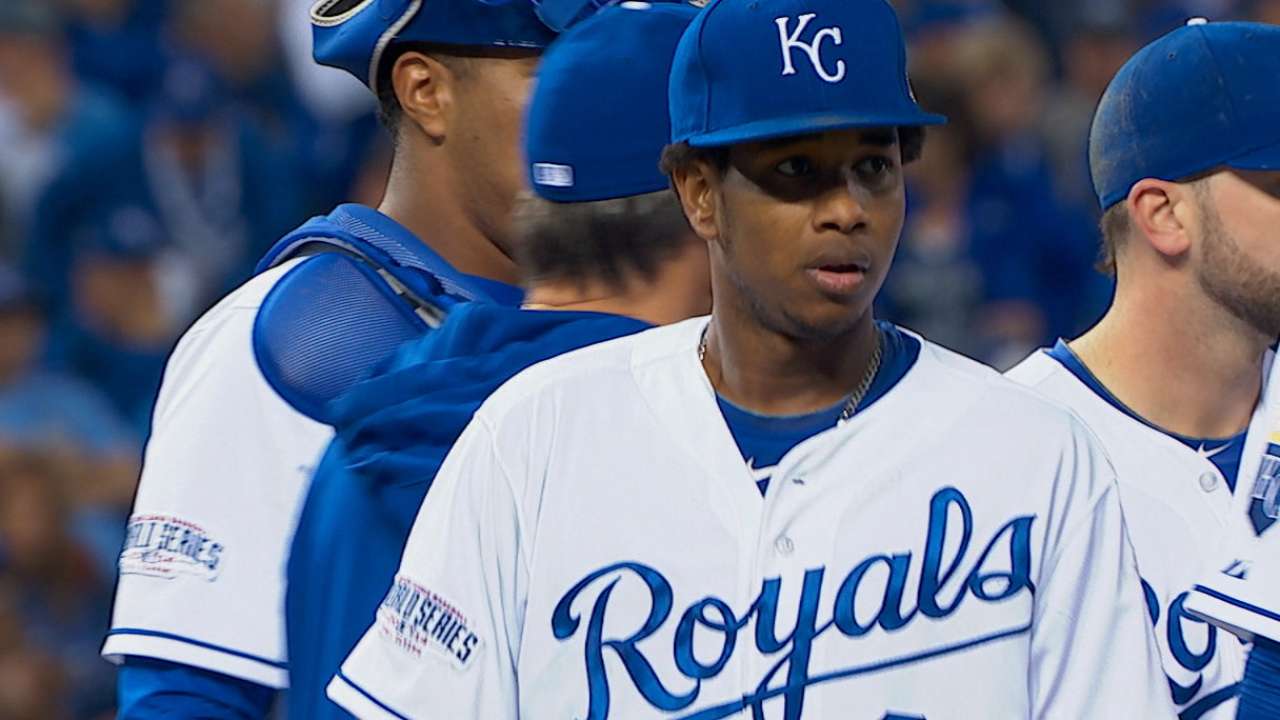 • Given the string of relatively short outings, the Royals bullpen has been credited with seven of the Royals' nine victories this postseason, including Wednesday night. That matches the 2003 Marlins for the most bullpen victories by one team in a single postseason. Kansas City relievers are a combined 7-0 with a 1.81 ERA this postseason.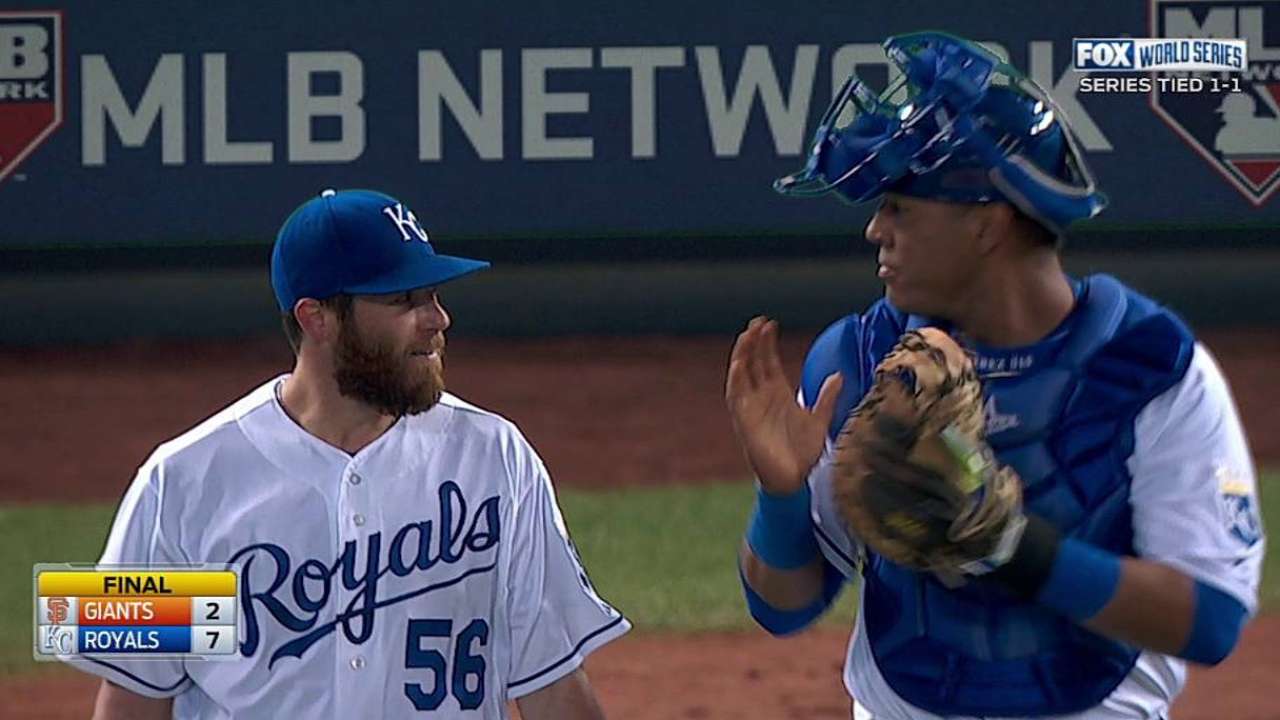 • Giants reliever Hunter Strickland became just the second relief pitcher all-time to allow five home runs in a single postseason, joining the Brewers' Chris Narveson, who did so in 2011. Strickland has faced only 23 batters over 5 1/3 innings this postseason, while Narveson faced 33 hitters over 7 1/3 frames in '11.
• Prior to departing with lower back tightness, Tim Lincecum became just the second reliever in the past 12 years to toss at least 1 2/3 perfect innings in a World Series game that his team ultimately lost. Alexi Ogando tossed 1 2/3 perfect innings for the Rangers in their Game 4 loss in 2010, marking the only other such occurrence since 2002.
• Reliever Santiago Casilla took over for Lincecum, entering the game with two outs and a 2-2 count against Salvador Perez. Casilla finished off the strikeout with just one pitch, becoming the only pitcher in World Series history to record a strikeout in a one-pitch outing.
• Prior to allowing seven runs in Game 2, the Giants had allowed just eight runs combined over their last seven World Series games, all victories.
• The next game will obviously be a pivotal one, but just how important has Game 3 been in past 1-1 series? In best-of-seven World Series that start out tied 1-1, the winner of Game 3 has gone on to win 38 out of 54 times. Since 1969, the start of divisional play, teams that win Game 3 in a 1-1 series are 16-3, though the Red Sox defied that trend just a season ago.
Paul Casella is a reporter for MLB.com. Follow him on Twitter @paul_casella. This story was not subject to the approval of Major League Baseball or its clubs.