Infante makes presence known for Royals
Second baseman hits game-breaking home run in sixth inning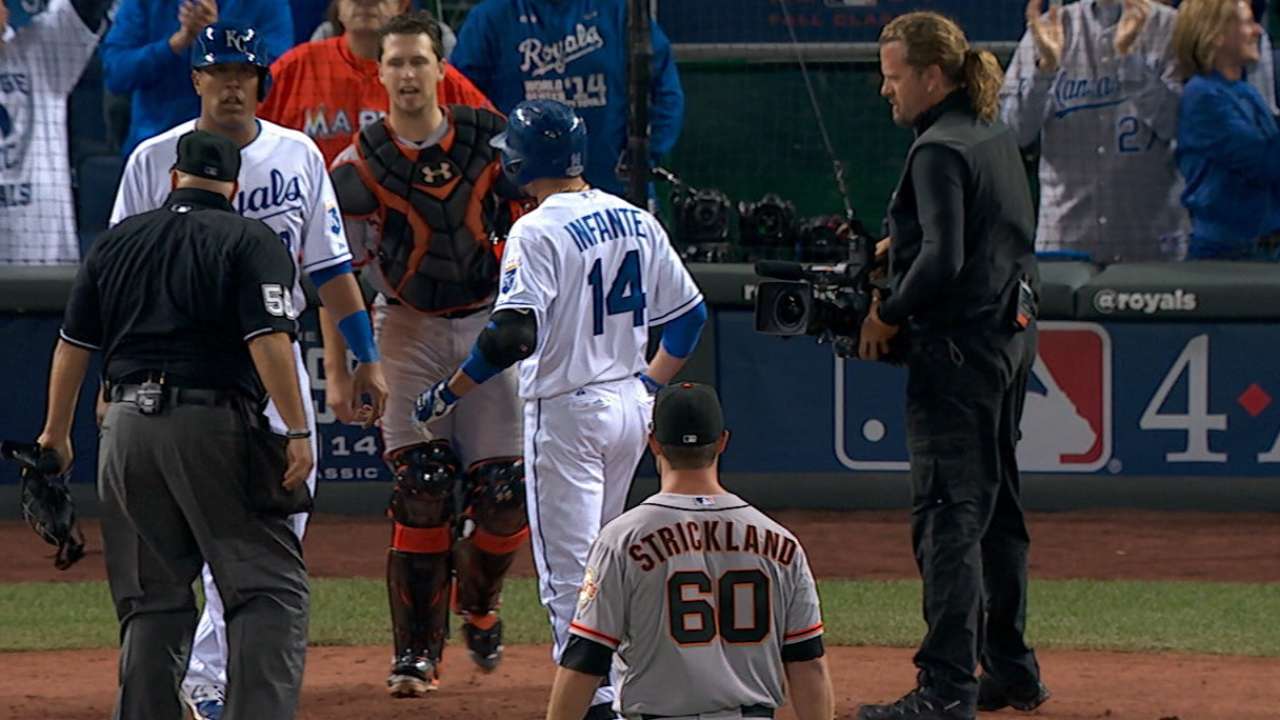 KANSAS CITY -- Almost the entirety of this postseason has passed with Omar Infante stuck in the shadows, his ailing right shoulder a nuisance and his been-here-played-on-this-stage story not exactly as magnetizing as those basking in the World Series spotlight for the first time.
It's understandable that he would be overlooked on a club built around its homegrown talent, enough of which bloomed in unison for the bunch to end a city's 29-year drought. But on a night when one of those drafted-and-developed players outpitched a seasoned veteran and another broke open the game with a two-run double and yet two more dazzled in relief, Infante scored an early go-ahead run before delivering the go-home punch in Kansas City's 7-2 win over the Giants in Game 2.
For one special evening at Kauffman Stadium, it was enough to nudge him out of the background.
"You want your good players to come up huge in big situations, and he was able to do that tonight for us," teammate Mike Moustakas said. "It was awesome to see that from him."
Take out all the peripherals and, yes, the results were clearly a boon to the Royals' pursuit of the franchise's first world championship since 1985. Infante helped Kansas City to a 2-1 lead when he doubled and scored in the second. He then punctuated a five-run sixth inning with a two-run homer, his first long ball in 145 postseason at-bats. St. Louis' Jon Jay was the only active player with a longer drought, his at 189.
"It was great for us," Infante said afterward, before adding, "And great for me."
That's the cue for context.
Playing for his fourth team in 13 Major League seasons, Infante fell short in offering the desired first impression in the first season of the four-year, $30.25 million deal he signed last December. He fought right elbow soreness in the spring, took a pitch off his face in April, dealt with nagging back pain in May and played much of the second half bothered by a sore right shoulder, which was heavily wrapped with ice after the team's Game 2 win.
The physical limitations left him to endure his worst offensive season since 2005. And until Wednesday, the postseason had proven no more fruitful. Other than a single that sparked the game-winning rally in Game 2 of the American League Championship Series, Infante had been absent from all the Royals' scoring.
"I have not done well in the postseason, but now we're in the World Series and I'm trying the best I can," Infante said. "I think my mind is clearer."
That might have something to do with improving health, as Infante noted that the shoulder pain has been more manageable in recent days. The five-day layoff before the start of the World Series helped, as has reducing the out-of-game stress he puts on his shoulder. Pain medication has also been essential.
"I'm taking a lot of pills for the pain," he said multiple times. "That has helped me a lot."
Infante felt nothing but a release of relief upon making contact on a 98-mph Hunter Strickland fastball in the sixth, poking the pitch into the left-field bullpen to put the Royals ahead by five. Infante, who connected for six home runs over 528 regular-season at-bats, had contributed two extra-base hits in a game only three times before Wednesday.
While he may not know the ache of having to wait nearly three decades to return to the World Series, Infante is plenty versed in how it feels to come up short. This is his third shot at securing a World Series ring, his previous attempts with the Tigers foiled by the Cardinals (2006) and Giants (2012). That last World Series appearance was especially stinging, as the Giants not only sent his club home with a sweep but also him with a broken hand. A Santiago Casilla pitch in the ninth inning of Game 4 did the damage.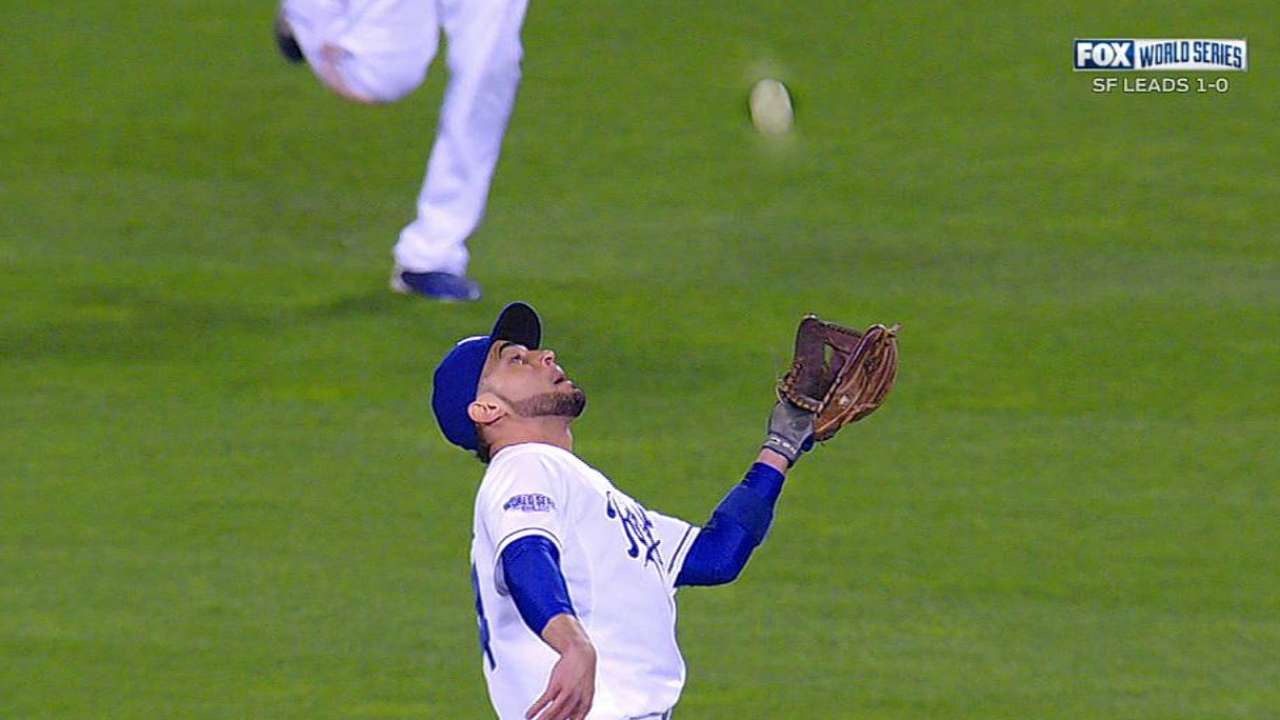 Wednesday was finally his opportunity to do his own damage.
"That year was tough for me," the second baseman said. "That last game in the World Series, I broke my hand. I felt bad. I felt frustrated. Now, I'm happy to be here and playing good baseball."
Jenifer Langosch is a reporter for MLB.com. Read her blog, By Gosh, It's Langosch, and follow her on Twitter @LangoschMLB. This story was not subject to the approval of Major League Baseball or its clubs.