Strickland-Perez spat chalked up to misunderstanding
Giants, Royals don't expect any carryover as World Series heads to San Francisco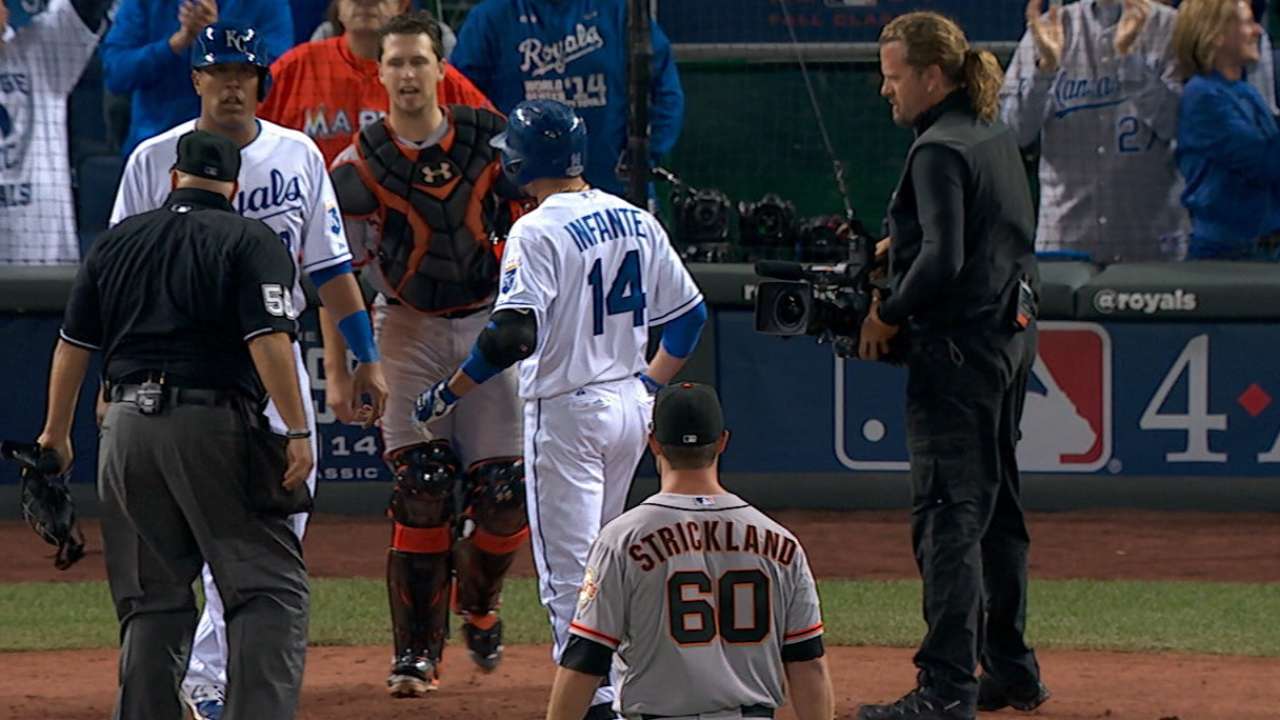 KANSAS CITY -- Omar Infante hit a home run, Hunter Strickland started yelling in English, Salvador Perez yelled back in Spanish and both dugouts momentarily emptied, bracing for a skirmish that never occurred.
After Wednesday night's game -- a 7-2 win by the Royals that evened the World Series at a game apiece -- everyone was still confused.
"He looked at me," Perez said of Strickland, and that's pretty much all he was certain about. "I was like, 'Why did you look at me? Omar hit a homer. Look at Omar.'"
Infante's two-run homer was the backbreaker in Game 2. It followed Perez's two-run double off Strickland and capped the five-run sixth inning that put the Royals ahead for good. Then Strickland started barking as Perez approached home plate, perhaps involuntarily setting an edgy tone for the rest of this series.
Perez looked stunned, pointing two fingers at his eyes, tapping on his chest and asking the Giants' rookie reliever why he was yelling in his direction.
Strickland attests he was merely upset at himself, and that it had nothing to do with Perez trotting slowly around the bases.
"I didn't notice that," Strickland said. "I was more frustrated at not executing my pitches. It was miscommunication. My emotions just got the best of me. I'm not too proud of that, but it is what it is. I can't take it back."
Strickland, the fourth of five pitchers used by Giants manager Bruce Bochy in the bottom of the sixth, entered with a one-run deficit, two on and one out. After a wild pitch put runners on second and third, Perez laced the next offering, a fastball, into the left-center-field gap to plate two runs.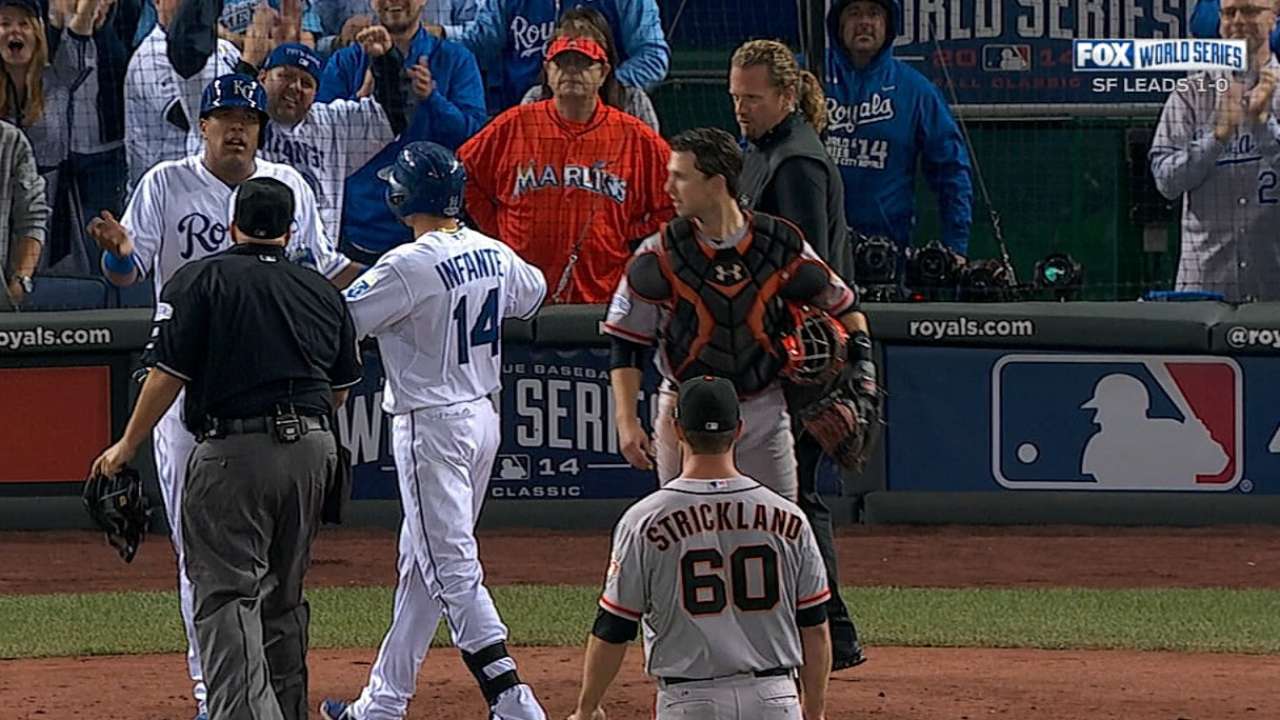 That's when it started -- at least for Perez.
"After I hit the double, he started looking at me on second base," Perez said. "I just wanted to, you know, forget about that. We're winning the game in that moment, you know?"
Two pitches later, Infante turned on Strickland's 98-mph fastball and sent it into the Royals' bullpen beyond the left-field fence. As Perez crossed home plate, Strickland started jawing in that direction and Perez was confused.
"He was telling me, 'Get out of here,' whatever," Perez said. "I don't know. You don't have to treat me like that."
So Perez yelled back, just as Infante was crossing home plate.
"Salvy, relax," Infante said he told his teammate. "I hit a home run."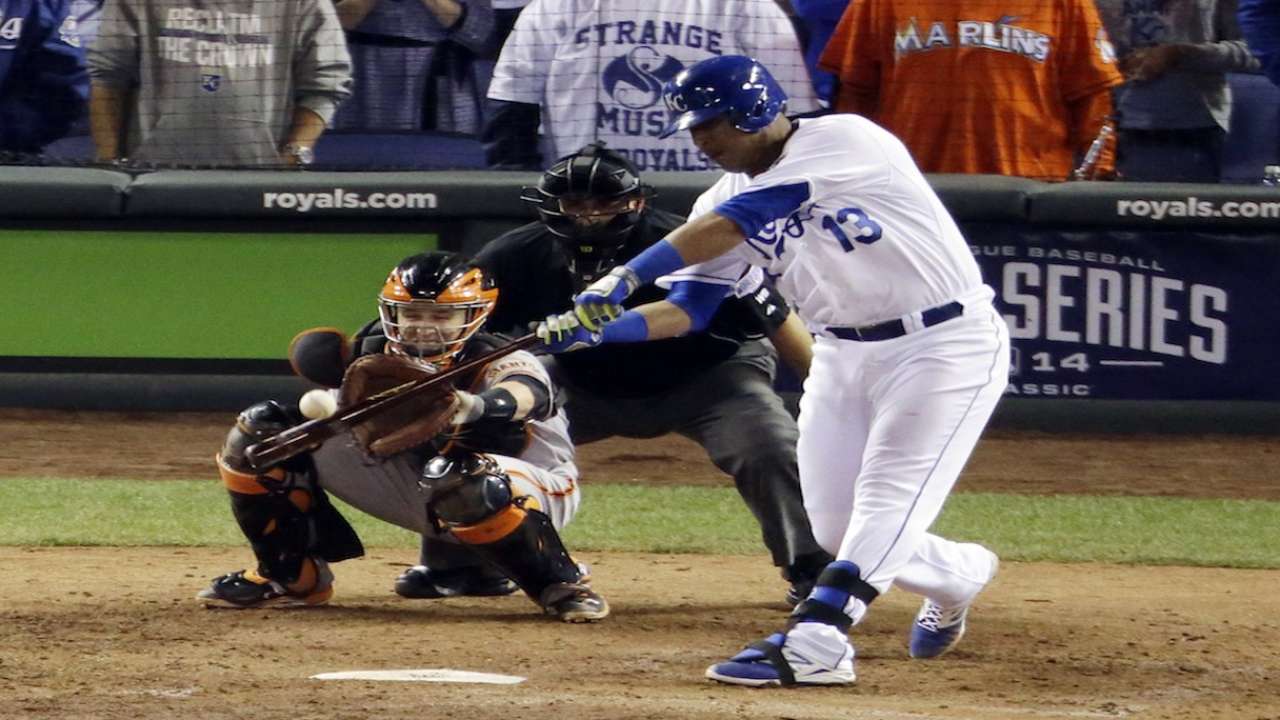 Several Royals players were ready to get Perez's back.
"All day," center fielder Lorenzo Cain said. "That's your brother."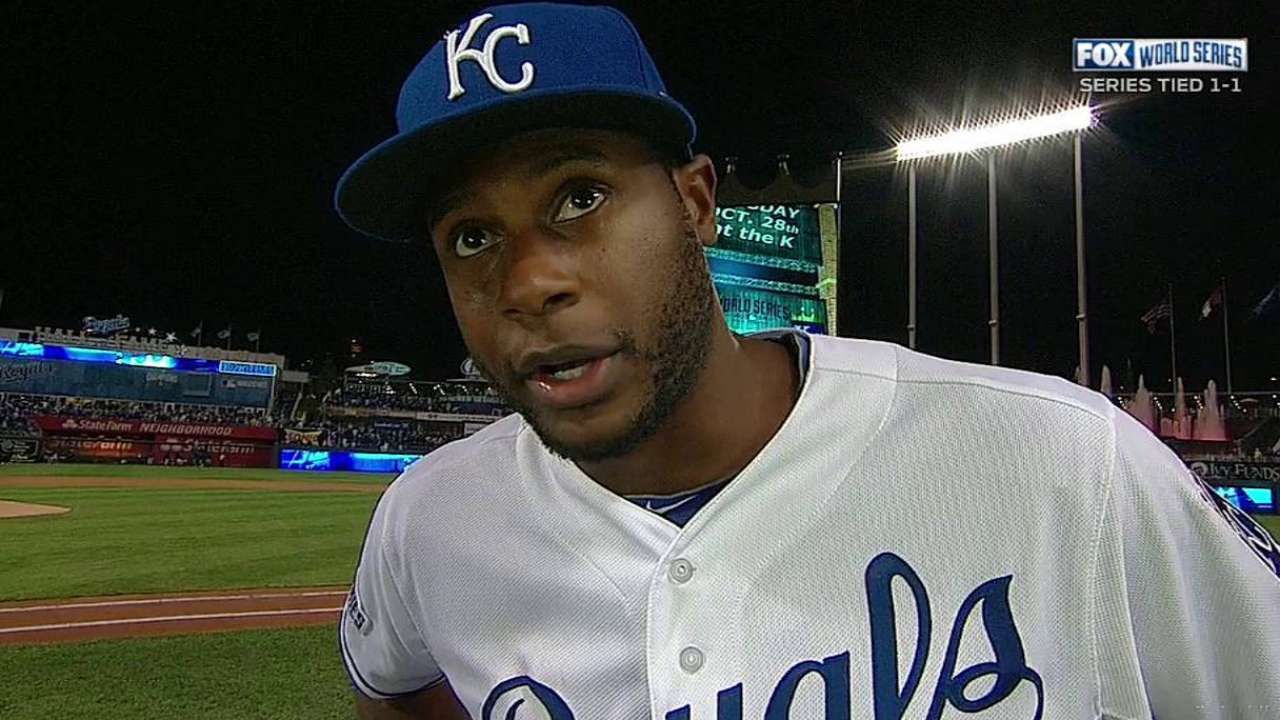 But order was restored briefly after players emerged from both dugouts, leaving enough time for only three Royals relievers to spill out of the bullpen, and Strickland was promptly removed from the game by Bochy, ushered to the dugout by home-plate umpire Eric Cooper to prevent any further theatrics.
Perez doesn't expect any carryover as this seven-game Series shifts to AT&T Park for the next three.
"I think it's part of the game," he said. "We forget about that, and we'll see them Friday in San Francisco."
Asked what set him off, Strickland said: "The fifth home run I've given up this postseason."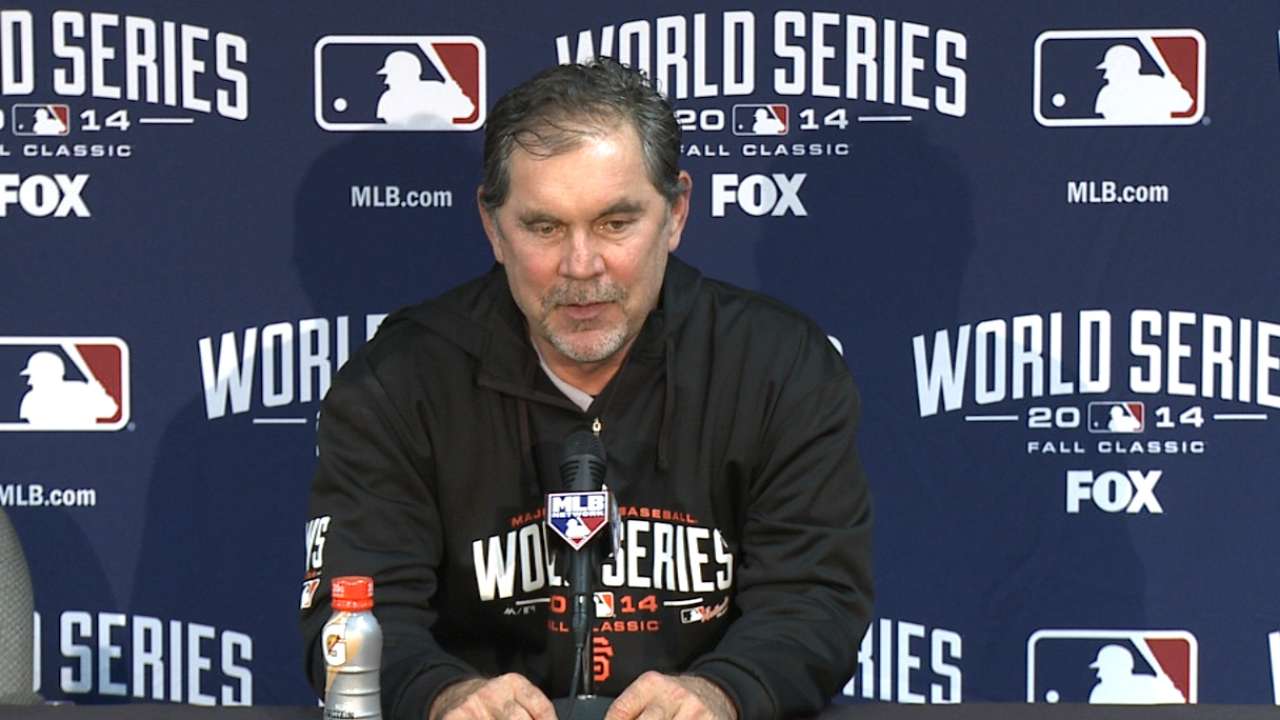 Strickland notched nine scoreless outings after joining the Giants as a September callup, exhibiting the electric stuff that was making him look like a future closer. But he's been charged with six earned runs, and those five homers, in 5 1/3 innings in the postseason.
Asked what he was yelling at himself, Strickland said: "Honestly, I don't even remember. I was too caught up in the moment."
A similar moment occurred in the National League Division Series, between Strickland and boisterous Nationals outfielder Bryce Harper.
The 26-year-old right-hander stared down Harper after he homered off him in Game 1 and took his time running around the bases. When Harper homered off Strickland again in Game 4, it was Harper who shot several stares in Strickland's direction, both as he rounded the bases and as he celebrated in the dugout.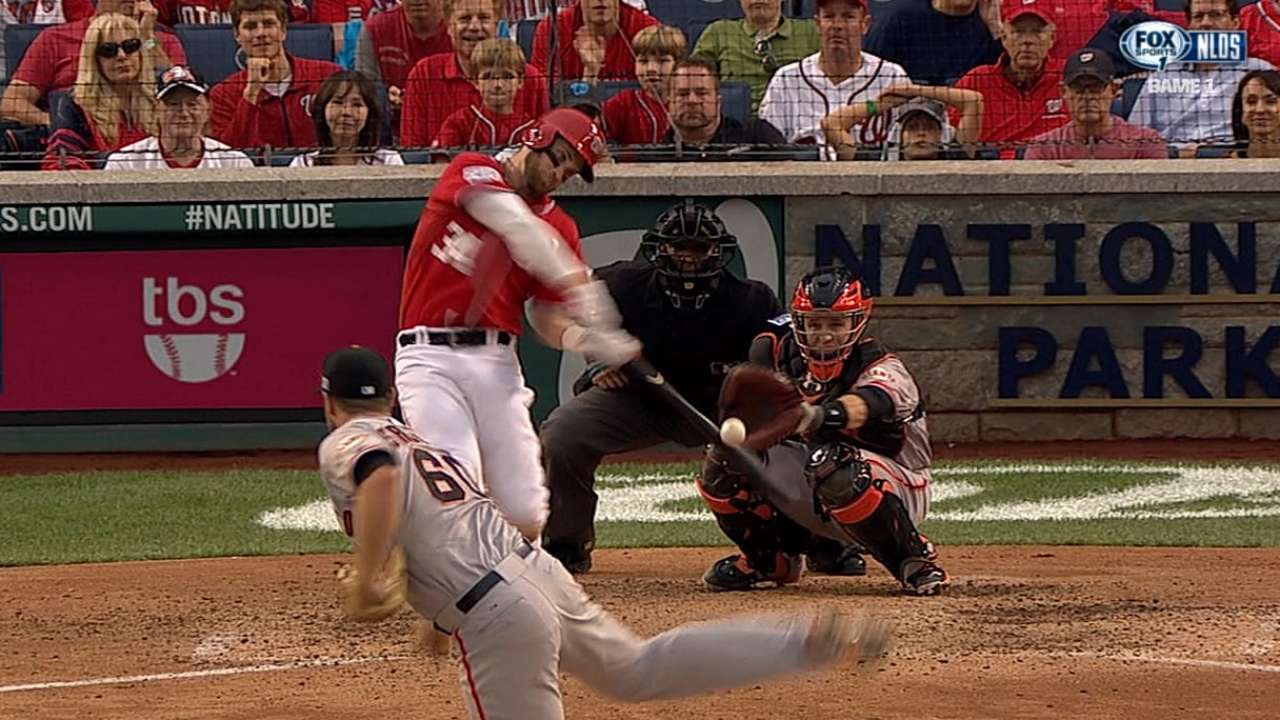 San Francisco reliever Jeremy Affeldt, one of the veteran leaders on this Giants team, plans to talk to Strickland about all of it soon enough.
"This is going to make him better in the long run," Affeldt said. "That's what we want him to understand. This is going to make him better. He has the mentality to handle it, and then we're going to chat about it."
Alden Gonzalez is a reporter for MLB.com. Read his blog, Gonzo and "The Show", and follow him on Twitter @Alden_Gonzalez. This story was not subject to the approval of Major League Baseball or its clubs.