D-backs prospect Drury testing his potential
Infielder motivated by atmosphere in Arizona Fall League, eyes bigs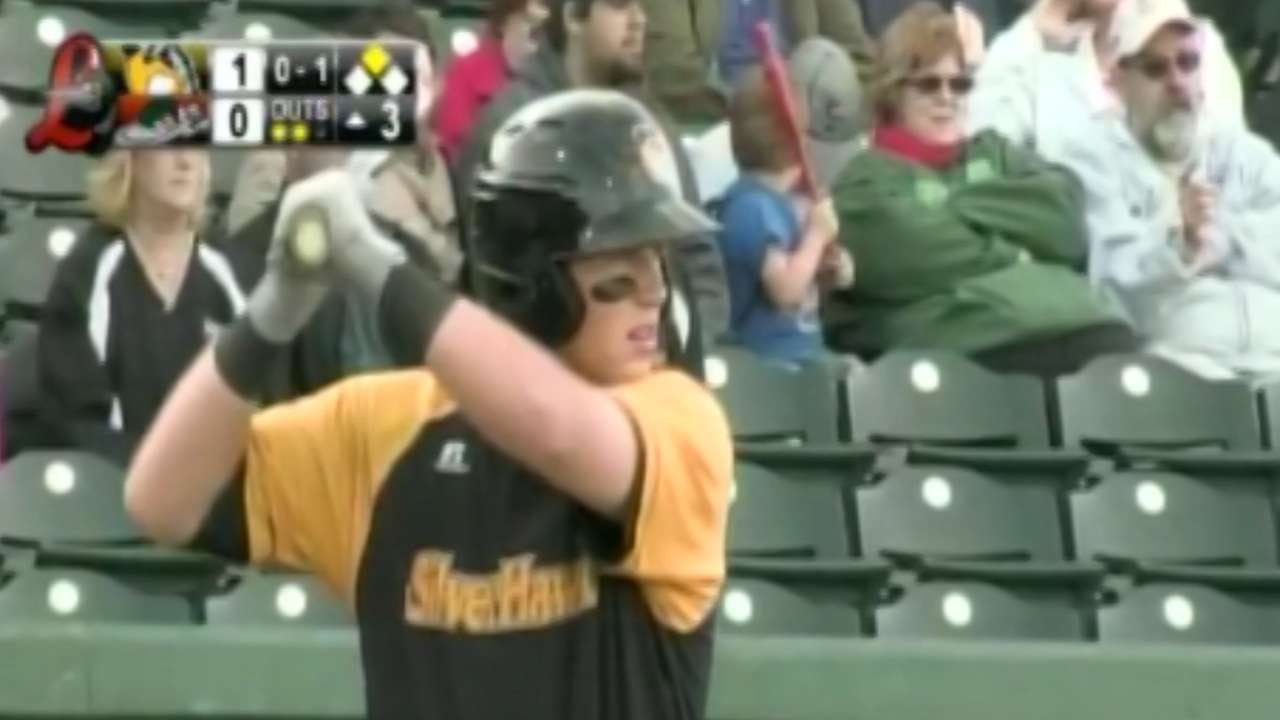 SCOTTSDALE, Ariz. -- Add another name to the list of outstanding young infield prospects for the D-backs. Brandon Drury is determined to find himself a spot on the big league roster sooner rather than later.
Drury, you might remember, was one of the players to land in Arizona from Atlanta in early 2013, when the D-backs sent outfielder Justin Upton to the Braves. Drury was a 10th-round Draft pick by the Braves in '10.
The D-backs thought enough of Drury's potential to place him on the roster of the Salt River Rafters in the Arizona Fall League.
If he reaches the top level for the D-backs, Drury would be the third prospect from that trade to do so. Nick Ahmed, who played shortstop for the Rafters in the Fall League a year ago, played in 25 games for Arizona in '14, and right-hander Zeke Spruill pitched in six big leagues each of the past two seasons.
Third base also has been Drury's primary position, but there has been some talk that he could start seeing more time at second base. He worked a bit at second this summer after being promoted from Class A Advanced Visalia to Double-A Mobile.
Drury, 22, has played strictly third base thus far for Salt River, but is open to trying on the second baseman's shoes. He began his career as a shortstop in high school at Grants Pass, Ore. He also played first base along the way.
"But if they [the D-backs] want me to learn second base, that's just another way for me to be in the lineup,'' Drury said.
Whichever direction he goes, Drury hopes some of the Major League atmosphere here will rub off and continue to serve as motivation.
"I'm excited to be playing in this league,'' the 6-foot-2, 190-pound Drury said. "I know a lot of guys have come through here and have gone on to have good careers.''
Drury hit a combined .299 with Visalia and Mobile, and he has a .281 average with 55 homers in five pro seasons. Drury has hit .209 with a pair of homers and four RBIs in his first 10 AFL games.
"The more you play the game, the better you get,'' Drury said. "I am older and I think I have been playing smarter baseball at every level.''
The calendar has not reached the point where the D-backs have communicated much with him about what the future holds.
Part of that has been due to a change in leadership, with Dave Stewart replacing Kevin Towers as general manager and then hiring Chip Hale to replace Kirk Gibson as manager.
"Either way, whoever is the GM or the manager, you have the same frame of mind and take the same approach,'' Drury said. "You just go out there and play as hard as you can.''
Drury wants to learn to have better at-bats and will look to see how pitchers approach him and learn more what to expect in certain counts.
That may be difficult to do sometimes in the AFL, having rarely seen a lot of the pitchers or not at all. That is where his teammates come in -- many of the older ones have seen many of the pitchers along the way and can pass along a bit of strategy.
"Just be as smart as you can about your at-bats,'' Drury said.
Drury is an acquaintance of Rockies shortstop Troy Tulowitzki and has received words of advice and encouragement via text messages on a few occasions.
"I'm a big fan. I just like how he works,'' Drury said.
Drury hopes the D-backs will soon say the same thing about him.
Don Ketchum is a contributor to MLB.com. This story was not subject to the approval of Major League Baseball or its clubs.