Key 1985 Royals gather at Negro Leagues Museum
Wilson, White, Jackson join columnist Posnanski for discussion about past, present KC clubs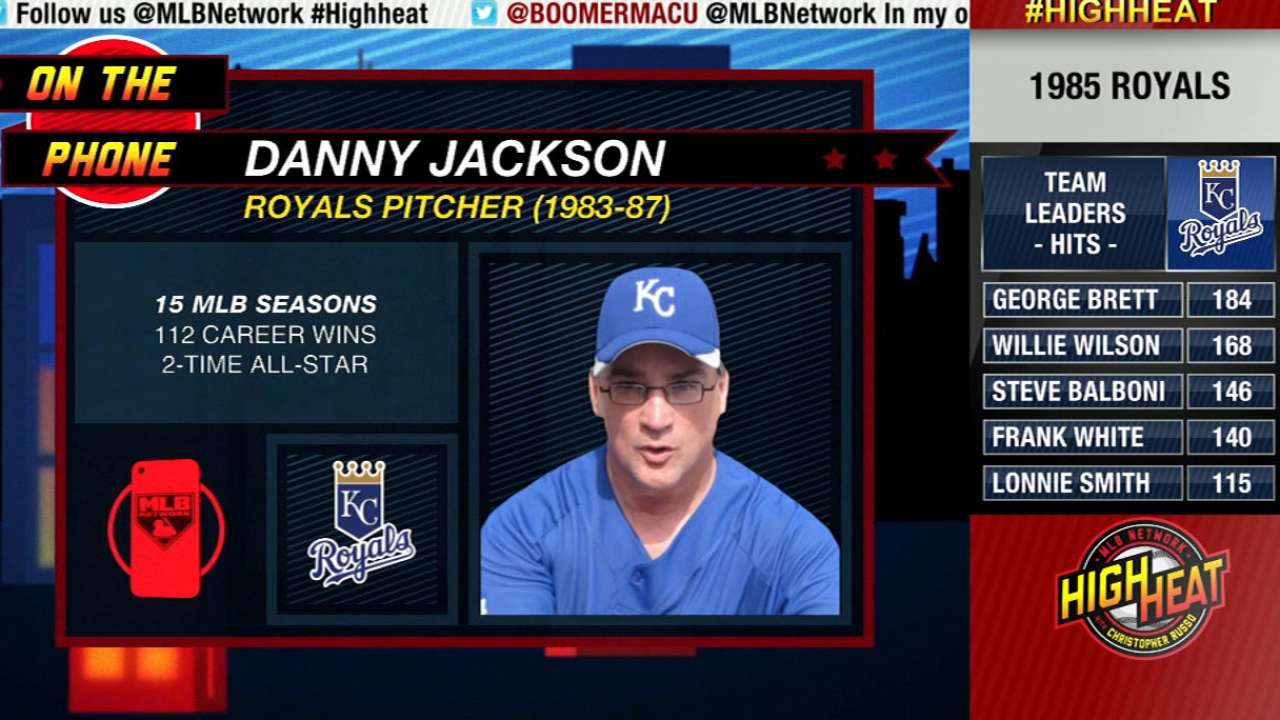 KANSAS CITY -- One of the best aspects of a World Series is how the teams involved take advantage of the time to salute their rich histories.
Whether a team is a consistent contender or one that has endured several angst-ridden decades trying to get to the postseason, nearly every club has a healthy list of Hall of Fame-caliber players and at least a few unforgettable October moments.
On Wednesday, Royals fans who visited the Negro Leagues Baseball Museum were in for a true treat, as three key members of the 1985 World Series champion Royals joined a well-respected sports columnist for an hour-long roundtable discussion.
For anyone who loves Royals history, or loves what's happening now -- or in most cases, both -- this was a must-see event. Outfielder Willie Wilson, second baseman Frank White and left-handed pitcher Danny Jackson joined former Kansas City Star columnist Joe Posnanski for a casual conversation, during which they reminisced about that '85 club and discussed what's happening with the current Royals roster.
Much of the conversation centered around similarities between the two teams, an unavoidable topic of discussion, given how much both survived on superior speed and defense throughout their respective postseasons.
The speed element, especially, is hard to ignore. Posnanski, who covered Kansas City sports for 15 years, contended Wilson was the fastest player in baseball history, leading the league in triples five times and stealing more than 600 bases in his career. So naturally, he wanted to get Wilson's take on the speed factor of this year's club.
Wilson likes the aggressive nature of the current Royals players, and he pointed out gently that it may behoove them to get back to what worked for them in the earlier stages of the postseason: stealing bases.
"It's pretty much what got them to where they are," Wilson said. "I wish they would go back to it. The first series, and especially in Baltimore [for the American League Championship Series], they stopped running. If they can start doing it again, they'll put a little more pressure on the opposing pitcher and it can really change the outcome of the game."
One glaring difference between players from yesteryear and today's players is how injuries are handled. Today, players are more open about nagging aches and pains and injuries that they're worried could be serious. Back in 1985, being injured simply meant you had a secret you didn't want anyone to know.
"If I had something wrong, I'd go to a 7-11, bring a bag of ice home, and iced at home," White said. "Or take a heating pad and work on myself at home. I loved to play and I didn't want to give my manager a reason not to put me in the game. You had to take care of yourself a lot in those days."
There was a pride factor, sure, but there was also a monetary issue. This was before multimillion-dollar contracts and long-term deals. It's not that players weren't valued. They were just more replaceable than they are today.
"If you were the owner of a team, do you want to pay for a guy to be hurt?" Wilson said. "If we felt bad, we didn't go to the training room. We kept that a secret, because we didn't want them to know we were hurt. We didn't make a whole lot of money. We'd get cut the next year. So you'd go out there and play.
"They used to say a one-legged Willie is better than a two-legged somebody else. If I couldn't go out there, I had to really be hurt. We all went out there every day."
Jackson, a rookie on that '85 club, was best known for his intensity. On the mound, there was no one more focused. In the clubhouse after a loss, there was no consoling him.
Although Jackson was as laid-back and affable as could be during this roundtable, the fierceness shone through from time to time. Even when he talked about losing games during the World Series some 29 years later, he offered some strong commentary.
"These guys didn't beat us," he would tell teammates after a loss. "They got a couple of hits that fell. And we didn't score. They weren't going to blow us away or sweep us. We felt confident enough to come back and defeat them."
White looked at his former teammate and just chuckled.
"Games we didn't win, he had to have the locker room to himself," White said.
Asked if the Royals' outfielders in '85 reminded him of today's, Wilson laughed.
"Two out of the three do," he said.
The two? Alex Gordon and Lorenzo Cain.
And then there's Nori Aoki.
"Aoki doesn't remind me of any other ballplayer," Wilson said. "That's not a bad thing. There's some guys that look bad getting the job done, but they get the job done. It doesn't matter how you do the job, as long as you do the job."
Judging from what happened in '85, this group would know.
Alyson Footer is a national correspondent for MLB.com. Follow her on Twitter @alysonfooter. This story was not subject to the approval of Major League Baseball or its clubs.