Butler matches Brett with rare RBI feat
Royals' DH drives in sixth and seventh runs of postseason in Game 2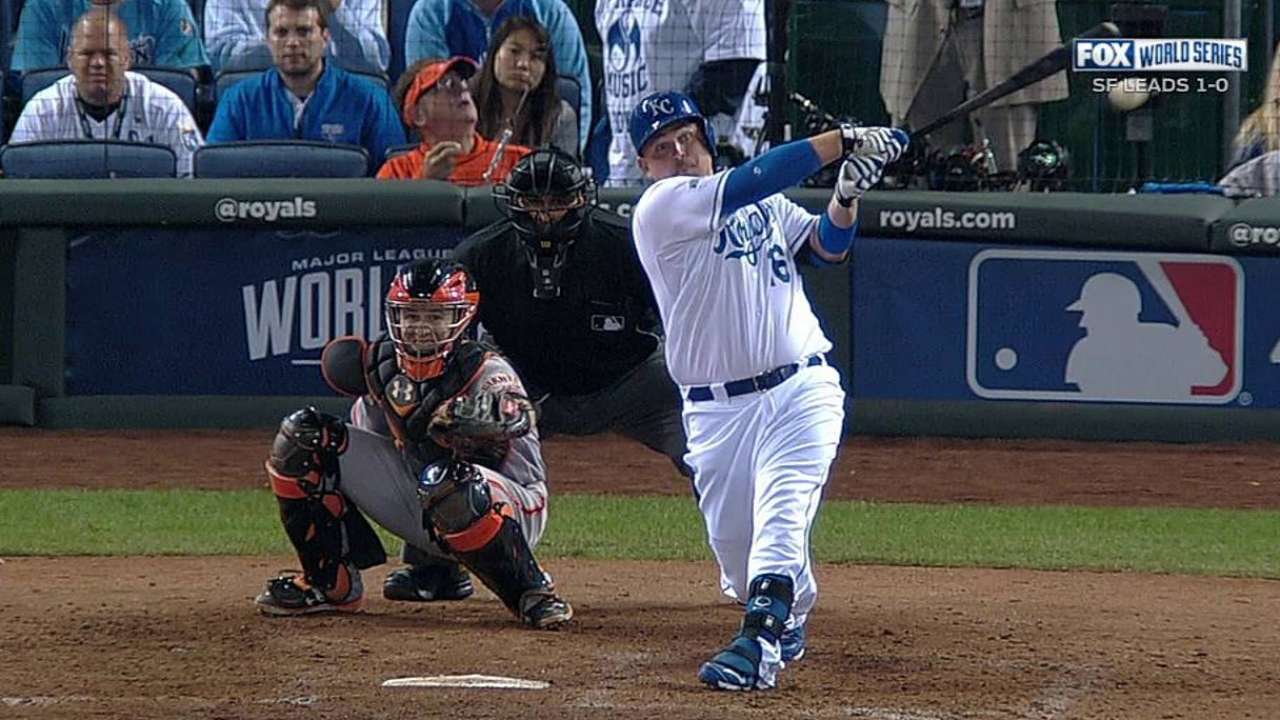 KANSAS CITY -- With a spectator's seat awaiting him in San Francisco and free agency looming shortly after that, Royals designated hitter Billy Butler helped Kansas City build a sixth-inning lead that also boosted the chances that Game 2 of the World Series would not be Butler's final act in front of the home fans at Kauffman Stadium.
With RBI singles in the first and sixth innings of the Royals' 7-2 win over the Giants on Wednesday night, Butler became the first Royals player with a tying and go-ahead hit in the same postseason game since George Brett in the 1985 American League Championship Series.
The sixth-inning knock sparked a five-run rally that positioned the Royals to knot up the best-of-seven Series before it heads out West for three games.
Butler's first hit came off Jake Peavy, against whom he had 14 hits in 33 regular-season at-bats. He drove in Lorenzo Cain to tie the game, 1-1.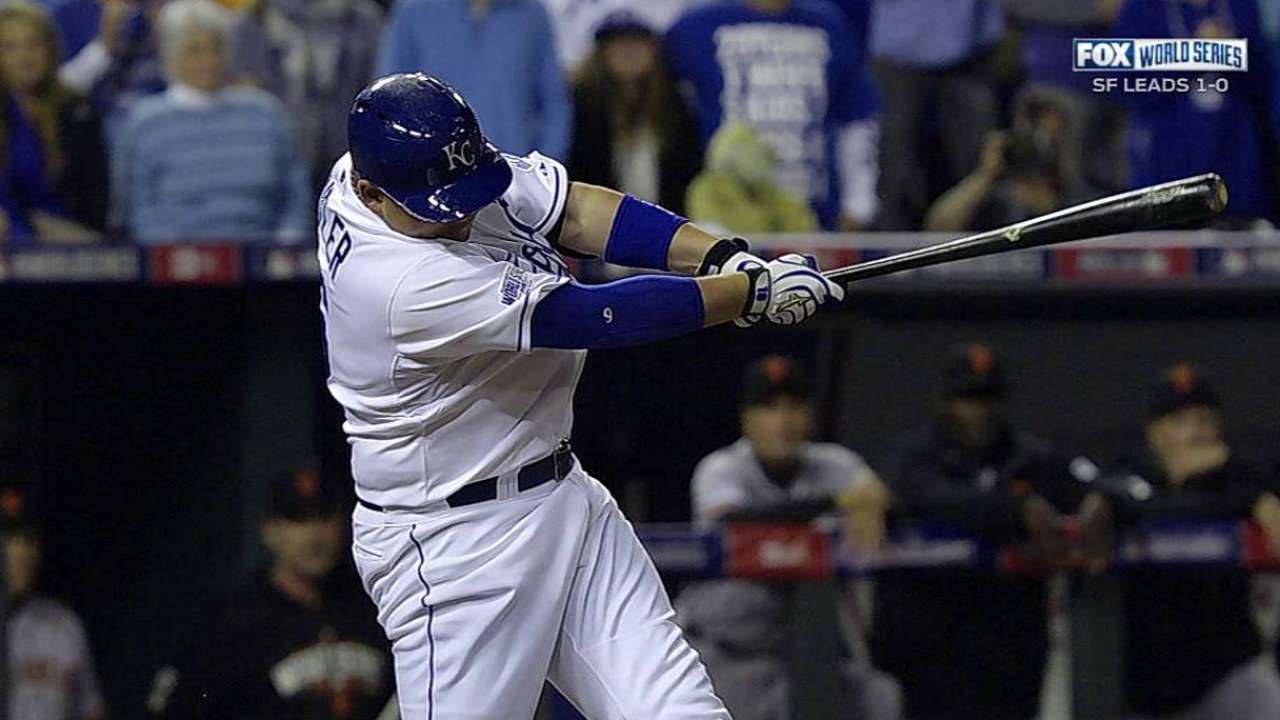 • Video: Butler singles home Cain to tie it at 1
"You know, this is the postseason, so the other experiences really don't come into play," Butler said of his success against Peavy. "I know what he's featuring. I know he's got good offspeed breaking stuff and he's got a good sinker. I know in that situation right there that in the past that I've hit his fastball well at times, that he's going to try to stay down and away from me and try to make me hit his pitch.
"He started me off well. He threw a good cutter, and I swung over the top of the first one. ... He threw me the same pitch again, and it stayed up a little bit more, and I drove it through the middle."
Giants manager Bruce Bochy had no interest in letting Peavy face Butler a third time, so he made his first move to the bullpen with two on and none out in the sixth. Butler simply got to Giants reliever
Jean Machi
instead, lining a single to left field that drove in Cain from second base for a 3-2 lead.
"I knew when I got 2-0 with runners on first and second, nobody out, the last thing he wants to do is put another guy on there to load the bases with nobody out," Butler said of Machi. "So I knew he was going to attack me with a fastball. I was just looking for it up in the zone, and got a good pitch to hit."
Seeking the big inning that he would eventually get, Royals manager Ned Yost removed Butler for pinch-runner Terrance Gore. Butler's RBI total this postseason now sits at seven.
"I tell you what, Billy, the hit off Machi to put us ahead 3-2 at that point was a monster hit for us," Yost said. "Because, again, I felt really strongly that whoever scored that third run was probably going to win the game."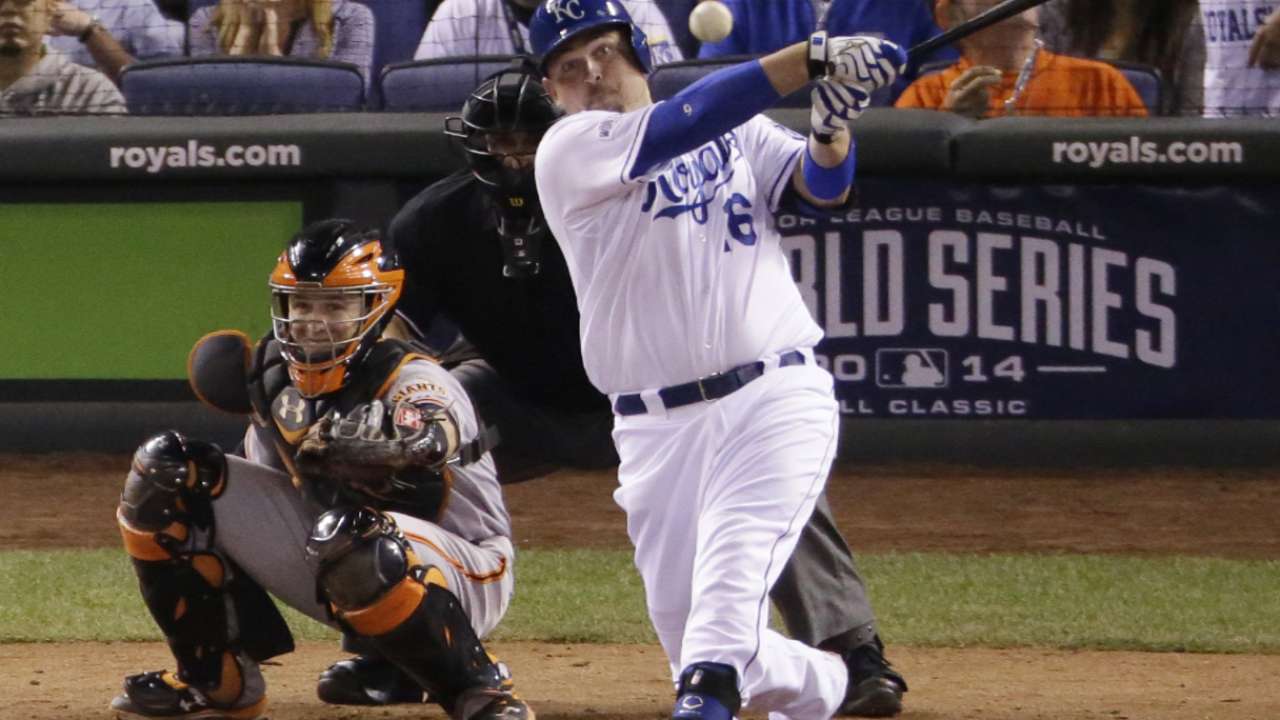 Video: Yost on Butler's value as a hitter
With the DH out of play at the National League park in San Francisco, Butler's activity over the next three World Series games could be limited to pinch-hit opportunities. He'd be ensured another start if the series extends to a sixth game, which would be played back in Kansas City, the only place Butler has called his Major League home.
With the Royals unlikely to exercise Butler's $12.5 million option at season's end, there is the possibility that free agency lures him elsewhere once this postseason ride ends.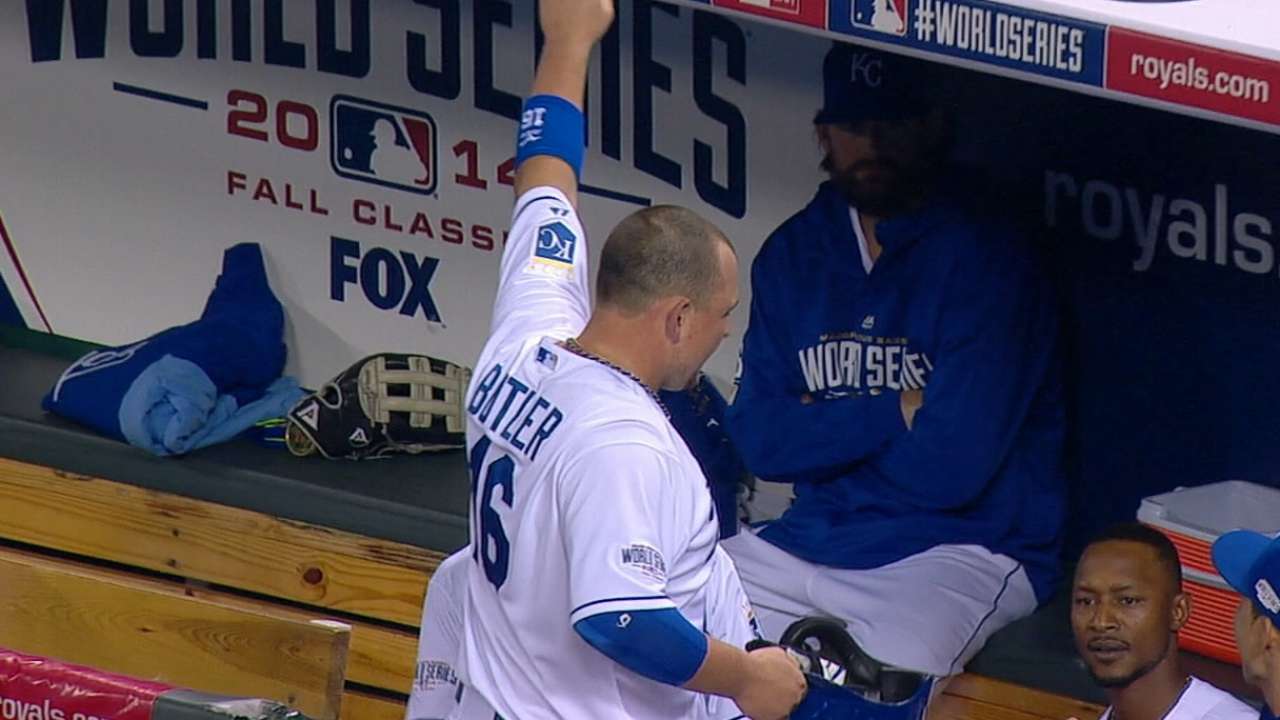 Jenifer Langosch is a reporter for MLB.com. Read her blog, By Gosh, It's Langosch, and follow her on Twitter @LangoschMLB. This story was not subject to the approval of Major League Baseball or its clubs.