MLB.com Columnist
Lindsay Berra
Young cancer patient at The K for Game 2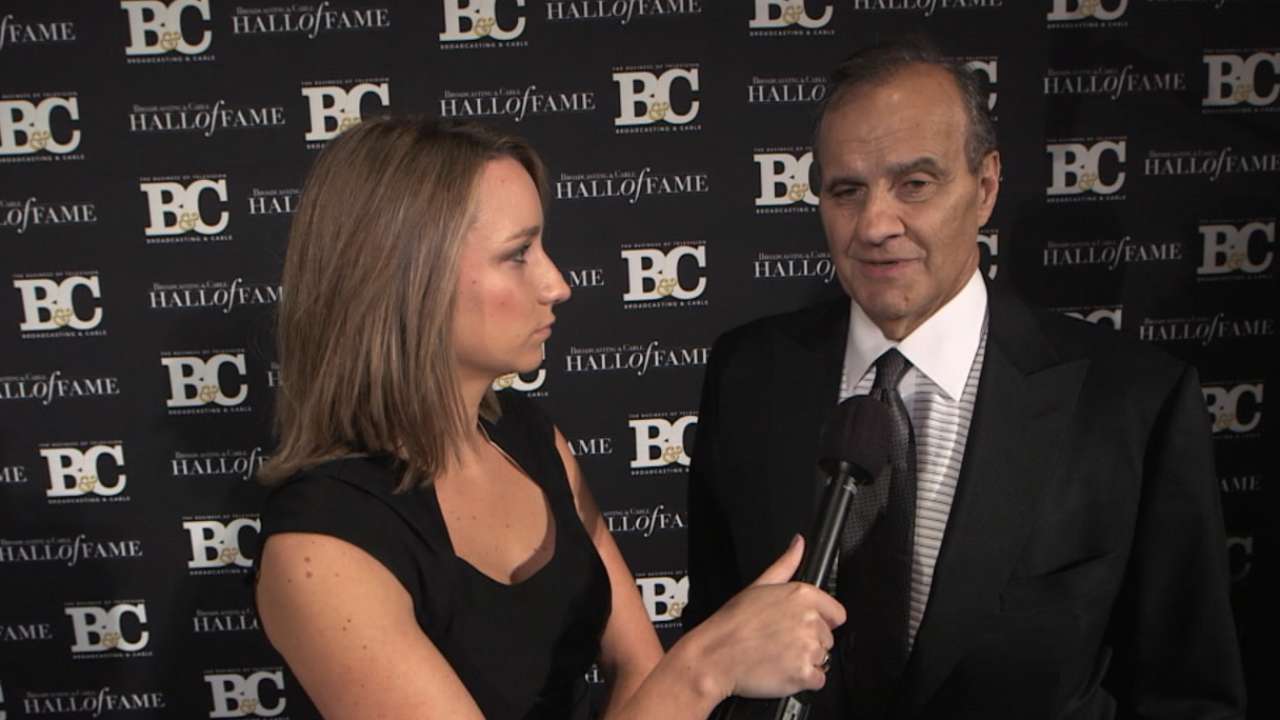 KANSAS CITY -- Noah Wilson was at Kauffman Stadium on Wednesday night to see his beloved Royals play the Giants in Game 2 of the World Series, courtesy of Major League Baseball.
Wilson is 6 years old. He has a brother and two sisters. He plays right field and catcher and Eric Hosmer is far and away his favorite player. Over the past weeks, Noah has watched every Royals postseason game. But, unlike most, Wilson had to watch from his room at Children's Mercy Hospital in Kansas City, where he is about halfway through a 14-week chemotherapy program. Noah has Ewing Sarcoma, a rare cancer that affects bones and the soft tissue around bones, and suffers from a tumor in his spine that has gotten smaller since treatment began.
Last week, Noah's father, Scott, posted a video on Facebook of his son dramatically announcing the Royals' starting lineup from his hospital bed. The Wilson's neighbor, Ryan Zimmerman, was so struck by the video that he began a fundraising campaign on Twitter and gofundme.com in an effort to send the entire Wilson family to a World Series game. Within the first 24 hours, he had raised nearly $10,000.
When StubHub heard Noah's story, it donated tickets so the Wilsons could attend a game. Moments later, former Yankees manager Joe Torre, who now serves as the executive vice president of baseball operations for Major League Baseball, invited Noah and his family to the World Series.
Dan Scavino, who is the development director for Torre's Safe at Home Foundation and also manages Torre's Twitter account, heard about Noah online and immediately informed his boss.
"The Wilsons are a family of devoted baseball fans and Noah really wished he could go to the game," Torre said. "You hate to see kids suffering from cancer, so we were more than happy to help. It would have been crazy for us not to help."
Major League Baseball provided six tickets for the Wilsons. The family elected to use the money raised on gofundme.com to purchase 16 more tickets. Combined with the seven StubHub tickets, the Wilsons had a total of 23 extra tickets. They chose to deliver them to nine other families of children with cancer whom Noah had met while undergoing his chemotherapy treatments.
"My family watches Royals games together at home all season long, and we've been to the ballpark a few times this year, but we never would have been able to be at the World Series without the fundraising and the help of MLB," Scott Wilson said. "To be able to be here with my entire family is incredible, and it's incredible that we were able to give that same once-in-a-lifetime experience to nine other families."
The Wilsons got to meet and chat with Torre. When Noah took his seat, he knew his friends were scattered around Kauffman Stadium, and knew it was special.
"He's so young, but he understands what everyone did for him," said Deb Wilson, Noah's mother. "I'm not sure he quite gets the magnitude of it, but I know he will down the road."
Lindsay Berra is a columnist for MLB.com. This story was not subject to the approval of Major League Baseball or its clubs.