Ceremonial first pitch put in hands of Royals legend Brett
Phillips gives rendition of national anthem; Breaking Barriers winner honored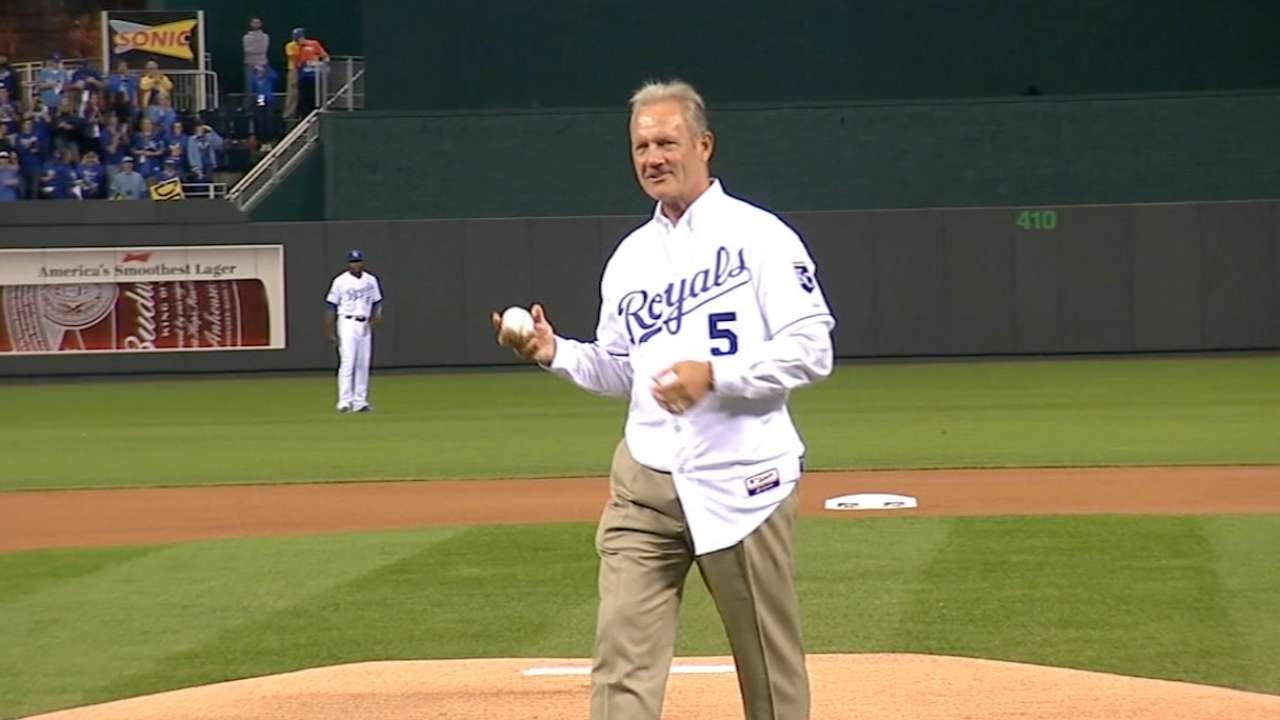 KANSAS CITY -- If you ask a member of the 1985 World Series-champion Royals to name his favorite memory from that series, you're probably going to get a pretty quick, and logical, answer.
Like George Brett's response, when he was posed the question shortly after throwing out the ceremonial pitch at Game 2 of the World Series at Kauffman Stadium on Wednesday night.
"The last out," Brett said, simply.
Which, really, makes sense. The Royals came back from a 3-1 deficit that year, winning the final three games, including Game 7 by an 11-run landslide. That alone was enough to carry a euphoric Royals organization for a while. That the club did it against the cross-state rival Cardinals was just the proverbial icing on the cake.
"[Andy] Van Slyke, fly ball, that's it," Brett recalled. "That was my favorite memory. It was the last out, and we won."
Brett, currently serving as the Royals' vice president of baseball operations, has been everywhere throughout this squad's playoff run. Wednesday's was not the first ceremonial pitch he's been asked to throw this month, but that's what happens when a player of his caliber -- a Hall of Famer who spent all of his 21 seasons with the Royals -- is actively involved with a playoff-starved club that has captured the attention of fans nationwide.
The final chapter has yet to be written, but judging from the pageantry at The K these days, it's obvious that the Royals organization is enjoying every moment in the postseason spotlight.
The pregame ceremony for Game 2 also featured an anthem singer who is no stranger to performing at Major League Baseball's jewel events, especially those in Kansas City. Platinum-recording artist Phillip Phillips, who also sang the anthem at the 2012 All-Star Game at Kauffman Stadium, performed again on Wednesday night.
Although Phillips was honored to sing the anthem in front of an enthusiastic Royals crowd, he admitted he was also a little nervous.
"I'm so scared to do the national anthem again," Phillips said, chuckling, during his sound check earlier in the day. "I said I'd never do it again, and then I got my arm twisted.
"It's just nerve-racking. You're representing so much more than singing. Shoot, you get somebody up there to do it in front of 60,000 people, plus people watching on TV. It's intense. And it's quiet. You're the only one making noise. You want someone to yell or make some kind of noise. But you can't."
But the lure of the ballpark was too tempting for Phillips, born and raised a Braves and Chipper Jones fan.
"I played baseball from 5 to age 15," he said. "I love baseball, I love going to the games, love watching it. It's a great sport. I always want to catch a foul ball, a home run, get some nachos. The atmosphere is really special."
MLB has dedicated the first four games of this World Series to important community causes and charities involving its partners. Game 1 was dedicated to veterans and military families, Game 2 is education and ALS awareness, Game 3 is Stand Up To Cancer and the fight to end cancer in our lifetimes, and Game 4 is youth outreach.
Before Game 2, MLB recognized one of two Grand Prize winners of the 2014 Breaking Barriers Essay Contest: Michael Andalaro, a ninth grader from Phoenix.
In his essay, Andalaro explains what it is like to be the only deaf student at his school, and how he uses persistence, teamwork and a commitment to excellence to be a successful and engaging student.
Keilarrian Gooden-Jones, 16, of Harrold Youth Center, delivered the ceremonial first ball to the mound with Royals legend and five-time All-Star Mike Sweeney. Gooden-Jones attends Leavenworth High School.
Alyson Footer is a national correspondent for MLB.com. Follow her on Twitter @alysonfooter. This story was not subject to the approval of Major League Baseball or its clubs.