Inbox: What is the position plan for Peterson?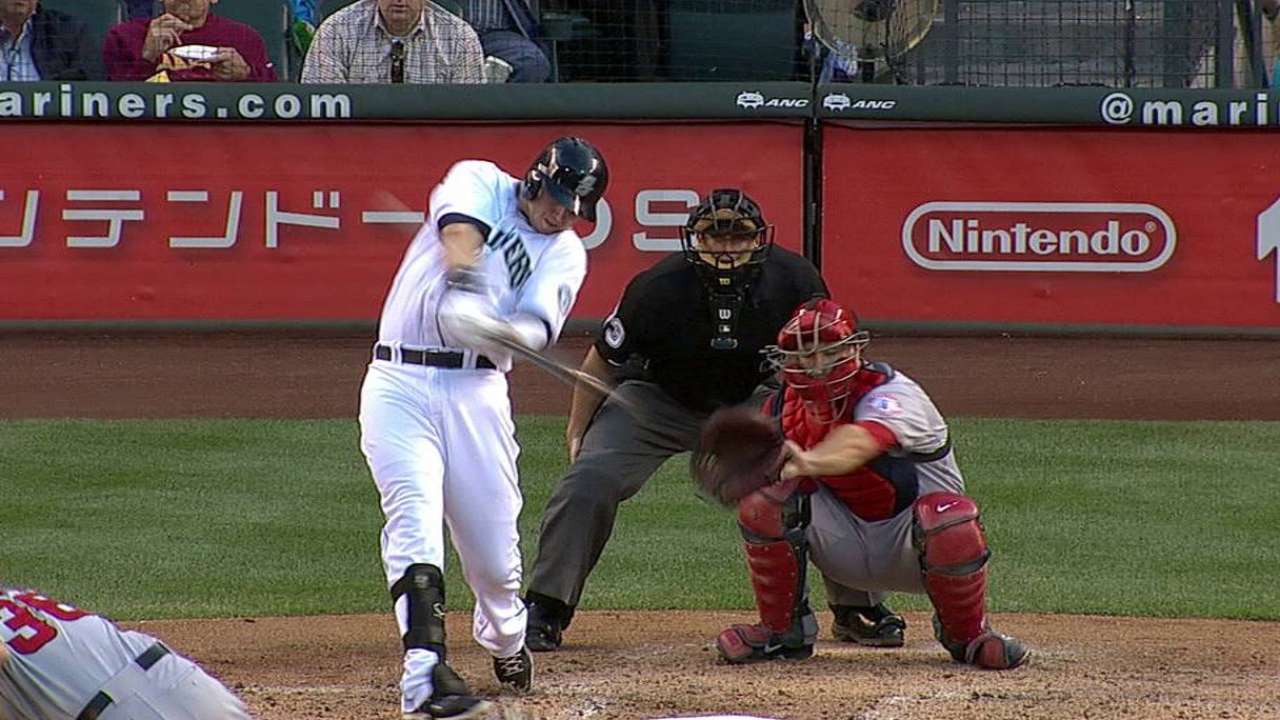 Lots of fun responses as our Reader Inbox series got underway again for the offseason last week. Keep 'em coming! Click here to submit a question.
What player are the Mariners aiming for in free agency this offseason?
-- Matthew F., Bellevue, Wash.
It's impossible to just aim for one player since 29 other teams are also zeroing in the same guys, but it's safe to say one position the Mariners must address is designated hitter after the combo of Corey Hart and Kendrys Morales led a group that hit a dismal .191 with 49 RBIs for the season, by far the worst DH numbers of any AL team.
The biggest available designated hitter will be Victor Martinez, who was the best in the game this year -- hitting .335 with 32 homers and 103 RBIs for the Tigers. Mariners manager Lloyd McClendon was formerly Martinez's hitting coach in Detroit, so there is a nice connection there. But it won't be easy for Seattle -- or any other team -- to lure the 35-year-old away from a club that will surely be willing to pay top dollar to keep him in the middle of its lineup.
If the Royals don't exercise a $12.5 million option on Billy Butler, he's another potential free agent target while coming off a down season in which he hit a career low .271/.323/.379 with nine homers and 66 RBIs. Butler isn't a big power guy, but at 28, he's been a solid right-handed hitter with a career .295 average in eight seasons and that's something the Mariners sorely need. Other top-end free agent hitters will include Pablo Sandoval, Nelson Cruz, Melky Cabrera, Nick Markakis, Aramis Ramirez and Cuban outfielder Yasmani Tomas.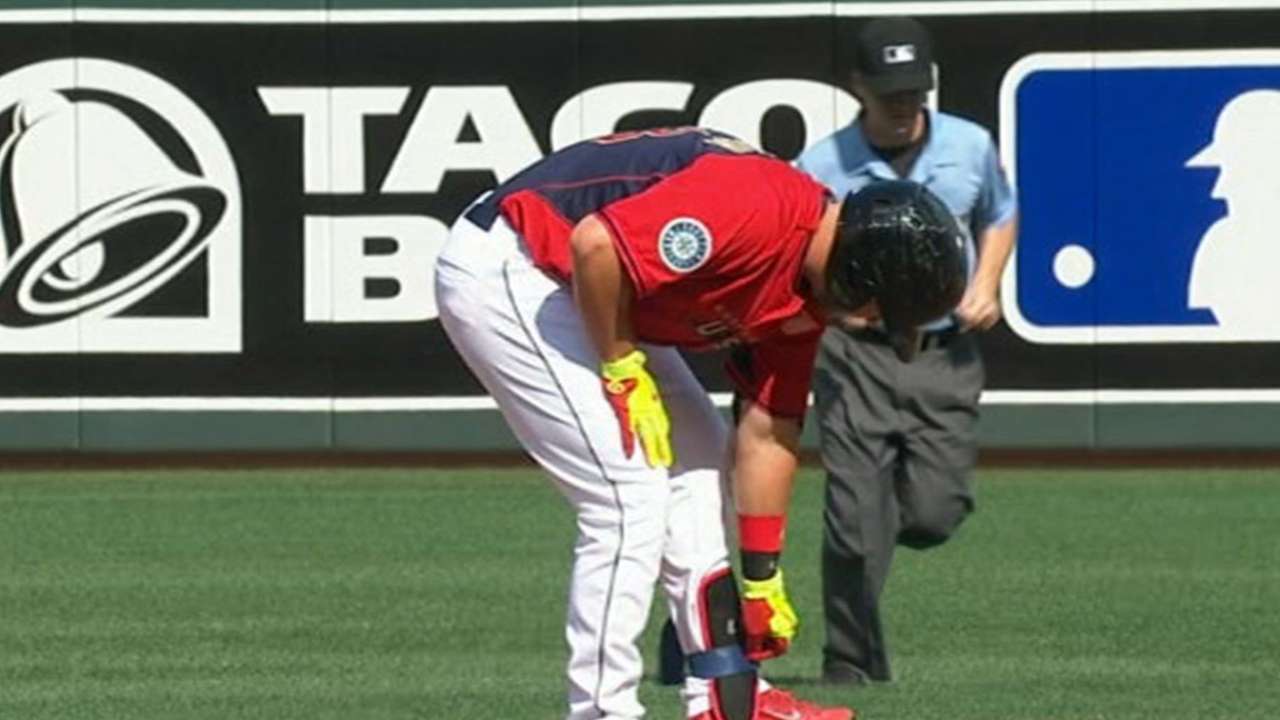 D.J. Peterson could provide some much needed help offensively, but the Mariners already have an awesome third baseman in Kyle Seager. Are there any plans to have Peterson learn another position?
-- Debi J., Coeur d'Alene, Idaho
Peterson, the Mariners' No. 2 prospect according to MLB.com, has continued to play mostly third this past year both in the Minors and now in the Arizona Fall League. But the 2013 first-round Draft pick played some first base in college and started 19 games there this year in the Minors, along with 90 at third base and 15 at DH. He believes he can transition easily to first base if needed and I expect he'll get a good look there next spring. After hitting .297 with 31 homers with 111 RBIs in Class A and Double-A ball, the 22-year-old may well wind up being part of the solution at first base or DH in Seattle before long.
With Logan Morrison on a roll at the end of the season and Peterson waiting in the wings, what is Justin Smoak's future with the Mariners?
-- Julian G., Incline Village, Nev.
Decision time is approaching with Smoak, who hit just .202 in 80 games and lost his first-base spot to Morrison at midseason. After five seasons in Seattle with a .226/.308/.384 line, the 27-year-old could be non-tendered and allowed to become a free agent unless the Mariners feel it's worth one last shot with the former first-round pick. The club has a $3.65 million contract option for 2015, but can buy that out for $150,000 and either let Smoak go into a final year of arbitration, attempt to trade him or just let him become a free agent at the contract tender deadline five days after the World Series ends.
What happened to the Pulaski Mariners? Will the Mariners have a Minor League team at that level in 2015?
-- Anne H., Snohomish, Wash.
The Mariners did not renew their contract with Pulaski (Virginia) in the rookie Appalachian League for next year and Pulaski has since signed a deal with the Yankees. The Mariners felt they were overloaded at that level with Class A short-season Everett and a rookie Arizona League club in Peoria, along with increased focus now on their new academy in the Dominican Republic. The other change next year will be the switch from High Desert to Bakersfield in the Class A Advanced California League.
Do you believe the Mariners will retain reliever Joe Beimel?
-- Charles H., Oakville, Wash.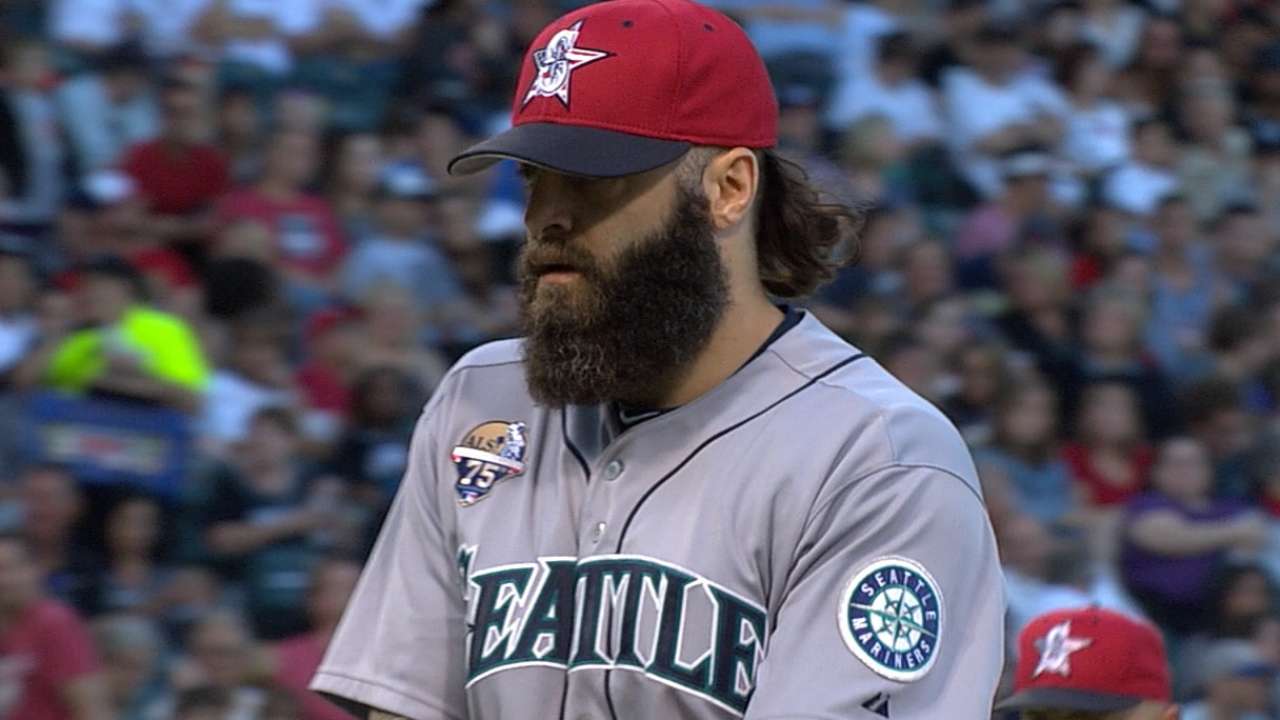 Beimel is one of six Mariners veterans who'll become free agents at the conclusion of the World Series, but yes, I think there's a good chance he re-signs with Seattle. Beimel has indicated he'd love to return after a very successful season when he made the club on a Minor League deal and then posted a 2.20 ERA in his first healthy year since 2011. And the Mariners are definitely interested in having him back as one of their lefty specialists, if things work out.
I've seen Taijuan Walker dunk on YouTube, and know Chris Young played basketball in college. Who would win in a game of one-on-one?
-- Ryan B., Spokane, Wash.
Young was an All-State basketball player at Highland Park (Texas) and went on to play two years of hoops at Princeton from 1998-2000, averaging 13.8 points, 6.3 rebounds and a school-record 3.0 blocked shots a game his sophomore season. He was good enough to get an NBA tryout with the Kings, but chose to stick with baseball. Walker was a stud basketball player at Yucaipa (Calif.) High and averaged 21 points and 15 rebounds as a senior, but he obviously never played in college as he signed with the Mariners straight out of high school.
So while I'd say the 6-foot-10 Young is far more accomplished as a basketball player and would be my first choice if I was playing five-on-five, it's a different game one-on-one and I'd put my money there on the younger and more-athletic 6-4 Walker at this point in their careers. And, no, I don't believe they squared off in their spare time this past season, not even on the Nerf hoop in the Mariners clubhouse at Safeco Field.
Greg Johns is a reporter for MLB.com. Follow him on Twitter @GregJohnsMLB as well as his Mariners Musings blog. This story was not subject to the approval of Major League Baseball or its clubs.