MLB.com Columnist
Lindsay Berra
Visual impairment doesn't stop O'Neil Legacy Seat honoree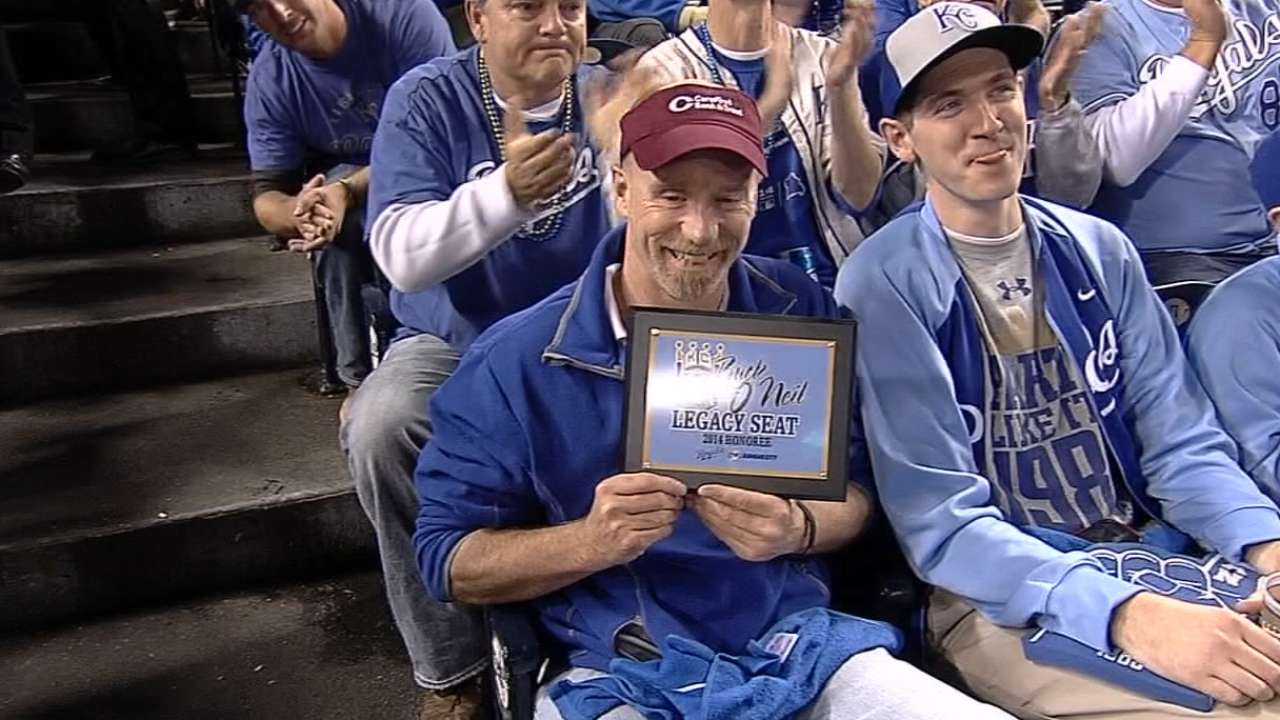 KANSAS CITY -- There is one red seat in the sea of blue that is Kauffman Stadium in Kansas City, home of the Royals. It is Seat 1 in Row C of Section 101, and it belonged to Buck O'Neil.
The star of the Negro League's Kansas City Monarchs became the first African-American coach in Major League Baseball when he was hired by the Cubs in 1962. Later, as a scout for the Royals and as a fan, he spent countless days and nights watching games from his seat behind home plate.
To honor O'Neil, the Royals began the Buck O'Neil Legacy Seat program in 2007. Every night, they fill "Buck's Seat" with a special person who, on a large or small scale, represents Buck's spirit through work done in the community.
For Game 2 of the World Series, John Parker of Topeka, Kan., was in the red chair.
"I'm so excited to be here," he said. "I'm a huge Royals fan, but I would have been watching these games at home with some friends and some popcorn."
Parker attended the game with his friend Zach Dinges, who nominated him for the Legacy Seat Program last April. Dinges was charged with giving Parker running play-by-play commentary during the game.
Parker, 53, began losing his sight when he was just 20 years old. He was officiating a Topeka Soccer League game in 1981 when he was hit in the head with the ball from a direct kick from just 10 feet away. The blow jarred and inflamed Parker's optic nerves, which accelerated their deterioration. Over the last 33 years, he has gradually been losing his sight.
Parker, who once had dreams of being a professional soccer player, needed a way to stay active. He found and fell in love with beep baseball.
Beep baseball is played by those with all levels of visual impairment. The playing field is leveled because they all must wear blindfolds. It uses a 16-inch softball that beeps, and there are only two bases -- first and third -- which also emit a noise.
In 2007, Parker's team of all-stars from Kansas won the National Beep Baseball Association World Series. Parker still holds the record for batting average in the World Series at .878.
Parker has helped raise hundreds of thousands of dollars in support of beep baseball and the NBBA. Costs are not insignificant; teams pay for their own travel and equipment, and while a normal baseball costs about $20, each beep baseball costs $35.
"Just because you're hearing impaired or visually impaired or in a wheelchair doesn't mean you don't want to play and be able to show your talent," Parker says. "These people are fantastic, and we all still want to [remain active]."
In 2009, Parker received the Jim Quinn Award from the NBBA, given annually to recognize a person for his or her service and dedication to the sport of beep baseball.
On Wednesday night at Kauffman Stadium, Parker was honored again.
"I'm so proud to be thought of in the same way as Buck O'Neil," Parker said. "Buck took so many risks and surpassed everyone's expectations, and I'm very proud to be associated with a pioneer like that."
Lindsay Berra is a columnist for MLB.com. This story was not subject to the approval of Major League Baseball or its clubs.