Holland named Mariano Rivera AL Reliever of the Year
Closer helped lead Royals to World Series; Braves' Kimbrel wins NL version of award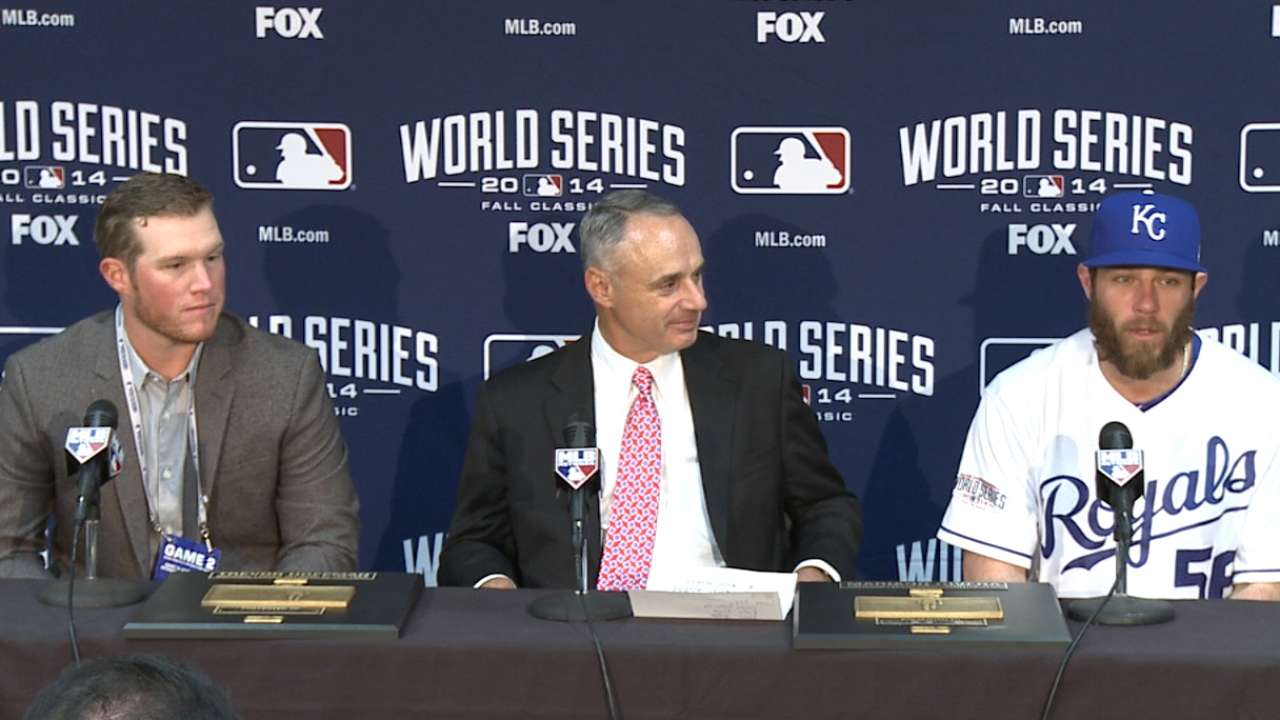 KANSAS CITY -- Royals closer Greg Holland and Braves closer Craig Kimbrel were named the Relievers of the Year on Wednesday before the start of Game 2 of the World Series.
Commissioner-elect Rob Manfred presented Holland with the Mariano Rivera Award, which honors the most outstanding American League reliever. Kimbrel received the Trevor Hoffman Award, which honors the most outstanding National League reliever.
Kimbrel topped the NL in saves for the fourth straight season with 47 -- one behind Major League leader
Fernando Rodney
-- while Holland finished third in the Majors with 46. Atlanta's ninth-inning man posted a 1.61 ERA and a 92-percent successful save rate, while Kansas City's closer notched a 1.44 ERA and a 96-percent save rate.
"Mariano Rivera and Trevor Hoffman, you kind of get [humbled] when your name is put on the same plaque as either of those two guys," Holland said roughly an hour before Kansas City hosted San Francisco at Kauffman Stadium.
"I was kind of iffy about attending a World Series I wasn't a part of, but in respect to Trevor Hoffman and Mariano Rivera, the awards being named after them, I felt like I needed to be here to accept the award," Kimbrel said. "I'm very humbled and grateful to have this opportunity."
This is the first year MLB named the annual reliever awards after Hoffman and Rivera. Previous stalwart relievers earned the Rolaids Relief Man Award, but that accolade ended in 2012, with Kimbrel as the final NL winner. Relief pitching awards took a hiatus in 2013.
"This past year, Commissioner [Bud] Selig decided because of the significance of relief pitching in our game, it was important to have appropriate awards and appropriately named awards," Manfred said.
The inaugural Rivera and Hoffman Award winners are certainly deserving, as the case could be made that Holland and Kimbrel have been the best closers in MLB for the past two seasons.
Since 2013, among relievers with at least 100 innings pitched, Holland leads with a 1.32 ERA, with Kimbrel (1.40) close on his heels. Kimbrel holds a slight edge in saves with 97, compared to Holland's 93.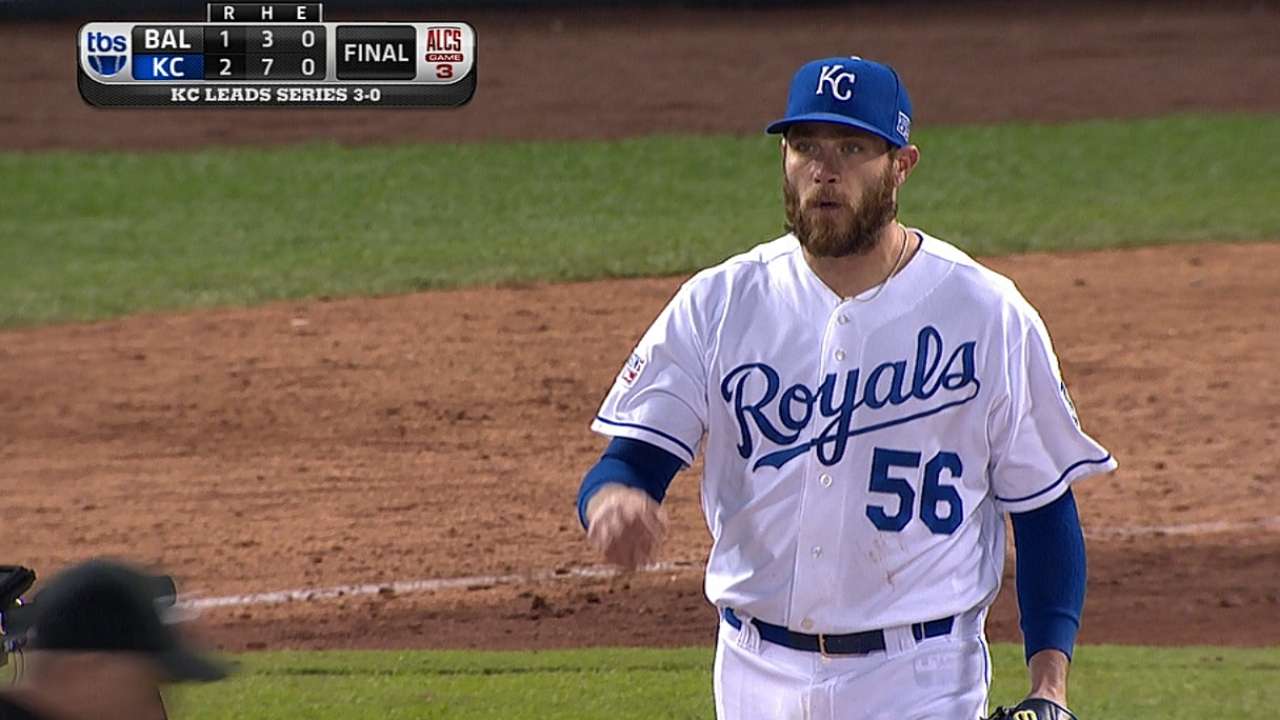 • Video: Holland saves four ALCS wins
They each strike out batters at a prodigious rate. Holland has produced 13.0 strikeouts per nine innings since 2012. In Kimbrel's last four seasons, he has 436 strikeouts in 268 1/3 innings.
"He's been doing it for so long," Holland said of Kimbrel. "You've got to respect that. Being on the mound in the ninth inning is not easy a lot of times. ... As someone who does it, he makes it look too easy sometimes."
"Watching Greg pitch ... he's part of why their team is where they are right now, playing in the World Series," Kimbrel said. "He's a big part of that."
Jeff Montgomery was the last Kansas City relief pitcher to be honored as the AL's top reliever. He won the Rolaids Relief Award in 1993. John Smoltz was the previous Atlanta winner of the award in 2002.
Jackson Alexander is an associate reporter for MLB.com. This story was not subject to the approval of Major League Baseball or its clubs.