Selig, MLB grateful for strides in fight vs. ALS
Commissioner presents ice-bucket trophy to Frates family in pregame ceremony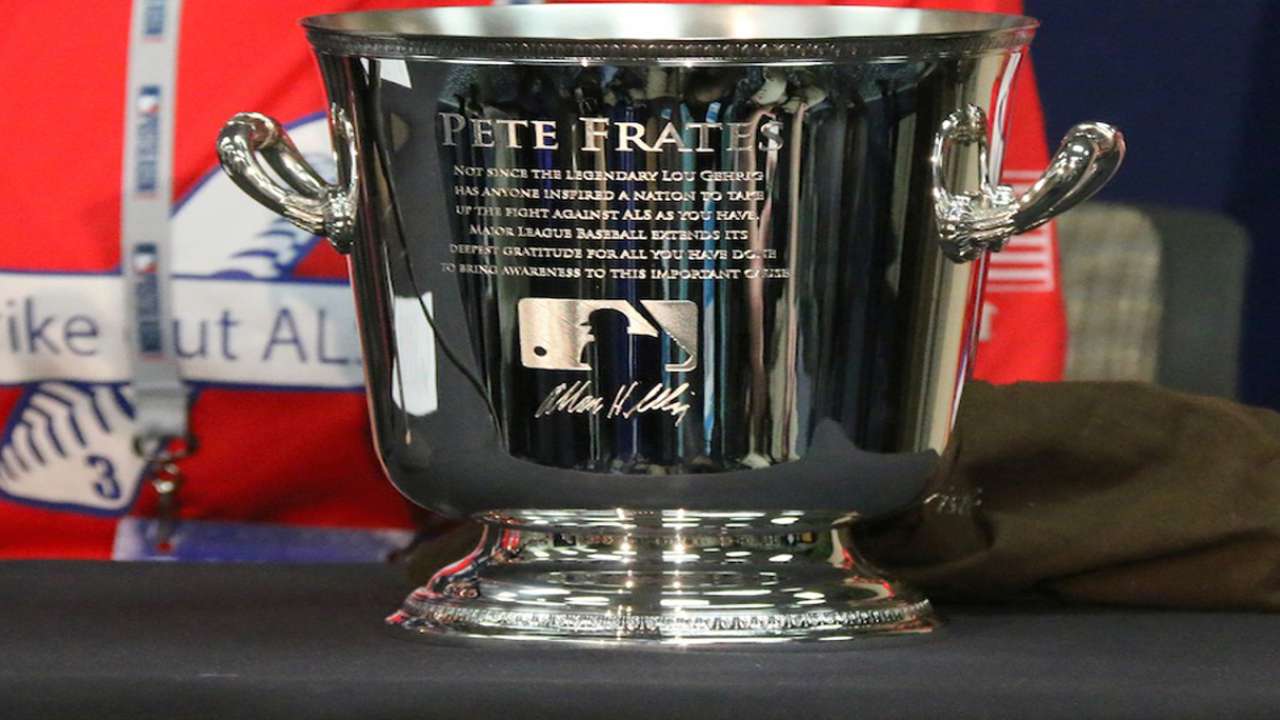 KANSAS CITY -- The Ice Bucket Challenge became a worldwide phenomenon this summer, as world leaders, corporations, celebrities and everyday people had ice water dumped over their heads and then nominated others to do the same within 24 hours or donate.
With Game 2 of the 110th World Series between the Giants and Royals, Major League Baseball used its greatest stage to keep the momentum going to help find a cure for ALS (amyotrophic lateral sclerosis), also known for generations as Lou Gehrig's disease.
In an emotional pregame ceremony on Wednesday, Commissioner Bud Selig presented a symbolic silver ice-bucket trophy to the family of Pete Frates. The former Boston College baseball captain was diagnosed with ALS in March 2012 and, along with Pat Quinn, an acquaintance who also suffers from ALS, created the Ice Bucket Challenge, inspiring a movement on social media. The family said it has raised $140 million for the ALS Association and estimated that it has raised some $500 million worldwide for ALS research.
"It has been a creative, galvanizing effort, and we're grateful for its impact on the ALS community," Selig said. "I want all of you to know that because of his leadership and his remarkable courage that baseball is playing tonight's game in honor of Pete and all of those brave ones who fight ALS."
This one's for Frates as he watches the Game 2 broadcast on FOX back home in Boston. Frates' father, John; mother, Nancy; brother, Andrew; and sister, Jennifer were at Kauffman Stadium to accept the trophy on his behalf, and they appeared in an on-field ceremony before the game with MLB chief operating officer and Commissioner-elect Rob Manfred, as well as MLB executive vice president of baseball operations Joe Torre.
"We are a very blessed family," Nancy Frates said. "Pete was diagnosed 2 1/2 years ago, and he said that night to our family that we are going to change the face of this disease. And we stand here before you today, and we're very grateful that we've been able to do that.
"Pete has two major loves in his world: His family and baseball. You can ask anyone who knows Pete -- he's at his happiest and at his most joyful when he's with teammates on a baseball field. And tonight it breaks my heart that he's not here with us, but he's here in spirit. He's home watching on TV, and this will bring him such joy, and I can't thank you enough, Commissioner."
The silver ice bucket reads:
PETE FRATES
Not since the legendary Lou Gehrig has anyone inspired a nation to take up the fight against ALS as you have. Major League Baseball extends its deepest gratitude for all you have done to bring awareness to this important cause.
Selig's signature is underneath the inscribed text.
The Frates family asks that fans use the #StrikeoutALS hashtag and visit petefrates.com for the latest news, upcoming events and updates on Pete's progress. You also can donate there to the Pete Frates #3 Fund.
ALS attacks nerve cells in the brain and spinal cord, leading to weakness and eventual paralysis of all voluntary muscles, including those used for breathing and swallowing. There is no cure or effective treatment for ALS, and an estimated 30,000 people in the U.S. have the disease.
MLB is dedicating the first four games of this World Series to important community causes and charities involving its partners. Game 1 was dedicated to veterans and military families; Game 2 is education and ALS awareness; Game 3 is Stand Up To Cancer and the fight to end cancer in our lifetimes; and Game 4 is youth outreach.
In addition to honoring Frates and keeping the Ice Bucket Challenge movement going, MLB is devoting its Game 2 backdrop to the 75th anniversary of Gehrig's iconic "Luckiest Man" speech. On July 4, MLB commemorated that anniversary with in-park tributes and a $300,000 donation split among the organizations that are leading the fight against ALS: ALS Association, ALS Therapy Development Institute [ALS TDI], Muscular Dystrophy Association [MDA] and Project ALS.
On Aug. 20, 167 staffers at the Commissioner's Office in New York took the Ice Bucket Challenge, led by Manfred and Torre. Manfred challenged MLB Advanced Media and MLB Network, and both units showed up in large numbers. MLB made a donation of $100 for each employee who took the challenge at those three events, and the final tally was $73,700. That doesn't include the donations from all 30 MLB clubs.
"Many of our clubs and players participate in our office at Major League Baseball, while countless others around the world also did the challenge," Selig said. "More than 165 employees of my office took part in August, and then hundreds more from all across [the] Major League Baseball family followed suit."
Selig provided a lighthearted moment in the news conference by noting his own absence from the Ice Bucket Challenge: "Pete invited our office to participate, and Rob Manfred gladly obliged. You'll note with some interest that I did not."
"The amazing, stupendous, marvelous Ice Bucket Challenge that social media, this campaign waged against ALS and for ALS, is really nothing short of miraculous," John Frates said. "For us to be sitting here tonight, where the Commissioner himself mentions our son's name, and says that Pete has the opportunity to participate in a huge way in the Major Leagues, his dream, is just absolutely miraculous.
"The Commissioner mentioned he met Pete the other day [on the final day of the regular season at Fenway Park], and that is so true. I asked Pete what happened, and Pete no longer speaks, so he has to text us. And what he did tell us is he was invited to this game, and he, unfortunately, isn't able to travel. But I said, What else happened? What else did the Commissioner say?' He said, 'Well, you're going to have to read my book.'"
Mark Newman is enterprise editor of MLB.com. Read and join other baseball fans on his MLB.com community blog. This story was not subject to the approval of Major League Baseball or its clubs.