Robinson shares dad's legacy at Negro Leagues museum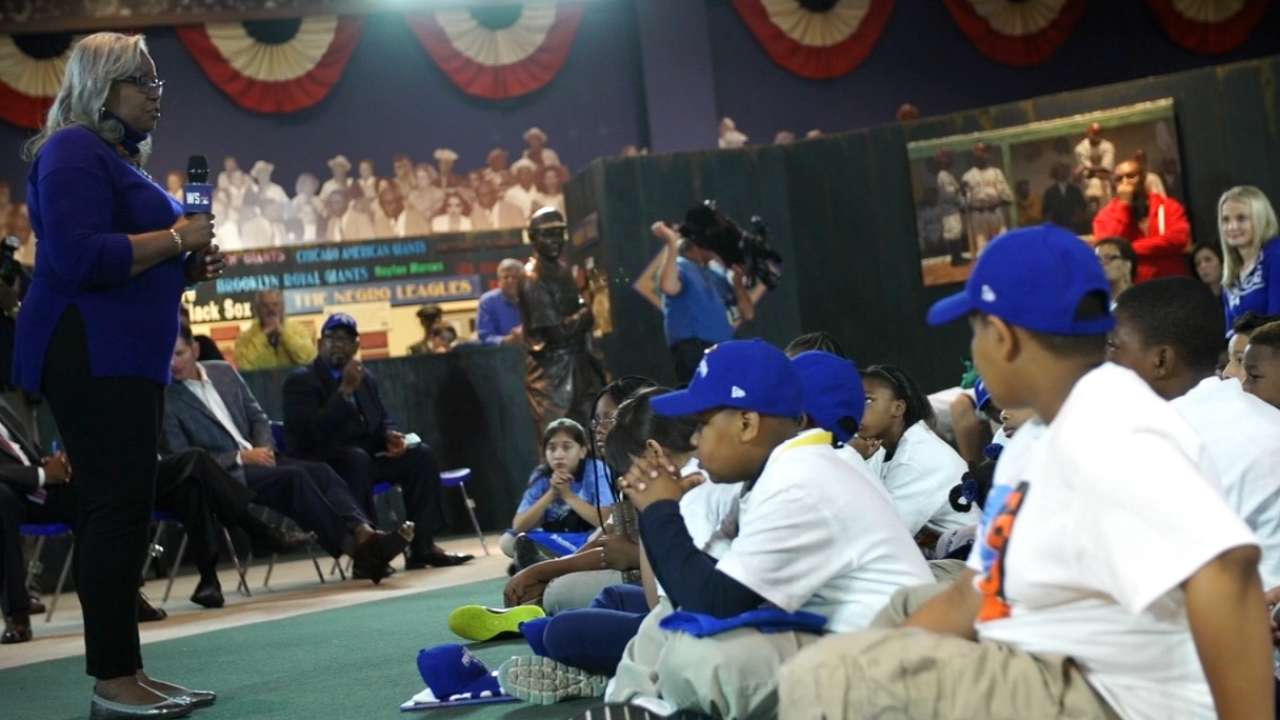 KANSAS CITY -- If Jackie Robinson were alive, the first thing he would do, his daughter estimated, would be to shift the attention away from himself and shine it directly on the kids he was trying to influence.
But, as Sharon Robinson pointed out, so much of Jackie's life was about overcoming obstacles that were forced upon him. In that respect, Jackie would simply have to talk about himself, because there is so much to be learned about how far this country has progressed, but at the same time, much reminds us how much work there still is to do.
That's why Robinson's entire life simply defines his legacy.
"My dad would not have used his own life as an example," Robinson said on Wednesday after meeting with kids from Faxon Elementary at the Negro Leagues Baseball Museum in Kansas City. "He would have talked to them about their lives and kind of focused on the importance of getting an education. I had never heard him talk specifically about overcoming obstacles, so I don't know if that would have been his message for kids. But certainly, that was his life."
During her hourlong presentation to the group of 50 kids, Robinson covered much more than just her dad's place in history as Major League Baseball's first African-American player. She spoke of Jackie's father, who abandoned the family when Jackie was a baby, leaving his mother to raise five children by herself. She talked about the racism Jackie encountered while serving in the United States Army. She took the audience through the timeline of what Jackie accomplished before 1947, when he gained entry into baseball as the game's first black player.
Her message? Character, discipline and hard work mean something.
"You have to do well in elementary school, have to do well in middle school," she said to the kids. "Every year, it gets more complicated. Then you have to do well in high school. Then you go on to college, and you have to do well in college.
"When you look at somebody who's doing well, you look at how good their grades are, but more important, at how well they're learning and how well they keep what they're learning in their head and use it in their life."
Wednesday's session at the museum attracted quite a crowd. Former Kansas City Royals first baseman Mike Sweeney was in attendance, along with Tom Brasuell, MLB's vice president of community affairs; Toby Cook, the Royals' vice president of community affairs and publicity; Bob Kendrick, president of the Negro Leagues Baseball Museum; Dr. R. Stephen Greenk, superintendent of Kansas City Public Schools; and Sluggerrr, the Royals' mascot.
For the sixth consecutive year, Major League Baseball is dedicating the first four games of the World Series to raising the awareness of important causes associated with charitable initiatives and partners of Major League Baseball. Game 1 was dedicated to veterans and military families, Game 2 is education and ALS awareness, Game 3 is Stand Up To Cancer and the fight to end cancer in our lifetimes, and Game 4 is youth outreach.
Game 2 honored education and the legacy of Jackie Robinson through the "Breaking Barriers: In Sports, In Life" program, an MLB initiative inspired by Jackie Robinson and spearheaded by Sharon for the last 17 years.
"Breaking Barriers: In Sports, In Life" is an educational and essay writing-based program developed by MLB, Sharon Robinson and Scholastic to educate students in grades four through nine about Jackie Robinson. Students learn and write about Jackie's life values and how they can apply them to overcoming obstacles or barriers in their own lives.
Michael Andalaro, a ninth grader from Phoenix, was recognized on the field as one of two Grand Prize winners of the 2014 Breaking Barriers essay contest.
"It was very exciting," Andalaro said. "I was out on the field, and that's always been my dream, as a little boy, to be out on the field. I met some of the players, met the future Commissioner, which was extremely exciting."
In his essay, Andalaro explains what it is like to be the only deaf student at his school, and how he uses persistence, teamwork and a commitment to excellence to be a successful and engaging student.
"I talked about Jackie Robinson and the values that he used," Andalaro said. "I talked about how his values helped me overcome my obstacles."
Robinson encouraged all of the kids from Faxon Elementary to enter the contest next year.
"[My father] would be so shocked that here we are for all these years still using his life as an example of strong character and overcoming obstacles," Robinson said. "I'm delighted. I love to tell his story, but more important, I love to spend time with kids."
The kid element is something she knows would make her dad the most proud.
"My father loved young people," she said. "Whenever he had a chance, he was out speaking to young people, so I think he'd love that we have a program that's now 18 years old that has reached so many children, and it's in his name."
Alyson Footer is a national correspondent for MLB.com. Follow her on Twitter @alysonfooter. This story was not subject to the approval of Major League Baseball or its clubs.