Hudson more than ready for first World Series start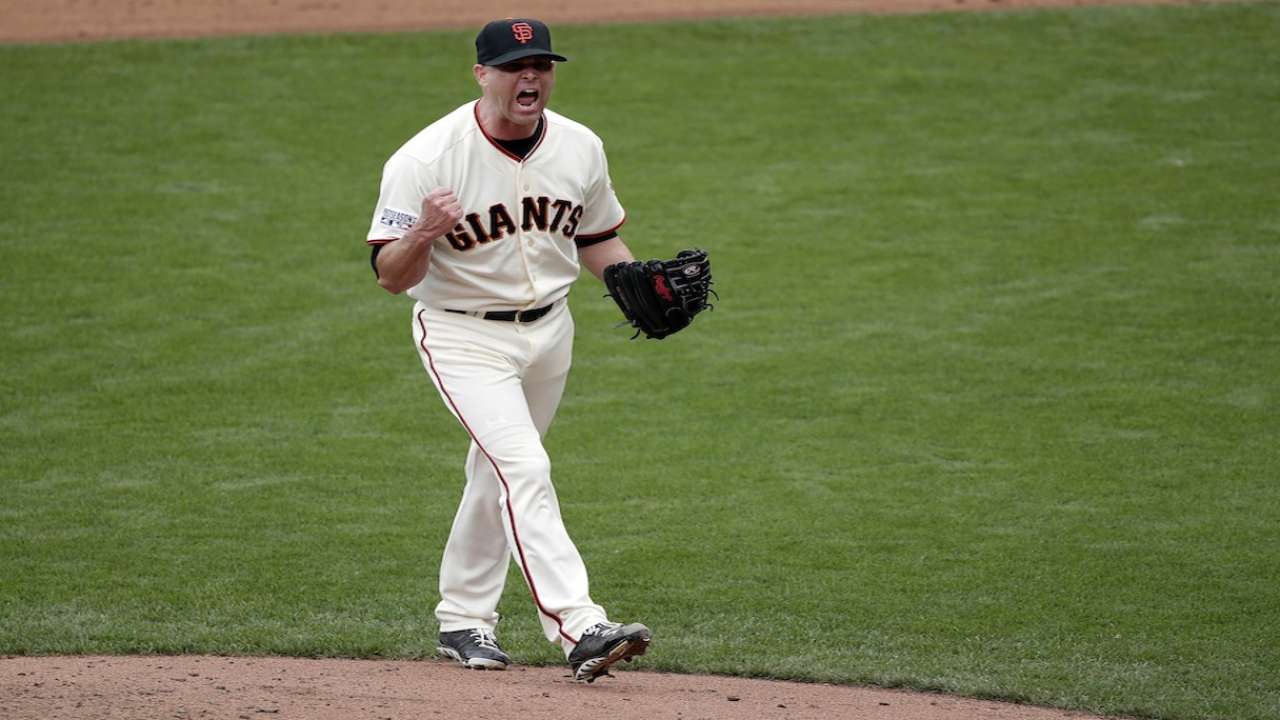 SAN FRANCISCO -- It was hardly unusual that after each of San Francisco's playoff series clinchers this month, the Giants rallied around Tim Hudson. First, they spoke of wanting to give him a chance to pitch in his first League Championship Series. Then they wanted their 16-year veteran to appear in a World Series. Now that he's here, they want him to win the darn thing. Each year, a well-respected veteran such as Hudson seems to find his way into the Series for the first time, and similar stories emerge.
What is unusual is that when Hudson's teammates say those types of things to him, he counters them with advice. Hudson freely admits that he expected to be here a long time ago, not make his first World Series appearance in Game 3 on Friday at AT&T Park (4:30 p.m. PT air time/5:07 p.m. first pitch on FOX) at age 39.
"Early in my career, I thought that I'd be here well before now -- there's no question about it," said Hudson, who will look to give the Giants a 2-1 lead in this best-of-seven Fall Classic. "But as your career creeps along and you're not able to get here to this big dance, you realize how hard it is. I've told some of these young guys who are rookies on our club, 'Soak it all in, man. Because you never know when you're going to be back.'"
The thing is, Hudson is not necessarily taking his own counsel. He's enjoyed this run, to be sure, after signing with the Giants on a two-year, $23 million ride-into-the-sunset deal last winter. But he is also deadly focused on the task at hand. After splitting a pair of road games as the Giants did in Kansas City, MLB teams are 24-19 in World Series play under the league's current 2-3-2 format.
"Every game's important to swing momentum," said Hudson's Game 3 counterpart, Jeremy Guthrie. "Every game in the playoffs, you have that mentality where you want to win it. There is no game that you ever want to let get away, because you know that once you do, that other team could gain momentum and take two or three in a row."
For Hudson, reclaiming momentum means continuing to rely on his low-90s sinker while spurning Kansas City's run game. The sinker is the pitch that defined him from Oakland to Atlanta to San Francisco, and it remains his top weapon. Hudson still throws it more than 40 percent of the time. It still grades as by far his best offering. He still generates ground balls more than half of the time.
Hudson has also handled the Royals decently in his career, with a 4.12 ERA that includes a quality start against them earlier this season. But these Royals are different, relying on singles, gap power and a standout running game -- exactly the type of thing that Hudson has struggled to contain throughout his career.
"You obviously have to be concerned with it," Hudson said. "That's one of the big strengths of their ballclub. You have to understand how to control the running game."
Over the past two years, Hudson allowed 22 steals in 26 attempts, the 10th-worst success rate among big leaguers with at least 200 innings. That has long been his reputation, ever since he gave up steals at an 81-percent clip over his first three years in the big leagues. Hudson did improve against the running game in his prime, but has begun giving up steals on a regular basis in recent seasons.
Swiping bases has conveniently been a hallmark of the Royals throughout this postseason, so controlling them will be Hudson's task -- perhaps by keeping them off base altogether, as Madison Bumgarner did in Game 1.
"Obviously, you can't be slow to the plate," Hudson said. "But you also have to be able to vary your times to the plate, vary your looks to first, your picks to first. That combination of a lot of different things helps to control the running game. It can be a problem if you allow it to be a problem."
Should Hudson avoid that problem, he will step that much closer to the celebration that has long eluded him.
"When we won the pennant, you could see it," Giants manager Bruce Bochy said of Hudson's emotion. "He let it go. He was so excited, and the guys were for him. It's great to win, and you feel good for the fans and your friends, family. But for your teammates who haven't been there … he was very, very excited."
Anthony DiComo is a reporter for MLB.com. Follow him on Twitter @AnthonyDicomo. This story was not subject to the approval of Major League Baseball or its clubs.