Oct. 22 Holland, Kimbrel pregame interview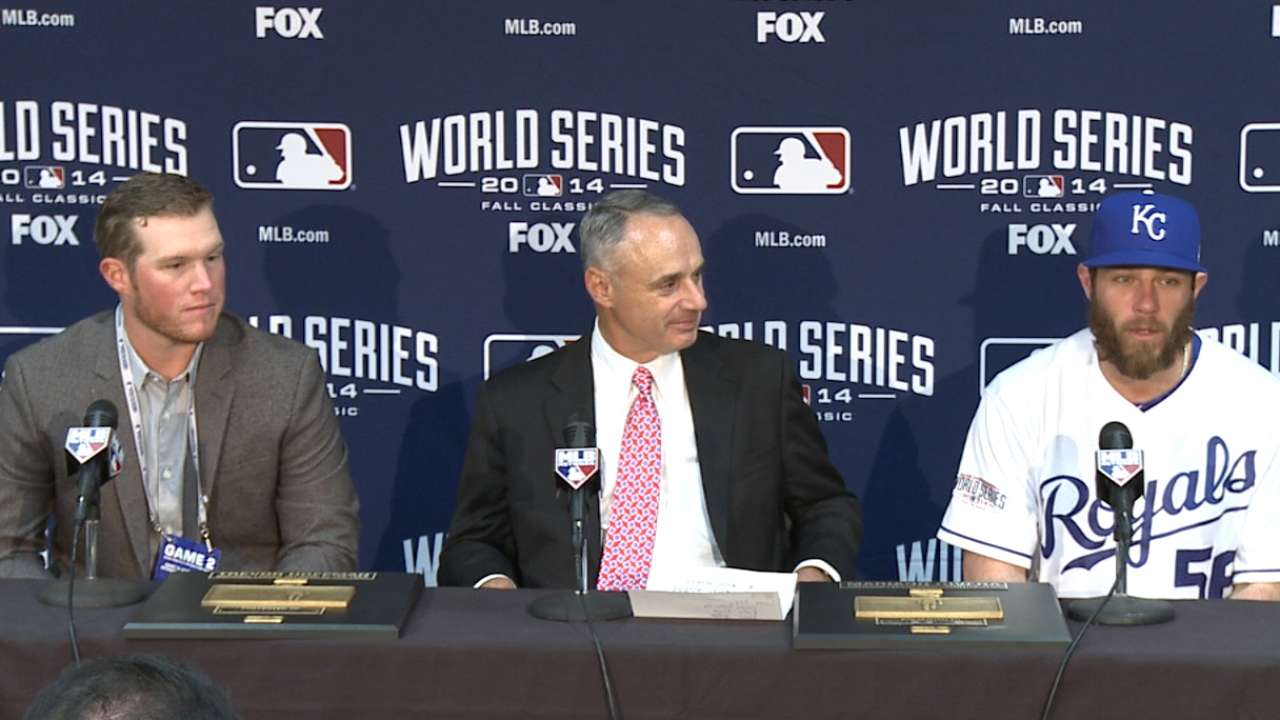 RYAN LEFEBVRE: Good evening. Thanks for being here. My name's Ryan Lefebvre. I'm one of the Royals' announcers, and we're here to present a new set of annual awards, and we have three very special guests: We have from the Atlanta Braves, Craig Kimbrel; from the Kansas City Royals, obviously, Greg Holland. And here to announce why we're here is Major League Baseball's Chief Operating Officer, Rob Manfred.
ROB MANFRED: Thank you. I'm excited to be here this afternoon, because we're going to start another chapter in baseball's record books. As all of you know, for many years we had a sponsored award that recognized the best relief pitchers in the game. That award ended a few years ago. Major League Baseball has done some awards of its own, but this past year Commissioner Selig decided because of the significance of relief pitching in our game, it was important to have appropriate awards and appropriately named awards. So going forward, the best relief pitcher in the American League will receive the Mariano Rivera Award, and the best relief pitcher in the National League will receive the Trevor Hoffman Award.
Both Mariano and Trevor have been involved deeply involved in the process. They helped us secure the participation of the four Hall‑of‑Fame relief pitchers: Dennis Eckersley, Rollie Fingers, Goose Gossage, and Bruce Sutter, as well as three of the Top 5 on the all‑time saves list, Lee Smith, Billy Wagner, and John Franco. So those nine individuals voted for this year's award, and will participate in that voting going forward.
The American League winner, the Mariano Rivera Award winner, this year is Greg Holland of the Kansas City Royals. Right here, a hometown favorite. Greg had an amazing season for the Royals: A 1.44 ERA, he converted 46 of 48 save opportunities and had 90 strikeouts in just 62 1/3 innings. Greg's here with his wife, Lacey, and we thank you very much for being present. Congratulations.
In the National League, the Trevor Hoffman Award, the first one will go to Craig Kimbrel. Craig also had an outstanding season: 1.61 ERA. He converted 47 of 51 save opportunities, and he led the National League in saves with 47. And he's the first player to ever begin his career with four consecutive 40‑game seasons. So congratulations to you Craig, who is here with his wife, Ashley. And thank you, especially, for traveling to be with us. We appreciate it.
RYAN LEFEBVRE: Greg, would you like to say something?
GREG HOLLAND: I don't really know what to say. This is a very humbling experience. To be up here next this this guy is special, obviously.
ROB MANFRED: He means this guy (laughing, pointing to Kimbrel).
GREG HOLLAND: You too. But Mariano Rivera and Trevor Hoffman, you kind of get iffy even when your name is put on the same plaque as either of those two guys. So it's very humbling, but we both take a lot of pride in what we do, and to be rewarded for it, I think it says a lot about our determination, our work ethic and also having a lot of leads. So couple pretty good teams we're fortunate to play on.
So I'm very honored. And this is pretty incredible for me.
RYAN LEFEBVRE: Craig, how about you?
CRAIG KIMBREL: I'm going to say I'm a little jealous that he still gets to wear his uniform right now (laughter).
I was kind of iffy about attending a World Series I wasn't a part of, but in respect to Trevor Hoffman and Mariano Rivera, the awards being named after them, I felt like I needed to be here to accept the award. I'm very humbled, and grateful to have this opportunity. And, yeah, thanks.
RYAN LEFEBVRE: Not to rub it in, Craig, but Greg has a routine to get to for tonight. So if we have a few questions for them, we'll pass around the microphone.
Q. You were at the All‑Star Game with Mariano's last one, right? And to now get the award named after him, what can you share about being part of this chain of events?
GREG HOLLAND: I think a player like that is one that you want to model your game after. At the end of your career, if you can even do a quarter of what he's accomplished in his career, you've had a pretty successful career, not just on the field but off the field. Him and Jeter are two of the standout representatives of Major League Baseball, and the things they do and their preparation, his work ethic, day‑in and day‑out preparing, that's something I try to model my game after.
Like I said, it's just a very humbling experience.
Q. Congratulations to you both. If you could both maybe just speak a little bit about what you admire in the other from what you've seen on television or in person about the way each of you pitch.
GREG HOLLAND: I mean, Craig's been doing it for a couple more years than me. It seems like he's got 50 saves every year. But you see the determination in his eyes and that will to win and that fire and drive. I think it takes that to be at the top of your game, because you've got to be ready to go 162 days a season, and hopefully even more after that.
I think he's been doing it for so long, you've got to respect that. Being on the mound in the ninth inning is not easy a lot of times. I think as someone who does it, he makes it look too easy sometimes. I understand that that's a hard job to have at times, and someone who has been as successful as him, it's really enjoyable to be sitting up here next to him.
CRAIG KIMBREL: I've only been doing it for four years. These guys did it for 18 and 19 years.
GREG HOLLAND: No kidding.
CRAIG KIMBREL: Watching Greg pitch, he's part of why their team is where they are right now, playing in the World Series. He's a big part of that, and he converted almost all of his saves this year, and like he said about me, he goes out there each and every night and expects to do his job, and to do it perfect and make it look easy.
So he's a lot of fun to watch, and he's going to be doing it for quite a few more years.
Q. Greg, I wanted to ask you, you've had quite a month here. This is maybe the third most exciting thing that's happened beside having a baby and getting the team in the World Series and now winning the award?
GREG HOLLAND: I'm not going to say that. I've got to put the birth of my first child at the top of the list. But I think it's something that maybe in December or something I'll be able to look back on and take pride in being part of a World Series team and being honored for on‑the‑field success.
But as a closer, you've got to stay in the moment and continue to just out there and when the lights come on be ready to pitch. I try to calm myself down and not think about what's going on outside of just getting outs.
You got anything Lacey?
RYAN LEFEBVRE: How's the baby doing?
GREG HOLLAND: He was crying last time I saw him.