Guthrie on a mission to make statement in Game 3
Royals starter, who took circuitous route to Majors, gets ball in San Francisco
SAN FRANCISCO -- He took off without even packing a glove, that absence of equipment a tangible indication of the baseball career Jeremy Guthrie was content to leave behind. His calling, as it is for many young men in the Church of Jesus Christ of Latter-day Saints, was to serve a two-year mission away from home (he chose Spain), and Guthrie invited that opportunity knowing it would come at baseball's expense.
He wasn't sure there was a future in sport anyway, not after laboring to go 5-4 with a 6.54 ERA in 16 appearances as a freshman at Brigham Young University. He was burned out by the demands, dissatisfied with the results and prepared to pursue other interests when he returned from overseas.
Turns out, plan B would never come to into play.
Some 16 years after quitting baseball to move to Europe, Guthrie will take the game's grandest stage for the biggest start of his career Friday on FOX (6:30 p.m. CT air time/7:07 p.m. first pitch). Tapped as the Royals' Game 3 starter, Guthrie inherits the swing game in a 1-1 World Series against the Giants. The stakes? Since the start of divisional play in 1969, the team to win Game 3 in a Series where the first two games were split has gone on to capture the championship 16 of 19 times.
Boosting the Royals to a Series advantage would add just another wrinkle into a circuitous and atypical journey.
"So in life, in baseball, everybody has a story," Guthrie said on the eve of his World Series debut. "I'm no different. But what I learned as a missionary in those two years away are the foundation for everything that happens to me in my life."
It took 11 seasons in the Majors for Guthrie to finally find himself a participant in the postseason, though nothing about his baseball voyage has been especially straightforward. There were the two years in Spain followed by an unexpected invitation to Stanford University upon his return. They sought three starting pitchers and took a flyer on a right-hander who, before his time in Utah and Europe, had been a 15th-round Draft pick by the Mets.
It was at Stanford that Guthrie reignited his love of the game. Working with a coaching staff that retooled his mechanics and pushed its pitchers to ignore pitch count and finish games, Guthrie molded himself into a first-round selection, the Indians taking him with the No. 22 overall pick in 2002.
Having trudged through those formative years so close to the AT&T Park mound that he'll take on Friday, adds some significance to the setting. One of his Stanford coaches will be in the stands.
"It gives more opportunity for family and friends to come down from Oregon, where I grew up, and be able to catch the game," Guthrie said. "And certainly from the people that live around here that I know and have benefited from their coaching and their support."
From Stanford, Guthrie toiled in the Indians system for several years before Cleveland eventually gave up on his potential. The next stop was Baltimore, where Guthrie established himself as a capable Major League starter with the durability to offer 200 innings a season. He wasn't great, but certainly good enough to stick.
A relatively successful five years with the Orioles was followed by a terrible four months with the Rockies, who became so eager to dump him that they reached out to Kansas City general manager Dayton Moore and suggested a swap of struggling starters.
His 6.35 ERA and 1.688 WHIP aside, Guthrie nevertheless piqued the Royals' interest.
"We looked at each other," manager Ned Yost recalled Thursday, "[and said] 'Man, let's give it a shot, right?'"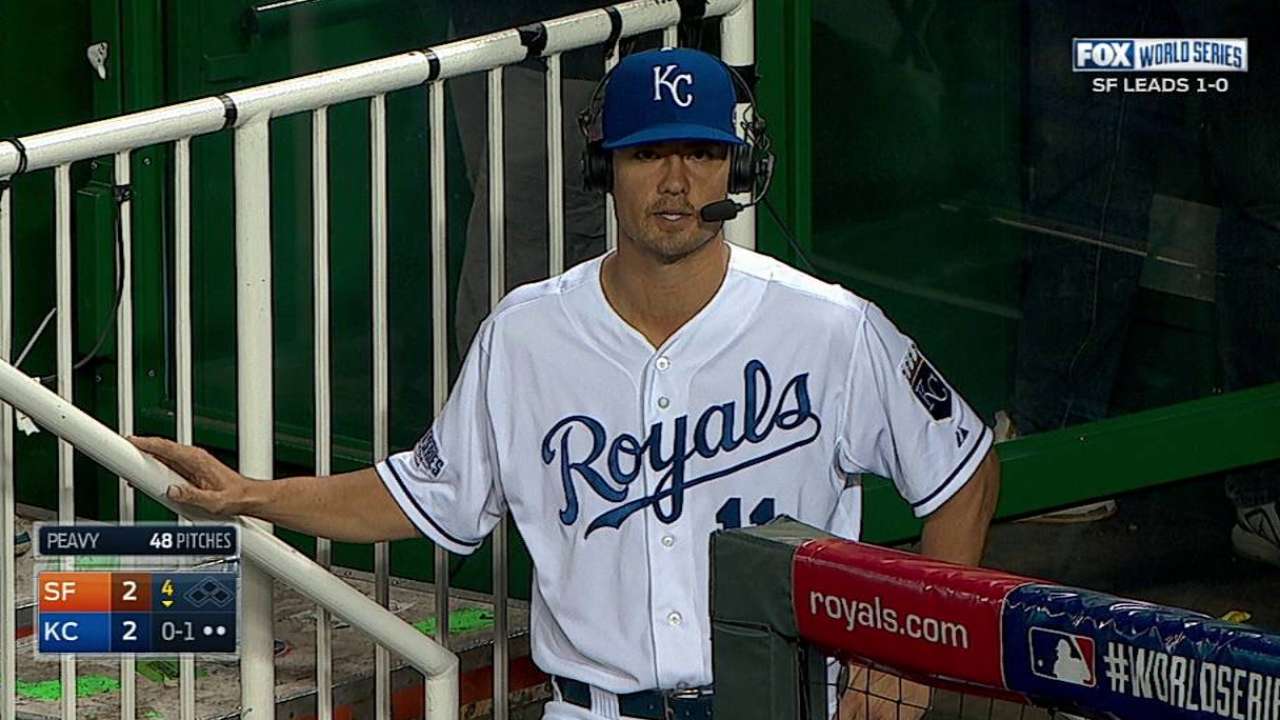 The Royals, who parted with Jonathan Sanchez in the deal, were overwhelming winners in the swap, as some tweaks suggested by pitching coach Dave Eiland helped Guthrie find more repeatable mechanics and, in turn, some sustained success. The Royals saw enough promise in the final two months of the 2012 season to sign Guthrie to a three-year contract that winter.
This season, Guthrie rolled off eight wins over his final 12 starts, pitching especially well away from home, where he went 5-1 with a 2.95 ERA in his last six road starts. He's made five starts against National League clubs since leaving Colorado and has given Kansas City a quality start in each.
"His confidence in what he can do is through the roof," said backup catcher Erik Kratz. "His ability to throw the ball and execute pitches is one of the better that I've ever caught. It really is. It really is. He doesn't have the numbers to back up what I feel like I see when I'm catching sides or catching him in the game.
"He's a very, very polished pitcher that I don't think very many people know about. People look at his stats throughout the career and they may not jump out, but he's a front-of-the-line guy."
A strong performance Friday would help foster additional recognition beyond that which he got for helping the Royals to a Game 3 win in the American League Championship Series. He held Baltimore to three hits, two walks and one run in a five-inning outing that day.
"My goal is to put up zeros," Guthrie said. "If I put up zeros, I have a chance to stay in. If I don't, I'm going to be taken out, whether it's a National League ballpark or not. So that's got to be the focus for me is, what can I do to put up zeros against a good hitting team."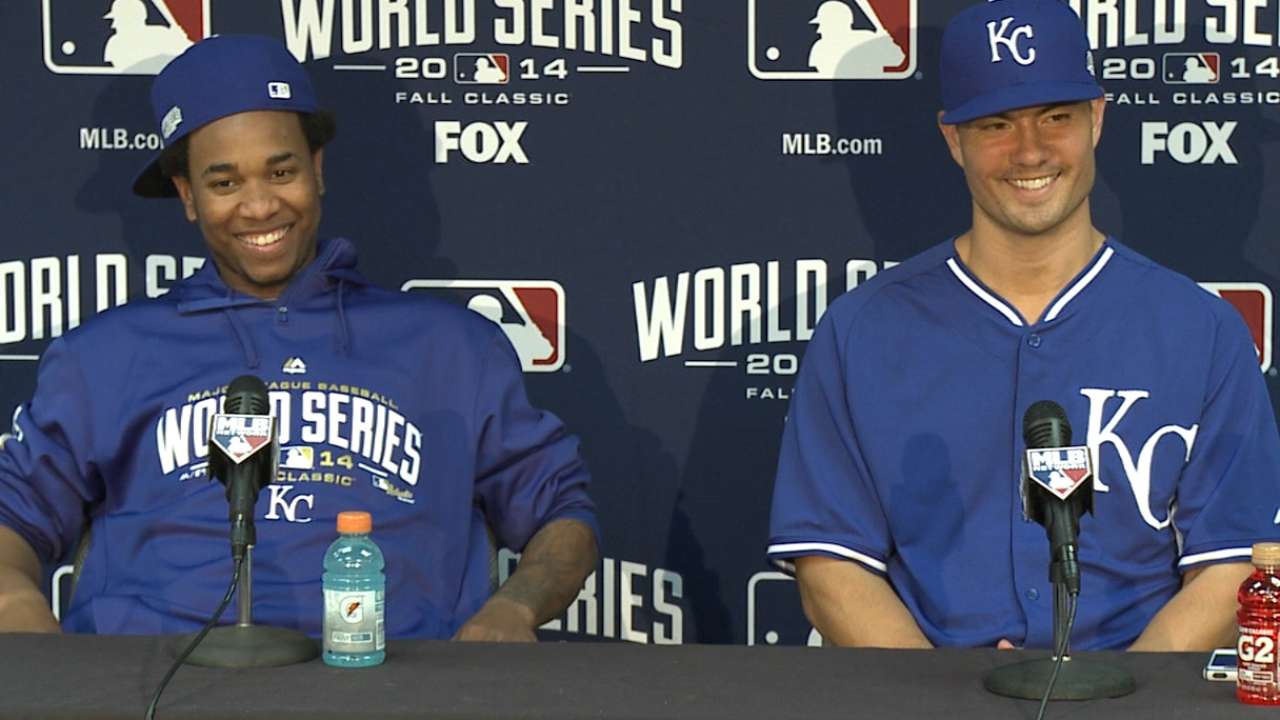 Jenifer Langosch is a reporter for MLB.com. Read her blog, By Gosh, It's Langosch, and follow her on Twitter @LangoschMLB. This story was not subject to the approval of Major League Baseball or its clubs.