Dodgers' Sweeney just misses cycle in Fall League play
Second baseman goes yard, gets four hits, four RBIs in AFL win for Glendale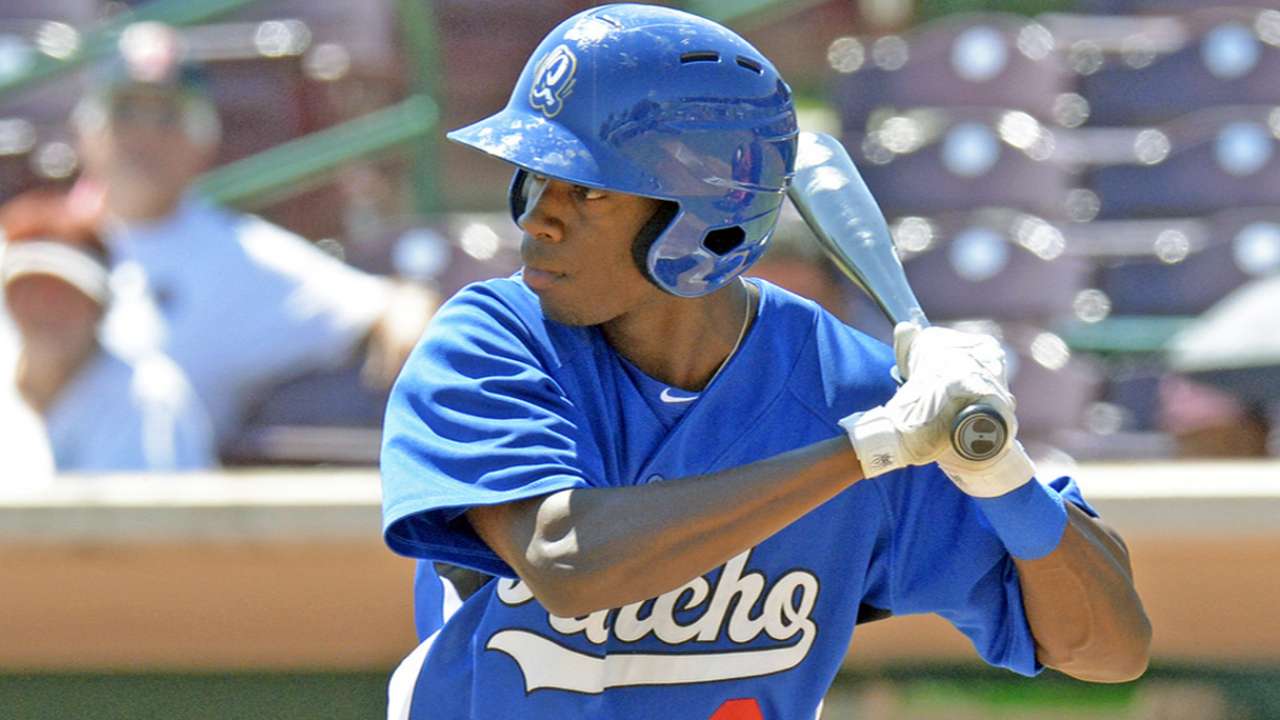 GLENDALE, Ariz. -- Have no fear, Darnell Sweeney. The extra-base hits will come. Sweeney, the No. 13 prospect in the Dodgers' farm system according to MLB.com, had four hits and four RBIs for the Glendale Desert Dogs on Wednesday in a 10-1 victory over the Peoria Javelinas.
Prior to Wednesday's game, Sweeney had a .333 batting average (7-for-21) but no extra-base hits during his Arizona Fall League campaign. The second baseman drilled a two-run homer in the third inning on Wednesday, later doubled two more times and also singled to narrowly miss hitting for the cycle.
"I know I've got some extra-base hit power. I knew it was going to eventually come," Sweeney said of his AFL campaign. "I just keep on having good at-bats and putting good swings on it. Time will tell."
Sweeney scored twice for Glendale on Wednesday, and he hit a ball deep to right-center with the bases loaded in his final at-bat. Sweeney took a big turn around second base, but he had to retreat after third-base coach Lance Parrish held up Clint Coulter from trying to score on the play.
Sweeney had also doubled in the fifth inning and singled in the seventh, giving him a shot at the cycle. And not surprisingly, he was thinking about three bases in the batter's box in the eighth inning.
"Everybody in the dugout was letting me know I was a triple away, so I was going for it," said Sweeney, who had five triples for Double-A Chattanooga last year. "Lance held up the runner because he probably would've gotten thrown out at home. That's just the way the game goes sometimes."
Southpaw Robbie Ray, Detroit's No. 2 prospect, started for the Desert Dogs, and he pitched four innings and allowed just one earned run en route to the win. Four relievers -- Brooks Hall, Mike Thomas, Chad Smith and Michael Strong -- combined to throw five innings and allow just one hit for Glendale.
Miguel Almonte started for Peoria and gave up just one hit -- the homer to Sweeney -- but was charged with two earned runs in three innings of work. Reliever Nick Maronde allowed six hits and four earned runs for the Javelinas, and the final reliever, Ryne Harper, allowed three earned runs in one inning.
Sweeney may have led the Glendale offense, but he wasn't alone. Left fielder Garabez Rosa hit a solo homer for the home team, and Corey Seager went 2-for-4 with a double and an RBI. Rosa had three hits in the victory, and center fielder Tyrone Taylor scored three times in the one-sided victory.
Sweeney, a former 13th-round draftee, had a breakout season last year, when he batted .288 with 54 extra-base hits in 132 games for Chattanooga. The 23-year-old had just 21 career home runs in the Minors before last season, but he pounded 14 homers in his first taste of Double-A action.
"I just want to continue [hitting]," he said. "I had a great year and I want to take it into Spring Training. Hopefully, I can make a 40-man roster or a big-league roster. I'd be a happy camper then."
Sweeney stole 48 bases in 2013, but he struggled on the basepaths last year, stealing 15 bases and getting caught stealing 16 times. He did manage to walk a career-best 77 times, though, and his well-rounded game may see him rising to the Major League level next season or soon thereafter.
"A lot of people are saying I'm pretty close," said the native of Miramar, Fla. "But I'm just trying to do what I can to help the Dodgers win a World Series. I need to do the little things. I can put down a bunt when a bunt is asked for, I play good defense and get timely hitting. I think I can do all of that."
Spencer Fordin is a reporter for MLB.com This story was not subject to the approval of Major League Baseball or its clubs.