Giants head home with split after Game 2 loss in KC
Royals use five-run sixth inning off Peavy, bullpen to even Series
KANSAS CITY -- Having won eight consecutive postseason series, the Giants know what it takes to succeed in October. So they would be well advised to recognize certain historical facts after their 7-2 loss Wednesday to Kansas City in Game 2 of the World Series evened the showdown at a game apiece.
In best-of-seven World Series that began 1-1, the winner of Game 3 is 38-16. Since the beginning of divisional play in 1969, the Game 3 winners in a tied Series are 16-3.
Thus, the Giants can take some comfort in returning to AT&T Park for Games 3, 4 and 5, Friday through Sunday.
"I think we're in a positive position," left-hander Jeremy Affeldt said.
Yet right fielder Hunter Pence brushed off those figures, which would indicate that Game 3 is a must-win proposition for both teams.
"The funny thing about stats like that is they're constantly changing," Pence said. "After this season, it's going to be a new percentage. There's always room for things that have never been done before."
Moreover, the Giants have reason to be concerned about their bullpen depth. They should be savoring the 1 2/3 perfect innings Tim Lincecum recorded in his first postseason appearance this October. But back stiffness forced Lincecum to depart when he was one strike away from completing his second inning, leaving his playing status as questionable.
HOW THE GIANTS LOST
Gregor Blanco got the Giants off to a fast start with the 10th leadoff homer in World Series history, and after the clubs battled to a 2-2 tie entering the bottom of the sixth, the Royals pulled away.
After Kansas City had taken a 3-2 lead in the sixth on Billy Butler's RBI single off Jean Machi (a run charged to starting pitcher Jake Peavy), right-hander Hunter Strickland entered the game and promptly allowed Salvador Perez's two-run double and Omar Infante's two-run homer, the fifth long ball surrendered by the rookie right-hander this postseason. That capped Kansas City's five-run outburst. It's easy to imagine that the Giants will be reluctant to summon Strickland when the outcome hangs in the balance, regardless of how impressive his 100-mph fastball might look.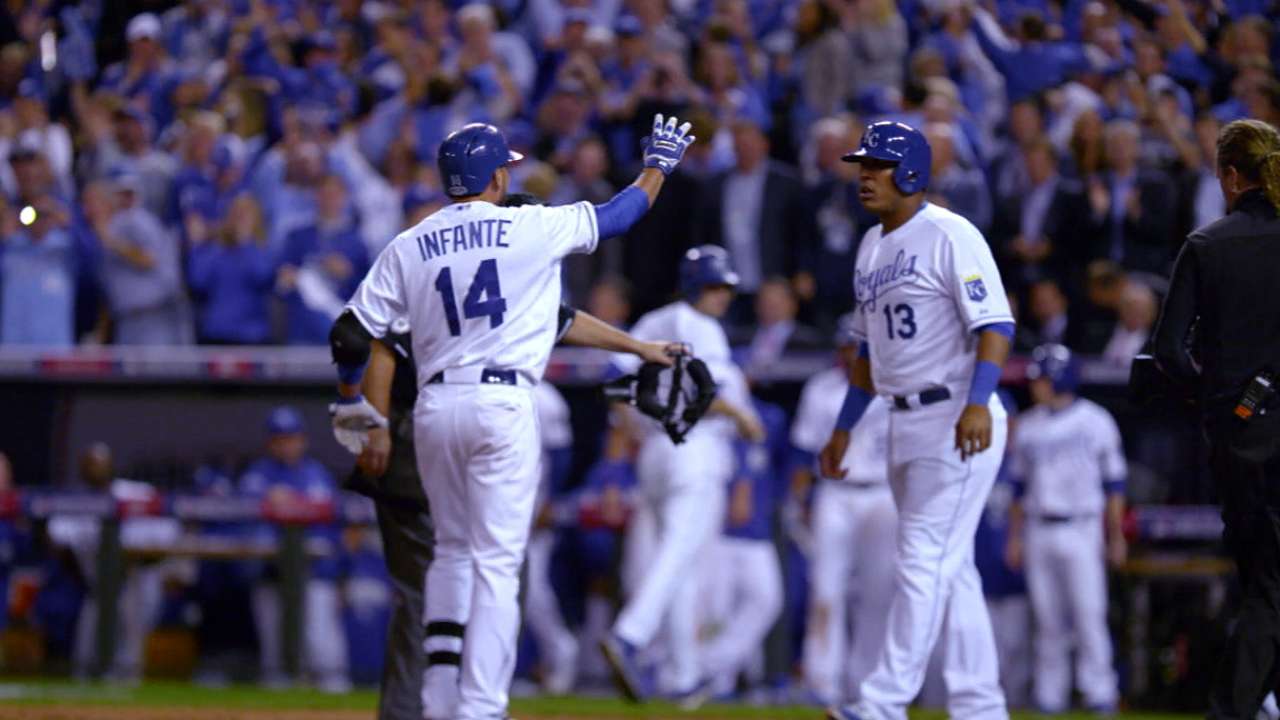 Infante's homer ended the scoring, but not the fuss. Strickland yelled something in anger as Perez rounded the bases ahead of Infante. Strickland's back was turned, suggesting that he was bellowing at himself in frustration. But Perez hollered back at Strickland, causing both benches and bullpens to empty harmlessly.
"I was mad at myself," Strickland said. "It is what it is and I obviously didn't control my emotions. I was more frustrated with not executing my pitches."
MOMENTS THAT MATTERED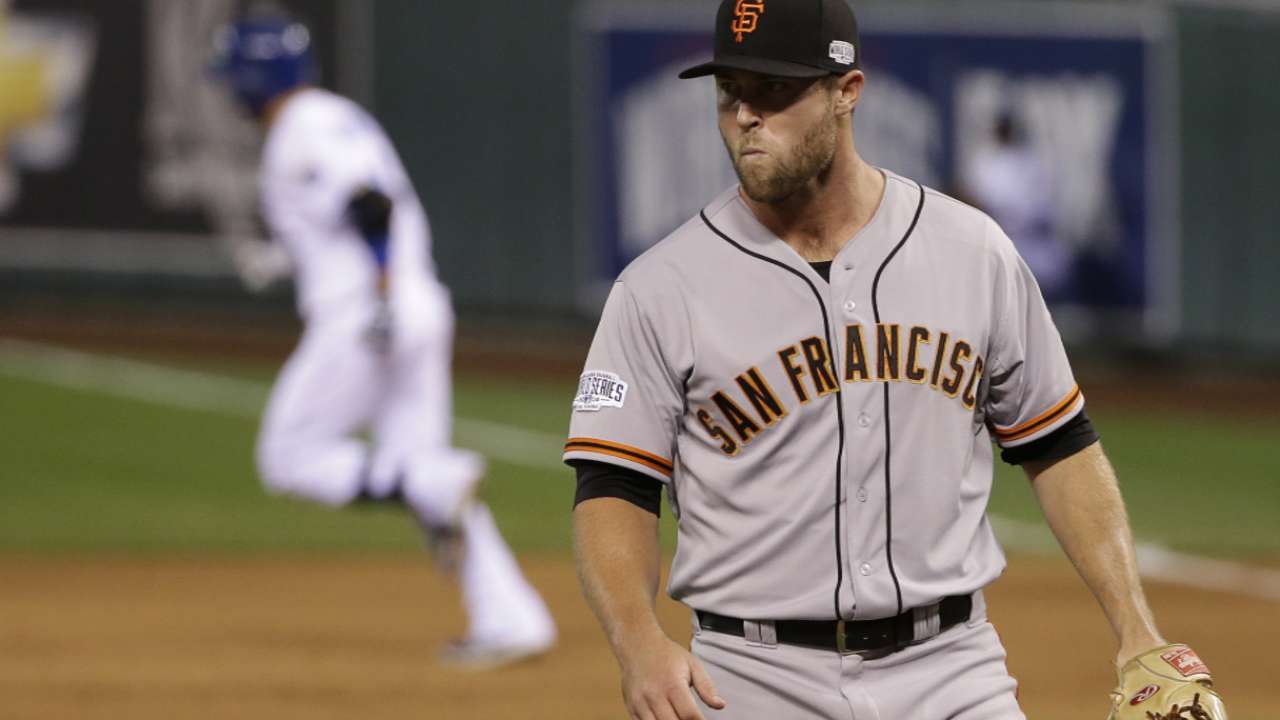 The big sixth: Keeping the score close through the sixth inning was essential to the Giants, who were mindful of the challenge presented by Kansas City's bullpen threesome of Kelvin Herrera, Wade Davis and Greg Holland. For five innings, Peavy did what he could to help. Appearing on the verge of an early removal, Peavy allowed five hits to the first 10 batters he faced, including three doubles. But after the last of those doubles, Alcides Escobar's run-scoring hit in the second inning, Peavy retired the next 10 Royals he faced. However, Peavy was removed after Lorenzo Cain singled and Eric Hosmer walked to open the sixth.
"Once he lost Hosmer, I just wanted to give Butler a different look," Giants manager Bruce Bochy said, explaining why he summoned Machi.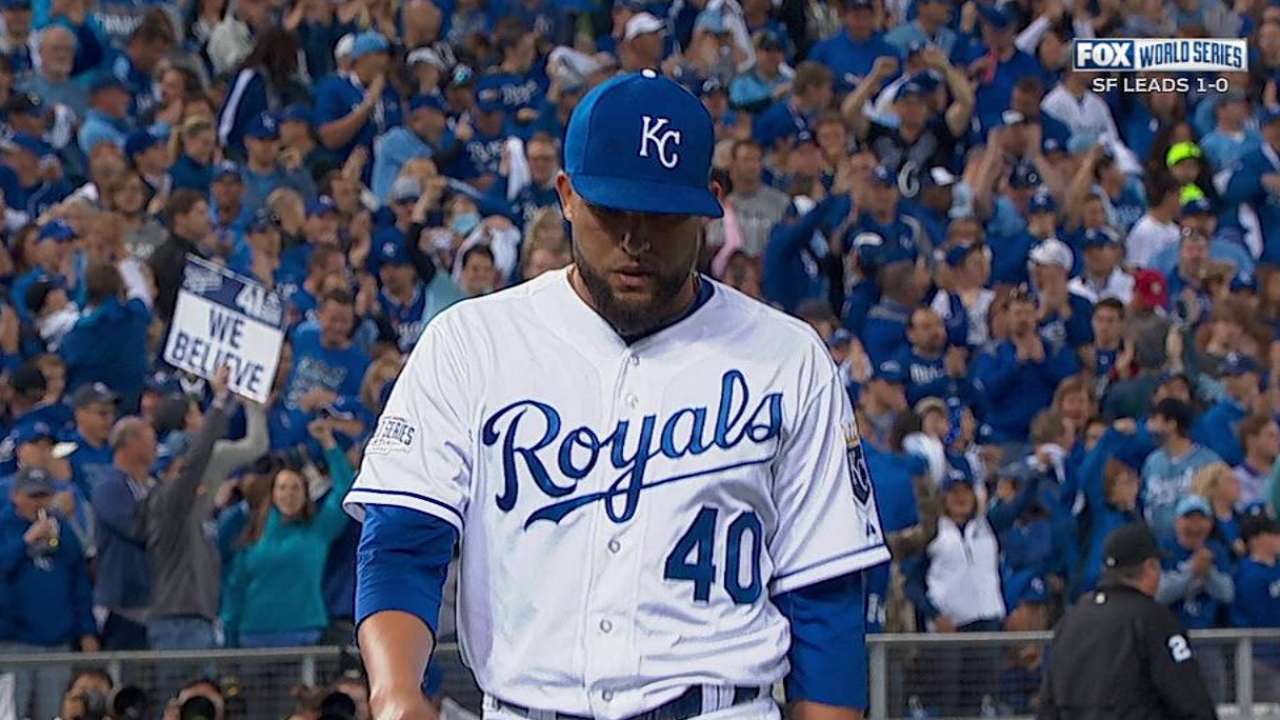 The Giants missed a chance to forge ahead in their half of the sixth. With runners on first and second and two outs, Michael Morse connected solidly with a 1-2 pitch from Herrera. But Morse's smash traveled directly on a hop to shortstop Escobar, who flipped the ball to second base for the inning-ending force.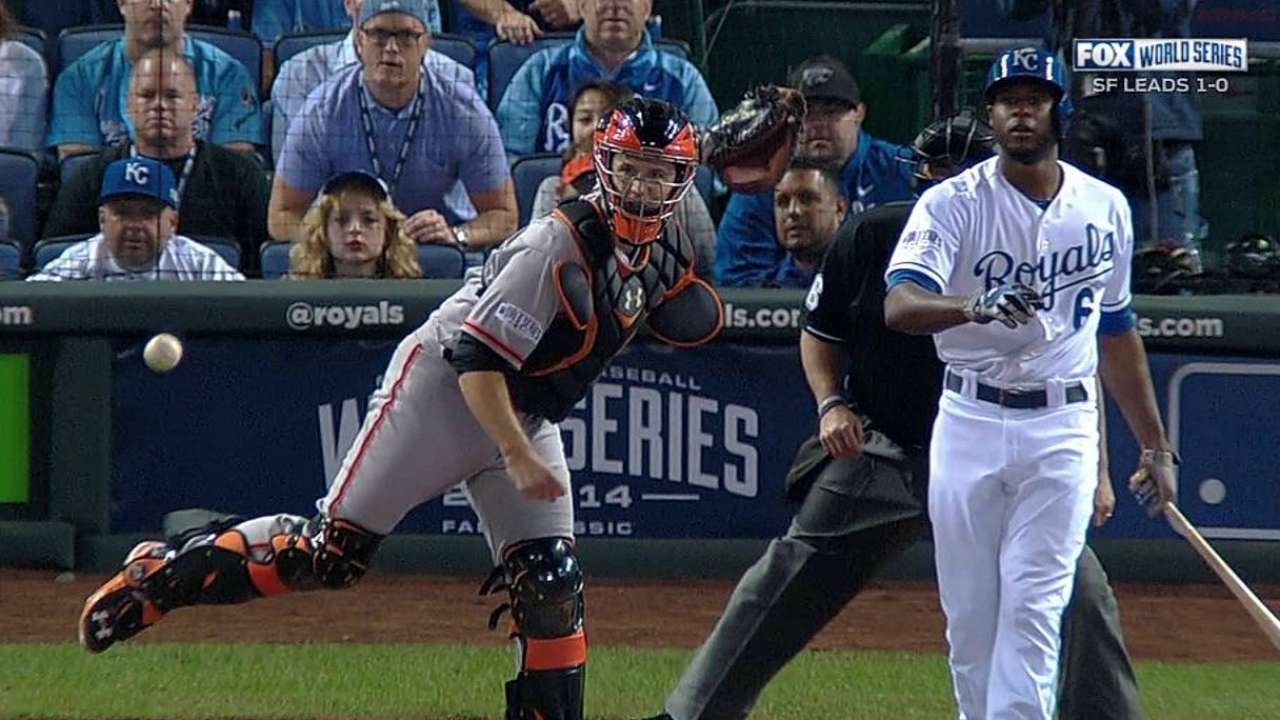 Posey serves notice: Giants catcher Buster Posey made a first-inning statement by throwing out Escobar on an attempted steal of second base, Posey's peg reached Joe Panik on one hop but was straight and true. This might not discourage the Royals from turning loose their theft-happy baserunners, but they might think twice as the Series unfolds.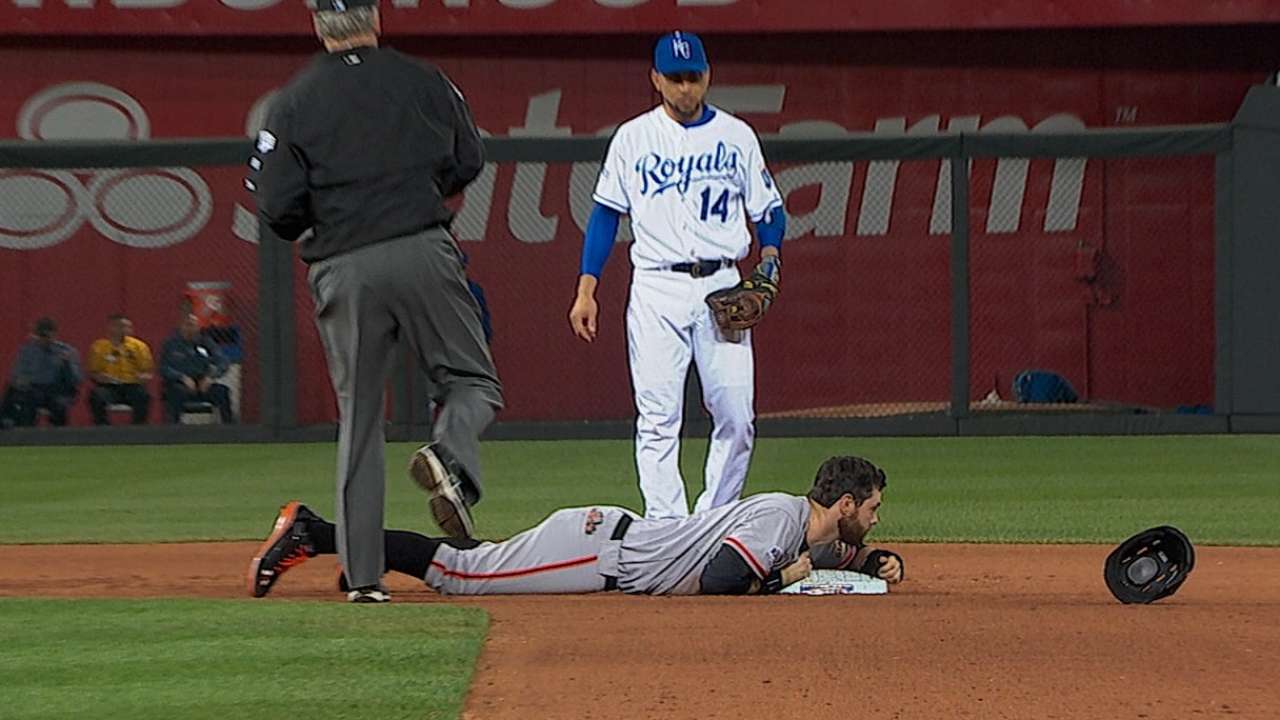 Mistakes loom: Kansas City starter Yordano Ventura appeared to be struggling in the fourth inning, when Pablo Sandoval doubled and scored on Brandon Belt's double one out later. But Belt strayed too far off second base after Morse flied out, eliminating any possibility of further scoring.
• The Giants' winning streak of World Series games ended at seven, tied for the sixth-longest Series streak in history.
• Blanco's leadoff homer was the 10th game-opening long ball in Series history. With this feat, Blanco joined a list of luminaries who have accomplished the feat, including Lou Brock (1968), Pete Rose (1972), Rickey Henderson (1989) and Derek Jeter (2000).
• With his sixth-inning single, Pence extended his postseason streak of reaching base safely to 15 consecutive games, dating back to Game 2 of the 2012 World Series against Detroit.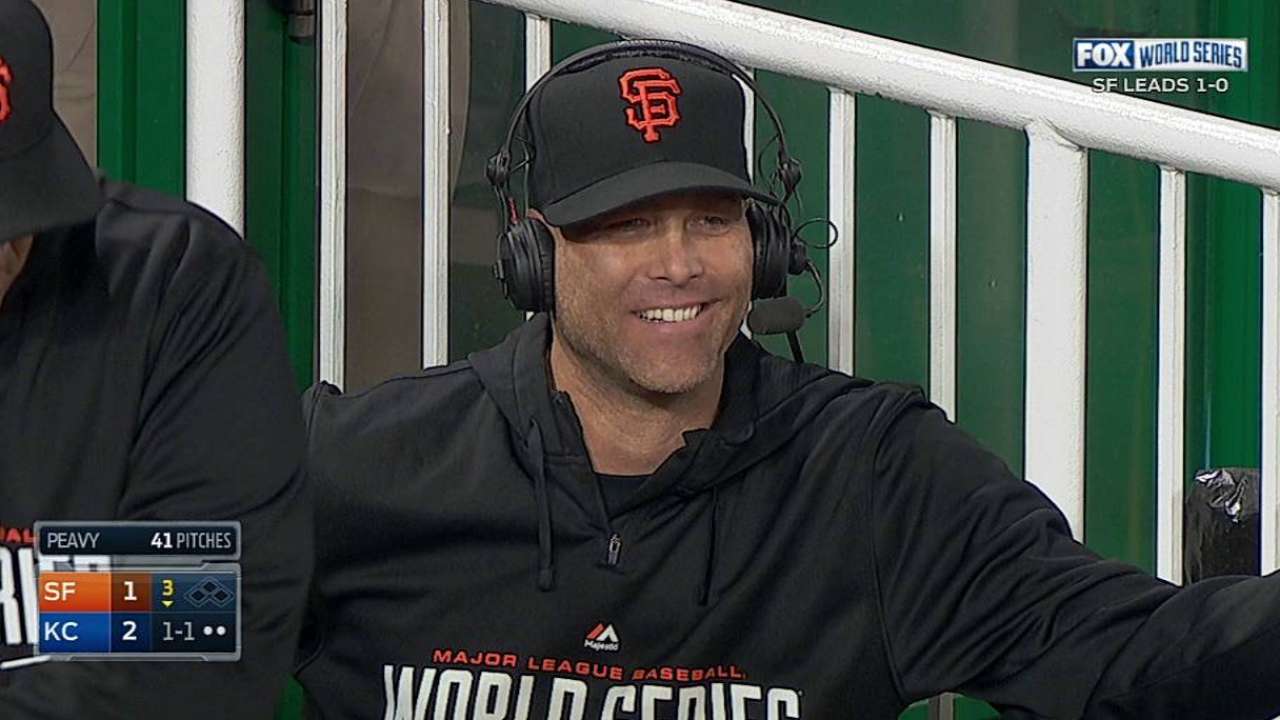 The Series scene switches to San Francisco's AT&T Park, where the Giants will host Game 3 on Friday. FOX's telecast will start at 4:30 p.m. PT, and first pitch is 5:07. Giants righty Tim Hudson matches up with Royals righty Jeremy Guthrie.
Chris Haft is a reporter for MLB.com. Read his blog, Haft-Baked Ideas, and follow him on Twitter at @sfgiantsbeat. This story was not subject to the approval of Major League Baseball or its clubs.