Oct. 22 Bochy pregame interview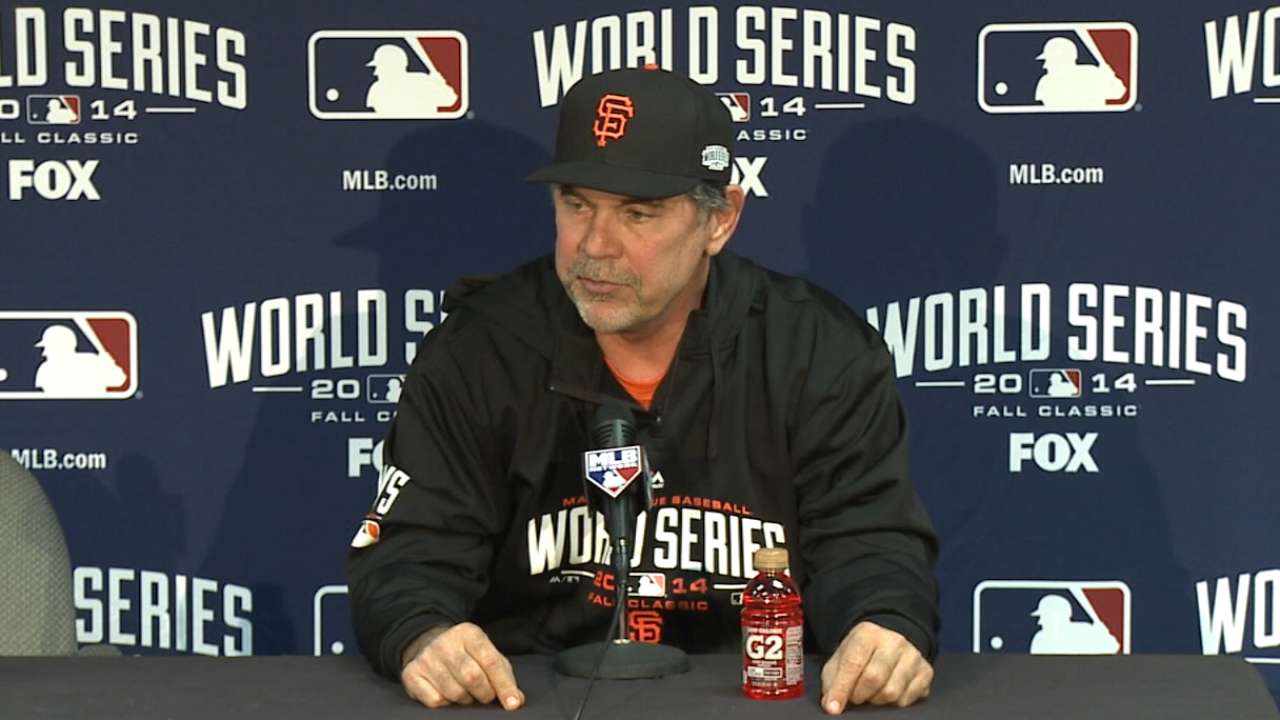 Q. Bruce, basically a three‑part question: How come you have Pence speak to the players? What is it that's particularly meaningful about different things that he said? Is it something through these various speeches that he's given that's stuck with you?
BRUCE BOCHY: Yeah, well, here's a guy with a lot of passion. He's a guy that likes to step up and say a few words. He speaks from the heart. Probably as much as how he says it and with the passion that he speaks, I think it does so much for the players as much as the content itself.
If I look back at some of the things he says, again, it's coming from the heart, how much he cares for his players and how much he wants to keep playing and spend time with them. I mean, they're like brothers to him, and that's what I take away from a lot of his talks is his love for his teammates. He's a very passionate guy. He's got a lot of fire and energy, but he loves being the guy to step up and hopefully get these guys going.
Q. I was hoping you could explain how you found out what happened with Lincecum last night and how he got sick, and if there is any residual effect going forward?
BRUCE BOCHY: Yeah, I didn't know he was sick. My trainer Dave Groeschner, he said he got sick about a half hour before the game and he was throwing up. He had told Dave Righetti and he was looking for me. He rebounded very well. He was okay to pitch. So he didn't feel like he had to tell me at that point.
So that's the honest truth. He was in there. He was throwing up, and trying to get well before the game. There was no intent on missing going out there for the lineup. I don't look at each player. I've got 40 or 50 guys out there, it seems like, so I didn't notice it. He was good to go for the game, and he's fine now.
Q. Did he tell you if it was the flu or barbecue?
BRUCE BOCHY: I don't know. I don't know if he knows. It was a stomach issue, and he rebounded well. He was down in the bullpen, I think, the second inning.
Q. You've had a considerable roster turnover from the 2010 World Series to this team. I'm wondering how much do you think the easy transition and the continued success could be attributed to the clubhouse and organizational culture, just making players here feel comfortable and wanted?
BRUCE BOCHY: Well, I think it really plays a huge role in our success to have the continuity, especially with your core players. I mean, those guys have set the culture. They have a great way of making the new guys feel comfortable, and the Joe Paniks, the Susaks, and the young guys that come up. They spend a lot of time with us in Spring Training, and these guys spend a lot of time. That's invaluable because there is a lot of pressure when you come up in the Major Leagues, and when you have a sense of comfort with your teammates and they make you feel comfortable and makes that transition of coming up to the Big Leagues a lot easier.
So we're fortunate to have the continuity, but great guys that take it upon themselves to help each other.
Q. You mentioned there are some continuous players, but also you look at it, in the three different runs you've had three No. 1 starters, three different No. 1 starters, three different second basemen, I think three different center fielders, I think three different left fielders. Does that strike you as anything? Does that mean anything to you or do you think more about the continuity than the changes?
BRUCE BOCHY: I probably think more about the continuity. It's easier to make a change or deal with an injury, as long as you have that continuity in your core players there. It's easier to replace one player, maybe two players at a position. But I think you look at a guy like Blanco, who really started his season as our fourth outfielder. He's invaluable. We have Pagan go down and we're able to put him out there in centerfield.
But I think without question when you're able to keep the Poseys, the Belts, Sandovals, Crawfords and I don't want to leave anybody out, but those are your core guys. So if something happens to your club as far as injury, it softens the blow of losing those guys because you have your core guys there.
Q. Bruce, winning Game 1 is exciting for you guys, but how are you able to balance knowing that you have so much more to accomplish? One, to be excited for getting Game 1, but then you have so many more games ahead of you?
BRUCE BOCHY: Well, it never changes how you look at a series, except for the game in Pittsburgh, none of them are one‑game series. This is the best of seven, and that's how we look at it. These guys have a way of putting the tough losses behind them, but also the wins. Sure, you celebrate and you enjoy them for a little bit, but they know you have to come out and be ready to go the next day.
We haven't done anything. Sure, we won one game and these guys do a great job of that.
Q. Some managers seem to prefer using relievers, especially late in the games, in something like set roles. You've been able to be very fluid this postseason with how you use guys and when. How do you prepare your pitchers to do that?
BRUCE BOCHY: Yeah. I've had it both ways. I've had to set roles, but we had a lot of interchangeable parts, I guess you could say. Guys that I'm comfortable and I think they're comfortable, whether it's middle or late. I've had the luxury of having guys that are able to do that. You don't have to define their roles so much. Because a lot of relievers want to know, "Am I in the 6th or 7th?"
I think getting back to continuity, they know me, I know them, but they know what to expect. So they're fine with it. The only way this works is they have to be unselfish about this and set aside their ego and hopefully do what's best for the club. We made a change with the closers, and Romo, I mean, he didn't come to my office and complain or anything. He stepped in that 8th inning and he's done a great job. I've used Jeremy early. I've used him late. Same with Lopez. They're all in on this, and hopefully they trust me and I trust them, and that's how it works.
Q. When the series shifts to San Francisco, the Royals lose arguably their best hitter from the lineup in Butler. And you've got a bonus player with the DH. What is the effect of having two sets of rules in one World Series?
BRUCE BOCHY: Well, I think if you look at the two leagues and where you're playing, each team you would think would have a little advantage in their park. I mean, the American League team is going to have a DH. They're going to spend money on a DH. A guy that has that role, where we don't do that in the National League. And then you go to our park and they don't have that player available.
Now, it's nice to have a guy like Morse, who I think fits in well as a DH. Morse getting healthy at the right time I thought was huge for us. I'm able to give him three or four at‑bats here in these two games, and he's a nice threat to have up there. But as much as you think there is an advantage one way or the other, it doesn't always play like that. And you still have to go out there and pitch, catch the ball and score enough runs.
Q. There's been a lot of talk about bunting throughout the whole postseason. Do you see value in it in tight games in the postseason, and especially now that run scoring has been down here in the last few years?
BRUCE BOCHY: I do. You saw me bunt yesterday in the fourth inning, and I'm not a guy that bunts a lot. If you look at my history, particularly early in the game, I believe in going for the bigger inning. Runs are a premium. You're going to see great pitching and hopefully your pitching is doing what you hope. So you want to add on.
I don't like to give up an out sometimes, but I thought last night it worked out fine. But before it worked out, I thought it was the right thing to do to try to find a way to get another run or two. I've got Madison out there. So I think it plays a big part in the postseason, to be honest.
Q. You just mentioned Morse. At the end of the season and all the injuries, I know he worked hard with the trainers and everything, but were you concerned that you would probably not have him at this point? And are you surprised at how good he's been hitting the ball in the League Championship and now in the World Series?
BRUCE BOCHY: Yeah, with the oblique, you don't know. Some heal quicker than others. I knew it was would be close whether he would be ready for this series, but I didn't think I would have him ready for St. Louis. But in the Washington series, I think it was the second game where he really started swinging the bat and felt a lot better. So I started second‑guessing myself that we didn't activate him for that series to be honest.
But he was good to go for St. Louis, and it really worked out well for us. It's obvious with the home run he hit. But to have him here DH, and this guy has done a lot for us. Early in the season he was carrying us at times, so it's good to have him back.
Q. I don't want to jump too far ahead, but saw some choppy starts out of Tim Hudson late in the season. Wondering what might have been his issues? There is some talk about fatigue. If you think that the more spread‑out October schedule has helped him?
BRUCE BOCHY: Yeah, I don't know if it was fatigue as much as he was dealing with a nagging hip. It's hard enough to play this game when you're healthy, but when you're pitching and your hip's bothering you a little bit, and he's a warrior. He was never complaining. He was never making excuses, but it was a fact. I think it was affecting him a little bit.
We've gotten that cleared up and behind him, and since he's gotten healthy, he's throwing the ball the way he was early in the season.
Your second part?
Q. Airier schedule in October?
BRUCE BOCHY: Oh, yeah. I think that can benefit a pitcher, especially a guy who's put in a lot of innings. Now with that said, you have to have the right frame of mind when you're not out there every fifth day, and make sure you're prepared. He showed that in Washington. I thought his last start was a pretty good start, too.
But I think without question, if you can freshen these guys up, it helps them.
Q. Bruce, do you see any similarities between Buster Posey when he came up in 2010 and really stabilized your club, and Joe Panik this year doing kind of the same thing in a different role? If you knew what Panik could do what he's done before he came up, might he have been here sooner?
BRUCE BOCHY: I think they're similar in this respect. They have such a great sense of calmness up here and sense of belonging. Their swings are simple and their short swings that will work up here and they're both confident kids, our guys. So I see that, those two being similar in that respect.
You can look back and say well, we could have brought him up early, but some guys need so many at‑bats down in the Minor Leagues. I mean, Joe, we wanted him to go to Triple‑A and get some at‑bats. In fact, we didn't want to rush him up here, but we had a need. So I think the at‑bats that he got down there gave him so much more confidence.
The year before was not a great year for him. He goes to Triple‑A, and so I think those at‑bats are huge. I think we would have made a mistake on bringing him up earlier.
Q. Returning to the continuity issue you were talking about earlier. You were talking about the core players and integrating people that come through the system or from the outside. Is there any formal or informal process of how that works? Do you make suggestions to the core players that when these guys come in, it would be nice if you talk to them about this or how we do things? How does it work that way that these outside guys come in here and become sort of along with the mainline stuff?
BRUCE BOCHY: Well, I think you have to give the players credit to their character and the fact that they want to help these young players. They take it upon themselves. Now, there are times when I will ask a player to talk to a young player, whether it's Buster, Jake Peavy does a great job. He really, since he's come over here ‑‑ and not just in the clubhouse or in the dugout, but off the field, Jake would call them. That's nice for manager to have when you have veterans in there who care about these young players and not just themselves.
I think that's a big reason for a lot of our success, is these guys play for each other, they care about each other, and they try to help each other every day.
Q. What did you think of Strickland's outing last night? And was it a priority for you to get him back out there with the work he did after his last outing?
BRUCE BOCHY: Yeah, great outing. Had to do a lot for his confidence. Yes, I did want to get him back out there. Now with that said, there are a couple more pitchers that I wanted to get out there, but Strickland was one I definitely wanted to get in that game.
It was evident his work with Dave Righetti in the bullpen paid off. I thought he pitched very well. It's been a long time since he's been out there. But he looked confident, was hitting his spots. He mixed it up well. So it was nice. He should be really excited where he's at. I was very encouraged how he threw the ball.
Q. When you had Peavy as a young kid, what was he like in the clubhouse, and how does that compare to what you see in the clubhouse now? Was he always outgoing like that?
BRUCE BOCHY: Jake played the same. I mean, as intense a competitor as you can have. When he's 20 years old, his first game against the Yankees, he was yelling at himself on the mound then. So that hasn't changed.
Yeah, his experience and time in the Major Leagues, yeah, he's a lot more vocal in the clubhouse. He's a guy, as I just talked about, that likes to spend time with the other players, help them out. And that's what good players and great players do. They try to make the other guys around them better.
So Jake's different in that respect because his role, I think, he feels has changed a little bit. He wants to use his experience and knowledge to maybe help out the next guy.
Q. You mentioned a couple minutes ago about believing in the classic philosophy of going for the big inning. When did you buy into that philosophy? As a kid, as a player, once you got into managing?
BRUCE BOCHY: As far as buying into the big inning? I just, I've never liked giving up an out. I don't know if some guys influenced me, Earl Weaver, for example, Dick Williams. Even though you bunt a guy over, there is never a guarantee you're going to get him in.
Now, with that said, that probably changed a little bit recently, but I just think your chances are better. I think odds have shown that you're better off going for the big inning. Especially when you're going against great pitching. I mean, you're putting a lot of pressure on a guy behind you to get him in, so that's why I don't quite do it as much.
It's nice to put up a crooked number. So when you have that chance, I believe in going for it.
Q. It's a two‑part question.
BRUCE BOCHY: You've asked me three‑part questions, so you're cutting back a little bit.
Q. I have. I'm just giving you a break on this one. Considering the continuity questions we were talking about and the change of personnel, you guys have won seven in a row in the World Series now and 9 out of 10. I know you're going to say I'm jinxing you. But the point of the matter is, do you guys rise to the occasion here? Is there some reason for it? Secondly, do you really feel that you get the respect around the rest of the country for what you've accomplished?
BRUCE BOCHY: Yeah, is there some reason for it? I think you can look at a lot of things. Start with Brian Sabean, who puts this club together. He's the guy that is the architect of this club and he's the one that goes out and fills holes when we need it. Ownership, with them allowing us to get players that we need. I talked about this yesterday, the coaching staff. I have an incredible coaching staff, that do all they can to draw out the best in these players. Of course, the players themselves are the ones doing it out there.
Q. You forgot the second part?
BRUCE BOCHY: Yeah, what is the second part?
Q. Respect. Do you feel you've generated the respect around the rest of the country with what you've accomplished?
BRUCE BOCHY: I think so. I don't know. I don't look around to see or ask if we're getting respected. I mean, this club and this team has had a lot of success, and I've got to think the way they play the game, they're very humble guys that hopefully they are getting the respect that they should, because I think they play the game right. They play it hard, and they're a very humble group.