Oct. 22 Morse pregame interview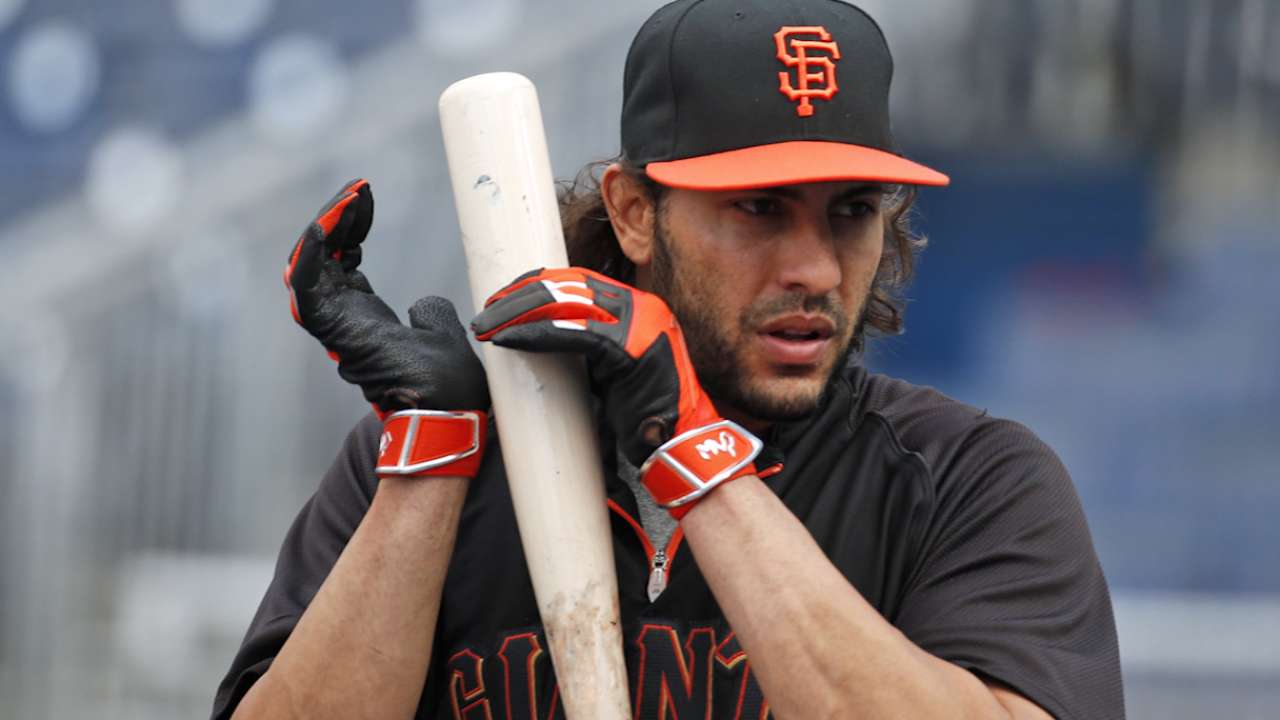 Q. How do you like this DH gig? Are you sorry to give it up and have to go back to San Francisco?
MICHAEL MORSE: Yeah, it's pretty fun. It's totally different than going in and playing in the field. For me, I've got to keep on my feet and keep in the game. You can easily pretty much focus too much on your at‑bats. That's what being in the field, playing defense, you can kind of wash your at‑bats away and play defense. But DH is pretty fun.
Q. Can you just talk about the dance you guys have to do after winning Game 1 and having that momentum, but also knowing what is ahead of you and what still needs to be accomplished? How does winning Game 1 help, but how do you balance what you still have ahead?
MICHAEL MORSE: I think anytime you can get a win on the road, especially with this big series as the World Series, it's huge. Especially the atmosphere and everything that the first game brings, you know, especially with Madison on the mound and knowing that if we just put up some runs, that he'll supply the rest is huge. It's something that we've done this whole postseason, and I don't think we're going to try to stop him.
Q. You were in the playoffs in '12 with the Nationals and had that really tough loss in Game 5. Do you look back on that now? How do you look back on that now? And do you draw on that experience to help you in this series as well?
MICHAEL MORSE: You know, when I think about that, I try to put ‑‑ try to resemble what we have here and what we've got going on. It's two different teams, which one team didn't really have playoff experience, to a team that has so much playoff experience that a guy like me, a guy like Tim Hudson, we've never been this far before. You know, we feed off of that. To be around these guys, that are so pro every day.
Yesterday these guys had ice in their veins. If you asked me, I was nervous, you know, especially the way the first inning was going and everything. I had the butterflies, but it was great. It was awesome. You always want to feel those feelings again and stuff.
I feel like that's the difference between 2012, when I was with the Nationals, and a team like this, which they're so professional.
Q. You may have touched on it just a little bit there, but I was wondering, when you came over here, did you have any curiosity about what it is that makes the Giants tick, a team that had won two championships already? And what did you find out during the course of the season about what makes this group, this team so special?
MICHAEL MORSE: The one thing about this organization that makes it really special is that any given day, say a Tuesday in May, you could walk by and Willie Mays is in the clubhouse. You could sit down with him, and he'll talk about your game yesterday. He doesn't miss many games. He'll break down your swing. He'll break down the way you're playing defense. And the next day you could walk in and J.T. Snow could be in there, or Barry Bonds or whoever it may be.
It's so amazing how the Giants greats are always around the clubhouse and they always interact with the team now. Besides them, more than half the team has World Series rings. It's a kind of atmosphere, it's a kind of organization where it's just in the blood. It's in the core. It's in the way they put the team together.
Q. I'm going to follow up on that question: We look at you guys as being able to handle anything, but is it safe to say, based on your answer, that you're in awe, even though you're a Major League player with credentials?
MICHAEL MORSE: Yeah, absolutely (laughing). At the beginning of the season I told these guys, "I'm your biggest fan, man. I'm the lucky fan that gets to be in the locker room with you guys."
If you look at this team, they've done so much in their careers. Everybody has done so much. It's hard not to be fans of them. I love the game of baseball. I love watching good baseball, and it's hard not to see a game that's played that the Giants play that's not great baseball.
Q. You almost didn't make it here because of the injuries. You worked very hard to return, and then you hit the home run against the Cardinals and are one of the main reasons the Giants are here. Could you talk about that range of emotions, the injuries, and coming back and being decisive and being here in the World Series?
MICHAEL MORSE: There was a point that I didn't know if I'd be able to get back in time, especially with the training staff. It was always, "When we get to the NLCS." At the time we were just about to play the Wild Card game and I was thinking to myself, we might never get there.
So it was tough watching these guys play some tough games in September, meaningful games, and especially that one game in Pittsburgh, and not being able to contribute. It was tough, but I just tried to stay mentally strong, be there for the guys. Be there cheering them on, and at the same time doing my work to knowing that one day when they do say I'm ready to play, that I could just come on in and start playing.
It was a lot of hard work. I was determined to get back and to get back and be able to help the team and get that big pinch‑hit off of one of the great right‑handers in the game in the bullpen right now. It meant a lot to me personally, and it was very humbling, and it was awesome.
Q. Of the things you guys have done in the clubhouse, the fun stuff like the gladiator helmets and the "yes, yes, yes," what are the things that stick out? And what have you had the most fun with? And second of all, does Bumgarner even have a helmet? And if not, why not?
MICHAEL MORSE: We've done so much stuff this year. That's what ‑‑ really good teams come together and they become almost a family. You look back and there were so many awkward and fun stuff we did. I'll say that "yes" thing, since it's still going on, it's pretty neat.
Madison, I think he's the last one that needs a helmet on our team. I don't know why he never got one. I don't know.
Q. You snuck up on this a little with a couple of the earlier questions, but I'm curious, given your somewhat circuitous career route and maybe even personal route in parts, have you been introspective at all leading into the World Series? What got you here and what sort of things you think about as you arrived at the World Series?
MICHAEL MORSE: You know, in 2012 after we lost in the division when I was with the Nationals, if you would have told me, "Don't worry, in two years you'll be in the World Series," I wouldn't have believed you at all. But I got an opportunity to meet Bruce Bochy, and the little time we had together we kind of clicked.
Last year I had a really down year. For him, Bobby Evans, Sabean, Larry Baer, everybody to take a flier out on me this year and give me an opportunity to come here and just believe in me in general was huge. It was such an honor to be a part of this team. Before I signed here, when my agents told me that the Giants were interested in me, I pretty much said, that's the team I want to be with.
So it was a big part of Bobby Evans and those guys, and I can't thank them enough every day.
Q. Just to follow up on the DH question, would you like to see the same set of rules across the board? Without the DH, you may not be getting at‑bats in the World Series.
MICHAEL MORSE: I love the fact that both leagues are split up that way. I think it's great. I think it's great for baseball. There are different ways to manage. Sometimes you've got pitchers that can hit. I know Bum wished he could hit yesterday. But at the same time it gives a guy like me an opportunity to play and get some more at‑bats.
You know, it's baseball. You've got the AL and NL, and I like how it's split up.
Q. One of the byproducts of your win in Game 1 is you more or less have guaranteed yourself of getting all three games in San Francisco here. How reassuring is it? Worst‑case scenario you've got three games at home one way or another?
MICHAEL MORSE: I think no matter how you look at it, you always try to win that first one. For us, winning that was big, but like we've always said, today's game is the biggest game of our season. Once we play today, we'll say the same thing about tomorrow's game or the next day's game.
It was big to come out and win the first one, like I said, especially with Madison on the mound. To put some runs up and hit the way we did was big. I think we're just going to keep going and really not change a thing.
Q. You mentioned having Willie Mays hang around and maybe somebody you can talk to and get advice from. Is there something he's told you that you've incorporated into your game?
MICHAEL MORSE: The biggest thing I'd say Willie told me about was maybe a little bit about hitting, getting your hands through the ball and turning your back side and stuff. You can't ask for a better guy to listen to. He was actually writing something down on a piece of paper, and all I could think about was saving the piece of paper, but he crumpled it up after and threw it away. I was like, "ah, man."
But to me it's amazing to see guys like that coming around the locker room. It's just to me it makes such a winning tradition and a great atmosphere.