Braves could rebuild if they part ways with Heyward, J-Up
Corner outfielders will both be free agents at end of next season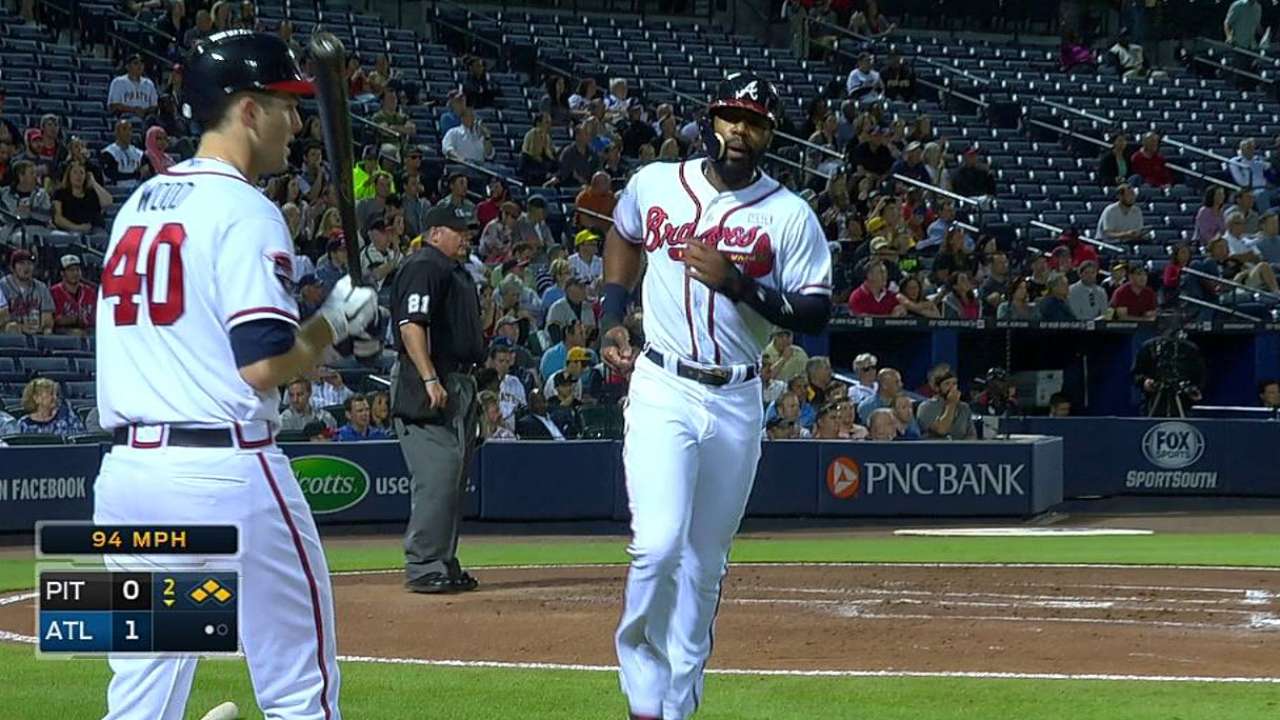 ATLANTA -- Looking back on the disappointing season the Braves recently completed, one could argue that Jason Heyward was the club's most valuable player and Justin Upton was the most influential offensive contributor.
But with the Hot Stove season set to start in a week, there is reason to wonder whether Heyward and Upton will both be back in Atlanta for the 2015 season.
Staring at the possibility that both Heyward and Upton could both exit via free agency next year, the Braves have to evaluate whether it would be wise to trade at least one of those corner outfielders in exchange for a group of players who could either make an immediate impact or, maybe more importantly, fortify the club as it attempts to enter SunTrust Park in 2017 with a strong product.
Braves president John Schuerholz, interim general manager John Hart and assistant general manager John Coppolella have spent this past month tirelessly reconstructing the front office and evaluating a crop of talent that is currently weak at the Minor League level. Coppolella has spent a portion of this week at the club's Dominican Republic academy with Gordon Blakeley, a veteran scout who was recently hired to serve as special assistant to the general manager.
Before deciding whether Heyward and Upton will return next year, the Braves will first determine whether Hart, Coppolella or possibly Kansas City's Dayton Moore will end up becoming their full-time general manager. Whoever is guiding Atlanta's roster reconstruction process over the next few weeks and months is destined to be quite busy.
The club will certainly attempt to cut ties with B.J. Upton with a deal that might simply exchange bad contracts. Evan Gattis could also be dangled in front of some clubs interested in his raw power. But the most significant deal the Braves could make would seemingly involve either Heyward or Justin Upton.
Though there is a chance the Braves could receive a Major League-ready corner outfielder in return, the decision to move either Heyward or Upton might lead to the decision to move Gattis to left field. This would certainly be a risk given that Gattis produced -10 Defensive Runs Saved while playing that same position for just 48 games in 2013. But there are also concerns about his defensive ability as a catcher, a position which also taxes him more physically and, potentially, negatively affects his offense.
If the Braves were to trade both Heyward and Upton, they could gain two significant returns that would certainly enhance hope for the future. But if they were to essentially blow up their roster in this manner, they would also potentially set themselves up to struggle over the next couple seasons and essentially diminish the value of the extensions they provided to Freddie Freeman, Julio Teheran, Craig Kimbrel and Andrelton Simmons earlier this year.
When the Braves gave Freeman a franchise-record, eight-year, $135 million deal in January, they essentially chose him to serve as the future face of the organization. Because he has been less projectable during the early years of his career, Heyward was given a two-year, $13.3 million deal that simply accounted for his final two arbitration-eligible seasons.
During what proved to be very brief negotiations before the 2013 season, the Braves approached Heyward about a multi-year deal that was less than the five-year, $75 million deal B.J. Upton had received a few months earlier. The two parties have not discussed a long-term extension since then and likely will not until the talented 25-year-old outfielder enters the free agent market next year.
Heyward's offensive production was not overly impressive, as he batted .271 with 11 home runs and a .735 OPS this season. But he provided some stability at the top of a lineup that lacked a true leadoff hitter and he provided Gold Glove-caliber defense while producing a team-best 5.1 fWAR, which ranked 10th in the National League.
Still a few years away from what would be projected to be the prime years of his career, Heyward might land a significant deal if he enters free agency and draws the interest from a club that believes he is capable of getting back to where he was in 2012, when he hit 27 homers, recorded 21 stolen bases and compiled an .814 OPS. He has totaled 25 homers and 22 stolen bases while compiling a .752 OPS in the 253 games he has played over the past two years.
While Heyward's value rests in his glove and potential offensive capabilities, Justin Upton stood as a Most Valuable Player candidate until he endured a miserable September. His late-season struggles further strengthened the belief that over his two years in Atlanta, he has been the most influential offensive contributor for the Braves, who went 7-18 during the season's final month.
When the Braves won 17 of their first 24 games this year, their starting pitchers produced an incredible 1.57 ERA. But it should also be noted that Upton batted .330 with seven homers and a 1.031 OPS. Then as the Braves went 18-9 from June 19-July 20, Upton hit .292 with three homers and an .831 OPS.
As the Braves went 44-67 over the other 111 games played this year, Upton batted .251 with 19 home runs and a .740 OPS. Given that Gattis was the only other Brave who hit more than 19 homers this season and Freeman was the only other member of Atlanta's roster to compile an OPS over .740, Upton was still one of the club's most productive players when he was not at his best.
If the Braves part ways with Upton, they will be bidding adieu to a significant contributor and one of the few roster members who could provide Freeman legitimate protection in the middle of the lineup. Likewise, saying goodbye to Heyward would weaken the defense and weaken the spirit he provides with his highly competitive attitude.
But as the Braves look to strengthen themselves for the future and move away from this past season, they will need to at least evaluate whether it would be wise to make what would certainly be a big move.
Mark Bowman is a reporter for MLB.com. This story was not subject to the approval of Major League Baseball or its clubs.