Oct. 22 Butler pregame interview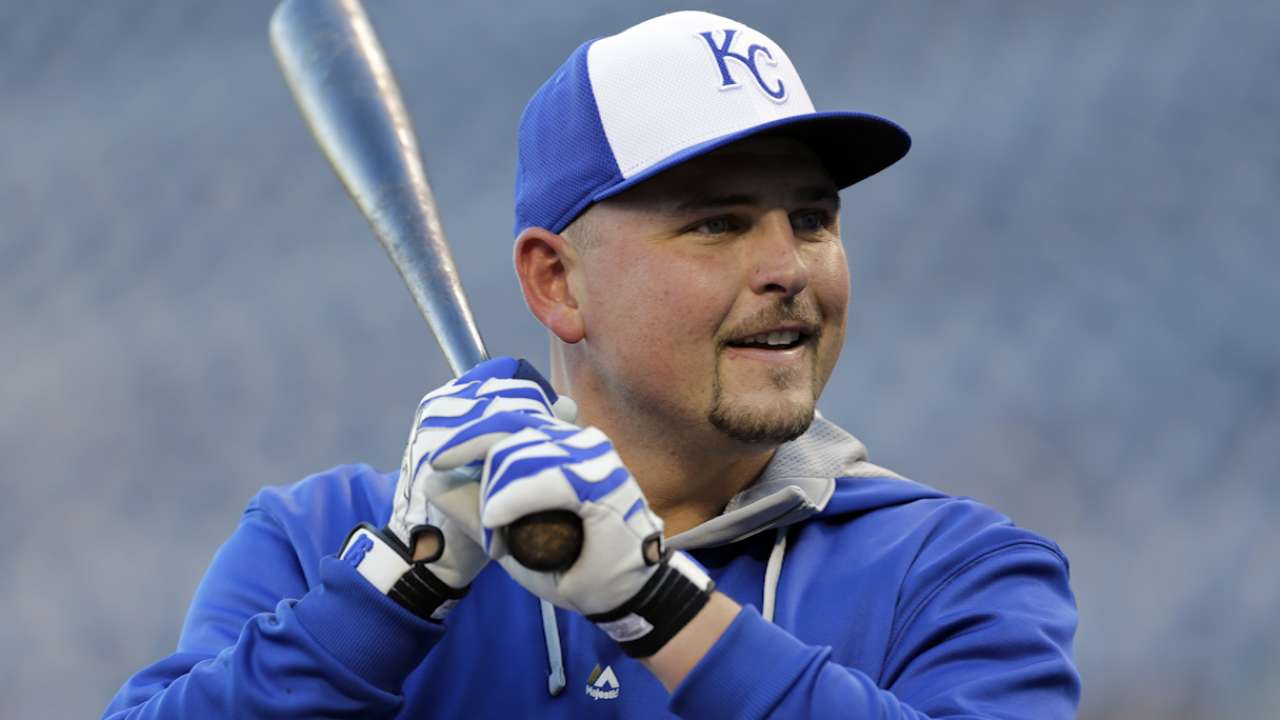 Q. You get in your World Series, you get your first hit, you're all revved up and boom, you've got to go to the National League city. Just talk about the mental adjustment, that maybe disappointment or just how you handle it.
BILLY BUTLER: It's not a disappointment at all. It's just the different rules. I'll be prepared for whatever the team needs, and hopefully I'll come up in a big situation and contribute in a way. A lot of times in the National League you empty out your bench, obviously, more than you do in the American League, but just by that.
So the bench plays a vital part, and whoever has the better and deeper bench, I think is going to make a difference in that one.
We're obviously playing their rules, but I feel like we have a good bench.
Q. The other day James Shields used the terminology saying, "I believe in amnesia." Do you have to as a team pretty much go by that philosophy that, you know what, you lost last night. Big deal. It's gone. Let's focus on what we're doing today?
BILLY BUTLER: Yeah, 100%. I know everyone ‑‑ what's consistent in that clubhouse is, the game is over last night. There was nothing we could do about it. We have to move on. It wasn't a good team game and those happen. That's the reason why you play a seven‑game series. You'd like to have the first one, but that's not the case. We just have to go out there and do our best to get a W tonight.
But not the end of the world. They played a good game over there, and you have to tip your hat to that one, but we're on to a new day.
Q. To follow up on that, did anyone feel the need to say anything or was it just everyone kind of doing it as if it was the same thing they would do if you lost a regular season game?
BILLY BUTLER: Yeah, 100%. What can you say? We won eight straight and we lost one. You can't win them all. Usually you would have lost one by now already, just even in the series, but we haven't. So we went on a good run, and we want to start a new one tonight.
Q. You've had some pretty memorable back‑and‑forths with Peavy both in the batter's box and sometimes verbally on the field as well. What's it like facing him? And can you just talk about that competition between him.
BILLY BUTLER: Yeah, there are not many bigger competitors than Jake Peavy. You enjoy facing guys like that because they're very prideful in what they do, and just like we are in the box. We're confident of our talents.
He's a good pitcher. He knows what he's doing out there. He's got a clue and he's hung around this long, obviously having really good stuff. Just like you said about James Shields being a competitor out there on the mound, Jake Peavy has that similar bulldog mentality. That is the reason why he's pitching in the World Series. He did last year, and he makes a difference out there on his team.
Q. What ways do you feel moving Alcides Escobar to the top of the order sparked your lineup?
BILLY BUTLER: He was hot at the right time. Esky has really turned into a complete player. We always knew he could be ‑‑ he's a tremendous defensive player. I'd stack him up against any of the best. Obviously we've seen him make some tremendous plays here, and it seems like it's on a nightly basis. But he's had a good year offensively. He's taken more pitches. He's getting on base. He's doing everything well right now, and that's what we need at top.
Q. With your contract situation being what it is, are you trying to soak in every moment with this franchise? I know it's the only one you've ever been with, and with the World Series, and the stage you're on right now.
BILLY BUTLER: I don't think the contract situation has anything to do with it. But, yeah, obviously I've been here for ten years. There's been a lot more tough times than there's been good, but this is a great experience. To see us come and to see this process go from the beginning to where we are now, it's incredible.
I don't think that has anything to do with the contract situation. Obviously, that will take care of itself after, but just being here and being able to experience this with these guys I've played my whole career with, it's an incredible honor.
Q. Nate mentioned how many times you've faced Peavy. The Giants are yet to face Yordano Ventura. With as much video as there is now, do you view that as an advantage?
BILLY BUTLER: Yeah, you can watch all the video you want, when you face the guy, it's always different. You see movement, you see pitch sequences, but when you get in the box, everybody's fastball feels different. Everybody's slider is different, even though you say, this guy's slider reminds me of this guy. This guy's fastball reminds me of this guy. Every time you get in the box, it's a new feel.
Q. Your bullpen has gotten a lot of talk for weeks now. What was the first time you saw Greg Holland? How is he as a teammate?
BILLY BUTLER: What do you ‑‑ as in?
Q. How is Greg Holland as a teammate? And when was the first time you saw him actually pitch?
BILLY BUTLER: Oh, I believe it was 2010. I don't know. The days kind of run together. But I remember when he first came up he was a guy that threw really hard, had a good slider. He's always had a good slider. He was young when he came up. Everybody's got trial and error, growing pains. You know, he started off a little rough when he first came up, and then he really turned into a really good, vital bullpen arm. He's really progressed each year, and obviously filled in for Broxton when he got traded. And he's basically taken it and run with it ever since then.
As a teammate, there is not a better one. He pulls for the team. He's supporting, and you want to have somebody that's one of your most reliable guys and best teammates, a good person closing your games out. You pull for guys like that, and I'm honored to be his teammate.
Q. Billy, you touched on this a little bit before, but if you do end up in a pinch‑hitting role in the National League park, knowing you'll maybe get one at‑bat, how does that change your approach versus getting four within the flow of a game?
BILLY BUTLER: I've had pretty good success in my career as a pinch‑hitter. I basically go up there and my job every day is basically like four pinch‑hits. Basically treat it as that. Granted, if you have one pinch hit that day, you have to wait a little bit longer for your next one. But usually it's in a big situation. Usually it's in a situation where it can decide the outcome of the game. And if it doesn't work out, which pinch‑hitting odds aren't in your favor, you've just got to go up there and try to put a good at‑bat together. That being said, it doesn't always have a good outcome. You just have to have a short memory and look for your next opportunity.