Oct. 22, Yost pregame interview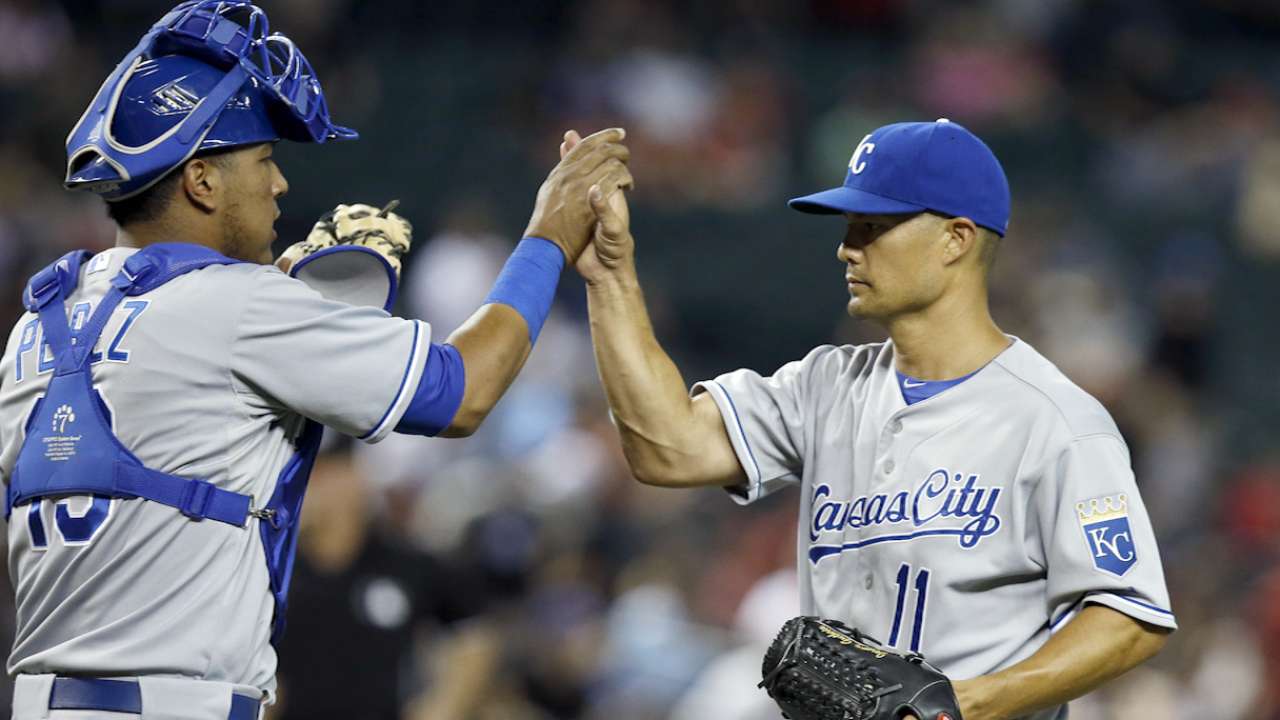 Q. What did you learn from Yordano Ventura the way he bounced back from the Wild Card performance that he had, to then come back against the Angels his very first start of the postseason? Did he show you anything as a rookie of what he was made of in that situation?
NED YOST: He showed me more as a rookie what he was made of after the Wild Card, his Wild Card outing. He came in, he felt great. He said, "I got too amped up." He said, "I was really excited to come in that ballgame," and he said, "I got too amped up." But he looked at me, and he said, "That won't happen again." You know, and it hasn't. He's come out and been under control. He's been in command of his emotions and throwing the ball good.
Q. Last night some of the guys said that Salvy took them aside and talked to them even before the game ended, to lift their spirits with an eye on today. Can you talk about his leadership in that sense, in addition to what he does behind the plate.
NED YOST: Well, we've got guys in that clubhouse, Jarrod Dyson, Salvy, Eric Hosmer, Moose, these guys are all upbeat guys. But Salvy, I've never seen Salvy walk through that clubhouse door with anything but a big smile on his face. He loves playing baseball. He loves being around his teammates. He loves rallying the guys, he loves keeping the guys loose, and he just loves playing baseball.
There were times last year and the year before when we'd play a 162 game season, and he'd want to go straight to Venezuela and play baseball there. It was like you need to take a break.
But we've got a great corps of young players that believe in each other, and enjoy playing with each other.
Q. What do you think the advantage is of using relievers in consistent roles? Do you think it's something about the personalities you have that they benefit from knowing 7th inning, 8th inning, 9th inning?
NED YOST: I think for me personally I think that guys get themselves mentally ready when they have consistent roles. You watch Herrera, you watch Wade Davis, they know that, hey, when we get to the 7th inning with the lead, that's my territory. We get to the 8th inning with the lead, Wade knows that's his territory. So they prepare accordingly. Kelvin's starting to get loose in the 5th inning. Wade's starting to get loose in the 6th and the 7th inning, preparing for their inning of work.
It's just consistent. They know what to expect. There is no guesswork down there, unless something drastic happens. But I just think when you have defined roles, it's easier on everybody.
Q. Talking about your late inning guys there, how strange was it not to need them or not to have to use them last night?
NED YOST: Well, it wasn't strange. It was a situation where we fell back three early and then four. We're not using those guys in that situation because you're planning for today. You're planning down the road. We're looking at, okay, we've had five days off. Do one of these guys need an inning just to stay sharp? Then you go back and think, okay, these guys quite capably could pitch four out of the next five days.
Hopefully they're in the ballgame today.
Q. The Giants have some very good fastball hitters in the middle of their lineup. Will that affect Ventura's approach at all? Are you comfortable with power against bat speed?
NED YOST: I'm totally comfortable with it. Ventura's got three above average pitches. He's got a fastball, curveball, and a very good changeup. When he's throwing all three for strikes, I mean, he's tough as he can be. But he has gone through games where he's relied mostly on his fastball.
But the thing about him, he's got pretty good command of his fastball, too. He works the ball in. He works the ball down and away. But, yeah, I'm comfortable with his power against their strength.
Q. As you go through a seven game playoff series, World Series, do you do anything differently managing whether you're down one game to none, tied 2 0 or whatever?
NED YOST: No, our focus has been the same, especially through this playoff run, we do everything to win today. Today is the most important day. We'll worry about tomorrow, tomorrow, and whatever it takes to win this baseball game today, that's what we're going to do.
Q. You touched on the two rules, the DH and non DH yesterday. Now that we're looking at it next game, how much of a handicap is it for you to lose a big bat, an advantage for the other team to maybe get a bonus and vice versa?
NED YOST: I don't see where it's any advantage or disadvantage.
Q. Why is that?
NED YOST: Because we've got a big bat on the bench late that we can bring off, all right. Our pitchers, even though they haven't done it with regularity, the guys that we have are all pretty decent hitters. They're all pretty fundamentally sound in terms of bunting.
So I don't really look at it as an advantage or disadvantage. I think that in the National League to have a bat like Billy Butler's on the bench coming in a situation, it could be the 4th inning, it could be the 5th inning or the 6th inning with guys in scoring position. That could be the difference.
It's a different style of game, but I don't see where it's a huge disadvantage to us.
Q. You would do that early with him in that situation?
NED YOST: I did what?
Q. You would hit that early with a Butler or a Willingham, I guess?
NED YOST: I don't know. What's the score? Tell me what the score is and I'll tell you if I will or not. The game dictates what you're going to do.
Q. Along those same lines, not to get too far ahead, but can you say a word or two about how special it is for you to bring a World Series team back to the Bay Area.
NED YOST: Well, I don't know. It's special to me to take a World Series team anywhere in this country.
I grew up there. I have a lot of friends there. I've got a lot of family there. I grew up a Giants fan, so there is some uniqueness there for me and some special feelings there for me. But I'm just proud to take this team anywhere and play a World Series game.
Q. Yesterday we saw Jeremy with Ventura on the podium. How helpful do you think it is for Jeremy to be able to go between cultures, languages, being on a team that's so young with so many guys from different places?
NED YOST: He's a tremendous clubhouse presence, too, and he's a guy with a lot of experience. He's got a very outgoing personality, and he helps all of our Latin guys. He has the unique ability to be able to enjoy all types of players that we have in our locker room. He can converse with the Latin guys on their level. He can converse with the American guys. He hasn't really mastered Japanese yet for him to be there with Nori much, but he's just a really fun guy to be around.
Q. With the amount that Danny pitched last night, if you had to go to a long man, who would that choice be?
NED YOST: Right now, I mean, we could push. In the back of our mind it would be Vargas and you'd have to switch it and adjust your plans, but hopefully that's not going to happen.
Q. In the case of Danny, how many days would he need to be down now after the number
NED YOST: We could probably bring him back I don't know. What's today? Somebody help me. Wednesday. We're off Thursday. We could bring him back Friday for an inning and multiple innings on Saturday, if we needed him again. So he should be in pretty good shape by then.