In 'pen puzzle, Soria appears to be piece to keep
Decision on reliever not as up in the air as role he would potentially fill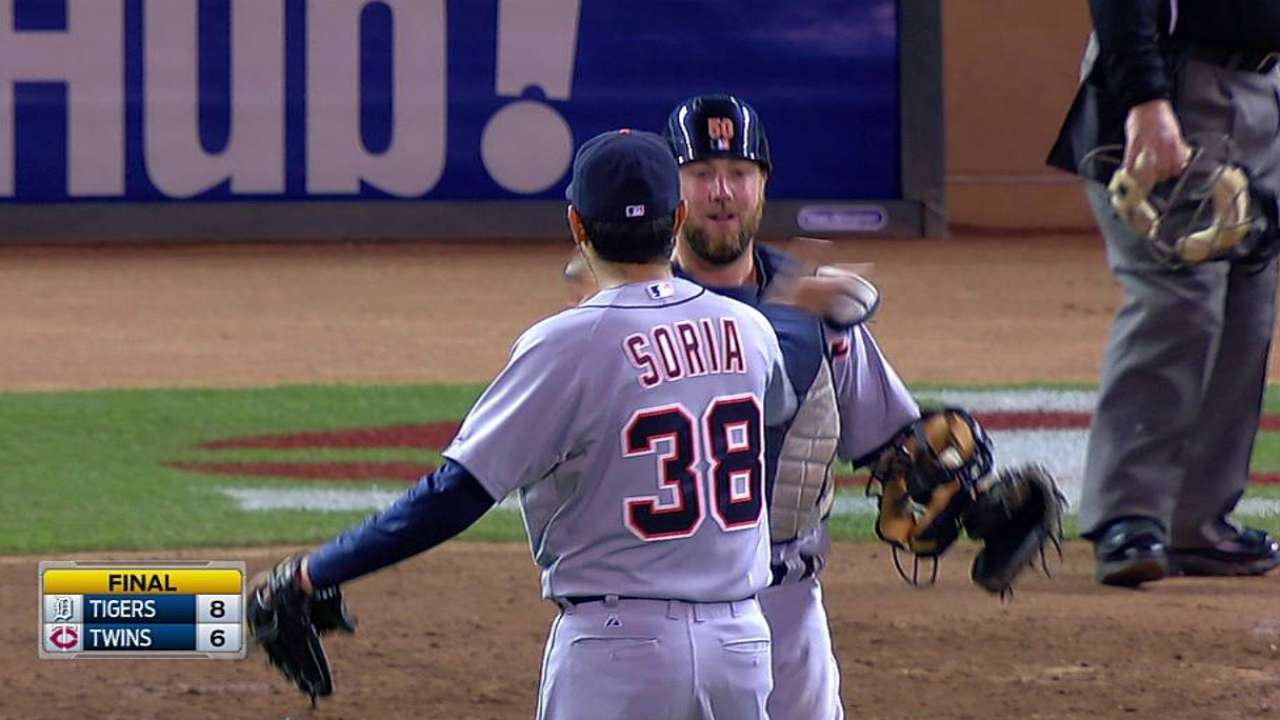 DETROIT -- The Tigers have a decision looming on Joakim Soria, and it goes well beyond the $7 million club option in his contract for 2015 that must be exercised or declined soon after the World Series.
Figuring out whether Soria is worth keeping is fairly easy. Figuring out what kind of role he should have and how he fits into a Tigers bullpen that's set to get a makeover while still keeping several of its parts, is another matter. It shouldn't be tough. It's not necessarily simple.
"We still have to make the final decision," team president/general manager Dave Dombrowski said last week. "But it's a situation where we look at him as being an important acquisition toward this [coming] year also."
The second part seemingly answers the first, even if it isn't a formal announcement. Teams and players have until five days after the World Series to decide on contract options, and teams are strongly encouraged to hold off on announcing such things until the postseason is over so as not to take the spotlight away from teams that are still playing.
The Tigers gave up two high-level prospects to acquire Soria from Texas in late July. Between his mid-August oblique strain and his workload upon return, he pitched in 15 games, including his two ill-fated appearances in the American League Division Series.
The Tigers declined a similar option on a Trade Deadline bullpen addition last fall, sending Jose Veras on his way after giving up two prospects for the former Astros closer. Soria's scenario is different, both in the level of prospects surrendered and the level of talent in the arm.
If Soria were a free agent this winter, he'd be one of the top closing candidates on the market, if not at the head of the class. He is not currently in line for that role in Detroit, where Joe Nathan heads into the second and final year of his contract coming off a subpar opening season in Detroit.
"I would think [Nathan] starts as our closer going into [next season]," Dombrowski said, "but he has to perform up to the capabilities required of doing it."
That leaves a sliver of an opening for change, but not an outright competition for the closer's job. It's a little similar to the break-the-glass role Soria had for a stretch in September upon his return from the disabled list, warming up for a handful of games in the ninth inning while Nathan tried to close games.
The clearer opening looms in front of Nathan, where Joba Chamberlain's free agency throws open the eighth-inning setup role Chamberlain handled all year. If Soria were to set up for Nathan, it would be a return to the role he had down the stretch two years ago in Texas upon his return from Tommy John surgery.
Chamberlain joined the Tigers in line for a similar role Soria ended up getting later in the year, pitching seventh innings while supporting the setup man. Bruce Rondon's loss to Tommy John surgery late in Spring Training forced a shift.
All indications from the Tigers are that Rondon should be ready for the start of next season. Readiness to take a regular role -- not just for the first time since surgery, but the first time in Rondon's brief Major League career -- is different, and it's more than a question of physical health.
"There's no question that Rondon's loss hurt us, the last couple years," Dombrowski said, "and all thought processes are that he'll be fine next year."
One option for easing Rondon into Detroit's bullpen, and watching his workload in his first year back from elbow surgery, could be to put him in the supporting role, saving him for seventh-inning and situational work. Soria could then assume much the same role Joaquin Benoit filled for most of his three-year Tiger tenure, handling the eighth inning while slotting into the ninth in stretches.
For all the saves Jose Valverde compiled as a Tiger, Benoit was the most valuable reliever in Detroit in every other statistic during his three seasons, including Wins Above Replacement. In the end, the Tigers could seek from Soria what they had in Benoit.
Jason Beck is a reporter for MLB.com. Read Beck's Blog and follow him on Twitter @beckjason. This story was not subject to the approval of Major League Baseball or its clubs.