Angels' Towey riding hot streak, offensive game progressing
Team's No. 17 prospect finding rhythm in Fall League, hitting .444 through six games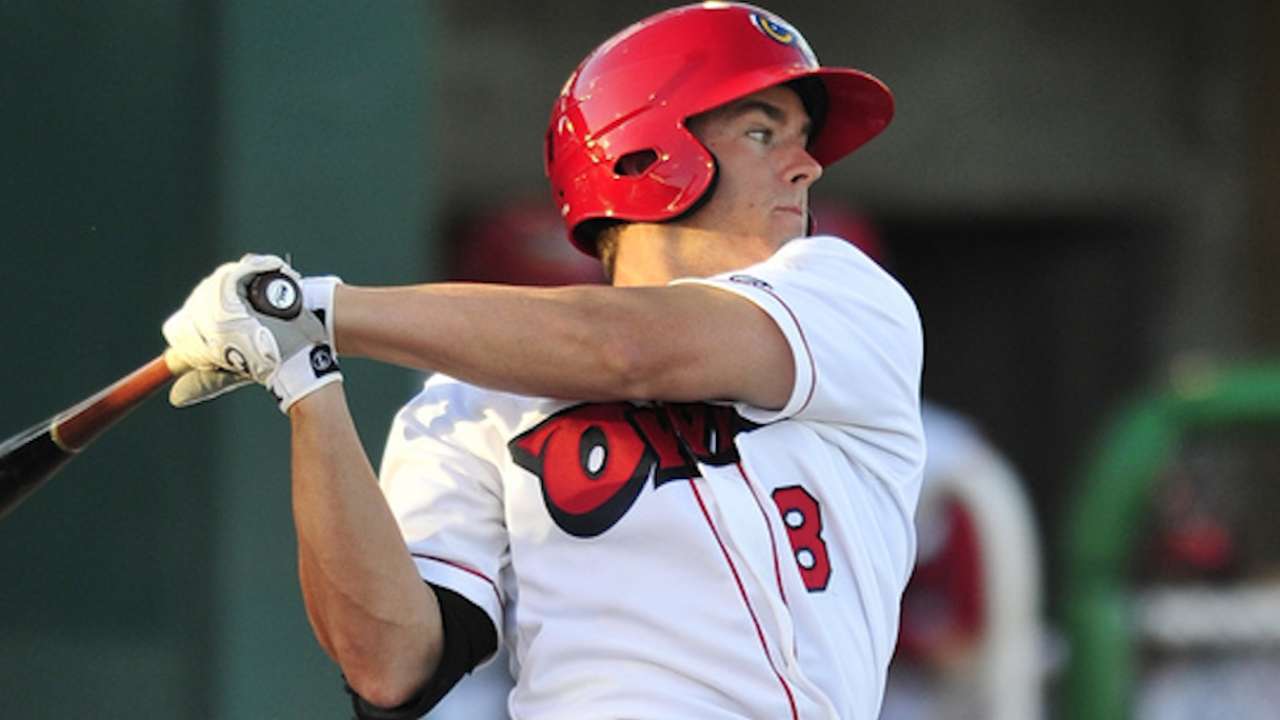 SCOTTSDALE, Ariz. - Sometimes the best approach at the plate is to keep things simple.
Hitting is an art form and although it can be complex at times, Cal Towey, the No. 17 prospect in the Angels organization, is doing his best to simplify the process.
"Mainly, all I'm focusing on is having a routine in BP and just having fun really," Towey said. "It's a blessing to be out here and I'm just enjoying it."
So far, it's working.
Following his first inning single Wednesday, Towey is riding a five-game hitting streak in the Arizona Fall League -- including a three-hit game with a homer Tuesday, and is hitting .444 through six games.
Towey also has back-to-back multi-hit games and has an RBI in five straight contests.
The 24-year old is off to an impressive start in the AFL, and although his numbers in the regular season weren't overwhelming, his offensive success shouldn't be a surprise.
After hitting just .258 in the first half of 2014, Towey hit .298 in the second half -- a trend that's continued in the AFL.
Towey, selected in the 17th round of the 2013 Draft, finished the season with 10 homers, 63 RBIs and a .258 average in 128 games at Class A-Advanced Inland Empire.
"First half, I started out catching so I was more focused on that, learning a new position, which I really enjoyed and then kind of learning more too, going from Rookie Ball [in 2013] to High A," Towey said. "I was just so focused on catching. I wanted to get it going. I didn't want to let a bunch of passed balls and cause a whole storm. It didn't really affect me mentally or anything, I would just say that would be the big difference between my first half and my second half. That and working with my hitting coach and learning a lot."
Towey only caught eight games last season and although the initial phases of the transition may have impacted him offensively, it did provide him with knowledge that will be useful for the rest of his career.
"It gave me a different perspective of the game, just seeing how hard catching is and seeing the challenge that catchers go through being the quarterback out here helping the pitcher set the tone," Towey said. "Then you have to be ready to swing the bat too."
In addition to catching, Towey, a third baseman during his collegiate career at Baylor, spent a lot of time in 2014 alternating between third base and right field.
Working out at three positions is no easy task, but Towey -- who took grounders at third and then fly balls in right prior to Wednesday's game -- enjoys the variety.
"I just enjoy the challenge," Towey said. "I look forward to finding out what position I'm going to be at that day and preparing myself to be the best I can that day."
William Boor is a reporter for MLB.com. Follow him on Twitter at @wboor. This story was not subject to the approval of Major League Baseball or its clubs.