Lineup breakdown: Giants vs. Royals, Game 2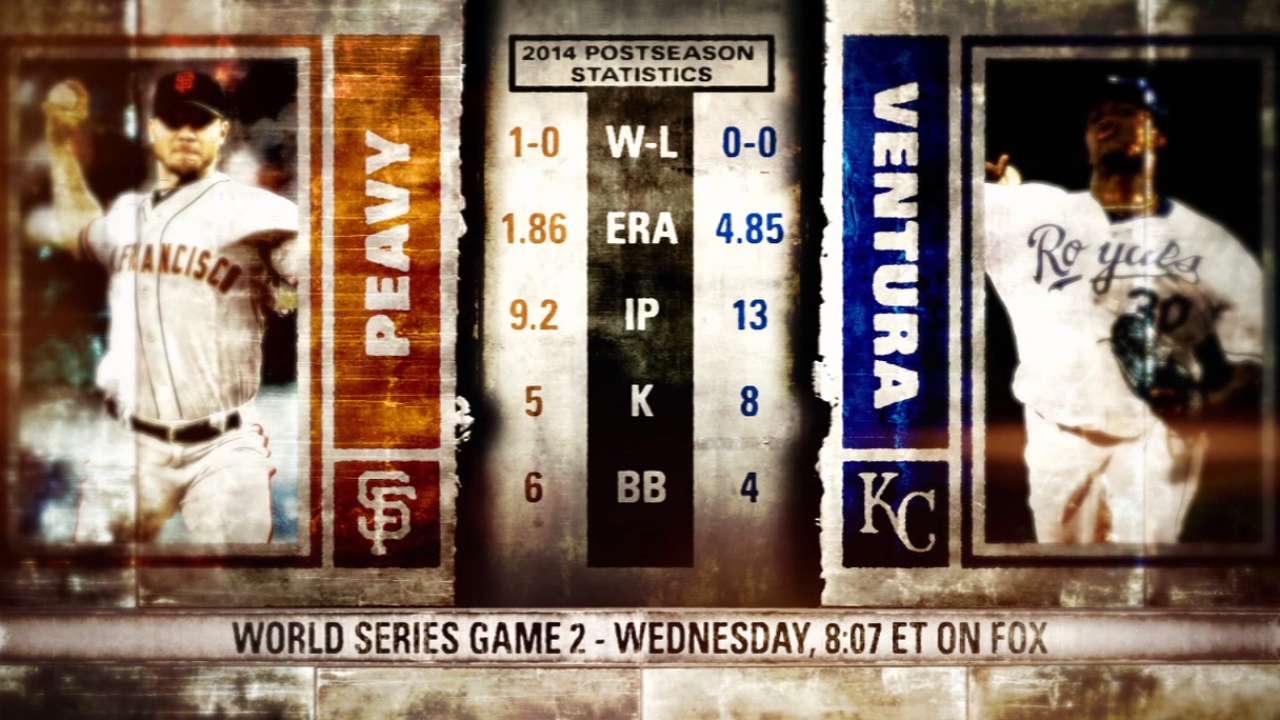 The Royals face a familiar foe Wednesday night at Kauffman Stadium as they look to even the World Series.
Giants right-hander Jake Peavy gets the ball as San Francisco tries to take a 2-0 Series lead against the Royals and rookie righty Yordano Ventura. Game 2 airs at 7:30 p.m. ET on FOX, with first pitch at 8:07. Here's a breakdown of the lineups:
GIANTS
The Giants missed Ventura when they came to Kansas City in August, but the right-hander has been dominant at home.
Ventura has a 3.12 ERA in 18 appearances (17 starts) at Kauffman Stadium, with the Royals winning five of his last six home starts.
No Giants player has ever faced Ventura, who will become the first Royals rookie to start a World Series game at any position.
1. CF Gregor Blanco
2. 2B Joe Panik
3. C Buster Posey
4. 3B Pablo Sandoval
5. RF Hunter Pence
6. 1B Brandon Belt
7. DH Michael Morse
8. LF Travis Ishikawa
9. SS Brandon Crawford
ROYALS
Peavy spent 4 1/2 seasons in the American League Central with the White Sox, so Royals batters know him well.
Billy Butler (14-for-33, .424), Alex Gordon (10-for-28, .357) and Alcides Escobar (9-for-22, .409) all have had great success against the right-hander, with Butler having three home runs off Peavy and Escobar going deep twice.
Eric Hosmer is just 4-for-21 (.190) against Peavy, however, while Salvador Perez has two hits in nine career at-bats against him.
Overall, Peavy is 5-7 with a 4.97 ERA in 14 career starts against Kansas City.
1. SS Alcides Escobar
2. RF Nori Aoki
3. CF Lorenzo Cain
4. 1B Eric Hosmer
5. DH Billy Butler
6. LF Alex Gordon
7. C Salvador Perez
8. 2B Omar Infante
9. 3B Mike Moustakas
Cash Kruth is a reporter for MLB.com. Follow him on Twitter at @cashkruth. This story was not subject to the approval of Major League Baseball or its clubs.