Pirates' Bell getting his feet wet at first base in AFL
Organization's 2014 Minor League Player of the Year transitioning from outfield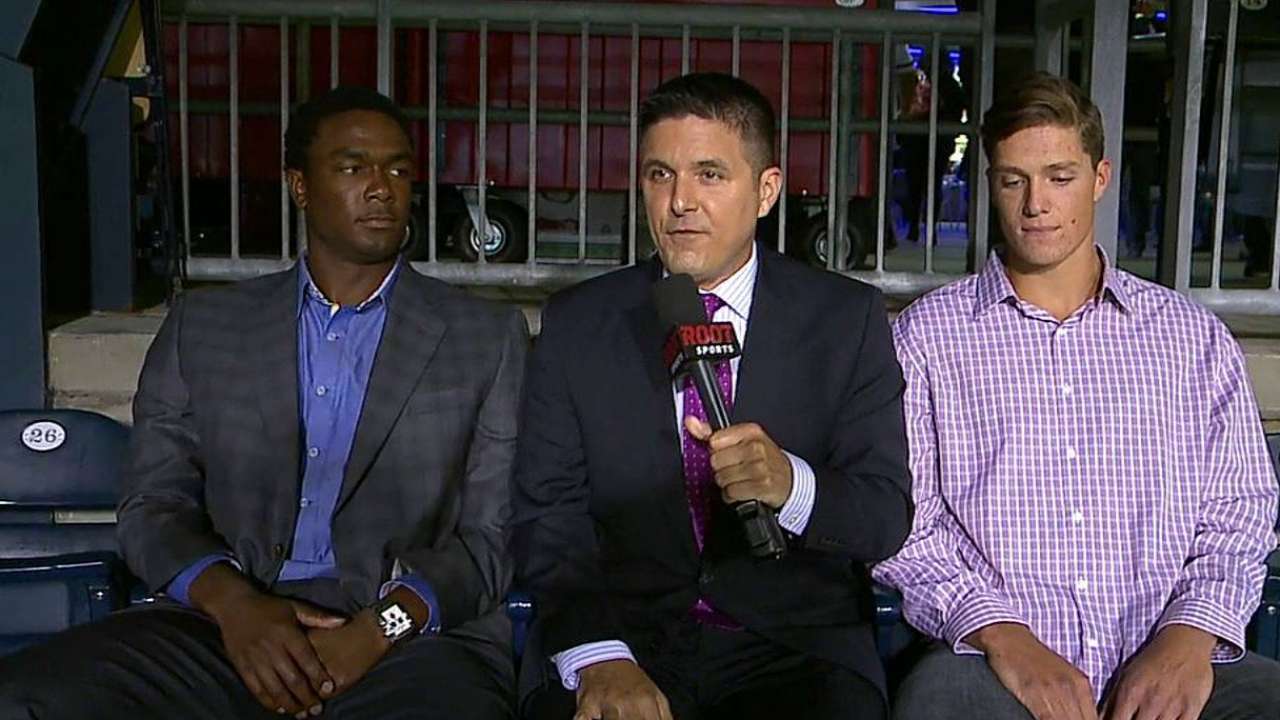 SCOTTSDALE, Ariz. -- The Pirates placed a high "priority" on finding out this fall whether Josh Bell, the organization's No. 3 prospect, can be a viable future option at the persistent black hole in their lineup -- first base. They designated the natural outfielder as their "priority" player on Scottsdale's roster in the Arizona Fall League, locking him in to getting the bulk of playing time at the position.
For Bell, who had never before played in the infield, the accelerated education has been challenging. He hasn't failed but, if actually being graded, he would have an "incomplete" 13 games into the 32-game AFL schedule.
Bell split his first 10 games between DH and first, where he has already committed four errors. They've been fielding -- rather than throwing -- errors, due to his unfamiliarity with the position. In a recent game, for instance, he muffed an easy grounder about 15 feet off the line as he tried to glove it while already making his move toward the bag -- unsure of whether the pitcher could get there in time.
"Getting to feel overall comfortable has been the biggest challenge," Bell admitted. "I'm sure that will come with reps. When I get more playing time, I'll be able to just run with it, react. It's definitely something different. You're a lot more active. It keeps you more in the game, always on your toes."
Normally, little attention is paid in the AFL to defensive stats. Bell's situation is more conspicuous than normal, of course. He received a $5 million bonus after being chosen in the second round of the 2011 First-Year Player Draft, and as an outfielder he was chosen the Pittsburgh organization's 2014 Minor League Player of the Year.
There are at least two excellent reasons for getting a read on Bell's ability to transition to first base. Foremost is the trio of Starling Marte, Andrew McCutchen and Gregory Polanco, which could monopolize the PNC Park outfield for years. Then, the Bucs haven't had an everyday first baseman since 2008 (Adam LaRoche). The Pirates have gone with various platoon combinations in recent years, and the switch-hitting Bell could put an end to that.
At 6-foot-2, the 22-year-old certainly has the ideal stature for the position. On the downside, first base appears to considerably squander his athleticism. He is noticeably mechanical around the base, overthinking plays rather than handling them instinctively. The comfort zone figures to expand with experience, of course.
Despite the defensive distractions, Bell has kept his bat warm. He hit .275 in his first 10 games, with nearly half of his 11 hits for extra bases. Bell batted .301 this season in 108 games between advanced Class A Bradenton and Double-A Altoona. He knows hitting and, in fact, sees the challenge of adapting to a new position through that prism.
"It's not that much different than hitting, in my eyes," Bell said. "When the ball comes off the bat that quickly toward you, it's kind of similar to being in the box and having to recognize what's coming -- curveballs and changeups and fastballs."
Interestingly, due to the "priority" limitation, Bell has not even been working out in the outfield here. He is unconcerned about rust.
"I'm trying to get as many reps as I can at first. The outfield, that's something I can always go back to," Bell said. "So I'm just trying to take it one day at a time and learn as much as I can.
"The AFL experience … that's been awesome. The parks we play in are awesome, and being able to learn from teammates and coaches who've had success at various levels, picking their brains, is going to help me."
Tom Singer is a reporter for MLB.com and writes an MLBlog Change for a Nickel. He can also be found on Twitter @Tom_Singer. This story was not subject to the approval of Major League Baseball or its clubs.