Negron's ebullience caught Reds' attention
With chance to play in second half, utility man brought spark to table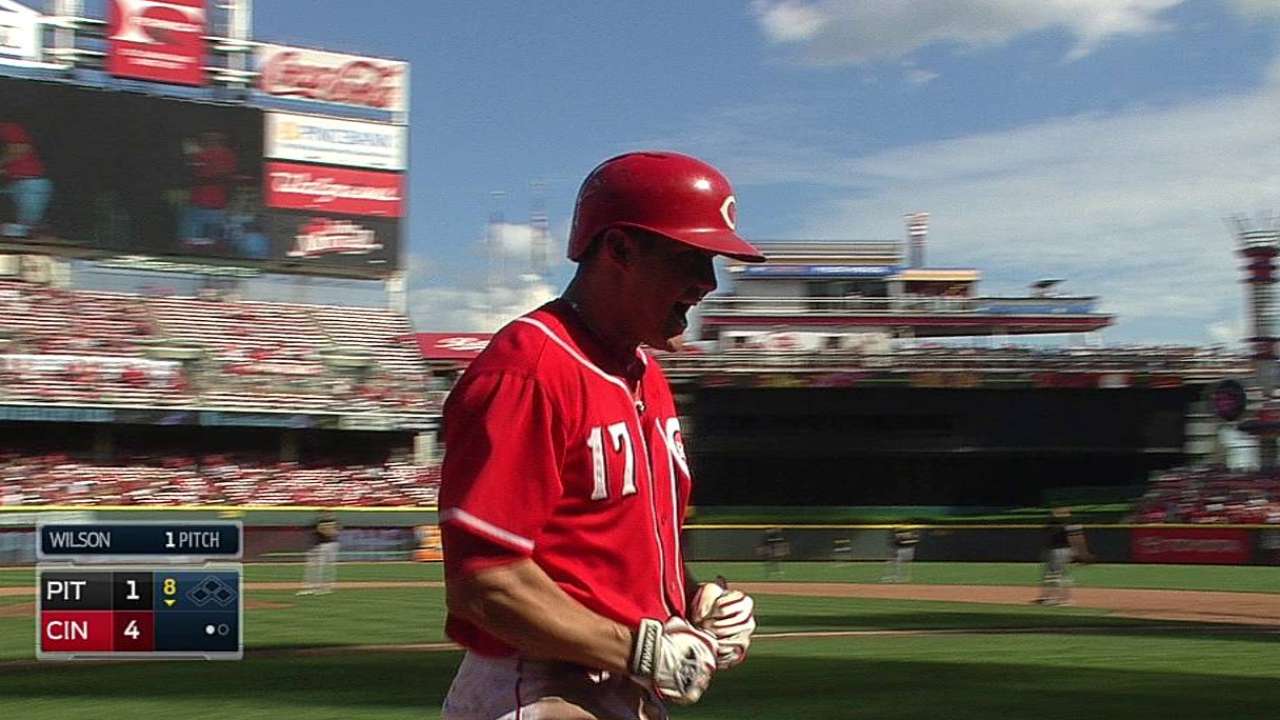 CINCINNATI -- An unforeseen byproduct of a Reds season marred by injuries was the pleasantly surprising performance of rookie utility player Kristopher Negron.
Recalled from Triple-A Louisville on July 10, Negron infused energy on offense and played solid defense at multiple positions for Cincinnati over the final 10 weeks of the 2014 season.
Negron, 28, filled in admirably at second base for some of the games that Brandon Phillips missed due to a torn ligament in his left thumb, and at third base when Todd Frazier was over at first to fill the void left by the injured Joey Votto (strained left distal quadriceps).
In his 49 games, including 36 starts at three positions, Negron finished with a .271/.331/.479 slash line, six home runs, 17 RBIs and five stolen bases. As the Reds look at their options for 2015, manager Bryan Price sees Negron as a valuable piece.
"I think a lot of it is the fact that he plays so many positions so well," Price said in early September. "He adds a speed component, the defensive component, pinch-hitting element to strengthen the bench and he's brought us some good energy."
"I'm very thankful for all the at-bats and opportunities to showcase what I have to offer for the organization, and it's going to be a big offseason," Negron said on Sept. 23. "I've got to take it very seriously -- I take every offseason seriously, but definitely this one's important for me to come into Spring Training now that I'm on the radar, to continue to stay on there."
After a knee injury prematurely ended his Minor League season in 2012, Negron wore a knee brace throughout the '13 campaign. He struggled, batting .225 in 116 games for Louisville. He played without the brace that offseason while in winter ball in Puerto Rico, which helped him mentally. He rode the momentum from winter ball into Spring Training, making a good impression with the Reds despite being cut on the final day of camp. He was able to keep building on his progress with his regular-season performance.
Negron won't be playing winter ball this offseason, but that doesn't mean he won't be working just as hard to continue getting better.
"This year, I'm going to take a couple of weeks off and then get right into it," Negron said. "I'm going to go back to the junior college that I went to, Cosumnes River College [in Sacramento, Calif.], and talk to [manager] Tony Bloomfield and maybe we can get something going. There's ways I can see pitching all around town."
Negron, who grew up in Northern California and lives in Napa, said he also has a close friend who runs a batting cage there, which will be another place he frequents as he works to stay sharp this winter.
Although his success in 2014 changes the expectation level for Negron as he goes into the 2015 campaign, it doesn't change his approach.
"Expectations were high when I first got put on the roster in 2012," Negron said. "And I didn't really live up to them then and got taken off the roster and had to start from the bottom and work my way back to the top. So there's always going to be expectations in this game, but I'm just going to try and go about my business the same way and just keep playing to the level I know I can."
His past big league shortcomings have served as lessons for Negron in terms of how to handle the pressures of trying to make his mark in the Majors after spending nine seasons in the Minors.
"I learned to not put too much pressure on myself," he said. "Don't try and do too much. I think I allowed that to get to me a little bit, and now I'm kind of playing my game and being the player I know I can be.
"And it's been able to shine a little bit up here."
Manny Randhawa is an associate reporter for MLB.com. This story was not subject to the approval of Major League Baseball or its clubs.