MLB.com Columnist
Hal Bodley
Royals wise not to give up on Shields
Ace struggled in Game 1, but Yost says he'll start Game 5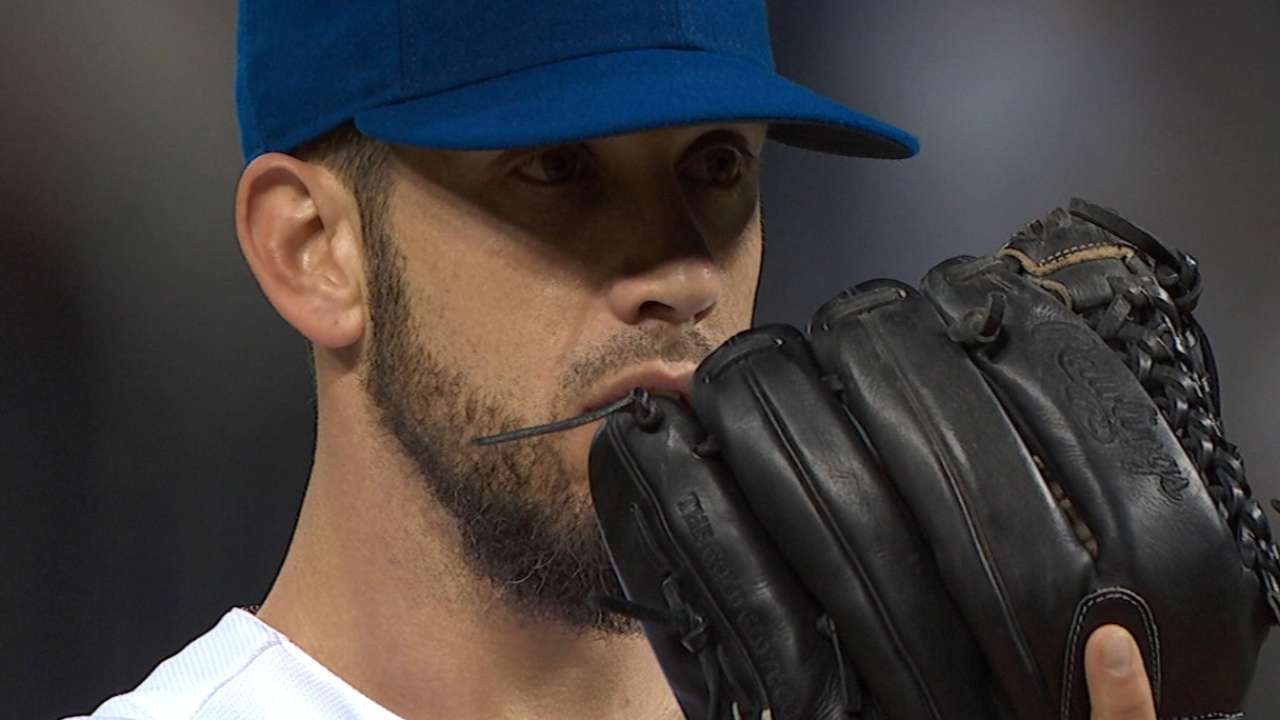 KANSAS CITY -- For the Royals, the road to a Game 5 of this World Series was assured after Wednesday's 7-2 win, but the Giants are still hoping to derail them at every intersection.
In this best-of-seven Fall Classic, Game 5 will be the most important, if not pivotal, contest in the World Series. And the toughest decision Royals manager Ned Yost will have to make.
Should Yost give "Big Game" James Shields the ball and a chance to redeem himself for his dreadful start in the 7-1 loss to the Giants in Game 1 on Tuesday? Or with the World Series potentially on the line, should he not risk another meltdown by his ace?
Yost, who's seldom pushed the wrong button this Cinderella season, was emphatic late Tuesday night when he said Shields definitely will get the start in Game 5.
Keep in mind that if Yost sticks to his words, this will be a rematch of Game 1 with San Francisco's brilliant left-hander, 25-year-old Madison Bumgarner.
It was Bumgarner who silenced the Royals and their delirious blue-clad fans as the World Series returned to Kansas City for the first time in 29 years.
"You have to know James Shields," said Yost. "You have to know that he's a tremendous competitor. He has the ability to make adjustments. Right now, he just hasn't been as sharp as he's been. But with the extra rest and then coming back five days from now, we think that will benefit him."
Admittedly, Shields has been a disappointment this postseason. When he was unable to get out of the fourth inning on Tuesday night, it was his shortest start since 2008, when he was pitching for the Tampa Bay Rays. This postseason, Shields has allowed 15 runs on 28 hits -- including four homers -- in 19 innings.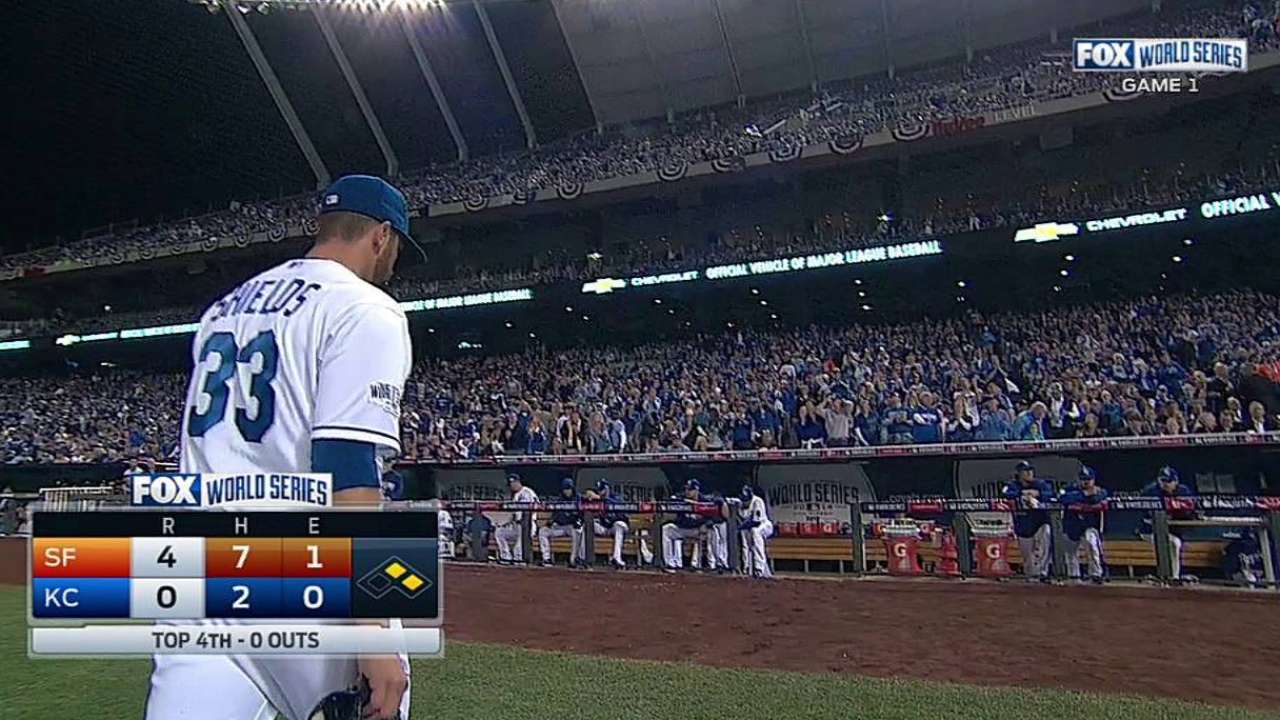 That the Royals were able to score eight or more runs in Shields' first three postseason starts camouflaged some of the right-hander's shortcomings. They bailed him out.
Those are not the numbers aces are made of.
Regardless, Yost must give the ball to the 32-year-old Shields in Game 5, which is scheduled for Sunday at AT&T Park (7:30 p.m. ET air time on FOX, 8:07 first pitch). His alternative would probably be Danny Duffy, who went 9-12 with a 2.53 ERA in 31 games (25 starts) for Kansas City during the regular season and worked three innings after relieving Shields on Tuesday night.
But for Yost to turn his back on Shields would be a huge mistake.
After all, when the Royals had their eyes on turning the corner and escaping the doldrums, Shields was obtained from the Rays in a December 2012 trade. His arrival gave the Royals an ace, but also an equally important clubhouse presence, a leader for the young, maturing players.
Without Shields' 14 wins and 227 innings during the regular season, Kansas City wouldn't be in the World Series. So even though his postseason numbers might say otherwise, Shields not starting Game 5 would send the wrong message to his teammates and the fans who've waited so long for this World Series.
"Here's a guy when his stuff is right, he's dominant," said Yost.
Shields had not pitched for 10 days since his last start against Baltimore in the American League Championship Series. And during the layoff, he passed a kidney stone.
"I didn't get the job done tonight," he said Tuesday. "Hopefully, I get another start. Maybe I was just overthrowing; I was probably just overamped a little bit."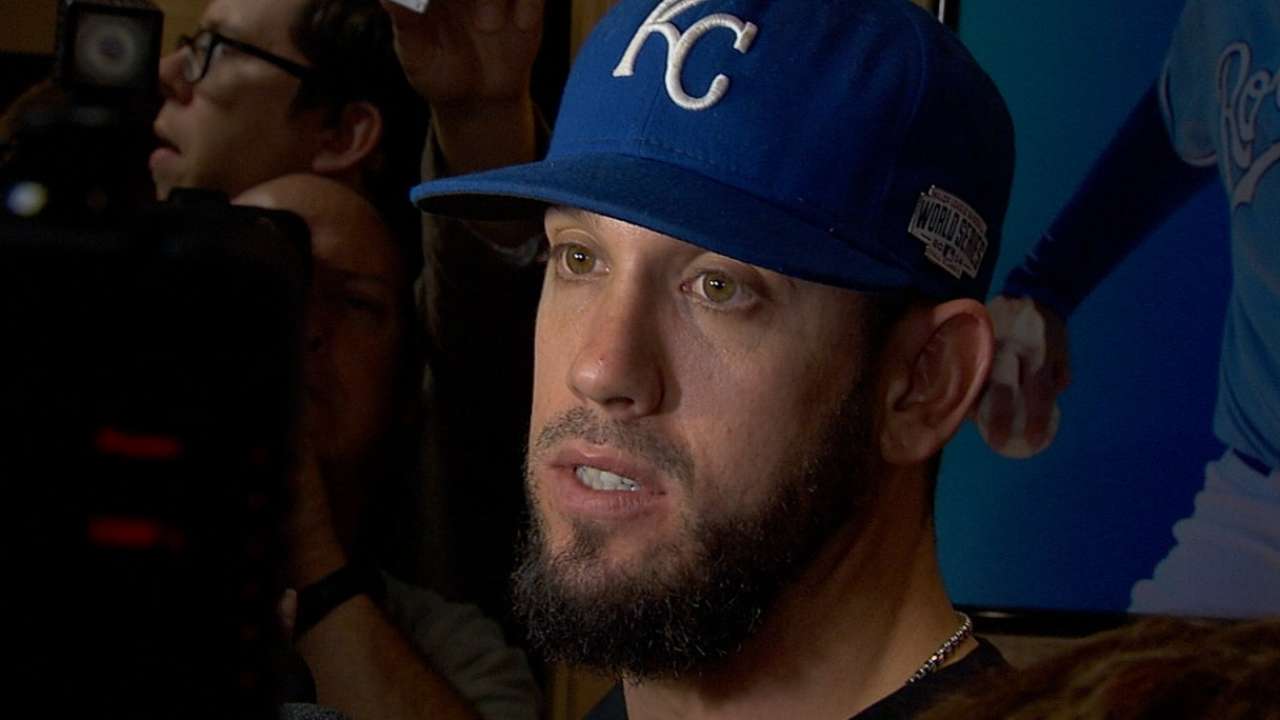 Added Yost: "So, this is a funny game. You can go out one night and give up seven runs and come back your next five days and throw a great game."
Back to Game 5.
When the Royals shocked the Cardinals to win the 1985 World Series, they lost the first two games, then won Game 3. But the Cards seemed on their way to the championship with a 3-0 win in Game 4.
Ah, yes, Game 5. Playing at Busch Stadium, the Royals beat Bob Forsch, 6-1, sending the World Series back up I-70 to Kansas City.
The Royals eked out a 2-1 win in the controversial Game 6 (remember Don Denkinger?), and behind MVP Bret Saberhagen, they blasted the Cards, 11-0, in Game 7.
San Francisco is a dynasty in the making, determined to win its third World Series in five seasons and assure manager Bruce Bochy a plaque in the Hall of Fame. Before Wednesday night's 7-2 loss to the Royals in Game 2, the Giants had won nine of their past 10 World Series games, including seven in a row, and during that stretch, they had outscored Texas, Detroit and, now, Kansas City, 52-19.
And Bumgarner, MVP of the NLCS vs. St. Louis, is etching his name in the baseball history books. He's 3-1 with a 1.40 ERA over 38 2/3 innings in five starts this postseason.
Bumgarner will take those numbers to the mound in Game 5, hopefully against Shields.
"We're resilient," Shields said. "We have a lot of character in this clubhouse. We have a lot of drive. The willingness to win in this clubhouse is at an all-time high. We just have to keep going. That's why this is a seven-game series.
And if Shields pitches up to his nickname, the World Series probably will return to Kansas City, and it could be 1985 all over again.
On second thought, either way it's a "big game."
Hal Bodley is the senior correspondent for MLB.com. Follow him @halbodley on Twitter. This story was not subject to the approval of Major League Baseball or its clubs.