Inbox: What will the Indians' bullpen look like in 2015?
Beat reporter Jordan Bastian answers Tribe fans' questions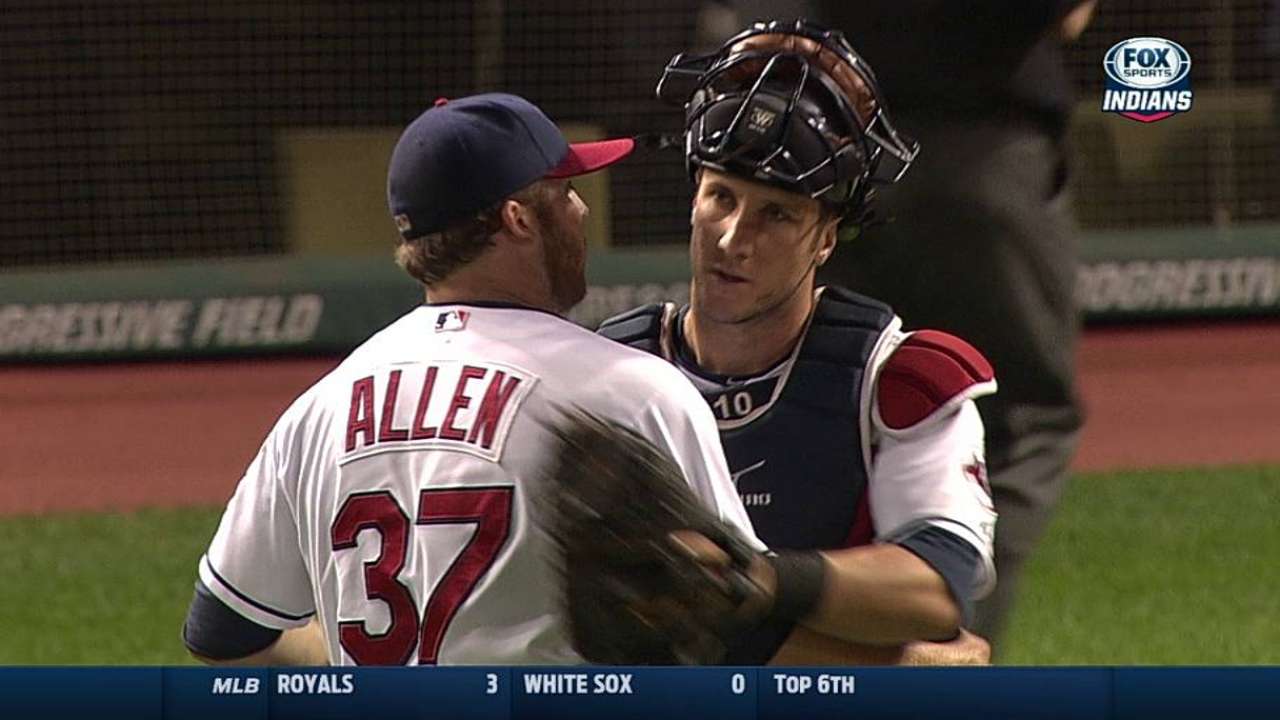 Let's start with Allen. A year ago at this time, no one would've complained about Cleveland handing him the closing role. Manager Terry Francona really liked using Allen as his "stopper," though, giving high-leverage situations to the right-hander without a designated inning attached to his title. So, that's the role Allen filled when the season began.
Giving John Axford a second chance at being a closer did not work out as hoped for the Indians, and Allen went ahead and claimed the ninth-inning job by midsummer anyway. As we sit here today, there is no reason not to enter 2015 with Allen as the closer, or "relief ace," as you phrased it. Over the 2013-14 seasons, Allen has a 2.25 ERA with 179 strikeouts in 140 innings.
Essentially, the back end of the bullpen can return intact, barring a trade or two. Francona's top four relief arms -- Bryan Shaw (80 appearances), Allen (76), Marc Rzepczynski (73) and Scott Atchison (70) -- are all under contractual control for at least 2015. Shaw and Rzepczynski are eligible for arbitration, Atchison is signed through next year with a team option for '16 and Allen will still be in a pre-arbitration season.
What this will allow Cleveland to do is search for ways to strengthen the depth of the bullpen. In terms of free agency, this could mean shorter-term contracts or a handful of non-roster invitees are on Cleveland's radar. Really, there is no need to reshape the main components of the bullpen. Over the past two years combined, Cleveland's 3.37 ERA is the fourth-best in the American League. The Tribe ranked fourth in the AL with a 3.12 ERA in '14.
Behind the primary four arms, the Indians have two lefties (Kyle Crockett and Nick Hagadone) who were reliable down the stretch. Unless he is dealt, Hagadone is a safe bet to make the Opening Day roster, because he is out of Minor League options. Internally, Cleveland also has some young right-handed options in C.C. Lee, Austin Adams and Bryan Price.
How can the Indians improve on defense this offseason and going into Spring Training?
-- Jordan B., Canal Fulton, Ohio
I think the Indians already took a major step toward improving the overall defense by using Jose Ramirez at shortstop and Carlos Santana at first base in the second half. The next step will be shoring up the defense at second and third base. That could involve retooled offseason conditioning and training programs, or increased work come Spring Training.
During his season-end sitdown with reporters, general manager Chris Antonetti did not rule out targeting defensive-minded additions over the offseason. One problematic area was third base, though things were helped by moving Santana off the position in the middle of the season. Looking down the road, if Lonnie Chisenhall's defensive struggles continue, the Indians have a sure-handed third-base prospect rising fast in Giovanny Urshela.
Next year, could Zach Walters be a platoon partner at third base for Chisenhall?
-- @Lark_11 (via Twitter)
It will be interesting to see what happens with Walters this spring and then for the start of the season. All we know for now is that Cleveland will take a look at the young switch-hitter at a variety of positions (infield and outfield) during Spring Training. A player capable of handling multiple positions and switch-hitting with power is the kind of weapon Francona loves to have on his roster.
While it's hard to evaluate Walters' Major League sample (.193 average and .452 slugging percentage in 135 at-bats), he did hit .377 (26-for-69) against lefties at Triple-A last year. That's also a small sample, but it makes a platoon with Chisenhall an intriguing idea. Chisenhall thrived at the plate early on last year in a similar situation with Santana. That said, third is not Walters' strongest position defensively.
It seems to be a popular subject in Cleveland that the Indians should sign a big right-handed bat this offseason. Can the Indians fill this role with one of their underachieving players like Nick Swisher, or Santana playing like he did the second half, but all year?
-- Jeff D., Canton, Ohio
Santana led the team with 27 home runs and 113 walks, so I'm not going to complain too much about his overall production, even if the batting average could have been higher. As for Swisher, definitely, there is a ton of room for improvement and a return to his previous form could quiet some of the fans obsessed with acquiring a "big bat." The reality is that extreme power hitters are a rare breed these days, so the focus should be more on building a deep lineup from top to bottom.
The Indians seem crowded in right field with Tyler Holt, Ryan Raburn, Walters, etc. What is the probability that David Murphy stays out there as the starter?
-- Chris F., Youngstown, Ohio
Barring a trade, the 33-year-old Murphy projects to be Cleveland's main right fielder for 2015. He is signed for $6 million next year and has a team option for '16. The idea with Murphy was to have plus defense (advanced metrics show he had one of his worst seasons in the outfield) and a sound option against right-handed pitching (he turned in a slightly above-average .727 OPS). If healthy, Raburn and Murphy could provide a solid offensive platoon in right. That plan did not work out as hoped in '14, and the Indians will surely explore their alternatives this winter.
How much of a chance does Cleveland have at signing Jon Lester or any other big-name or semi-big-name starting pitchers this winter? -- Phil K., Ohio
The emergence of Corey Kluber as the rotation's leader, combined with Carlos Carrasco turning into a formidable starter in the second half, provided the Indians with a strong one-two punch atop the staff. I'd be shocked if Cleveland spent wildly on a top-tier free agent starter, though it's no secret that Francona and Lester have a strong history. It seems more likely that the Indians target a mid-rotation arm or a group of pitchers to compete for innings at the back of the starting staff.
In closing ...
Barring any moves regarding the rotation, what would be your starting five come Opening Day? -- Rex H., Cedar Rapids, Iowa
I'd probably open with the five-man staff that ended the season with the Indians. Kluber and Carrasco at the top, and Danny Salazar, Trevor Bauer and T.J. House (in no particular order) filling out the final three spots. Zach McAllister (out of options) could open the year in the rotation, but the big righty showed down the stretch that he can be a capable relief option as well.
Jordan Bastian is a reporter for MLB.com. Read his blog, Major League Bastian, and follow him on Twitter @MLBastian. This story was not subject to the approval of Major League Baseball or its clubs.