Taste of starting duties has McKenry ready for more
Catcher willing to contribute however Rox need him, but enjoys No. 1 role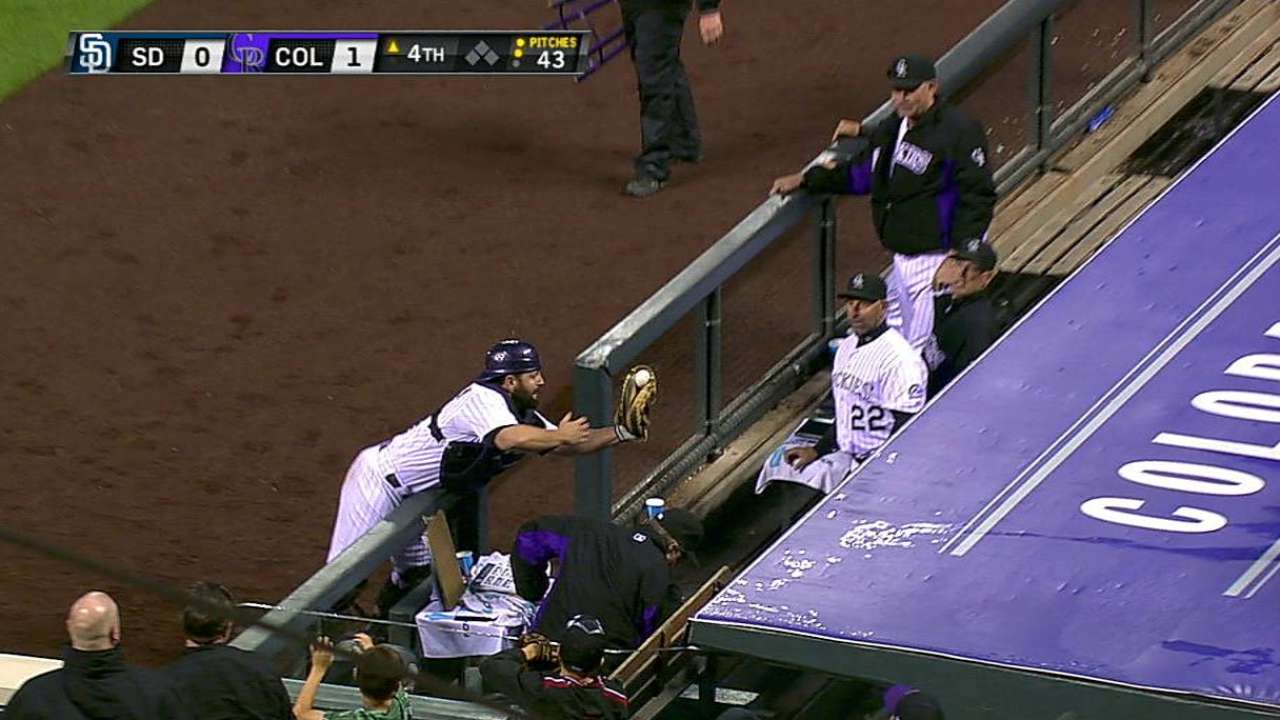 DENVER -- Rockies catcher Michael McKenry knows better than to believe his solid 2014 season automatically means bigger and better in 2015.
McKenry underwent left knee meniscus surgery in July 2013 with the Pirates, and he began this season at Triple-A Colorado Springs while completing his recovery. When ready, he hit a career-best .315 in 57 games, including 45 starts. But he remembers the last time he had a similarly encouraging performance.
In 2012, McKenry started 81 games -- exactly half a season -- and hit .233 for the Pirates. He was hoping for a bigger opportunity with an improving team in 2013. The Pirates signed Russell Martin, and McKenry was the backup until his injury.
The Pirates non-tendered McKenry after the season, and the Rockies signed him to a Minor League contract. McKenry's opportunity came because regular catcher Wilin Rosario battled illness and injury, slumped offensively and went through growing pains defensively.
The dynamic makes McKenry a cog in a key Rockies offseason decision.
A season like McKenry's 2014 could lead to an equitable split of starts, or even a shot at the No. 1 job. But the Rockies could also count on Rosario returning to form offensively and improving on defense. They also could deal Rosario to fill needs and attempt to acquire a standout catcher, the way the Pirates did with Martin.
The latter two options leave McKenry, who turns 30 on March 4, again as a backup. He admitted it was difficult when it happened with the Pirates.
"It really came from outside factors," McKenry said. "People came up to me in 2012, 'Hey, we think you should be the starter.' You get that and it kind of gets in your head. It was a big punch in the gut, especially when I thought it was time for me to split time with somebody or compete with somebody. It was a learning experience."
Martin's presence and the injury meant McKenry's chance would not come until this season with the Rockies.
Called up first in May and for a final time in June, McKenry turned in an intriguing offensive season. According to Baseball-Reference.com, McKenry's OPS-plus, which is on-base percentage plus slugging percentage with park factors accounted for, was a healthy 139 (with 100 being an average player) -- behind shortstop Troy Tulowitzki (171), outfielder Michael Cuddyer (149) and breakout outfielder Corey Dickerson (142).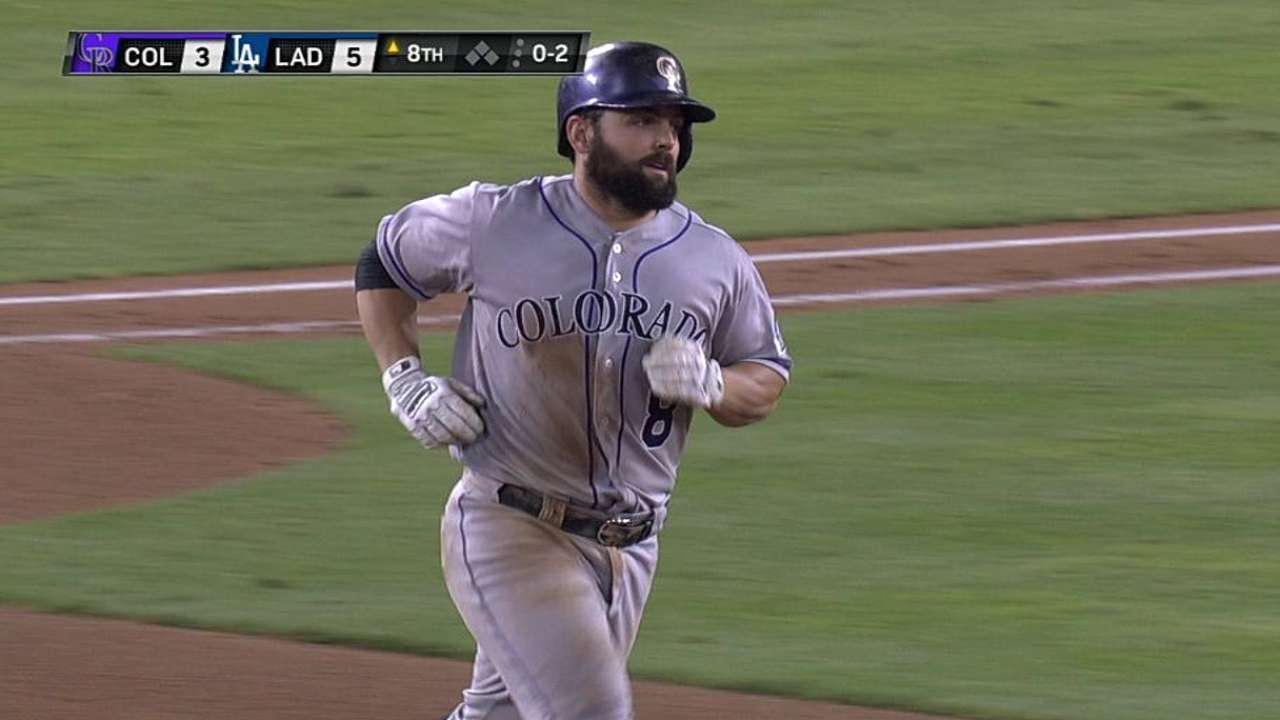 Under WAR, or the "wins above replacement player," which calculates a player's true value, McKenry scored a 1.7 from Fangraphs and a 2.0 from Baseball-Reference.
"I've done it in the Minor Leagues, and I've done it in short stints in the big leagues," McKenry said. "So you have to have confidence in yourself and your ability. I've made some key adjustments to my swing, and especially in my thinking. And I felt like it was going to pay off."
A right-handed hitter, McKenry batted .328 with five of his eight home runs against righty pitching, which could bode well if he earns a starting job. He hit .279 against lefties. McKenry is more comfortable against hard throwers, but he tends to be not as aggressive against other types.
"I've talked to different guys about different approaches, and one that really hit home with me was something that Michael Cuddyer told me early on this season," McKenry said. "He said he goes up there looking to hit the first pitch that's in the zone. If you wait around against those guys, they're going to nibble you right out of the box."
Defensively, the Rockies gave McKenry high marks for his ability to call games for inexperienced pitchers, but he didn't fare as well statistically.
Under pitch-framing, a developing stat that measures if the way the catcher receives the ball gains or costs a strike, he ranked 12th-worst in the Majors, according to the respected StatCorner Catcher Report.
McKenry threw out 19 percent of basestealers (eight of 42). The MLB average was 28 percent. McKenry threw out 25 percent in 58 games with the Pirates in 2011, but he since has adopted a stance friendlier to blocking dirtballs than throwing. According to a Fangraphs stat that measures the worth of pitch-blocking, he ranked 17th in the Majors.
McKenry battled scar tissue in the knee early, and tightness in his hips and legs throughout last season. A full season not encumbered with rehab should help him regain health and improve defensively.
"It was a good learning experience," McKenry said. "Glenallen Hill [his manager at Colorado Springs] said it to me in Triple-A: 'You have to have Plan B sometimes.' And that really resonated with me. Sometimes you're not going to feel great, and sometimes as a backup guy, you feel too good and you have to have a plan for that, too."
McKenry would love parlay 2014 into No. 1 duty in '15, but he vows to be ready for any plan.
"I'm a different person, I have a different outlook, a different mindset," McKenry said. "At the end of the day, it's not in my hands. I have a belief in a much higher power. I put it all in His hands and I'll see where it takes me.
"Ultimately, whether I'm first string or second string, I want to parade out on the field, jump on the dogpile, pour champagne all over each other and get a ring."
Thomas Harding is a reporter for MLB.com. Read his blog, Hardball in the Rockies, follow him on Twitter @harding_at_mlb, and like his Facebook page, Thomas Harding and Friends at www.Rockies.com. This story was not subject to the approval of Major League Baseball or its clubs.