MLB.com Columnist
Tracy Ringolsby
Finnegan on verge of World Series history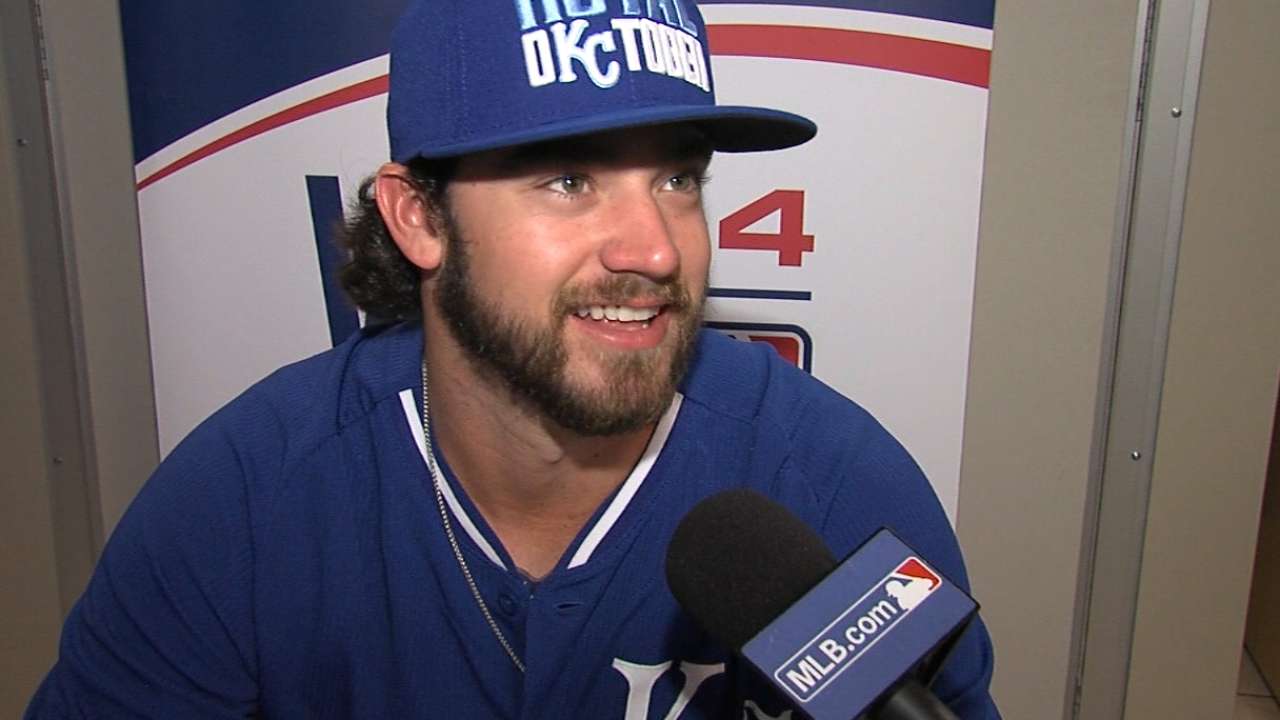 Royals left-hander Brandon Finnegan could become the first player to appear in a College World Series and the World Series in the same year. Finnegan, however, is not the first player to appear in a College World Series and be on an active World Series roster in the same season.
Bob Garibaldi was the 1962 College World Series Most Outstanding Player with Santa Clara University. The right-hander signed with the Giants for a $150,000 bonus in the pre-Draft days and went directly to big leagues. He was on the Giants' roster for their seven-game loss to the Yankees in the World Series.
Garibaldi didn't get in the World Series, but then he did not pitch in the final month of the regular season, either. Garibaldi only made nine appearances with the Giants that season, and 15 over the nine years he spent in the organization.
Garibaldi got in plenty of work during the College World Series, in which he suffered both of Santa Clara's losses and was still honored as the top player after fanning a record 38 batters. He appeared in five games and worked 27 2/3 innings during the six days in Omaha, Neb., including eight innings in relief during the title game.
Garibaldi's big league games came over four seasons, during which he went 0-2 with a 3.08 ERA. In addition to his nine appearances in 1962, he had four in '63 and one each in '66 and '69.
After making his pro debut in the big leagues, Garibaldi pitched 10 more seasons, the final two in the Padres organization, and he never appeared below the Triple-A level. During his Minor League career, he was 96-81 with a 3.79 ERA. Garibaldi won 10 or more games in eight seasons.
Finnegan was drafted 17th overall by Kansas City in June, and he signed after pitching for TCU in the College World Series. He began his pro career at advanced Class A Wilmington, where he made five starts, and then was promoted to Double-A Northwest Arkansas, where he was fine-tuned for the big leagues by making eight relief appearances.
Finnegan showed enough in seven September big league appearances (allowing one run in six innings) that the Royals added him to their postseason roster. He has appeared in five games thus far, allowing two runs in 4 1/3 innings.
ON CUE
Giants third baseman Pablo Sandoval has reached base in 24 consecutive postseason games. He will have a chance this World Series to at least match Chase Utley for the second-longest playoff streak of 27 consecutive games reaching base. Sandoval won't be able to break the record of 31 games set by Miguel Cabrera. There are a maximum of six games remaining in the World Series.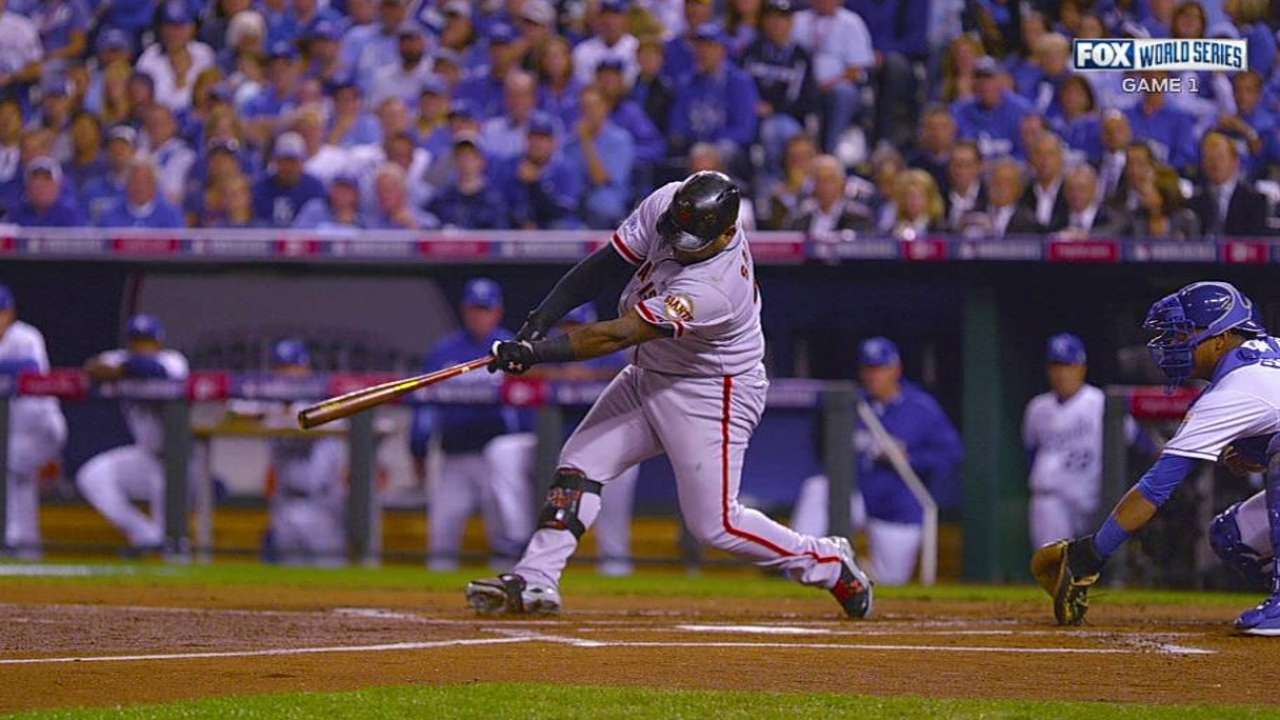 Sandoval has a .376 average with six homers and 14 RBIs during the streak, and he has been held hitless twice. San Francisco has gone 19-5 during the 24-game run.
Utley hit .258 with six homers, 13 RBIs and 25 walks in his 27-game stretch from Game 2 of the 2007 National League Division Series against the Rockies through Game 2 of the 2009 World Series against the Yankees. The Phillies won 19 of the 27 games.
Cabrera hit .279 with eight homers and 22 RBIs in his 31-game streak, which began with Game 1 of the 2011 American League Division Series against the Yankees and extended through Game 2 of the 2013 AL Championship Series against the Red Sox. The Tigers were 16-15 during his streak.
LOADING UP
Royals rookie right-hander Yordano Ventura finished strong in the regular season. Has his postseason inconsistency been due to workload or first-year jitters? Ventura did allow only one run in seven innings of Game 2 of the ALDS against the Angels. Kansas City won that game, 4-1. Working in relief against the A's in the AL Wild Card Game, he retired one of the three batters he faced and gave up a two-run home run. And in Ventura's start in Game 2 of the ALCS against the Orioles, he allowed four runs in 5 2/3 innings of a game the Royals rallied to win, 6-4.
Ventura was 7-2 with a 2.48 ERA in his final 11 starts. The 23-year-old Dominican native has, however, worked more this season than in any of his five previous pro seasons.
Ventura has appeared in 34 games (32 starts) and worked 196 innings. His previous career high was 150 innings in 29 games a year ago. Ventura worked fewer than 110 innings his first four pro seasons.
BIG LIFT
Don't be deceived by Jake Peavy's regular-season numbers: 7-13, 3.73 ERA. And don't be distracted by the fact he went 18 consecutive starts at one stretch this season without a win (he was 0-12 and his teams were 2-16). Peavy bounced back strong after being dealt from the Red Sox to the Giants.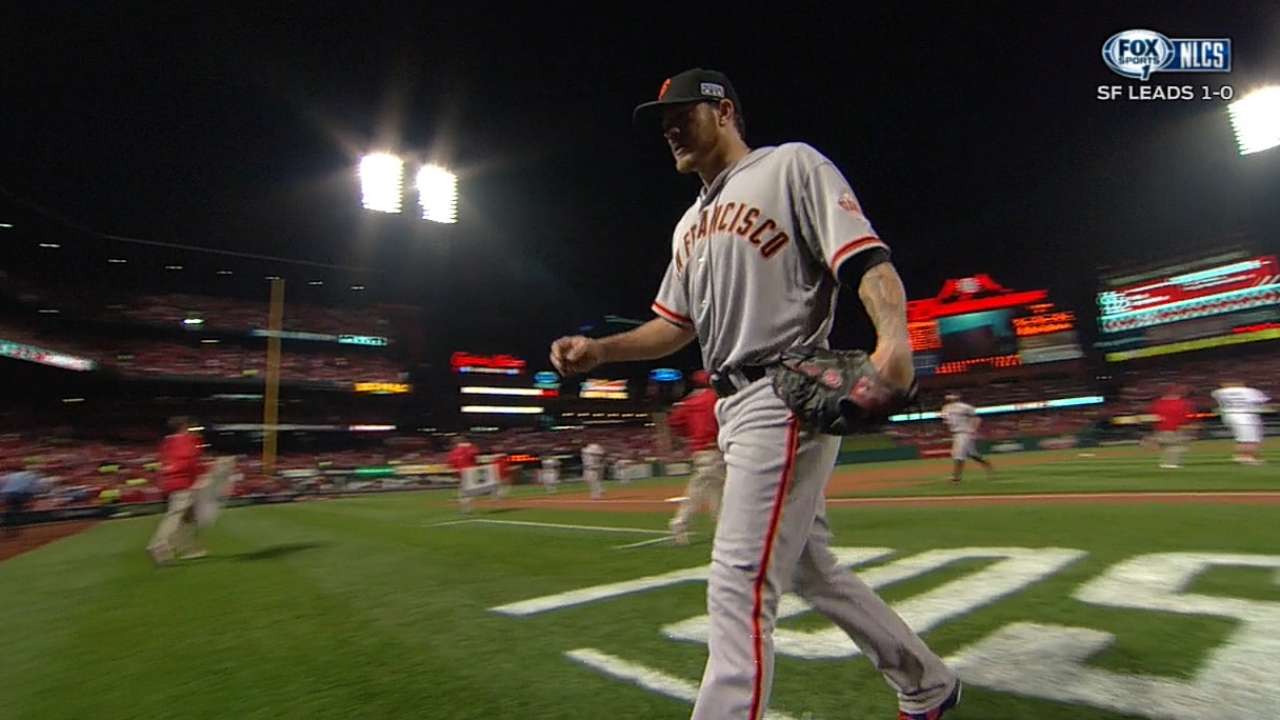 • Peavy holds Cards to two runs
Peavy was 6-4 with a 2.75 ERA with San Francisco, including 6-1 with a 1.35 ERA in his final nine starts..
Peavy has worked only 9 2/3 innings in two starts this postseason, giving up two runs. Kansas City will be an interesting test for him. Peavy did not face them before being traded by the Red Sox to the Giants this season, but gave up seven earned runs in 11 innings of two starts against the Royals a year ago.
NOTHING LATE
The key to beating Kansas City is having an early lead. When the Royals get through six innings with the lead, they have a 1-2-3 bullpen bunch that is as dominant as any in the history of the game. Kelvin Herrera, Wade Davis and Greg Holland have not disappointed during the postseason.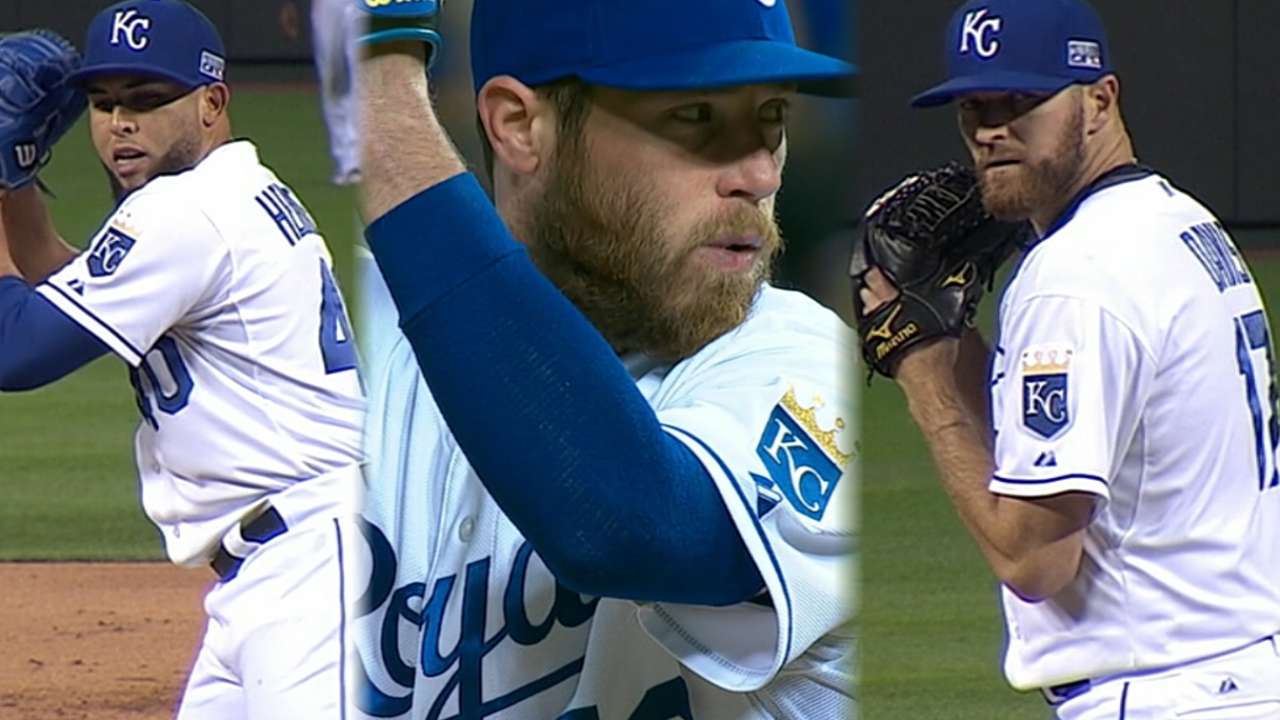 • Royals boast trifecta in bullpen
The three have a combined 1.05 ERA. Davis is 2-0 with a 0.96 ERA. Herrera has a 1.08 ERA. Holland has converted all six of his save opportunities and has a 1.13 ERA in eight appearances.
That is in line with their efforts in the regular season, when the trio was a combined 14-8, with a 1.28 ERA and 49 saves in 55 opportunities. Davis was 9-2 with three saves in six opportunities and a 1.00 ERA. Herrera was 4-3 with a blown save and a 1.41 ERA. Holland was 1-3, but he converted 46 of 48 save opportunities with a 1.44 ERA.
Tracy Ringolsby is a columnist for MLB.com. Read his blog, Write 'em Cowboy. This story was not subject to the approval of Major League Baseball or its clubs.