MLB.com Columnist
Bernie Pleskoff
Royals have something special in confident Ventura
Potential top-of-the-line starter ready for Game 2 showdown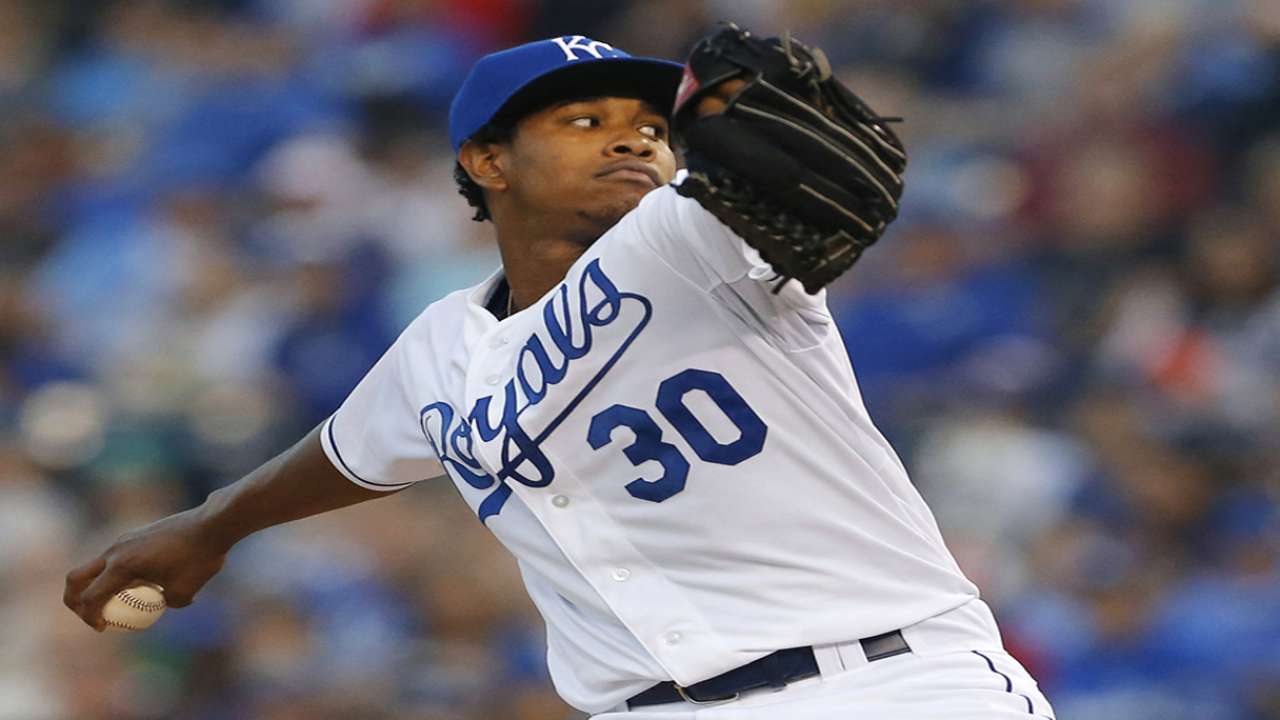 KANSAS CITY -- Even the normally unflappable Yordano Ventura may feel the heat of the pressure cooker raise a notch tonight. He takes the ball in Game 2 of the World Series with his Kansas City Royals down 1-0 to the San Francisco Giants.
My first look at the confident right-handed starter was when Ventura pitched in the 2010 Arizona Fall League. It was the first time he had ever thrown a recorded 100-mph pitch in a game. It looked like Ventura had no clue where the ball was going -- but what an arm I saw.
Then I scouted Ventura at the 2012 All-Star Futures Game pitching on the same Kauffman Stadium mound he will occupy for Game 2. He started the game and worked a perfect inning.
Those first looks showed someone special. It was difficult to comprehend that Ventura could get 100 mph from his 6-foot, 180-pound frame. Physically, he reminded me a bit of the great Pedro Martinez. Martinez is only 5-foot-11 and 170 pounds.
Like Martinez's, Ventura's arm is lightning fast. If he can continue to consistently command his pitches, he can become an elite pitcher.
In 2008, Ventura came to the Royals as an international free agent from the Dominican Republic. He said he weighed around 120 pounds. After five seasons in Kansas City's Minor League system, Ventura made his Major League debut in September 2013. He threw a 101.9-mph fastball against Cleveland.
At the time of his promotion, Ventura had pitched 415 1/3 innings, ending with 14 starts at Triple-A Omaha. He compiled a composite Minor League ERA of 3.47 and a 1.25 WHIP. Ventura had a strikeout rate of 9.9 hitters per nine innings, while walking 3.1 per nine.
Only 23, Ventura has a tremendous future as a top-of-the-rotation starter. He has a complete repertoire of pitches that will only improve with time and experience. Ventura uses both a four-seam and a two-seam fastball that generally sit at 97-98 mph. But it is not unusual for him to pepper several 100-mph pitches every outing. However, at times I have seen Ventura lose a slight bit of command when he hits triple digits.
A key to Ventura's rapid ascension to the big leagues is his ability to throw extremely effective secondary pitches. His curveball at 83-84 mph, and his 85-mph changeup alter the eye levels and the balance of hitters. Expecting to see a rising or sinking fastball, they are faced with the prospect of adjusting to breaking balls or offspeed pitches at any point in the count. The confidence Ventura has gained using his secondary pitches has helped him navigate even the toughest Major League lineups.
When I first saw Ventura, he was much more aggressive and used far more energy in his mechanics. He has slowed his approach, and the ball leaves his hand easily and with far less effort. Ventura gains rhythm and tempo as the game progresses, making him a very tough customer. With the stellar bullpen of the Royals this season, Ventura can pace himself with the knowledge that relief is as close as a Ned Yost nod. The supporting cast in the Royals' 'pen helps accelerate Ventura's consistent, continuing progress.
In the American League Championship Series, minor shoulder tightness caused Ventura to leave his start in the second game against Baltimore. With subsequent rest, he is set to start the biggest game of his young career.
Even though Ventura has proven to be durable to date, there are still some who believe his slight frame will lead to endurance or injury issues. I am not among them. It is not uncommon for a pitcher's shoulder to tighten during an outing. It happens. That said, the Royals are mindful of his forced exit in his last appearance and will monitor him closely.
Kansas City has someone special in Ventura. In a word, he is explosive. On any given day, when Ventura's release point is consistent and he finds his good command, he pitches with rhythm and can dominate the opposition. In Game 2, the size of the stage has increased.
Bernie Pleskoff has served as a professional scout for the Houston Astros and Seattle Mariners. Follow @BerniePleskoff on Twitter. This story was not subject to the approval of Major League Baseball or its clubs.