MLB.com Columnist
Roger Schlueter
MLB Notebook: Bumgarner's postseason legend grows
Giants left-hander has been nearly untouchable in his World Series career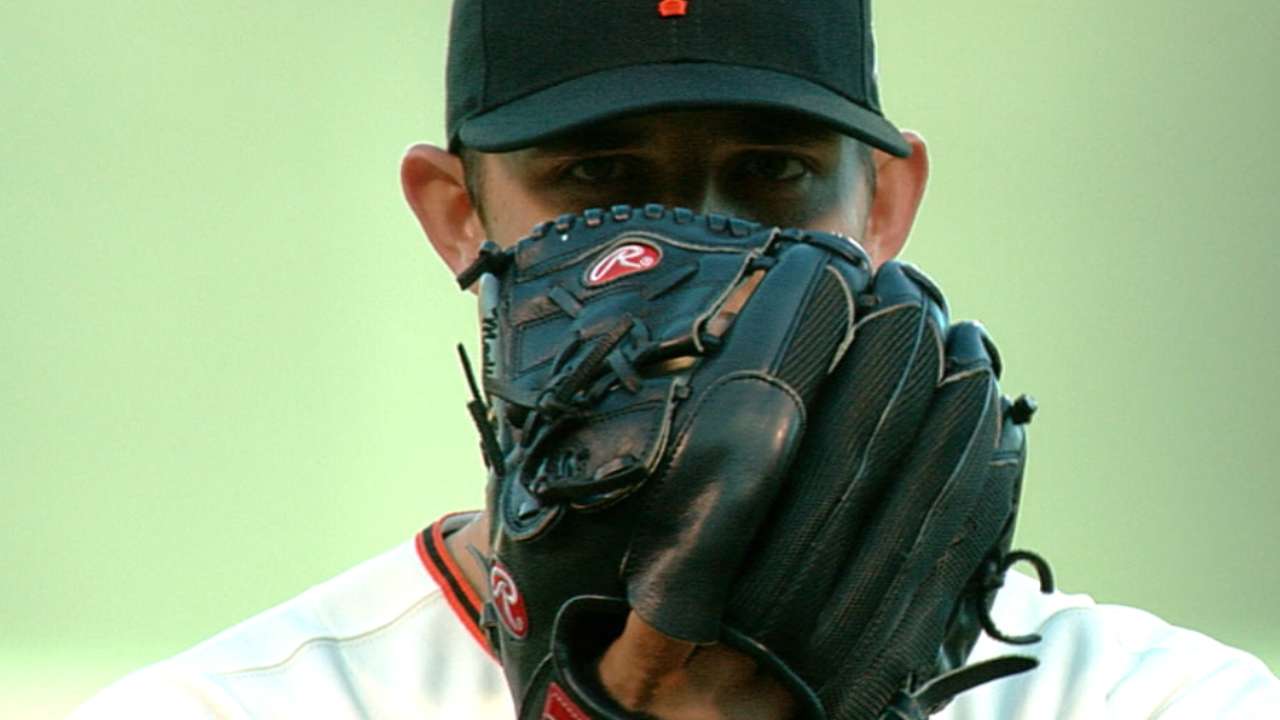 On Oct. 7, 1913, Rube Marquard -- winner of 73 games and compiler of a 2.52 ERA over his previous three seasons -- took the ball for the Giants in Game 1 of the Fall Classic. The outcome wasn't pretty for the Giants starter, as the left-hander surrendered five runs in five innings and absorbed the loss in a 6-4 defeat to the Athletics.
Since Marquard's stumble, Giants southpaws have sculpted a significant body of work when it comes to starting the first game of a World Series. It's a collective composition that -- thanks to Madison Bumgarner's gem Tuesday -- now includes a 6-4 record and a 2.45 ERA.
2014 World Series: Giants vs. Royals, Game 1
One streak continued, a different one came to an end as the Giants took Game 1 of the 110th World Series, defeating the Royals, 7-1.
With the victory, the Giants -- who stand as the first team to defeat Kansas City in the 2014 postseason after the Royals had run off eight consecutive wins -- have won seven straight World Series games. The winning streak, which began with a victory in Game 4 of the 2010 World Series, is tied for the sixth longest. The Yankees own the record with 14 consecutive wins from Game 3 of the 1996 World Series through Game 2 of the 2000 Fall Classic.
Bumgarner having a postseason for the ages
Bumgarner picked up the victory, finishing his night having allowed one run on three hits and a walk while fanning five in seven innings. For the 2014 postseason, Bumgarner improved to 3-1 with a 1.40 ERA in five starts. The southpaw has allowed just six earned runs in 38 2/3 innings.
Bumgarner has three starts this postseason in which he has finished with at least seven innings and no more than one run allowed. Curt Schilling had five such starts in 2001, for the most in any single postseason.
Curiously, no pitcher has assembled four in one year, with Bumgarner one of 20 pitchers to have exactly three. This collection includes Christy Mathewson, who threw three shutouts for the Giants in the 1905 World Series. The most recent pitcher to have at least three such starts and finish the postseason on the World Series championship team was Josh Beckett as a member of the Red Sox in 2007. After Beckett, Cliff Lee had three in both '09 and '10 (for the Phillies and Rangers, respectively, both of whom lost in the World Series), and Justin Verlander had three while seeing his Tigers come up short in both '12 and '13.
Bumgarner has three games this postseason in which he has finished with at least seven innings and no more than four hits allowed. Those three tie him with Mike Mussina (1997), Beckett (2003), Tim Lincecum ('10), and Verlander ('12, '13) for the second most in any single postseason. In '01, Schilling had four such outings.
More MadBum
• Bumgarner picked up his sixth career postseason win, giving him the most in Giants history. He had been tied with Mathewson (who was 5-5 with a 0.97 ERA in 11 career World Series starts) and Lincecum (who is 5-2 with a 2.47 in 12 postseason games, including six starts).
• Bumgarner has made three career World Series starts. In the first (Game 4, 2010), he allowed three hits in eight scoreless innings. In his second (Game 2, '12), Bumgarner allowed two hits in seven scoreless frames.
• Bumgarner is the 10th pitcher to author at least three straight World Series outings with at least seven innings and no more than one run allowed. Mathewson is the only pitcher with more, having hurled four straight. The others with three: Stan Coveleski (Indians), Carl Mays (Red Sox-Yankees), Waite Hoyt (Yankees), George Earnshaw (Athletics), Harry Brecheen (Cardinals), Whitey Ford (Yankees), Roger Clemens (Yankees) and Schilling (Phillies-D-backs).
• Bumgarner is the first pitcher in World Series history to string together three straight World Series appearances featuring at least seven innings, no more than three hits and no more than one run. The others with two in a row: Jim Lonborg (1967), Clemens (2000-01), and Schilling ('01).
• In the seventh inning of his latest gem, Bumgarner served up a solo homer to Salvador Perez, ending his postseason streak of scoreless innings on the road at 32.2 (the longest such streak for any pitcher).
Giants bring big bats to opener
• Pablo Sandoval went 2-for-5 with a single and a double and drove in two. The third baseman has now reached safely in 24 straight postseason games, tying Carlos Beltran (2004-12) and Carlos Ruiz ('08-10) for the fourth-longest streak in postseason history. This trio looks up at Miguel Cabrera (31 straight from '11-13), Chase Utley (27 in a row from '07-09) and Boog Powell (25 straight from 1966-71).
• Right fielder Hunter Pence had a double and a home run, scored twice, drove in two runs and also drew two walks. Pence was the third player in history to have a World Series Game 1 line featuring at least two runs scored, two RBIs, two extra-base hits and reaching safely at least four times (via a hit, walk or hit by pitch). The previous two authors were also Giants: Freddy Sanchez in 2010 (4-for-5 with three doubles, two runs and three RBIs) and Sandoval in 2012 (4-for-4 with three homers, three runs and four RBIs).
• The Giants became the first club since the 2005 White Sox to hit for the cycle as a team in Game 1 of the World Series, and the ninth team overall to do this in a Game 1. Five of the previous eight won the Fall Classic.
Here and there
• With the Giants' win, the visiting team improved to 46-63-1 all-time in the first game of the Fall Classic.
• The Giants' seven runs were tied for the seventh most for a visiting team in a World Series Game 1. The most came in 1996, when the Braves pounded the Yankees, 12-1, in the opener at Yankee Stadium.
• At 24 years and 164 days old, the Royals' Salvador Perez became the youngest catcher to homer in a World Series Game 1. The previous youngest had been Gene Tenace (26 years and four days old), who went deep twice for the Athletics in 1972.
Roger Schlueter is senior researcher for MLB Productions. This story was not subject to the approval of Major League Baseball or its clubs.